The originating document has been archived. We cannot confirm the completeness, accuracy and currency of the content.
ViraCHEK/FeLV (Canada)
This page contains information on ViraCHEK/FeLV for
veterinary use
.
The information provided typically includes the following:
ViraCHEK/FeLV Indications
Warnings and cautions for ViraCHEK/FeLV
Direction and dosage information for ViraCHEK/FeLV
ViraCHEK/FeLV
This treatment applies to the following species:
Manufacturer: Zoetis
Feline Leukemia Virus Antigen Test Kit
For the Detection of Feline Leukemia Virus
DIRECTION INSERT
I. Introduction
Feline Leukemia Virus (FeLV) is a highly contagious oncogenic RNA virus that causes both neoplastic and non-neoplastic diseases in cats. Diseases caused by FeLV include lymphosarcoma, myelogenous leukemia, thymic atrophy, nonregenerative anemia and panleukopenia-like disease. Because FeLV is immunosuppressive, it predisposes infected cats to a variety of secondary diseases.
Rapid identification of infected cats allows them to be separated from non-infected cats to prevent the spread of FeLV. ViraCHEK®/FeLV uses highly specific antibodies to quickly identify FeLV-infected cats. The group specific antigen, p27, is found in high levels in infected cats and its presence is diagnostically definitive for FeLV infections. ViraCHEK®/FeLV is an immunoenzymatic assay using antibodies that specifically recognize p27 in cat blood.
Since infection may be transient in cats that develop immunity, antigen-positive animals should be retested in 8 to 12 weeks. A positive second test indicates persistent infection. A negative test indicates clearance of the virus.
Ii. Test Principles
The plastic wells contain antibodies directed against the FeLV group specific antigen, p27. A monoclonal antibody directed against p27 is labeled with horseradish peroxidase (HRP). The specimen (whole blood, plasma or serum) is incubated simultaneously with the solid phase and enzyme-labeled antibodies. If present, p27 group specific antigen is bound to the well and enzyme-linked antibody at the same time. The free enzyme-linked antibody is washed away and a chromogenic substrate is added. The development of a distinctly blue color indicates the presence of FeLV. In the absence of FeLV, no color change will be observed.
ViraCHEK®/FeLV is highly specific, sensitive and simple to perform. Test results for circulating antigen can be obtained in 10 minutes or less. Following exposure a cat may test positive within 14 days. Persistent infections will remain positive while transient infections may revert to negative within 8 to 12 weeks. Retesting after that time is recommended.
III. COMMON FeLV DIAGNOSTIC QUESTIONS AND ANSWERS
How soon after exposure/infection can antigen be detected?
As early as 4 days, but 14 days is average. If transmitted in-utero, antigen could be present and detected at birth.
Will FeLV vaccination cause the test to be positive?
No. ViraCHEK®/FeLV tests for FeLV p27 antigen in blood. Vaccination stimulates antibody production with a minute amount of p27; insufficient for detection. FeLV p27 antigen can only be found in detectable amounts when a cat is infected with the virus.
Why is 9 weeks a common age to test cats for FeLV infection?
This is frequently the age to begin FeLV vaccination. Awareness of the animal's FeLV status can be helpful in determining whether vaccination is appropriate.
What does an ELISA positive, IFA negative test imply?
The infection is not yet established (i.e. amplified in the bone marrow) and may become transient, latent or persistent. Retesting in 8 to 12 weeks is recommended.
IV. CONTENTS OF ViraCHEK®/FeLV TEST KIT
Anti-FeLV Antibody Coated Wells

12 x 12

FeLV Positive Control (Red Cap)

3.0 ml

FeLV Negative Control (Gray Cap)

3.0 ml

Reagent 1 -

HRP Monoclonal Antibody Conjugate (Blue Cap)

7.5 ml

Reagent 2 - Chromogenic Substrate (Purple Cap)

7.0 ml
Materials required but not provided:
Marking pen
Timer
Wash Bottle
Deionized/distilled water or normal saline
Precision pipettes
V. RESULTS
1. Allow kit to come to room temperature (21° to 25° C; 70° to 78° F) prior to use.
2. Do not expose kit to direct sunlight.
3. Do not use expired reagents or mix from different kit lots.
4. Hold reagent vials vertically for proper drop volume.
5. Dispose of potentially infected specimens appropriately.
6. FOR VETERINARY USE ONLY.
Vi. Sample Information
50µl (0.05 ml) of feline whole blood, plasma or serum is required. Whole blood and plasma must contain an anticoagulant. Serum and plasma samples may be stored at 2° to 7°C (36° to 45°F) for 7 days; 24 hours for whole blood. For longer periods, serum and plasma (not whole blood) may be stored at -20°C. Hemolyzed or lipemic samples can be used, however, severely hemolyzed or lipemic samples may produce background color. When in doubt, obtain a better quality sample.
Vii. Storage And Stability
Store the test kit at 2° to 7°C (36° to 45°F). Do not freeze. Reagents are stable until expiration date provided they have been stored properly.
ViraCHEK®/FeLV Test Procedure
NOTE: Use Anticoagulated WHOLE BLOOD, PLASMA or SERUM Samples.
Prior to use, allow kit components to come to room temperature (21° to 25° C; 70° to 78° F).
A. PREPARATION
1 Calculate required number of wells:
- 1 well for positive control
- 1 well for negative control
-1 well for each sample
Remove required number of wells.
Leave wells attached to each other.
Place in well holder.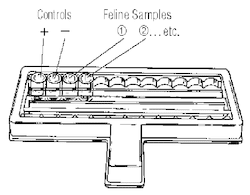 2 A. CONTROLS
Add 1 drop Positive Control (red cap) into the first well.
Add 1 drop Negative Control (gray cap) into the second well.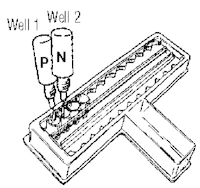 B. SAMPLE(S)
Pipette 50µl (0.05 ml) of sample into the next well following the controls.
Repeat for each additional sample into subsequent wells.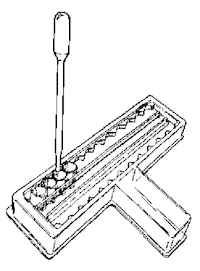 ONE WELL IS USED FOR EACH SAMPLE.
NOTE: If an accurate pipette is unavailable, 0.05 ml is equal to:
- 4 drops from a 20 gauge needle.
- 6 drops from a 22 gauge needle.
- 8 drops from a 24 gauge needle.
- 9 drops from a 25 gauge needle.
- 10 drops from a 26 gauge needle.
B. CONJUGATE
3 Add 1 drop Reagent 1 - Conjugate (blue cap) into each well.
Tap well holder (without splashing) for 15 seconds to mix.
WAIT 5 MINUTES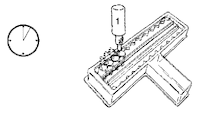 C. BLOT AND WASH
4 Discard fluid from wells into sink or appropriate container.
Invert holder and blot firmly onto a paper towel to remove final drops.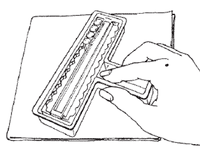 5 NORMAL SALINE MUST BE USED WITH WHOLE BLOOD SAMPLES
Deionized/distilled water or normal saline can be used with serum and plasma.
FLUSH WELLS VIGOROUSLY:
- Use liberal amounts of distilled, deionized water or normal saline.
- Direct a forceful stream into each well. (Oversplashing will not contaminate adjacent wells.)
- Shake out excess water.
- Repeat at least 5 times. (It is impossible to overwash).
If saline is used to wash wells use distilled/deionized water for final wash.
Blot against a paper towel to dry wells.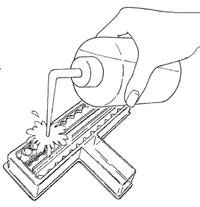 D. DEVELOP
6 Add 2 drops Reagent 2 (purple cap) to each well.
Tap well holder (without splashing) for 15 seconds to mix.
WAIT 5 MINUTES.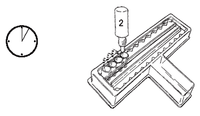 READ RESULTS
E. INTERPRETATION OF RESULTS
7 Controls
POSITIVE control should be distinctly blue.
NEGATIVE control should be completely clear.
Samples
POSITIVE samples will be blue. Color intensity may vary with level of FeLV antigen present.
NEGATIVE samples will be clear. Compare directly with the negative control against a white background.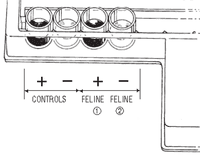 Good Techniques = Accurate Results
Whole blood and plasma must contain anticoagulant.
Hemolyzed and lipemic samples may be used, however, normal saline should be used in place of distilled or deionized water in step 5. Severely hemolyzed and lipemic samples may produce background color. When in doubt, obtain a better quality sample.
Washing is the most important step. Microwells cannot be overwashed. Underwashing will result in nonspecific blue color development in the negative control and sample wells.
Remember! Use saline as the wash solution with whole blood samples.
Prolonged incubation for more than 5 minutes in step 6 may result in non-specific color development. Read results at 5 minutes. If no color is seen at 5 minutes, the sample is negative.
Do not use the test kit past the expiration date and do not intermix components from different serial numbers.
Store kit at 2° to 7°C (36° to 45° F). Allow kit to come to room temperature before use.
REFERENCES
1. Hardy, W.D., Jr., 1974, Veterinary Clinics of North America 4, 133-136
2. Hardy, W.D., Jr., McClelland, A.J., Zuckerman, E.E., Hess, P.W., Essex, M., Cotter, S.M., MacEwan, EIG., and Hayes, A.A., 1976 Comp. Leuk. Research (Karger, Basel) 43, 511-514.
FOR TECHNICAL ASSISTANCE: 1-800-228-4305
SYNBIOTICS CORPORATION, 12200 NW AMBASSADOR DRIVE, SUITE 101, KANSAS CITY, MO 64163
800-228-4305 (OR outside US/Canada 816-464-3500)
U.S. Veterinary License Number 312
ViraCHEK®/FeLV is a registered trademark of Synbiotics Corporation.
©2005 Synbiotics Corporation
03-0001-0909
Presentation: 48-140 test kit (lab pack).
NAC No.: 1198504.0
ZOETIS CANADA INC.
16,740 TRANS-CANADA HIGHWAY, KIRKLAND, QC, H9H 4M7
| | | |
| --- | --- | --- |
| Order Desk: | | 800-663-8888 |
| Technical Services Canada: | | 800-461-0917 |
| Technical Services USA: | | 800-366-5288 |
| Website: | | www.zoetis.ca |
| | |
| --- | --- |
| | Every effort has been made to ensure the accuracy of the ViraCHEK/FeLV information published above. However, it remains the responsibility of the readers to familiarize themselves with the product information contained on the Canadian product label or package insert. |