The originating document has been archived. We cannot confirm the completeness, accuracy and currency of the content.
STATScreen CPV
This page contains information on STATScreen CPV for
veterinary use
.
The information provided typically includes the following:
STATScreen CPV Indications
Warnings and cautions for STATScreen CPV
Direction and dosage information for STATScreen CPV
Statscreen Cpv
This treatment applies to the following species:
Manufacturer: Vedco
Canine Parvovirus Antigen Test Kit
I. Introduction
Canine Parvovirus (CPV) is a member of the feline parvovirus subgroup. It is closely related to feline panleukopenia virus and mink enteritis virus, and is considered endemic to nearly all populations of domesticated and wild canines.
CPV causes two forms of disease: myocarditis and enteritis. Due to maternal antibody protection, the myocardial form is rare. The enteric form, however, is prevalent and can be fatal to puppies and geriatric dogs. CPV enteritis causes severe, often bloody diarrhea, vomiting, leukopenia and dehydration.
Transmission is fecal-oral and most infections occur from exposure to contaminated feces. CPV is highly contagious and stable under a variety of environmental conditions. Rapid diagnosis of CPV allows for quarantine and prompt treatment of infected dogs. Diagnosis may be difficult in milder cases. STATScreen® CPV detects all strains of canine parvovirus shed in the feces. Positive results with STATScreen® CPV indicate the presence of canine parvovirus.
Ii. Test Principle
The STATScreen® CPV test is a simple test, based on rapid immunomigration (RIM) technology, which detects the presence of canine parvovirus antigen in canine feces. Sensitized particles bound to the CPV antigen present within the sample (fecal extract) migrate along a membrane. The complex is then captured on a sensitized reaction zone where its accumulation causes the formation of a clearly visible pink/purple band. A pink/purple band in the control window ensures that the test was performed correctly.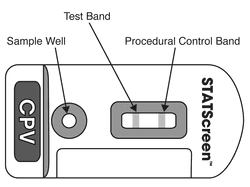 Iii. Sample Information And Storage
Canine fecal material is required for this test. Stool samples may be stored at room temperature for 24 hours or at 2° to 7°C (35° to 45°F) for 7 days. If longer storage is required, the samples may be frozen.
Iv. Kit Contents
- 10 pouches, each containing 1 test device.
- 10 tubes containing 1.0 mL of sample extraction buffer
- 10 sampling swabs
- 10 transfer pipettes
- Instructions for use
V. Precautions
- Do not use components after expiration date.
- Refrigeration is not required. Store the test kit at 2° to 25°C (35° to 77°F). Do not freeze.
- Use the test within 10 minutes after opening the sealed pouch.
- Avoid touching or damaging the membrane at Windows #1, #2 or #3.
- The STATScreen® CPV device should be placed on a flat horizontal surface while performing the test.
- Use a separate extraction pipette for each sample.
- Hold extraction pipette vertically when dispensing sample.
- For Veterinary Use Only.
NOTE:
Samples from healthy vaccinated animals may falsely produce a positive result when tested 4-10 days after canine parvovirus vaccination.
Vi. Test Procedure And Results
1. Sample Extraction
- For each sample to be tested, you will need one sampling swab and one tube of pre-dispensed sample extraction buffer. Remove the stopper from the tube. Coat the swab with a thin layer of feces.
- Immerse the feces coated swab into the sample extraction buffer in the tube. Swirl the swab in the buffer. Remove as much fecal material from the swab as possible by swirling vigorously and pressing the swab against the side of the tube. See #1.a. below.
- When removing the swab from the test tube, press the swab against the side of the tube repeatedly until no more liquid comes from the swab.
- Completely remove the swab from the tube and discard appropriately.
2. Sample Application
- For each sample to be tested, you will need one device, one pipette and the tube of extracted sample.
- Prepare the device by tearing open the pouch and placing the test device on a flat horizontal surface for the duration of the test.
- Squeeze the pipette near the sealed end. Immerse the open end of the pipette into the extracted fecal solution. Release the pressure slightly to draw up a small amount of sample into the pipette. See #1.b. below.
- Holding the pipette vertically, transfer three drops of sample to the sample well, Window #1. Allow sample drops to fall onto membrane at Window #1. Do not touch pipette tip directly to the membrane. See #2 below.
- If migration does not pass Window #2 by one minute, add one additional drop of sample.
3. Reading Test
- Wait ten minutes, observe the presence or absence of pink/purple bands in Windows #2 and #3. See #3 below.
- Sample results are read in Window #2. The control band is read in Window #3.
NOTES:
The test is complete and may be read before 10 minutes if pink/purple bands are visible in both Windows #2 and #3. The presence of a pink/purple band only in Window #3 does NOT mean that the test is complete as a band in Window #2 may develop slower than the control band in Window #3. Wait a full 10 minutes before declaring a result as negative.
4. Results
Validation: Test is validated if a pink/purple band is present in Window #3.
Interpretation:
- Negative for canine parvovirus (CPV) antigen: No band in Window #2, with one pink/purple band in Window #3.
- Positive for CPV antigen: One pink/purple band in Window #2, with one pink/purple band in Window #3.
Invalid test: No pink/purple band in Window #3. See #4 below.
NOTE:
A test result should always be interpreted in the context of all available clinical information and history for the dog.
Statscreen® Cpv Test Procedure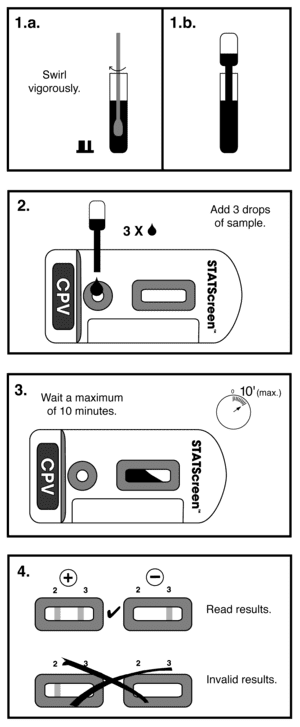 Technical Service
Toll Free: 800-228-4305
Manufactured By
Synbiotics Corporation, San Diego, CA 92127 USA


U.S. Vet. License No. 312
1-800-228-4305
Distributed By
Vedco, Inc., 5503 Corporate Drive, St. Joseph, MO 64507 USA


03-0099-0507
Nac No.
10943031


VEDCO, INC.
5503 CORPORATE DR., ST. JOSEPH, MO, 64507

| | | |
| --- | --- | --- |
| Telephone: | | 816-238-8840 |
| Toll-Free: | | 888-708-3326 (888-70VEDCO) |
| Fax: | | 816-238-1837 |
| Website: | | www.vedco.com |
| | |
| --- | --- |
| | Every effort has been made to ensure the accuracy of the STATScreen CPV information published above. However, it remains the responsibility of the readers to familiarize themselves with the product information contained on the US product label or package insert. |