The originating document has been archived. We cannot confirm the completeness, accuracy and currency of the content.
STATScreen CHW
This page contains information on STATScreen CHW for
veterinary use
.
The information provided typically includes the following:
STATScreen CHW Indications
Warnings and cautions for STATScreen CHW
Direction and dosage information for STATScreen CHW
Statscreen Chw
This treatment applies to the following species:
Manufacturer: Vedco
canine Heartworm Antigen Test Kit


i. Introduction
Heartworm disease (CHW) is caused by Dirofilaria immitis, a filarial nematode whose immature stages are transmitted between animals by mosquitoes. The adult heartworms live in the heart and adjacent large blood vessels. Although primarily a disease of dogs, the parasite can also infect cats, ferrets and other mammals, such as the red fox and the coyote.
Ii. Test Principle
The STATScreen® CHW test is a simple test, based on rapid immunomigration (RIM) technology, which detects the presence of adult D. immitis antigens in dogs' blood. Sensitized particles bound to the heartworm antigens present within the sample (whole blood, serum or plasma) migrate along a nitrocellulose strip. The complex is then captured on a sensitized reaction zone where its accumulation causes the formation of a clearly visible pink/purple band. A pink/purple band in the control window ensures that the test was performed correctly.
Iii. Sample Information And Storage
50uL (0.05 mL) of anticoagulated (EDTA or heparin) whole blood, plasma or serum is required. Hemolysis does not significantly interfere with the test, but strongly hemolyzed samples may partly obscure a weak positive band.
Fresh, anticoagulated whole blood should be tested within 4 hours. Anticoagulated whole blood may be stored at refrigeration for up to 24 hours. If longer storage is required, serum or plasma may be stored at refrigeration (2° to 7°C; 35° to 45°F) for up to 7 days. Serum or plasma samples may be frozen (-20°C) if even longer storage is required.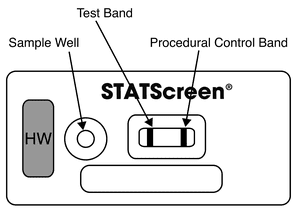 Iv. Kit Contents
- 25 pouches, each containing 1 test device.
- 25 disposable pipettes
- 1 buffer dropper bottle (5.0 ml)
- Instructions for use
V. Precautions
- Do not use components after expiration date.
- Refrigeration is not required. Store the test kit at 2° to 25°C (35° to 77°F). Do not freeze.
- Use the test within 30 minutes after opening the sealed pouch.
- Avoid touching or damaging the membrane at Windows #1, #2 or #3.
- The STATScreen® CHW device should be placed on a flat, horizontal surface while performing the test.
- Use a separate pipette for each sample.
- Hold pipette and buffer bottle vertically when dispensing sample and buffer.
- For Veterinary Use Only.
Vi. Test Procedure And Results
IMPORTANT:
Allow sample and buffer drops to fall onto membrane at Window #1. Do not touch pipette tip, sample or buffer drops, or buffer bottle tip directly to the membrane.
1. Sample Application
- Tear open the pouch provided and place the test device on a flat horizontal surface for the duration of the test.
- Squeeze the provided pipette near the sealed end. Insert the open end of the pipette into an anticoagulated whole blood, serum, or plasma sample. Release the pressure slightly to draw up a small amount of sample into the pipette.
- Holding the pipette vertically, transfer one drop of sample to the sample well, Window #1. Allow sample drop to fall onto membrane at Window #1. Do not touch pipette tip directly to the membrane. See #1 below.
- Allow sample to be completely absorbed.
2. Buffer Dispensing
- Remove the cap from the buffer bottle, hold it vertically and add two drops of buffer to the sample well Window #1. See #2 below.
3. Reading Test
- Wait ten minutes, observe the presence or absence of pink/purple bands in Windows #2 and #3. See #3 below.
- Sample results are read in Window #2. The control band is read in Window #3.
NOTES:
The test is complete and may be read before 10 minutes if pink/purple bands are visible in both Windows #2 and #3. The presence of a pink/purple band only in Window #3 before 10 minutes does not mean that the test is complete. A pink/purple band in Window #2 may develop slower than the control pink/purple band in Window #3.
4. Results
Validation: Test is validated if a pink/purple band is present in Window #3.
Interpretation:
- Negative for HW antigen: No band in reading Window #2, with one pink/purple band in Window #3.
- Positive for HW antigen: One pink/purple band in reading Window #2, and one pink/purple band in Window #3.
Invalid Test
No pink/purple band in Window #3.
See #4 below.
NOTE:
A test result should always be interpreted in the context of all available clinical information and history for the dog.
Statscreen® Chw Test Procedure
Technical Service
Toll Free: 800-228-4305
Manufactured By
Synbiotics Corporation, San Diego, CA 92127 USA


U.S. Vet. License No. 312
1-800-228-4305
Distributed By
Vedco, Inc., 5503 Corporate Drive, St. Joseph, MO 64507 USA


03-0097-0907
Nac No.
10942823


VEDCO, INC.
5503 CORPORATE DR., ST. JOSEPH, MO, 64507

| | | |
| --- | --- | --- |
| Telephone: | | 816-238-8840 |
| Toll-Free: | | 888-708-3326 (888-70VEDCO) |
| Fax: | | 816-238-1837 |
| Website: | | www.vedco.com |
| | |
| --- | --- |
| | Every effort has been made to ensure the accuracy of the STATScreen CHW information published above. However, it remains the responsibility of the readers to familiarize themselves with the product information contained on the US product label or package insert. |