ProSystem TGE/Rota
This page contains information on ProSystem TGE/Rota for
veterinary use
.
The information provided typically includes the following:
ProSystem TGE/Rota Indications
Warnings and cautions for ProSystem TGE/Rota
Direction and dosage information for ProSystem TGE/Rota
ProSystem TGE/Rota
This treatment applies to the following species:
Company: Intervet/Merck Animal Health
Porcine Rotavirus Transmissible Gastroenteritis Vaccine
Modified Live Virus
For use in healthy pregnant swine as an aid in the prevention and control of rotaviral diarrhea and TGE in their nursing piglets. Contains attenuated live TGE virus and two major rotavirus serotypes in desiccated form. All three viruses have been modified so that they do not cause disease in baby pigs and pregnant swine.
DOSAGE AND DIRECTIONS:
Intramuscular (IM) vaccination: For use only in sows exposed to virulent TGE within the prior 12 months. Reconstitute with sterile diluent. Shake well. Inject 2 mL IM at 5 weeks and again at 2 weeks before each farrowing.
Oral and IM method: To be used for sows and gilts not previously exposed to virulent TGE. For initial use vaccinate pregnant sows and gilts at 5 weeks and 3 weeks (oral) and 1 week (IM) before farrowing. Subsequent farrowings: administer one oral and one IM dose 2 weeks before farrowing.
RECOMMENDED METHODS FOR ORAL VACCINATION OF SWINE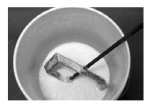 Step 1. Withhold feed overnight prior to vaccination. Pour approximately 2 to 2-1/2 gallons of cool water into a large plastic bucket. Add 5 - 10 cups of dry milk (any type of dry milk for human consumption is acceptable). Do not use commercial milk replacers or complete rations, as they may adversely affect vaccine potency. Do not use hot water - it will destroy the vaccine.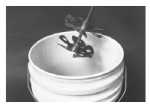 Step 2. Stir milk mixture well. Drywall paddles (as shown in steps 1 and 2) attached to 1/2" drill make mixing easier.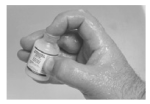 Step 3. Remove metal ring and stopper. Reconstitute vaccine with diluent or milk; add reconstituted vaccine to milk, and stir.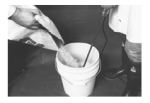 Step 4. Slowly add 40 lbs. of clean ground corn to the milk/ vaccine mixture. Stir continuously, using an electric 1/2" drill and drywall paddle, until mixture thickens and drill pulls down. There should be no run-off seen. Mixing procedure takes approximately 3 minutes.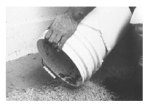 Step 5. Feed to pregnant sows and gilts in one of two ways: 1. Feed sows individually with approximately 4 lbs. of milk/vaccine/ corn mixture. 2. Spread milk/vaccine/corn mixture in a row onto concrete, feeding 10 sows at a time. Do not pour vaccine-milk mixture on top of ground corn, as sows may not receive sufficient vaccine.
ProSystem TGE/Rota Caution
Store in the dark at 2° to 7°C (35° to 45°F). Do not freeze. Use immediately after reconstitution; do not save partial contents. Burn the virus container and all unused contents. Use only in healthy pregnant swine. Do not vaccinate within 21 days of slaughter. If allergic reaction occurs, treat with epinephrine. Contains gentamicin as preservative. Conditions which interfere with lactation adversely affect immunity in baby pigs. Do not use for the vaccination of baby pigs.
FOR ANIMAL USE ONLY
Intervet Inc., Merck Animal Health, division of Intervet Inc., Omaha, NE 68103, USA
U.S. Vet Lic. No 165A
1 800 521-5767
For patent information:
http://www.merck.com/product/patent/home.html
| | | | |
| --- | --- | --- | --- |
| | | Code | |
| 10 doses | 20 mL | 026117 | 154766-06 |
CPN: 1047365.4
MERCK ANIMAL HEALTH
Intervet Inc.
2 GIRALDA FARMS, MADISON, NJ, 07940
| | | |
| --- | --- | --- |
| Customer Service: | | 800-521-5767 |
| Order Desk: | | 800-648-2118 |
| Technical Service (Companion Animal): | | 800-224-5318 |
| Technical Service (Livestock): | | 800-211-3573 |
| Fax: | | 973-937-5557 |
| Website: | | www.merck-animal-health-usa.com |
| | |
| --- | --- |
| | THIS SERVICE AND DATA ARE PROVIDED "AS IS". DVMetrics assumes no liability, and each user assumes full risk, responsibility, and liability, related to its use of the DVMetrics service and data. See the Terms of Use for further details. |