Program Suspension (133 mg) (Canada)
This page contains information on Program Suspension (133 mg) for
veterinary use
.
The information provided typically includes the following:
Program Suspension (133 mg) Indications
Warnings and cautions for Program Suspension (133 mg)
Direction and dosage information for Program Suspension (133 mg)
Program Suspension (133 mg)
This treatment applies to the following species:
Company: Elanco (Novartis)
(LUFENURON 7%)
DIN: 02057832 (133 mg), 02192632 (266 mg)
Program is a once-a-month oral suspension that controls flea infestations on cats by interrupting the flea life cycle at the egg and larval stage.
INTRODUCTION: Elanco Canada Limited encourages you to take time to read this package insert which describes the once-a-month use of PROGRAM (lufenuron) suspension for flea prevention and control. Preventing flea infestations is important in maintaining your cat's good health and grooming.
Description
The active ingredient in PROGRAM is lufenuron (N-[2, 5-dichloro-4- (1, 1, 2, 3, 3, 3,hexafluoropropoxy)-phenylaminocarbonyl]-2,6-diflourobenzamide).
Program Suspension (133 mg) Indications
PROGRAM Suspension is indicated for use in the control of flea infestations on cats and in their habitat. PROGRAM works by interrupting the flea life cycle, thereby preventing the build-up of flea infestations on cats and their surroundings. PROGRAM is indicated for use in cats six weeks of age and older. Treatment should be initiated at least one month before the onset of the flea season and continued throughout the entire flea season to prevent the build up of a flea infestation. PROGRAM is also indicated for control of active midseason flea infestations. However, in this situation, flea adulticides should be used concurrently at labelled rates for the first 6-8 weeks. This provides time for PROGRAM to impact flea population dynamics by interrupting the flea cycle.
DOSAGE: PROGRAM Suspension is to be administered orally, once a month, to cats six weeks of age and older, at the recommended minimum dosage rate of 30 mg lufenuron per kilo of body weight. See the recommended dosage schedule below:
Recommended Dosage
| | |
| --- | --- |
| Weight of Cat | PROGRAM (lufenuron) |
| Up to 4.5 kg | 1 unit dose dispenser of 133 mg lufenuron |
| 4.6 - 9 kg | 1 unit dose dispenser of 266 mg lufenuron |
| over 9 kg | 1 of each unit dose dispenser |
Observe the cat closely following dosing to ensure that the entire dose has been consumed.
ADMINISTRATION: PROGRAM Suspension must be administered monthly, throughout the entire flea season. In areas where fleas are prevalent, mainly during the summer months, the first dose should be administered before the onset of flea season. Treatment should continue year-round in areas where fleas are present throughout the year. Discontinuation of the PROGRAM regimen may result in flea reinfestation from sources outside the pet's immediate environment. When using PROGRAM for control of active mid-season flea infestations, flea adulticidal products should be used concurrently for the first 6-8 weeks.
PROGRAM Suspension should be administered on a full stomach. To ensure adequate drug absorption, a full meal should be ingested immediately prior to administration of the suspension.
As an alternative to direct dosing, the suspension can be added to food. Watch the cat closely following dosing to be sure the entire dose has been consumed. In case of doubt, it is safe to readminister the entire dose. To ensure your cat receives the maximum benefit from PROGRAM, you must administer the suspension once a month. If you miss the monthly date of treatment, administer PROGRAM immediately and resume your normal monthly dosing schedule.
All dogs and cats inhabiting the same household must receive PROGRAM Tablets [dog] or PROGRAM suspension [cat]. Failure to treat all pets in the household may result in sub optimal flea control caused by re-infestation from untreated animals. PROGRAM should be used as part of a comprehensive flea control plan under the direction of a veterinarian.
FLEA INFESTATIONS ON CATS AND TREATMENT WITH PROGRAM: Fleas are the most important ectoparasite on dogs and cats. Fleas are not only annoying pests to you and your pet, but also pose a significant health risk to your cat. Tapeworm parasites are transmitted by fleas and cats may develop an allergic dermatitis from flea bites.
Pharmacology
Lufenuron, the active ingredient of PROGRAM, belongs to the chemical group of benzoylphenylurea compounds. These compounds are classified as insect development inhibitors which interfere with the transport process involved in polymerization of chitin or in the deposition of chitin chains. Chitin is the principle component of the flea egg case and cuticle that forms the exoskeleton of larval stages and adult fleas. Most affected flea eggs fail to hatch, and of those that do hatch, surviving larval stages fail to develop.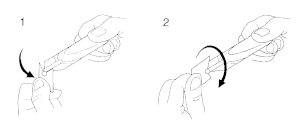 The development-inhibiting effect of this drug occurs when the adult flea is exposed through the blood meal to lufenuron present in the animal's blood. Eggs and larvae from adult fleas exposed to lufenuron in this manner fail to develop properly and die. Because female fleas must feed on blood before they can lay eggs, entire populations of immature life stages are eliminated, resulting in flea control.
Lufenuron has no direct effect on mature fleas since they have fully developed exoskeletons. In order to control existing adult flea infestations, adulticidal products should be used concurrently for the first 6-8 weeks while PROGRAM is exerting its life-cycle disrupting effect.
SAFETY: PROGRAM has a wide margin of safety in dogs and cats.
PROGRAM has been tested safely in over 10 breeds of cats, including pregnant females, breeding males and females, and kittens. In well controlled clinical studies, PROGRAM was used safely in dogs and cats, many of which received other commonly used veterinary products such as vaccines, anthelmintics, antibiotics, steroids, flea collars, insecticide shampoos and dips.
Breeding studies in purpose-bred cats demonstrated no adverse responses in either the parental generation or in the birth and survival rate of their progeny following exposure to high doses of lufenuron [in excess of 3 times the blood level achieved by a single dose]. Males and females were given multiple doses 60 days prior to mating through pairing, and females were continually dosed throughout gestation and weaning.
Lufenuron was evaluated in young adult cats approximately 9 months of age for 3 months at rates up to 17 times the monthly use rate, administered on 3 consecutive days each month, without observable adverse effects. In the same study, the drug was administered at exaggerated levels [17x] concomitantly with commonly used carbamate and pyrethroid insecticide products for fleas. No toxicity enhancing effects were observed when lufenuron was administered simultaneously with the topically applied commercial insecticides. Tolerability studies in juvenile cats [11 weeks of age] and young adult cats [7 months of age] at 10 times the monthly use rate indicated a high degree of tolerance to lufenuron.
[For safety information in dogs, see PROGRAM Tablets package insert.]
PHARMACOKINETICS: Lufenuron administered orally to the animal is absorbed through the gastrointestinal tract and circulates in the blood. Following administration, lufenuron is distributed from the vascular compartment to adipose tissue. It is released steadily back into the blood, thus maintaining levels above the minimum effective concentration between monthly treatments.
Warning
Keep out of reach of children. If accidentally swallowed, call a physician.
PRESENTATION: PROGRAM Suspension for cats is supplied separately as a liquid suspension in convenient dispensers. Since the minimum recommended dose of PROGRAM for dogs is different than the recommended dose for cats, please consult your package insert for detailed directions.
PROGRAM Tablets for dogs are available in four sizes (see Dosage section) formulated and colour coded according to body weight. Each tablet size is available in a colour coded package of 6 tablets each which are packaged 10 per display carton.
STORAGE CONDITIONS: PROGRAM [Lufenuron] Suspension should be stored at room temperature, between 15-30 °C.
Elanco Canada Limited, Research Park Centre, 150 Research Lane, Suite 120, Guelph, Ontario N1G 4T2
Elanco, Program and the diagonal bar are trademarks owned or licensed by Eli Lilly and Company, its subsidiaries or affiliates.
06Nov2015
CPN: 1231025.3
ELANCO CANADA LIMITED
150 RESEARCH LANE, SUITE 120, GUELPH, ON, N1G 4T2
| | | |
| --- | --- | --- |
| Customer Service: | | 800-265-5475 |
| Fax: | | 519-821-7831 |
| Website: | | www.elanco.ca |
| Email: | | elancocanadacustomerservice@elanco.com |
| | |
| --- | --- |
| | Every effort has been made to ensure the accuracy of the Program Suspension (133 mg) information published above. However, it remains the responsibility of the readers to familiarize themselves with the product information contained on the Canadian product label or package insert. |