Program Cat Injectable (80 mg) (Canada)
This page contains information on Program Cat Injectable (80 mg) for
veterinary use
.
The information provided typically includes the following:
Program Cat Injectable (80 mg) Indications
Warnings and cautions for Program Cat Injectable (80 mg)
Direction and dosage information for Program Cat Injectable (80 mg)
Program Cat Injectable (80 mg)
This treatment applies to the following species:
Company: Elanco
(lufenuron injectable suspension)
100 mg/mL lufenuron
Sterile
For Veterinary Use Only
For Cats Only
40 mg DIN 02237517
80 mg DIN 02237516
Description
PROGRAM is a six-month injectable suspension for use in cats. The active ingredient in PROGRAM is lufenuron (N-[2,5-dichloro-4-(1,1,2,3,3,3,-exafluoropropoxy)-phenylaminocarbonyl]-2,6-difluorobenzamide).
Program Cat Injectable (80 mg) Indications
PROGRAM is indicated for use in the control of flea infestations on cats and in their habitat. PROGRAM is also indicated for the control of active mid-season flea infestations.
PROGRAM is indicated in all cats, including pregnant and lactating queens, and weaned kittens.
Dosage And Adminstration
PROGRAM is injected subcutaneously once every six (6) months at the minimum dosage of 10 mg lufenuron per kg of body weight.
Recommended Dosage Schedule
| | | |
| --- | --- | --- |
| Weight of Cat | Syringe Size | Lufenuron Contents |
| Up to 4 kg | small (0.4 mL) | 40 mg |
| 4.1-8 kg | large (0.8 mL) | 80 mg |
| over 8 kg | 1 of each syringe | |
The syringe must be shaken vigorously to reconstitute the suspension prior to injection. Inject the entire contents of the syringe subcutaneously (e.g. dorsally anterior to the shoulder blades).
PROGRAM should be used as part of a comprehensive flea control plan, under the direction of a veterinarian. This may include the use of a separate flea adulticide product to treat mature fleas.
Prevention of Flea Infestations:
The first dose of PROGRAM should be administered at least one month before the onset of the flea season. Treatment should be continued throughout the entire flea season to prevent the build-up of a flea infestation.
Treatment of Active Flea Infestations and Prevention of Re-infestations:
The first dose of PROGRAM should be administered as soon as a flea infestation is detected. When using PROGRAM for the control of active mid-season flea infestations, separate flea adulticidal products should be used concurrently (at the labelled doses) for the first 6-8 weeks, for complete flea control. This provides time for PROGRAM to impact flea population dynamics by interrupting the flea life cycle:
Flea Life Cycle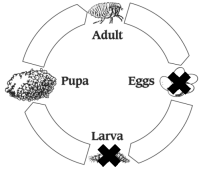 Treatment with PROGRAM should continue year round in areas where fleas are present throughout the year. All cats inhabiting the same household must receive PROGRAM. Failure to treat all pets (including dogs) in the household with an appropriate flea control product may result in suboptimal flea control, caused by re-infestation from untreated animals. Discontinuation of the PROGRAM regimen may result in flea re-infestation from sources outside the pet's immediate environment.
Program Cat Injectable (80 mg) Cautions
For use in cats only. Do NOT use in dogs. Anaphylaxis has been reported with the use of this product. If an allergic reaction or anaphylaxis occurs, appropriate therapy should be instituted.
Warnings
Keep this and all drugs out of the reach of children. If accidentally self injected, call a physician.
Adverse Reactions
Although all adverse reactions are not reported, the following information is based on voluntary post-approval drug experience reporting. It is generally recognized that this results in significant under-reporting. The adverse events listed here reflect reporting and not necessarily causality. The clinical signs reported were rare1 or very rare2. The following adverse events are listed by body system, in decreasing order of frequency.
Systemic disorders: lack of efficacy1*, lethargy2, anorexia2
Application site disorders: injection site lump2, injection site edema2, injection site pain2
Digestive tract disorders: vomiting2
*Lack of efficacy, real or perceived, may occur if product directions are not followed and all animals in a household are not treated with an appropriate flea control product (see DOSAGE AND ADMINISTRATION section).
In very rare cases, death has also been reported.
1Reported in at least 1 but not more than 10 animals in 10,000 animals.
2Reported in less than 1 in 10,000 animals.
To report suspected adverse drug events or for technical assistance, contact Elanco Canada Limited at 1-800-265-5475.
Pharmacology
Lufenuron, the active ingredient of PROGRAM, belongs to the chemical group of benzoylphenylurea compounds. These compounds are classified as insect development inhibitors, which interfere with the transport process involved in polymerization of chitin or in the deposition of chitin chains. Chitin is the principle component of the flea egg case and cuticle that forms the exoskeleton of larval stages and adult fleas. Most affected flea eggs fail to hatch and, of those that do hatch, surviving larval stages fail to develop.
PROGRAM acts by interrupting the early stages of the flea life cycle, thereby preventing the build-up of flea infestations on cats and their surroundings. The development-inhibiting effect of this drug occurs when the adult flea is exposed through the blood meal to lufenuron present in the animal's blood. Eggs and larvae from adult fleas exposed to lufenuron in this manner fail to develop properly and die. Because female fleas must feed on blood before they can lay eggs, entire populations of immature life stages are eliminated, resulting in flea control.
Lufenuron has no direct effect on mature fleas since they have fully developed exoskeletons.
Pharmacokinetics
Following administration, lufenuron is distributed from the vascular compartment to adipose tissue. It is released steadily back into the blood, thus maintaining levels above the minimum effective concentration between treatments.
Safety
PROGRAM has a wide margin of safety in cats.
PROGRAM has been tested safely in over 10 breeds of cats, including pregnant females, breeding males and females, and kittens. In well controlled clinical studies, PROGRAM was safely used in cats, many of which received other commonly used veterinary products such as vaccines, anthelmintics, antibiotics, steroids, flea collars, insecticide shampoos and dips. Breeding studies in purpose-bred cats demonstrated no adverse responses in either the parental generation or in the birth and survival rate of their progeny following exposure to high doses of lufenuron (in excess of 3 times the blood level achieved by a single dose). Males and females were given multiple doses 60 days prior to mating through pairing, and females were continually dosed throughout gestation and weaning.
Lufenuron was evaluated in young adult cats approximately 9 months of age for 3 months at rates up to 17 times the monthly use rate, administered on 3 consecutive days each month, without observable adverse effects. In the same study, the drug was administered at exaggerated levels (17x) concomitantly with commonly used carbamate and pyrethroid insecticide products for fleas. No toxicity enhancing effects were observed when lufenuron was administered simultaneously with the topically applied commercial insecticides. Tolerability studies in juvenile cats (11 weeks of age) and young adult cats (7 months of age) at 10 times the monthly use rate indicated a high degree of tolerance to lufenuron.
Storage Conditions
PROGRAM should be stored at room temperature, between 15 - 30 °C. Keep from freezing.
Presentation
PROGRAM is available in unit dose packaging (see DOSAGE AND ADMINISTRATION section) designed to deliver 40 mg or 80 mg lufenuron per unit.
MANUFACTURED FOR
Elanco Canada Limited, 1919 Minnesota Court, Suite 401, Mississauga, Ontario L5N 0C9
DATE: May 2022
Program, Elanco and the diagonal bar logo are trademarks of Elanco or its affiliates.
© 2022 Elanco or its affiliates.
18May2022
CPN: 1231023.5
ELANCO CANADA LIMITED
1919 MINNESOTA COURT, SUITE 401, MISSISSAUGA, ON, L5N 0C9
| | | |
| --- | --- | --- |
| Customer Service: | | 800-265-5475 |
| Fax: | | 519-821-7831 |
| Website: | | www.elanco.ca |
| Email: | | elancocanadacustomerservice@elancoah.com |
| | |
| --- | --- |
| | THIS SERVICE AND DATA ARE PROVIDED "AS IS". Animalytix assumes no liability, and each user assumes full risk, responsibility, and liability, related to its use of the Animalytix service and data. See the Terms of Use for further details. |