The originating document has been archived. We cannot confirm the completeness, accuracy and currency of the content.
Primex Canine-2X
This page contains information on Primex Canine-2X for
veterinary use
.
The information provided typically includes the following:
Primex Canine-2X Indications
Warnings and cautions for Primex Canine-2X
Direction and dosage information for Primex Canine-2X
Primex Canine-2x
This treatment applies to the following species:
Manufacturer: First Priority
Priority Care® 1
Anthelmintic Suspension
(pyrantel pamoate)
For Animal Use Only
Primex® Canine-2X is a suspension of pyrantel pamoate in a palatable butterscotch-flavored vehicle. Each mL contains 4.54 mg of pyrantel base as pyrantel pamoate.
Pyrantel pamoate is a compound belonging to a family classified chemically as tetrahydropyrimidines. It is a yellow, water-insoluble crystalline salt of the tetrahydropyrimidine base and pamoic acid containing 34.7% base activity. The chemical structure and name are given below: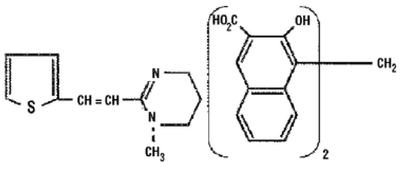 (E)-1,4,5,6-Tetrahydro-1-methyl-2-[2-(2-thienyl) vinyl] pyrimidine 4,4' methylenebis [3-hydroxy-2-naphtoate] (1:1)
Primex Canine-2X Indications
For the removal of large roundworms (Toxocara canis and Toxascaris leonina) and hookworms (Ancylostoma caninum and Uncinaria stenocephala) in dogs and puppies. The presence of these parasites should be confirmed by laboratory fecal exam. Consult your veterinarian for assistance in the diagnosis, treatment and control of parasitism. Primex® Canine-2X may also be used to prevent reinfestation of Toxocara canis in puppies and adult dogs and in lactating bitches after whelping.


Directions For Use
Administer 1 full teaspoon (5 mL) for each 10 lb of body weight. To assure proper dosage, weigh animal prior to treatment. It is not necessary to withhold food prior to or after treatment. Dogs usually find this dewormer very palatable and will lick the dose from the bowl willingly. If there is reluctance to accept the dose, mix in a small quantity of dog food to encourage consumption. It is recommended that dogs maintained under conditions of constant exposure to worm infestation should have a follow-up fecal exam within 2 to 4 weeks after first treatment. If your dog looks or acts sick, consult your veterinarian before treatment. For maximum control and prevention of reinfestation, it is recommended that puppies be treated at 2, 3, 4, 6, 8 and 10 weeks of age. Lactating bitches should be treated 2-3 weeks after whelping. Adult dogs kept in heavily contaminated quarters may be treated at monthly intervals to prevent Toxocara canis reinfestation.


Primex Canine-2X Caution
THIS PRODUCT IS A SUSPENSION AND AS SUCH WILL SEPARATE. TO INSURE UNIFORM RE-SUSPENSION AND TO ACHIEVE PROPER DOSAGE, IT IS EXTREMELY IMPORTANT THAT THE PRODUCT BE SHAKEN THOROUGHLY BEFORE EVERY USE.


Storage
Store at controlled room temperature between 15°-30°C (59°-86°F). Keep container tightly closed when not in use.
Safety And Efficacy
Critical (worm count) studies in dogs demonstrated that Primex
®
Canine-2X at the recommended dosage is highly efficacious against
T. leonina
(99%),
T. canis
(85%),
A. caninum
(97%), and
U. stenocephala
(94%).
One of the most outstanding and significant features of Primex® Canine-2X is its wide margin of therapeutic safety in dogs. The acute oral LD50 of pyrantel pamoate administered in gelatin capsules to female and male dogs is greater than 314 mg base per lb of body weight, which indicates a therapeutic index in excess of 138 times the recommended dosage. In subacute and chronic studies, no significant morphological abnormalities could be attributed to pyrantel pamoate when administered to dogs at daily dose rates up to 94 mg base per lb of body weight (40x) for periods of 19, 30, and 90 days. Clinical studies conducted in a wide variety of geographic locations using more than 40 different breeds of dogs showed no drug-induced toxic effects. Included in these studies were nursing pups, weaned pups, adults, pregnant bitches, and males at stud. Additional data have demonstrated the safe use of pyrantel pamoate in dogs having heartworm infestations and/or receiving medication for heartworms, dogs exposed to organophosphate flea collars or flea/tick dip treatments, and dogs undergoing concurrent treatment or medication at the time of worming such as immunization and antibacterial treatment.
Presentation
2 fl oz (60 mL) and 16 fl oz (473 mL) bottles.
Keep Out Of Reach Of Children
Rev. 09-07
Priority Care and Primex are registered trademarks of First Priority, Inc.
Manufactured By: FIRST PRIORITY, INC., Elgin, IL 60123-1146
www.prioritycare.com
ANADA 200-352, Approved by FDA
| | | | |
| --- | --- | --- | --- |
| Net Contents: | NDC# | Reorder No. | |
| 2 fl oz (60 mL) | 58829-315-02 | OM101PC | Rev. 09-07 |
| 16 fl oz (473 mL) | 58829-315-16 | OM102PC | |
Nac No.
11390946
FIRST PRIORITY, INC.
1590 TODD FARM DRIVE, ELGIN, IL, 60123-1146
| | | |
| --- | --- | --- |
| Telephone: | | 847-289-1600 |
| Order Desk: | | 800-650-4899 |
| Fax: | | 847-289-1223 |
| Website: | | www.prioritycare.com |
| Email: | | custsvc@prioritycare.com |
| | |
| --- | --- |
| | Every effort has been made to ensure the accuracy of the Primex Canine-2X information published above. However, it remains the responsibility of the readers to familiarize themselves with the product information contained on the US product label or package insert. |