Preventic Tick Collar for Dogs
This page contains information on Preventic Tick Collar for Dogs for
veterinary use
.
The information provided typically includes the following:
Preventic Tick Collar for Dogs Indications
Warnings and cautions for Preventic Tick Collar for Dogs
Direction and dosage information for Preventic Tick Collar for Dogs
Preventic Tick Collar for Dogs
This treatment applies to the following species:
Company: Virbac
The one that KILLS and DETACHES Ticks
Kills and Detaches Ticks for 3 Months
ACTIVE INGREDIENT
| | |
| --- | --- |
| Amitraz | 9.0% |
| OTHER INGREDIENTS | 91.0% |
| TOTAL | 100.0% |
KEEP OUT OF REACH OF CHILDREN
Preventic Tick Collar for Dogs Caution
DO NOT ALLOW CHILDREN TO PLAY WITH THE COLLAR
DO NOT OPEN UNTIL READY TO USE
USE ONLY ON DOGS
DO NOT USE ON CATS
READ ENTIRE LABEL BEFORE EACH USE
First Aid
IF ON SKIN OR CLOTHING
● Take off contaminated clothing.
● Rinse skin immediately with plenty of water for 15 - 20 minutes.
● Call a poison control center or doctor for treatment advice.
IF IN EYES
● Hold eye open and rinse slowly and gently with water for 15 - 20 minutes.
● Remove contact lenses, if present, after the first 5 minutes, then continue rinsing eye.
● Call a poison control center or doctor for treatment advice.
Have product container or label with you when calling a poison control center or doctor, or going for treatment. You may also contact 1-800-338-3659 for emergency medical treatment information.
NOTE TO VETERINARIAN: If a dog ingests this collar and exhibits intoxication (primary sign is severe depression), induce vomiting, administer non-oily laxative, activated charcoal or enema. Provide supportive therapy until collar fragments are voided. If dog cannot be roused, Yohimbine, 0.1mg/kg by intravenous injection is antidotal. Repeat as needed.
Precautionary Statements
HAZARDS TO HUMANS AND DOMESTIC ANIMALS
Preventic Tick Collar for Dogs Caution
HAZARDS TO HUMANS: Harmful if absorbed through the skin. Causes moderate eye irritation. Avoid contact with skin, eyes or clothing. Wash hands thoroughly with soap and water before eating, drinking, chewing gum, using tobacco or using the toilet. This collar is for use as an acaracide generator and is not to be taken internally by man or animal. Not for use on humans. Do not allow children to handle or play with this collar. Some humans may develop skin irritation through contact with collared pet. Remove collar, shampoo pet and consult physician if irritation persists.
HAZARDS TO DOMESTIC ANIMALS: FOR USE ON DOGS ONLY. DO NOT USE ON CATS.
Do not use on puppies under 12 weeks of age. Consult a veterinarian before using on debilitated, aged, medicated, pregnant or nursing animals. Do not treat collared dogs with other monoamine oxidase inhibitors, or with tricyclic antidepressants, selective serotonin reuptake inhibitors, or pressor agents. Consult a veterinarian before using this product on dogs on any other medication. Sensitivities may occur after using ANY pesticide product for pets. Remove collar at first sign of irritation or adverse reaction, bathe dog with mild soap or non-pesticidal shampoo and rinse with large amounts of water. If signs continue, consult a veterinarian immediately.
DO NOT APPLY TO CATS. There is a risk of collar breakage and ingestion if collar is worn by unattended dogs that play by mouthing each other in the neck area. If collar is missing from a dog, search for, retrieve and recover the entire collar. Immediately consult a veterinarian if dog is depressed or if ingestion is suspected.
NOTICE: This product contains an ingredient known to the State of California to cause birth defects or other reproductive harm. Wash hands thoroughly after applying this product. Dispose of as instructed below.
Directions For Use
It is a violation of Federal law to use this collar in a manner inconsistent with its labeling.
RESTRICTIONS:
-Do not place more than one collar on a dog at a time.
-Do not allow children to handle or play with the collar.
-Do not use on puppies under 12 weeks of age.
-Do not use this collar with other on-animal tick control products unless directed by a veterinarian.
-Do not use on cats.
APPLICATION INSTRUCTIONS: Place this collar around the dog's neck, adjust for proper fit and buckle in place. The collar must be snug enough to contact skin and so that the dog cannot remove it. A properly fitted collar will allow two fingers to be placed between the collar and the dog's neck. Adjust periodically for growing dogs. Cut off and dispose of excess length. Do not allow dogs to play with cut-off excess. Activity against ticks starts within 24 hours and continues as long as the collar is worn (up to 90 days). Ticks present in the dog's environment that may reappear on the dog will not attach and will be killed in less than 24 hours. Replace collar when effectiveness diminishes. The effectiveness of the collar is not diminished by normal wetting such as rainfall; however, it is suggested that the collar be removed before bathing. This product does not control fleas.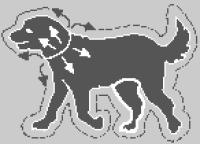 Storage And Disposal
Do not contaminate water, food, or feed by storage and disposal. Pesticide Storage: Store in original container in locked storage area. Store away from food and pet food. Pesticide Disposal and Container Handling: Do not reuse empty pouch or box. Wrap pouch and put in trash collection. When discarding cut-off end and used collar, wrap in newspaper and place in trash collection.
Lot number on pouch
EPA Reg. No. 2382 - 104
EPA Est. No. 2382 - FRA - 1
Made in France
Manufactured for: Virbac AH, Inc., P.O. Box 162059, Fort Worth, Texas 76161, (800) 338-3659
NET CONTENTS:

NET WT.

ONE 18" COLLAR

FITS NECKS UP TO 18"

0.652 oz. (18.5 g)

Adjustable - for Dogs up to 60 lbs

84008201

500553 - 06

ONE 25" COLLAR

FITS NECKS UP TO 25"

0.97 oz. (27.5 g)

Adjustable - for Dogs over 60 lbs

84008401

500554 - 06
CPN: 1023044.4
VIRBAC AH, INC.
Virbac Corporation
P.O. BOX 162059, FORT WORTH, TX, 76161
| | | |
| --- | --- | --- |
| Telephone: | | 817-831-5030 |
| Order Desk: | | 800-338-3659 |
| Fax: | | 817-831-8327 |
| Website: | | https://us.virbac.com/ |
| | |
| --- | --- |
| | THIS SERVICE AND DATA ARE PROVIDED "AS IS". DVMetrics assumes no liability, and each user assumes full risk, responsibility, and liability, related to its use of the DVMetrics service and data. See the Terms of Use for further details. |