The originating document has been archived. We cannot confirm the completeness, accuracy and currency of the content.
PetVisionPro
This page contains information on PetVisionPro for
veterinary use
.
The information provided typically includes the following:
PetVisionPro Indications
Warnings and cautions for PetVisionPro
Direction and dosage information for PetVisionPro
PetVisionPro
This treatment applies to the following species:
Manufacturer: PRN Pharmacal
Veterinary Formula Sterile Solution
For relief of eye irritation and dryness in pet eyes.
Sold only through licensed Veterinarians
This product is manufactured in accordance with the requirements as set forth by the US Food and Drug Administration monograph for ophthalmic products. The statements contained herein have not been evaluated by the Food and Drug Administration. This product is not intended to diagnose, treat, cure or prevent any disease.
Helps improve lens clarity
Helps reduce cloudiness in the eye
● Helps reduce cloudiness of the eyes.
● Helps maintain lens clarity.
● Apply 1-2 drops in affected eye(s) 2-3 times a day.
● Continue regimen for 36 days and the cloudiness of the eye may be reduced (results may vary).
Application
For temporary relief of discomfort due to pet eye irritation. Can be used on both dogs and cats.
To open Dropper
Squeeze at Saddle to break inner-seal, squeeze middle of tube to dispense a single drop.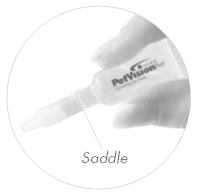 Directions For Use
Apply 1 to 2 drops in each eye, 2 to 3 times a day, using the following technique: Lean your pet's head back so that it is looking upward, apply a single drop, and close eyelid with hand. Do not allow the eye to blink or reopen for 10 seconds, to ensure that the eye is thoroughly exposed to the liquid. Repeat this procedure for each eye as directed above.
PetVisionPro Indications
For use as a lubricant and protectant against irritation or to relieve dryness of your pet's eyes. PetVisionPro may help reduce lens opacity and assist in maintaining lens clarity.
Ingredients
Carboxymethylcellulose Sodium (lubricant 0.5%), Sterile Water (Ophthalmic Grade Isotonic Solution pH 6.8-7.2), Proprietary blend of Amino Acids, Benzalkonium Cl (Preservatives 0.01%).
Warnings
Keep the dispenser at ambient temperature. Keep the dispenser away from sunlight. Do not freeze. Do not use if seal is broken or if solution becomes cloudy.
Storage
This product can be stored at ambient temperature. To obtain maximum shelf life of the ingredients, the product can be stored in the refrigerator but do not freeze. Do not use past expiration date. Once open, discard dispenser and any contents after 40 days.
Distributed exclusively by PRN® Pharmacal, 8809 Ely Road, Pensacola, FL 32514
Toll Free: (800) 874-9764
prnpharmacal.com
ADER Enterprises, Inc, 12526 High Bluff Drive, Suite 300, San Diego, CA 92130 USA
888.792.3410 Voice
858.792.3411 Fax
Made in USA
PetVisionPro is a trademark of ADER Enterprises, Inc.
U.S. Patent Nos. 7,960,350 & 8,338,381
NET CONTENTS:

8mL

2 X 4mL

004 8/14
CPN: 1090049.0
PRN PHARMACAL
8809 ELY ROAD, PENSACOLA, FL, 32514
| | | |
| --- | --- | --- |
| Telephone: | | 850-478-2770 |
| Order Desk: | | 800-874-9764 |
| Fax: | | 850-476-7087 |
| Website: | | www.prnpharmacal.com |
| | |
| --- | --- |
| | Every effort has been made to ensure the accuracy of the PetVisionPro information published above. However, it remains the responsibility of the readers to familiarize themselves with the product information contained on the US product label or package insert. |