Novodry Plus Suspension (Canada)
This page contains information on Novodry Plus Suspension for
veterinary use
.
The information provided typically includes the following:
Novodry Plus Suspension Indications
Warnings and cautions for Novodry Plus Suspension
Direction and dosage information for Novodry Plus Suspension
Novodry Plus Suspension
This treatment applies to the following species:
Company: Zoetis
penicillin and novobiocin sterile suspension
Veterinary Use Only
Antibiotic
Dry Cow Mastitis Treatment
DIN 00813850
Flexi-Tube®
for full or partial insertion
For intramammary infusion only
Warnings
This product must not be used in lactating cows. Use immediately after drying off, but not later than 30 days prior to calving. Treated animals must not be slaughtered for use in food for at least 35 days after the latest treatment with this drug. Milk from treated cows calving within 30 days of infusion must not be used as food until the unexpired remainder of the 30 days has elapsed. Milk must not be used for food within 72 hours after calving.
Penicillins can cause allergic reactions in sensitized individuals. When handling the product, avoid oral exposure and direct contact with skin or eyes.
KEEP OUT OF REACH OF CHILDREN.
MEDICINAL INGREDIENTS: Penicillin G Procaine 200 000 I.U., Novobiocin (as novobiocin sodium) 400 mg per 10 mL
Novodry Plus Suspension Indications
For the treatment of mastitis caused by Staphylococcus aureus and/or Streptococcus agalactiae, and for the prevention of mastitis caused by Streptococcus agalactiae.
DOSAGE: 10 mL per quarter immediately after drying off.
ADMINISTRATION: At the time of drying off, milk the udder by stripping. Wash the teats and udder thoroughly with warm water containing a suitable dairy antiseptic. Dry the teats and udder thoroughly. Using an alcohol swab enclosed (new one for each teat), clean each teat end well. Warm PLASTET™ to body temperature and shake well. Choose the desired insertion length (full or partial) and insert tip into the teat canal; push plunger to dispense the entire contents of the PLASTET into the quarter. Repeat procedure on other quarters. Massage the udder well after treatment to distribute the medication throughout the quarters. Using a suitable teat dip, dip all teats following treatment. Discard empty Plastet.
Directions for the Flexi-Tube® System: The Flexi-Tube is designed to provide the choice of either insertion of the full cannula, as has traditionally been practiced, or insertion of no more than 4 mm of the cannula, as recommended by the U.S. National Mastitis Council.
a. Full Insertion: Remove the white end cap by pulling straight up as shown. Gently insert the full cannula into the teat canal; carefully infuse the product.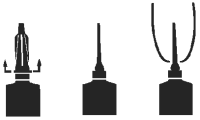 b. Partial Insertion: Remove both the white end cap and the red cannula by pushing sideways as shown. Gently insert the exposed white tip into the teat canal; carefully infuse the product.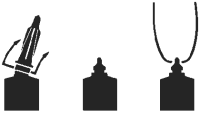 Storage
Store between 15 and 30°C. Store PLASTETS in carton or pail until used.
Zoetis is a trademark and Novodry and Flexi-Tube are registered trademarks of Zoetis or its licensors, used under license by Zoetis Canada Inc.
Zoetis Canada Inc., Kirkland QC H9H 4M7
Net

20 x 10 mL

KD335G

6204014C05

1636-14-2

144 x 10 mL

1694-05-1

019552L02
CPN: 1198302.5
ZOETIS CANADA INC.
16,740 TRANS-CANADA HIGHWAY, KIRKLAND, QC, H9H 4M7
| | | |
| --- | --- | --- |
| Order Desk: | | 800-663-8888 |
| Technical Services Canada: | | 800-461-0917 |
| Technical Services USA: | | 800-366-5288 |
| Website: | | www.zoetis.ca |
| | |
| --- | --- |
| | This service and data are provided "AS IS". DVMetrics and Drugs.com assumes no liability, and each user assumes full risk, responsibility, and liability, related to its use of the DVMetrics and Drugs.com services and data. See the terms of use for further details. |