JorVet J-326S Live-Dead Semen Stain
This page contains information on JorVet J-326S Live-Dead Semen Stain for
veterinary use
.
The information provided typically includes the following:
JorVet J-326S Live-Dead Semen Stain Indications
Warnings and cautions for JorVet J-326S Live-Dead Semen Stain
Direction and dosage information for JorVet J-326S Live-Dead Semen Stain
JorVet J-326S Live-Dead Semen Stain
This treatment applies to the following species:
Company: Jorgensen
Contents: One bottle of eosin, negrosin and sodium citrate together.
JorVet J-326S Live-Dead Semen Stain Indications
The JORVET™ Live-Dead Semen Stain is a diagnostic tool for all animal species in the evaluation of spermatazoa morphology.
The JORVET™ Live-Dead Semen Stain is an eosin-nigrosin based stain.
Test Principles: The proper examination of semen is an important veterinary procedure. A fertility evaluation of spermatazoa should consist of 3 separate criteria.
1) Sperm number: This should be evaluated with a hemocytometer.
2) Sperm motility: Extreme care with environmental insults such as cold shock can immobilize sperm. Small portable slide warmers are available for this purpose.
3) Sperm morphology: The appearance of an increased number of abnormal sperm in the ejaculate is a reflection of lesions of the testes and or of the excurrent duct system.
Test Procedure: Gently shake before use.
1) Semen smears can be prepared by placing a small drop of semen and an equal amount of stain placed next to each other.
2) A second slide is placed on edge at about 45°.
3) This slide is gently worked back and forth to mix thoroughly the semen and stain.
4) This second slide is then pulled across the primary slide leaving a thin smear as in doing a normal blood smear.
5) Examination is under a high powered light microscope but phase contrast should also be used. Certain sperm defects cannot be observed under a standard light microscope.
6) Abnormal sperm are categorized and percentages recorded while counting a total of 200 sperm cells.
7) If the presence of leukocytes or bacteria is suggested the semen should also be stained with a Wright Giemsa stain such as the JorVet™ Dip Quick Stain (#J-322).
Interpretation of Results: The presence of 15% major abnormalities or more than 30% total abnormalities especially coupled with palpated testicular lesions is sufficient reason to classify an animal as an unsatisfactory potential breeder.
A repeat test should be done in 30 days to reconfirm any negative results.
See figures 1 and 2 below.
Additional Note:
1) Many sperm abnormalities may be present in sexually immature animals.
2) The semen evaluated are part of about a 60 day cycle and transient insults such as heat stress should be considered.
3) Bacterial overgrowth can occur if contaminated or if not refrigerated.
Storage
Keep refrigerated.
Caution(s): Fatal if swallowed, for in vitro use only.
Discussion: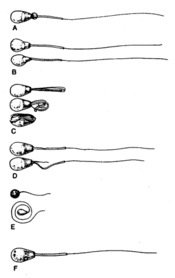 Figure 1. Major sperm abnormalities. A, Proximal cytoplasmic droplets. B, Pyriform heads. C, Strongly folded or coiled tails, tails coiled around the head. D, Middle piece defects. E, Maldeveloped. F, Craters.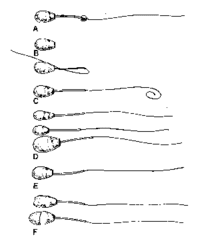 Figure 2. Minor sperm abnormalities. A, Distal cytoplasmic droplets. B, Tailless normal heads. C, Simple bend or terminally coiled tails. D. Narrow, small or giant heads. E, Abaxial implantation. F, Abnormal acrosomes (ruffled, detached).
Presentation: 2x7.5 mL bottles/kit.
NAC No.: 11520100
JORGENSEN LABS., INC.
1450 NORTH VAN BUREN AVE., LOVELAND, CO, 80538
| | | |
| --- | --- | --- |
| Telephone: | | 970-669-2500 |
| Toll-Free: | | 1-800-525-5614 |
| Fax: | | 970-663-5042 |
| Technical Information: | | Ask for Vet-Tech |
| Website: | | www.jorvet.com |
| Email: | | info@jorvet.com |
| | |
| --- | --- |
| | Every effort has been made to ensure the accuracy of the JorVet J-326S Live-Dead Semen Stain information published above. However, it remains the responsibility of the readers to familiarize themselves with the product information contained on the US product label or package insert. |