Ingelvac Provenza
This page contains information on Ingelvac Provenza for
veterinary use
.
The information provided typically includes the following:
Ingelvac Provenza Indications
Warnings and cautions for Ingelvac Provenza
Direction and dosage information for Ingelvac Provenza
Ingelvac Provenza
This treatment applies to the following species:
Company: Boehringer Ingelheim
Swine Influenza Vaccine
HIN1 and H3N2
Modified Live Virus
This product has been shown to be effective for the vaccination of healthy pigs 1 day of age or older against influenza virus strains H1N2 and H3N2. For more information regarding efficacy and safety data go to productdata.aphis.usda.gov.
Directions and dosage: Insert a vented transfer spike into the enclosed sterile diluent bottle. Invert the Ingelvac Provenza™ bottle over the diluent and slowly insert the transfer spike into the Ingelvac Provenza™ vaccine bottle, releasing the vacuum. Rotate the bottles and transfer a portion of the diluent to the vaccine vial, sufficient to rehydrate the Ingelvac Provenza™ vaccine. Again rotate the bottles, still attached by transfer spike, to transfer the reconstituted suspension back into the diluent bottle. Mix with the remaining diluent to complete to a total volume of 50 mL. Shake well and use immediately. Administer a single 1 mL dose intranasally into one nostril. The need for annual booster vaccinations has not been established for this product; consultation with a veterinarian is recommended.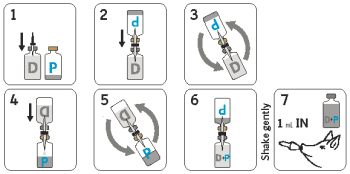 Precautions
Store at 35-46°F (2-8°C). Do not freeze. Use entire contents when first opened. Do not vaccinate within 21 days before slaughter. Do not mix with other biological products. In case of anaphylactoid reaction, administer epinephrine. This product has not been tested in pregnant animals. Inactivate unused contents before disposal.
Wear appropriate personal protective equipment to avoid inhalation and contact with eyes and skin. For more information on personal protective equipment, consult current OSHA guidance for Commercial Swine Farmers and Pork Producers. Wash hands thoroughly after handling.
Accidental inhalation or contact may result in eye irritation, cough, fever, fatigue, chills, headache, runny nose, and/or congestion. If these symptoms persist for more than 24 hours, seek medical attention.
It is recommended that immunocompromised individuals not handle or otherwise be exposed to this product. Pregnant women should consult their medical practitioner before working with this product.
Ingelvac Provenza™ is a trademark of Boehringer Ingelheim Vetmedica GmbH. Used under license.
US 8,124,101; US 8,999,352. Used under license. Additional patent applications pending.
MADE IN THE U.S.A.
Boehringer Ingleheim Vetmedica, Inc., St. Joseph, MO 64506
Phone: 866-638-2226
VLN/PCN 124/19A5.R2
50 Doses
Rehydrate with 50 mL

This package contains one 50 dose vial of vaccine and one 50 mL vial of diluent.

177203-01

177208-01

177207-00

200 Doses
Rehydrate with 200 mL

This package contains one 200 dose vial of vaccine and one 200 mL vial of diluent.

177204-01
CPN: 1028306.0
BOEHRINGER INGELHEIM ANIMAL HEALTH USA INC.
3239 SATELLITE BLVD., DULUTH, GA, 30096
| | | |
| --- | --- | --- |
| Telephone: | | 800-325-9167 |
| Fax: | | 816-236-2717 |
| Website: | | www.bi-vetmedica.com |
| | | www.metacam.com |
| | | www.prozinc.us |
| | | www.vetera-vaccines.com |
| | | www.vetmedin-us.com |
| Email: | | info@productionvalues.us |
| | |
| --- | --- |
| | This service and data are provided "AS IS". DVMetrics and Drugs.com assumes no liability, and each user assumes full risk, responsibility, and liability, related to its use of the DVMetrics and Drugs.com services and data. See the terms of use for further details. |