The originating document has been archived. We cannot confirm the completeness, accuracy and currency of the content.
Gleptosil Injection (Canada)
This page contains information on Gleptosil Injection for
veterinary use
.
The information provided typically includes the following:
Gleptosil Injection Indications
Warnings and cautions for Gleptosil Injection
Direction and dosage information for Gleptosil Injection
Gleptosil Injection
This treatment applies to the following species:
Manufacturer: Champion Alstoe
Veterinary Use Only
DIN 02245952
Gleptosil® is a presentation of gleptoferron, a macromolecular complex containing iron in a readily utilisable form for the prevention and treatment of iron deficiency anaemia. The solution contains phenol (Ph.Eur.) as a preservative.
Gleptosil Injection Indications
For the prevention and treatment of iron deficiency anaemia in piglets. Piglets born and reared under intensive conditions may be deficient in iron and rapidly become anaemic. Unless these piglets receive supplemental iron early in life they are prone to suffer decreased vitality, poorer growth rates and increased susceptibility to disease.
Dosage
For the prevention and treatment of iron deficiency anaemia: a single dose of 1 mL (200 mg iron) injected within the first three days of life.
Clinical anaemia may normally develop within the first two weeks of life in unsupplemented piglets. In such cases of diagnosed iron deficiency anaemia the dosage is 1 mL (200 mg iron).
Administration
Gleptosil® is recommended for administration by intramuscular injection deep into the hind limb. The site of injection should be clean, ideally swabbed with cotton soaked in alcohol. Excess alcohol should be removed before injecting.
The syringe and needles should be sterilised by boiling before use and the rubber seal of the vial should be swabbed with cotton soaked in alcohol.
Injection site (diagram 1): On the hind limb mid-way between the stifle joint and the base of the tail.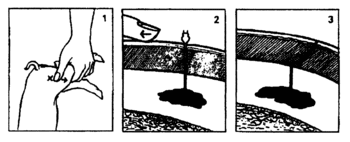 Injection technique (diagrams 2 and 3): Pull the skin and underlying tissue aside with the thumb. Insert the needle at right angles to the skin and slowly inject the 1 mL dose. Pause after injecting the dose and release the skin before withdrawing the needle.
Recommended needle size: 5/8" No. 20g.
Gleptosil Injection Cautions
Use only automatic syringe equipment. Wipe the needle with cotton and alcohol before injecting the next piglet. This sachet should not be opened until ready for use. In piglets intended for early slaughter it should be noted that use of an intramuscular injection of iron is likely to result in temporary staining of the muscle. Iron staining decreases rapidly from the time of injection with none being observed by six weeks.
STORE IN A COOL DRY PLACE
Presentation: 100 mL collapsible plastic vials. The vial is contained in a sachet, which should not be opened until required for use.
Metermatic®/ultimatic® automatic Syringe
The low-density polyethylene vial is designed for use with the Metermatic®/Ultimatic® automatic syringe. The syringe provides a closed, sterile injection system giving accuracy of dosing and ease of operation.
Distributed in Canada by: Champion Alstoe Animal Health Inc., 828 Centre Street North, Whitby Ontario L1N 4V1
Manufactured by: Alstoe Ltd. Animal Health, Leicestershire, England
® Registered trademarks of Alstoe Ltd.
NAC No.: 12380270
CHAMPION ALSTOE ANIMAL HEALTH INC.
828 CENTRE STREET NORTH, WHITBY, ON, L1N 4V1
| | | |
| --- | --- | --- |
| Telephone: | | 905-430-9791 |
| Customer Service: | | 800-456-5758 |
| Fax: | | 905-430-9792 |
| Website: | | www.championalstoe.com |
| Email: | | service@championalstoe.com |
| | |
| --- | --- |
| | Every effort has been made to ensure the accuracy of the Gleptosil Injection information published above. However, it remains the responsibility of the readers to familiarize themselves with the product information contained on the Canadian product label or package insert. |