The originating document has been archived. We cannot confirm the completeness, accuracy and currency of the content.
Fly-Rid Plus Spot-On
This page contains information on Fly-Rid Plus Spot-On for
veterinary use
.
The information provided typically includes the following:
Fly-Rid Plus Spot-On Indications
Warnings and cautions for Fly-Rid Plus Spot-On
Direction and dosage information for Fly-Rid Plus Spot-On
Fly-Rid Plus Spot-On
This treatment applies to the following species:
Manufacturer: Durvet
Kills and Repels
Flies (7 Types)
Mosquitoes
Gnats & Ticks
Protects Your Horses
Horn Flies, Face Flies, Stable Flies, Horse Flies, Deer Flies, Black Flies, House Flies, Gnats, Mosquitoes For Up To 2 Weeks
Kill & Repels Ticks On Horses
Active Ingredient

Permethrin* (CAS 52645-53-1)

45.00%

INERT INGREDIENT

55.00%

TOTAL

100.00% (w/w)
*Cis/trans ratio: max 55% (±) cis and min 45% (±) trans
FOR USE ON HORSES ONLY
KEEP OUT OF REACH OF CHILDREN
Fly-Rid Plus Spot-On Caution
See below for precautionary statements.
Read all directions before using this product.
Precautionary Statements:
HAZARDS TO HUMANS AND DOMESTIC ANIMALS
Fly-Rid Plus Spot-On Caution
Harmful if swallowed or absorbed through the skin. Causes moderate eye irritation. Avoid contact with skin, eyes, or clothing. Wash thoroughly with soap and water after handling and before eating, drinking, chewing gum or using tobacco. Remove and wash contaminated clothing before re-use. Prolonged or frequently repeated skin contact may cause allergic reactions in some individuals.
First Aid
IF SWALLOWED:
Call a poison control center or doctor immediately for treatment advice. Have person sip a glass of water if able to swallow. Do not induce vomiting unless told to do so by a poison control center or doctor.
IF ON SKIN OR CLOTHING:
Take off contaminated clothing. Rinse skin immediately with plenty of water for 15 to 20 minutes. Call a poison control center or doctor for treatment advice.
IF IN EYES:
Hold eye open and rinse slowly and gently with water for 15 to 20 minutes. Remove contact lenses, if present, after first 5 minutes, then continue rinsing. Call a poison control center or doctor for treatment advice.
Hot Line Number
Have the product container or label with you when calling a poison control center or doctor, or going for treatment. You may also contact the Rocky Mountain Poison Control Center at 1-303-739-1110.
Environmental Hazards
This product is extremely toxic to fish. Do not apply directly to water. Do not contaminate water when cleaning equipment or disposing of equipment washwaters.
Chemical Hazards
Combustible. Do not use or store near heat or open flame.
Storage And Disposal Statements
Do not contaminate water, food, or feed by storage or disposal.
PESTICIDE STORAGE: Store in a cool, dry place. Protect from freezing.
PESTICIDE DISPOSAL: Call your local solid waste agency or (1-800-CLEANUP or equivalent organization) for disposal instructions. Unless otherwise instructed place in trash. Never pour unused product down the drain or on the ground.
CONTAINER DISPOSAL: Do not reuse empty container. Place in trash.
Directions For Use
It is a violation of Federal law to use this product in a manner inconsistent with its labeling.
Sensitivities can occur after using ANY pesticide product on animals. If signs of sensitivity occur, wash area with mild soap and rinse with large amounts of water. If signs continue consult a veterinarian immediately.
- Do not use on horses intended for food use.
- Not for use on foals under three (3) months of age.
- Ready to use, no dilution necessary.
- Hold tube in upright position pointing away from user's face and body. Break off tip or cut with scissors. Using the cc marks on the body of the applicator as a guide to apply the FLY-RID® PLUS SPOT-ON as follows by gently squeezing the applicator:
1. Streak 2 cc on the poll.
2. Streak 0.5 cc on each side of withers (1 cc total).
3. Streak 1 cc on each side of the hind quarters (2 cc total).
4. Spot 1 cc to the back of each front leg below the elbow (2 cc total).
5. Spot 1 cc above each hock, on the gaskin muscle (2 cc total).
Place empty applicator in trash. Do not reapply for 14 days.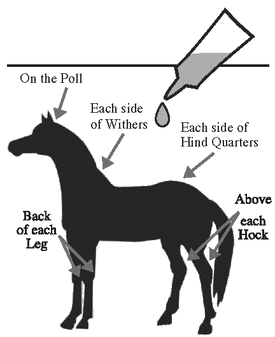 Warranty
Durvet, Inc. warrants that this product conforms to the chemical description on the label. Durvet, Inc. neither makes nor authorizes any agent, representative to make any other warranty of fitness or of merchantability, guarantee or representation, express or implied, concerning this material. Durvet, Inc's maximum liability for breach of this warranty shall not exceed the purchase price of the product. Buyer and user acknowledge and assume all risks and liabilities resulting from the handling, storage and use of this material which extend beyond the use of the product under normal conditions in accord with statements made on the label.
Distributed by Durvet, Inc, 100 S.E. Magellan Drive, Blue Springs, MO 64014
www.durvet.com
EPA Registration No. 75844-2-12281
EPA Establishment No. 75844-CA-2
Net Contents:

3 x 0.30 fl oz.(9 cc) applicators

Package contains 0.90 fl oz

Each tube provides 14 days protection

Package contains a six (6) week supply

Rev.1.09
NAC No.: 10842252
DURVET, INC.
P.O. BOX 279, 100 S.E. MAGELLAN DRIVE, BLUE SPRINGS, MO, 64014
| | | |
| --- | --- | --- |
| Telephone: | | 816-229-9101 |
| Toll-Free: | | 800-821-5570 |
| Fax: | | 816-224-3080 |
| Website: | | www.durvet.com |
| Email: | | info@durvet.com |
| | |
| --- | --- |
| | Every effort has been made to ensure the accuracy of the Fly-Rid Plus Spot-On information published above. However, it remains the responsibility of the readers to familiarize themselves with the product information contained on the US product label or package insert. |