Equi-Jec 2
This page contains information on Equi-Jec 2 for
veterinary use
.
The information provided typically includes the following:
Equi-Jec 2 Indications
Warnings and cautions for Equi-Jec 2
Direction and dosage information for Equi-Jec 2
Equi-Jec 2
This treatment applies to the following species:
Company: Boehringer Ingelheim
Equine Rhinopneumonitis-Influenza Vaccine
Killed Virus
For Use In Animals Only
Equi-Jec 2 Indications
For vaccination of healthy horses 6 months of age or older as an aid in the reduction of respiratory disease caused by equine influenza virus (EIV) types A2 North American and A2 Eurasian (product contains Kentucky Lineage (KY/95), Florida sublineage clade 1 (OH/03), and Eurasian Newmarket/2/93 (NM 2/93) EIV strains), and equine herpesvirus type 1 (EHV-1) and type 4 (EHV-4). Safe for use in pregnant mares.
Directions and dosage: Shake well before use. Using aseptic technique, vaccinate horses intramuscularly with a 2 mL dose. Administer a second 2 mL dose intramuscularly in 3-4 weeks using a different injection site. Administer a third 2 mL dose intramuscularly 3-4 weeks later. The need for annual booster vaccinations has not been established for this product; consultation with a veterinarian is recommended.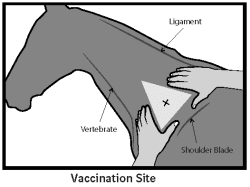 Precautions
Store at 35-46°F (2-8°C). Do not freeze. Do not vaccinate within 21 days before slaughter. Do not mix with other products. In case of anaphylactoid reaction, administer epinephrine. In case of human exposure, contact a physician.
Preservatives: Gentamicin and thimerosal.
Equi-Jec® is a registered trademark of Boehringer Ingelheim Vetmedica GmbH. Used under license.
© 2017 Boehringer Ingelheim Vetmedica, Inc. All rights reserved.
US Patent No. 7,309,598. US Patent Nos. 7,572,620; 8,535,685; 8,784,838; 9,180,181; and 9,492,530, used under license.
Manufactured/Distributed By: Boehringer Ingelheim Vetmedica, Inc., St. Joseph, MO 64506
Phone: 866-638-2226
VLN/PCN 124/1515.2A
CPN: 1028307.0
BOEHRINGER INGELHEIM ANIMAL HEALTH USA INC.
3239 SATELLITE BLVD., DULUTH, GA, 30096
| | | |
| --- | --- | --- |
| Telephone: | | 800-325-9167 |
| Fax: | | 816-236-2717 |
| Website: | | www.bevaccinesmart.com |
| | | www.bi-vetmedica.com |
| | | www.haveweseenyourcatlately.com |
| | | www.metacam.com |
| | | www.mycathasdiabetes.com |
| | | www.prrsresearch.com |
| | | www.prozinc.us |
| | | www.vetera-vaccines.com |
| | | www.vetmedin-us.com |
| | | www.yourdogsheart.com |
| Email: | | info@productionvalues.us |
| | |
| --- | --- |
| | Every effort has been made to ensure the accuracy of the Equi-Jec 2 information published above. However, it remains the responsibility of the readers to familiarize themselves with the product information contained on the US product label or package insert. |