The originating document has been archived. We cannot confirm the completeness, accuracy and currency of the content.
Ectogard Insecticide Cattle Ear Tag (Canada)
This page contains information on Ectogard Insecticide Cattle Ear Tag for
veterinary use
.
The information provided typically includes the following:
Ectogard Insecticide Cattle Ear Tag Indications
Warnings and cautions for Ectogard Insecticide Cattle Ear Tag
Direction and dosage information for Ectogard Insecticide Cattle Ear Tag
Ectogard Insecticide Cattle Ear Tag
This treatment applies to the following species:
Manufacturer: Engage
For Use on Dairy and Beef Animals to Control Horn Flies and to Reduce Face Flies
READ THE LABEL BEFORE USING
AGRICULTURAL
REGISTRATION NO. 22880 PEST CONTROL PRODUCTS ACT
GUARANTEE:
| | |
| --- | --- |
| Tetrachlorvinphos | 14.0% w/w |
This product contains 27.5% of Di-2-ethylhexyl adipate which has been determined to be of toxicological concern.
Warning, contains the allergen soy
Precautions
KEEP OUT OF REACH OF CHILDREN.
Avoid contact with skin, eyes and mouth. Wash thoroughly with soap and water after handling and before eating or smoking. Wear single layer clothing and chemical resistant gloves when applying tags.
- Store apart from food and feed in a cool place.
- This product is toxic to fish. Do not contaminate water by the disposal of tags.
- Remove tags at end of summer before slaughter.
Disposal
Dispose of empty container and used tags in accordance with provincial and municipal requirements.
TOXICOLOGICAL INFORMATION:
Tetrachlorvinphos is a cholinesterase inhibitor. Typical symptoms of overexposure to cholinesterase inhibitors include headache, nausea, dizziness, sweating, salivation, runny nose and eyes. This may progress to muscle twitching, weakness, tremor, incoordination, vomiting, abdominal cramps and diarrhea in more serious poisonings. A life-threatening poisoning is signified by loss of consciousness, incontinence, convulsions and respiratory depression with a secondary cardiovascular component. Treat symptomatically. If exposed, plasma and red blood cell cholinesterase tests may indicate degree of exposure (baseline data are useful). Atropine, only by injection, is the preferable antidote. Oximes, such as Pralidoxime Chloride, may be therapeutic if used early; however, use only in conjunction with atropine. In cases of severe acute poisoning, use antidotes immediately after establishing an open airway and respiration. With oral exposure, the decision of whether to induce vomiting or not should be made by an attending physician.
FIRST AID:
In case of eye contact, immediately flush eyes with water. If on skin, wash thoroughly with soap and water. If illness results from licking or chewing tags, obtain medical attention. Take container, label or product name and Pest Control Product Registration Number with you when seeking medical attention.
Directions For Use
Apply ear tag with the Allflex® Tagging System as shown when pests first appear in the spring. For optimum control use 2 tags per animal. Replace as necessary. No waiting period necessary between treatment and slaughter. Calves less than 6 months should not be tagged. Remove tags at end of summer before slaughter.
Figure 1 - WEAR CHEMICALLY RESISTANT GLOVES when applying tags. Place tag under clip by depressing lever. Raised knob must be pointing down.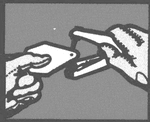 Figure 2 - Slide button on pin. Tag and button are now ready for application.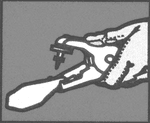 Figure 3 - Pliers and each tag must be disinfected prior to application. Careless application of tags can lead to infection and inflammation in region of the puncture. Apply tag through the ear half way between head and tip between 2nd and 3rd rib. Do not allow shaft of the male button to penetrate the rib or blood vessel.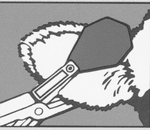 Figure 4 - When properly positioned, the tag should hang as shown.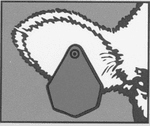 NOTICE TO USER: This control product is to be used only in accordance with the directions on the label. It is an offense under the Pest Control Products Act to use this product in a way that is inconsistent with the directions on the label. The user assumes the risk to persons or property that arises from any such use of this product.
KMG-Bernuth, Inc., Suite 600, 9555 West Sam Houston Parkway South, Houston, TX, USA 77099
1-800-322-8177
| | |
| --- | --- |
| NET WEIGHT: | CONTENTS: |
| 16.5 g Per Tag | 20 Tags Per Box |
NAC No.: 12650073
ENGAGE ANIMAL HEALTH CORPORATION
1030 GORDON STREET, GUELPH, ON, N1G 4X5
| | | |
| --- | --- | --- |
| Telephone: | | 519-826-7878 |
| Fax: | | 519-826-7675 |
| Order Desk Telephone: | | 1-800-900-5487 |
| Order Desk Fax: | | 1-877-220-2223 |
| General Inquires: | | 1-866-613-3336 |
| Website: | | www.engageah.com |
| Email: | | info@engageah.com |
| | |
| --- | --- |
| | Every effort has been made to ensure the accuracy of the Ectogard Insecticide Cattle Ear Tag information published above. However, it remains the responsibility of the readers to familiarize themselves with the product information contained on the Canadian product label or package insert. |