The originating document has been archived. We cannot confirm the completeness, accuracy and currency of the content.
Duralactin Feline Joint Plus Paste
This page contains information on Duralactin Feline Joint Plus Paste for
veterinary use
.
The information provided typically includes the following:
Duralactin Feline Joint Plus Paste Indications
Warnings and cautions for Duralactin Feline Joint Plus Paste
Direction and dosage information for Duralactin Feline Joint Plus Paste
Duralactin Feline Joint Plus Paste
This treatment applies to the following species:
Manufacturer: V.P.L.
Helps Maintain Healthy Cartilage and Joint Function While Managing Inflammation
Product Facts
Active Ingredients per 1 ml:
| | |
| --- | --- |
| Glucosamine HCl (marine source) | 90 mg |
| MicroLactin® (dried milk protein) | 100 mg |
| Methylsulfonylmethane (MSM) | 50 mg |
| Manganese | 5 mg |
| Eicosapentaenoic acid (Omega 3-EPA) | 5 mg |
| Docosahexaenoic acid (Omega 3-DHA) | 4 mg |
| Zinc | 2 mg |
| Vitamin E | 25 IU |
Inactive Ingredients
Artificial flavoring, dextrose, glycerin, guar gum, lecithin, malt syrup, potassium sorbate, sorbic acid, sucrose, water.
Directions For Use
Give 1 ml (one notch or line on syringe) directly or with food twice a day.
Using the Syringe:
Position the syringe so the cap is toward your left side and the plunger is toward your right side. You should see numbers in increments of 2 on the plunger. Each line between the numbers represents 1 ml. Turn the white ring on the plunger so you see the line between "0" and "2" flush with the left edge of the ring.
Remove the cap and press the plunger of the tube to dispense the paste into the cat's food. The paste may be mixed with food. Some cats may prefer the paste directly from the tube. If the cap is difficult to remove, wrap a cloth around it and pull.
Some paste may continue to come out of the syringe after the ring is flush with the syringe. This is normal and will stop once the cap is replaced. Turn the white ring to the next line on the plunger when you are ready to dispense the next dose. When turning the ring for the last dose, it may be necessary for it to fit firmly against the end of the plunger.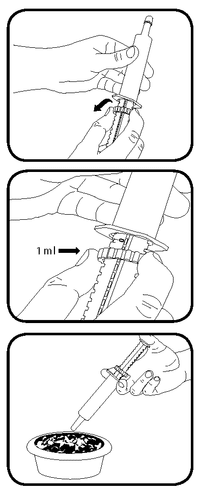 Recommended to help maintain healthy cartilage and joint function while managing inflammation
Duralactin® Feline Joint Plus Paste contains MicroLactin®, a patented dried milk protein concentrate derived from hyperimmunized cows that contains factors that appear to block cytokines and inhibit neutrophil participation in the inflammatory response.* Duralactin® Feline Joint Plus Paste also contains Glucosamine HCl and MSM to support joint health and function. Duralactin® Feline Joint Plus Paste does not share the mechanism of action of any known drug and is not a cyclooxygenase (COX-1 or COX-2) inhibitor.
Warnings
For use in cats only.
Keep out of reach of other animals and children.
In case of accidental overdose, contact a health professional immediately.
Cautions:
Safe use in pregnant animals or animals intended for breeding has not been proven.
Consult with your veterinarian before using this product in animals: with clotting disorders; being treated with anticoagulant medications; diabetes, or any metabolic disorder causing hyperglycemia; history of urinary tract stones; known allergies to shellfish.
If lameness worsens, discontinue use and contact your veterinarian.
Administer during or after the animal has eaten to reduce the incidence of gastrointestinal upset.
Manufactured for: Veterinary Products Laboratories, P.O. Box 34820, Phoenix, AZ 85067-4820
www.vpl.com
www.duralactin.com
Call with questions or comments 1-888-241-9545
© 2011 Veterinary Products Laboratories
*Data on file
MicroLactin is a registered trademark of Stolle Milk Biologics, Inc. (SMBI)
U.S. patent #s 5,650,175; 5,980,953.
All other trademarks are the property of their respective owners.
Net Weight

Product Code:

RM#:

32.5 ml

Each notch or line on syringe will deliver 1 ml.

100505432

300509657

300509656

11-0584

11-0529
NAC No.: 11431040
VETERINARY PRODUCTS LABORATORIES
Distributed by PRN PHARMACAL
8809 ELY ROAD, PENSACOLA, FL, 32514
| | | |
| --- | --- | --- |
| Telephone: | | 850-478-2770 |
| Order Desk: | | 800-874-9764 |
| Fax: | | 850-476-7087 |
| Website: | | www.prnpharmacal.com |
| | |
| --- | --- |
| | Every effort has been made to ensure the accuracy of the Duralactin Feline Joint Plus Paste information published above. However, it remains the responsibility of the readers to familiarize themselves with the product information contained on the US product label or package insert. |