The originating document has been archived. We cannot confirm the completeness, accuracy and currency of the content.
Dicural Tablets for Dogs (Canada)
This page contains information on Dicural Tablets for Dogs for
veterinary use
.
The information provided typically includes the following:
Dicural Tablets for Dogs Indications
Warnings and cautions for Dicural Tablets for Dogs
Direction and dosage information for Dicural Tablets for Dogs
Dicural Tablets for Dogs
This treatment applies to the following species:

Manufacturer: Boehringer
Difloxacin (as Difloxacin Hydrochloride)
DIN 02242515
VETERINARY USE ONLY
Description
Difloxacin hydrochloride is the medicinal ingredient in Dicural. It is an aryl-fluoroquinolone compound with a broad spectrum of antimicrobial activity. It is bactericidal against many Gram-positive and Gram-negative microorganisms.
CHEMICAL NAME AND FORMULA: 3-quinolinecarboxylic acid, 6-fluoro-1- (4-fluorophenyl)-1, 4-dihydro-7- (4-methyl-1-piperazinyl) -4-oxo-, monohydrochloride.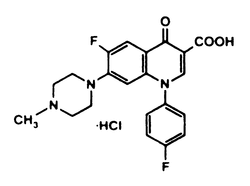 FIGURE 1. Chemical structure of difloxacin
Dicural Tablets for Dogs Indications
Dicural (difloxacin hydrochloride) tablets are indicated for the management of diseases in dogs associated with bacteria susceptible to difloxacin.
EFFICACY CONFIRMATION: Clinical efficacy was confirmed in dermal and soft tissue infections (wounds and abscesses) associated with susceptible strains of Escherichia coli, Klebsiella pneumoniae and Staphylococcus intermedius* and urinary tract infections (cystitis) associated with susceptible strains of Escherichia coli, Proteus sp., and Staphylococcus intermedius. Specific pathogens isolated in clinical field trials are listed below in the MICROBIOLOGY section.
MICROBIOLOGY: The fluoroquinolones exert an antibacterial effect against both replicating and dormant microorganisms1. Difloxacin hydrochloride is bactericidal in activity and acts primarily through inhibition of bacterial DNA gyrase. The following organisms were found to be susceptible to difloxacin hydrochloride in vitro:
Table 1. MIC Values for Difloxacin Against Clinical Canine Isolates
| | | | |
| --- | --- | --- | --- |
| Organism | No. Isolates | MIC Range (mcg/mL) | MIC90 |
| Acinetobacter lwoffi | 1 | ≤0.06 | ≤0.06 |
| Bacillus cereus | 1 | 0.12 | 0.12 |
| Corynebacterium spp. | 1 | 4.0 | 4.0 |
| Enterobacter spp. | 5 | ≤0.06-0.5 | 0.5 |
| Escherichia coli* | 22 | ≤0.06-8.0 | 0.12 |
| Klebsiella spp.* | 5 | 0.12-0.25 | 0.25 |
| Micrococcus spp. | 2 | 0.25->8.0 | >8.0 |
| Pasteurella spp. | 4 | ≤0.06 | ≤0.06 |
| Proteus spp.* | 6 | 0.5-2.0 | 2.0 |
| Pseudomonas spp. | 5 | ≤0.06-0.25 | 0.25 |
| Staphylococcus intermedius* | 92 | 0.12-2.0 | 0.50 |
| Staphylococcus spp. | 33 | 0.12-1.0 | 0.50 |
| Streptococcus canis (Beta) | 17 | 0.25-4.0 | 2.0 |
| Streptococcus faecalis | 7 | 2.0-8.0 | 8.0 |
| Streptococcus sp. (Alpha) | 3 | 0.25-8.0 | 8.0 |
| Streptococcus spp. | 10 | 0.5-2.0 | 2.0 |
*The susceptibility of these organisms has also been demonstrated in in vivo studies.
Concentrations of drug equal to or greater than the MIC for many pathogens are reached in plasma by 30 minutes after dosing and are maintained for at least 24 hours.
Clinical Pharmacology
Pharmacokinetics in healthy, adult dogs: Difloxacin hydrochloride oral bioavailability exceeds 80% when administered by gavage to fasted dogs. Linear pharmacokinetics have been demonstrated for oral difloxacin up to 60 mg/kg/day. Approximately 90% of the total radioactivity in plasma is attributable to the parent compound following both oral and intravenous administration of
14
C-difloxacin.
Difloxacin is associated with two major metabolites: the ester glucuronide and the desmethyl derivative of difloxacin. Difloxacin elimination occurs primarily through glucuronidation with subsequent biliary secretion. However, the glucuronide metabolite may be hydrolyzed in the gastrointestinal tract, and the resulting parent compound reabsorbed. Approximately 80% of an intravenous dose is eliminated in the feces. Renal clearance accounts for less than 5% of difloxacin total body clearance.
Pharmacokinetic estimates for difloxacin tablets following oral administration to fasted dogs are shown in Table 2. No statistically significant gender effects were observed. The effect of food on difloxacin oral bioavailability has not been determined (see DRUG INTERACTIONS).
Table 2. Plasma pharmacokinetics following administration of difloxacin tablets (5 mg/kg body weight) to dogs (n=20).
| | |
| --- | --- |
| Pharmacokinetic Measure | Mean Value |
| Peak Plasma Concentration (CMAX) | 1.8 µg/mL |
| Time to Reach CMAX (TMAX) | 2.8 hours |
| Elimination Half-life (T1/2) | 9.3 hours |
| Area Under the Plasma Curve (AUC0-∞) | 14.5 µg•hr/mL |
| Total Body Clearance/Fa (CL/F) | 375 mL/kg/hr |
| Steady State Volume of Distribution/Fb | 3.8 L/kg |
| Volume of Distribution (area)/Fc | 4.7 L/kg |
aTotal body clearance/F = Dose/AUC
bSteady state volume of distribution/F = Dose•AUMC/AUC2
cVolume of distribution (area)/F = Vdß = (T1/2) (CL/F)/0.693
Blood concentration versus time profiles for difloxacin after a single 5 mg/kg or 10 mg/kg dose of Dicural tablets are presented in Figure 2. Negligible accumulation occurs with once daily administration.
Difloxacin Concentrations After a Single Oral Dose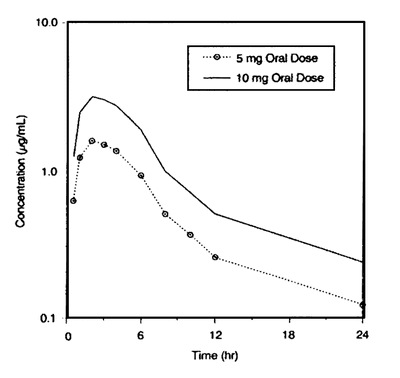 FIGURE 2: Difloxacin concentration after oral administration of a single Dicural tablet. Profile for the 10 mg/kg dose was based upon the mean concentrations observed following a single 5 mg/kg dose.
The affinity of difloxacin for canine plasma proteins is low (plasma protein binding = 46% to 52%). Accordingly, difloxacin readily diffuses into peripheral tissues. This is evidenced by the levels of 14C activity in tissues following oral administration of 10 mg/kg 14C-difloxacin hydrochloride (Table 3). These results are consistent with difloxacin's lipophilic properties and its large volume of distribution.
Table 3. Levels of 14C radioactivity (expressed as µg equivalents of difloxacin per gram or mL) in tissues at 2, 6, and 24 hours following administration of a single oral dose of radiolabeled difloxacin free base at 10 mg/kg.
Body System

2 hours (n=2)

6 hours (n=1)

24 hours (n=1)

Hematopoietic

Whole Blood

2.3

1.1

0.6

Plasma

2.6

1.2

0.8

Bone

6.5

7.2

6.5

Lymph Node

3.1

2.5

1.7

Liver

10.7

7.8

4.6

Spleen

3.5

1.1

1.1

Urogenital

Urine*

22.6

21.0

10.7

Kidney

5.0

2.8

1.5

Bladder Wall

3.0

1.8

1.7

Testes

3.1

1.6

0.8

Prostate

3.4

1.5

1.4

Gastrointestinal

Stomach

66.7

8.5

9.9

Small Intestine

18.3

38.7

16.4

Cardiopulmonary

Lung

3.2

0.9

0.8

Heart

3.8

1.6

1.1

Other Tissues

Muscle

4.1

1.2

1.1

Fat

0.7

0.8

0.8
*Based on percent of dose with urine output at 50 mL/kg/day
Considering the comparability of 14C radioactivity in tissues and plasma, AUC, CMAX and the MIC of the targeted pathogen(s) can be used as a guide for clinical dose adjustment.
Contraindications
The safety of difloxacin hydrochloride during the breeding, pregnancy or lactating phase in dogs has not been determined. The use of difloxacin hydrochloride is contraindicated in small and medium breed dogs during the rapid growth phase (up to and including 8 months of age due to possible adverse effects on the articular cartilage of weight bearing joints). The safe use of difloxacin hydrochloride in the rapid growth phase of large and giant breeds has not been established. Large breeds may be in this phase for up to one (1) year of age and the giant breeds for up to 18 months.
Adverse Reactions
Various breeds of dogs, aged 9 months to 16 years, were admitted into the clinical study and received 5 mg/kg/day for up to 10 days. Dicural
®
(difloxacin hydrochloride) tablets were well tolerated. Potential adverse reactions recorded in clinical cases involved the gastrointestinal tract (e.g., anorexia, emesis, diarrhea, inappetence, and anal irritation), which were self-limiting and did not require additional treatment.
ANIMAL TOXICOLOGY: Adult dogs of both sexes administered Dicural once daily for 30 consecutive days at 5, 15 or 25 mg/kg B.W. (equivalent to 1, 3 and 5X the recommended dose) did not exhibit overt effects upon the clinical chemistry, hematological or histological. Transient diarrhea was observed in some dogs at the 5X dose. Food consumption was lower at various times during the study, however, there were no significant differences observed in body weights.
To determine acute toxicity, adult dogs were administered Dicural once daily for 10 days at a dose of 50 mg/kg (10X dose) B.W. The adverse clinical signs observed were isolated incidences such as orange/yellow colored feces, emesis and excessive salivation. These signs were not considered biologically significant because they were not observed in all animals. Decreases in body weights and food consumption were noted, but did not appear to be of clinical significance.
In a subchronic study histopathological changes were noted in the articular cartilage of weight bearing joints after oral administration of difloxacin hydrochloride at 5, 25, 35, 50, or 125 mg/kg B.W. for 90 days to Beagles whose initial age was 3.5 months.
In a margin safety study, 3.5 month old dogs of both sexes were administered various doses (0, 20, 49, 122, 294 and 783 mg/kg body weight) of Dicural capsules once daily for 15 days. The results of this study demonstrated no toxicity at 20 mg/kg body weight, yielding a 4 fold margin of safety. Arthropathy was observed in all but the 0 and 20 mg/kg groups. Clinical observations, which included decreased food consumption, tremors, decreased activity, dehydration, front paw flattening, and weak rear legs, were noted in the higher dosage groups (≥ 122 mg/kg) but are not considered relevant in a clinical setting using the label dosage. At the two highest doses, ataxia, convulsions, jerking and death were observed.
DRUG INTERACTIONS: Compounds (e.g., sucralfate, antacids, and multivitamins) containing divalent and trivalent cations (e.g., iron, aluminum, calcium, magnesium and zinc) may substantially interfere with the absorption of quinolones from the intestinal tract resulting in a decrease in product bioavailability. Therefore, the concomitant oral administration of quinolones with foods, supplements or other preparations containing these compounds should be avoided.
No drug interaction was noted when difloxacin hydrochloride was administered to dogs concurrently with other health products including thyroid replacement therapy (levothyroxine sodium), heartworm preventives (diethylcarbamazines, ivermectin and milbemycin) and a topical antibiotic (neomycin, nystatin, thiostrepton and triamcinolone acetonide). No incompatibilities with other drugs are known at this time.
Warnings
To limit the potential development of antimicrobial resistance:
- Fluoroquinolone drugs such as Dicural should not be used indiscriminately.
- Dicural should not be used in food producing animals.
Keep out of reach of children.
Dosage and Administration
For skin and soft tissue infections, Dicural should be administered at a dosage rate of 5 mg/kg once a day for 5 to 10 days.
For urinary tract infections (cystitis), Dicural tablets should be administered at a dose rate of 5 mg/kg once a day for 5 to 10 days. Treatment should continue for 2 to 3 days beyond the cessation of clinical signs (see DRUG INTERACTIONS).
The dosage may be safely increased to 10 mg/kg. Efficacy for the treatment of skin, soft tissue and urinary tract infections was confirmed at a dosage of 5 mg/kg. Clinical studies did not reveal any improvements in clinical resolution at 7.5 mg/kg in comparison with the dosage of 5 mg/kg.
Dicural tablets may be given safely for a maximum of 30 days. If no improvement is noted within five (5) days, the diagnosis should be re-evaluated and a different course of therapy considered.
The determination of dosage for any particular patient must take into consideration such factors as the severity and nature of the infection, the susceptibility of the causative organism, and the integrity of the host-defense mechanisms. The dose of 5 mg/kg of body weight administered once daily should be used for the routine treatment of infection caused by susceptible organism(s) in an otherwise healthy dog. The dosage may be increased to 10 mg/kg if deemed necessary. Antibiotic susceptibility of the organism(s) should be determined prior to use of difloxacin. However, therapy with Dicural tablets may be initiated before results of these tests are known. Once test results become available, continue with appropriate therapy.
Table 4. Canine Dosage Table for Dicural Tablets
Body Weight

Tablet Color

Tablet Strength

Daily Dose (sid)

5 mg/kg

10 mg/kg

27 kg (60 lb)

Orange

136 mg

1

2
How Supplied
Dicural tablets are scored for accurate dosing and ease of oral administration.
| | | | |
| --- | --- | --- | --- |
| DIN | Tablet strength (difloxacin base equivalent) | Tablet color | No. tablets per bottle |
| 02242515 | 136 mg | Orange | 50 and 250 |
STORAGE CONDITIONS: Store at controlled room temperature between 15-30°C. Do not expose to excessive heat (40°C and over).
REFERENCE:
1. Fitton, A. 1992. The quinolones, an overview of their pharmacology. Clin. Pharmacokinet. 22 (suppl. 1): 1-11.
12660
C13140G
Boehringer Ingelheim (Canada) Ltd., 5180 South Service Road, Burlington, Ontario L7L 5H4
NAC No.: 12300761
BOEHRINGER INGELHEIM (CANADA) LTD.
5180 SOUTH SERVICE ROAD, BURLINGTON, ON, L7L 5H4
| | | |
| --- | --- | --- |
| Customer Care No.: | | 800-567-1885 |
| Technical Services No.: | | 1-877-565-5501 |
| Website: | | www.boehringer-ingelheim.ca |
| | |
| --- | --- |
| | Every effort has been made to ensure the accuracy of the Dicural Tablets for Dogs information published above. However, it remains the responsibility of the readers to familiarize themselves with the product information contained on the Canadian product label or package insert. |