The originating document has been archived. We cannot confirm the completeness, accuracy and currency of the content.
Denagard Injection (Canada)
This page contains information on Denagard Injection for
veterinary use
.
The information provided typically includes the following:
Denagard Injection Indications
Warnings and cautions for Denagard Injection
Direction and dosage information for Denagard Injection
Denagard Injection
This treatment applies to the following species:
Manufacturer: Novartis
tiamulin
Veterinary Use Only
100 mg/mL tiamulin
Sterile Antibiotic
DIN 02224186
Description
Denagard (tiamulin) Injection contains 10% tiamulin base in solution in oil for intramuscular administration to swine. Chemically, tiamulin base is 14-desoxy-14-[(2-diethylaminoethyl) mercaptoacetoxy] mutilin. Its chemical structure is shown below: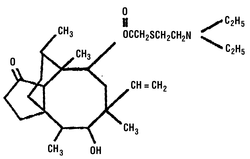 Actions:
Tiamulin is active against Brachyspira hyodysenteriae. The antibacterial activity of tiamulin is due to its inhibitory effects on microbial protein synthesis. Some in vitro MICs of tiamulin from published literature are shown in the following table. Except for Brachyspira hyodysenteriae, the clinical significance of these in vitro activities is unknown.
In Vitro Susceptibility Testing
Microorganism

MIC, mcg/mL

Brachyspira hyodysenteriae

0.0251
≤ 0.10-0.202

Staphylococcus aureus
ATCC 10390
ATCC 14154

0.062-0.0783
0.012-0.0153

Actinobacillus pleuropneumoniae

0.9-7.84

Mycoplasma hyopneumoniae

≤ 0.03-0.065

Mycoplasma hyorhinis

≤ 0.03-0.255

Mycoplasma hyosynoviae

0.055

Clostridium perfringens

0.625-0.783

Erysipelothrix rhusiopathiae

2.5-3.123

Pasteurella multocida

5.0-6.253

Leptospira spp.

0.07-2.56

Streptococcus suis type 2

0.25-27
Pharmacokinetics:
Tiamulin base administered intramuscularly to pigs results in peak levels of antibacterial activity in the blood in approximately 2 hours. The maximum level obtained and the duration of measurable activity found following a single IM treatment is directly related to the dose administered.
Concentrations of tiamulin found in tissues of pigs dosed IM at 11 mg/kg once daily for 4 days with blood collected at slaughter 2 hours after the last dose are shown below. Concentrations are expressed as mcg/mL or mcg/g.
| | | | | |
| --- | --- | --- | --- | --- |
| Serum | Lung | Tonsil | Colon Mucosa | Colon Contents |
| 0.87 | 26.8 | 3.2 | 2.6 | 3.1 |
Toxicology:
Excessive doses, e.g., 55 mg/kg or more and/or excessive duration of treatment, e.g., 33 mg/kg x 12 days, may result in death.
Adverse Reactions
In rare cases, redness of the skin primarily over the ham and underline has been observed during medication. Overdoses of Denagard have sometimes produced transitory salivation, emesis, disorientation and clonic convulsions. If signs of toxicity occur, discontinue medication immediately. Note: During treatment swine should be housed under conditions of adequate space and sanitation.
Indication, Dosage and Administration:
Denagard Injection is effective for treatment of swine dysentery associated with Brachyspira hyodysenteriae susceptible to tiamulin when administered intramuscularly at 11 mg tiamulin per kilogram body weight once daily until clinical signs have disappeared or for a maximum of 4 days.
Use Directions:
Determine the weight of the pig to be treated and inject the correct drug dose intramuscularly using a sterile syringe and needle. Do not inject more than 10 mL at one site. Use a different site each day.
Contraindications
Swine being treated with Denagard Injection should not have access to feeds containing polyether ionophores (e.g., monensin, lasalocid, narasin, salinomycin and semduramicin) as adverse reactions may occur.
Warning
Treated animals must not be slaughtered for use in food for at least 9 days after the latest treatment with this drug.
Avoid contact with the skin.
Keep out of reach of children.
Denagard Injection Caution
For intramuscular use in swine only. Do not overdose. This drug should not be administered to sows during 4 weeks after service.
Attention:
If no response to treatment is observed within 4 days, reestablish the diagnosis. Failure of response may be related to the presence of non-susceptible organisms or other complicating disease conditions. Because of the tendency for the disease to recur on premises with a history of swine dysentery, a control program should be implemented after treatment. Drugs are not substitutes for proper sanitary measures or good management, but should be used in conjunction with such practices.
How Supplied
| | |
| --- | --- |
| Vial Sizes | Active Ingredient |
| 250 mL vial, 12 vials per case | 25 grams tiamulin: 100 mg/mL |
Storage
Store at less than 27°C. Protect from light.
Observe expiration dates.
Active Ingredient
Each mL contains 100 mg tiamulin (as tiamulin hydrogen fumarate).
Preservative: 0.20 mg butylparaben.
References
1. Laber, G. 1976 Zbl. Bakt. Hyg., I. Abt. Orig. A. 236:127-130.
2. Kitai, K., M. Kashiwazaki, Y. Adachi, T. Kume and A. Arakawa. 1979 Antimicrob. Agents Chemoth. 15:392-395.
3. Drews, J., A. Georgopoulos, G. Laber, E. Schutze and J. Unger. 1975 Antimicrob. Agents Chemoth. 7:507-516.
4. Burch, D., G. Jones, T. Heard and R. Tuck. 1986 Vet. Record 119:108-112.
5. Laak, E., A. Pijpers, J. Noordergraaf, E. Schoevers and J. Verheijden. 1991 Antimicrob. Agents Chemoth. 35:228-233.
6. Laber, G. and E. Schutze. 1977 Zbl. Bakt. Hyg., I. Abt. Orig. A. 239:403-408.
7. Pijpers, A., B. Klingeren, E. Schoevers, J. Verheijden and A. Miert. 1988 Proc. 10th IPVS Congress, p. 98.
Novartis Animal Health Canada Inc., 2000 Argentia Road, Plaza 3, Suite 400, Mississauga, ON L5N 1V9
| | |
| --- | --- |
| Net Contents: | |
| 250 mL | NAH/DEN-I/CAN/BL/1 |
NAC No.: 12310832
ELANCO CANADA LIMITED
Distributed by ELANCO, Division Eli Lilly Canada Inc. & ELANCO CANADA LIMITED (successor to Novartis Animal Health Canada Inc.)
RESEARCH PARK CENTRE, 150 RESEARCH LANE, SUITE 120, GUELPH, ON, N1G 4T2
| | | |
| --- | --- | --- |
| Telephone: | | 519-821-0277 |
| Order Desk: | | 800-773-7603 |
| Fax: | | 519-821-7831 |
| Elanco Canada Limited Customer Service Telephone: | | 800-387-6325 |
| Elanco Canada Limited Customer Service Fax: | | 800-827-5782 |
| Website: | | www.Elanco.ca |
| | |
| --- | --- |
| | Every effort has been made to ensure the accuracy of the Denagard Injection information published above. However, it remains the responsibility of the readers to familiarize themselves with the product information contained on the Canadian product label or package insert. |