Celox Granules
This page contains information on Celox Granules for
veterinary use
.
The information provided typically includes the following:
Celox Granules Indications
Warnings and cautions for Celox Granules
Direction and dosage information for Celox Granules
Celox Granules
This treatment applies to the following species:
Manufacturer: Bioniche Animal Health
Quick and Easy to use
VETERINARY
FAST, EFFECTIVE FIRST AID FOR ANIMALS
Pack contains 15g CELOX™ Granules
STOPS BLEEDING FAST
CELOX™ effectively clots blood that contains Heparin.
CELOX™ also effectively clots hypothermic blood (cold conditions)
STERILE - R - STERILE UNLESS POUCH IS DAMAGED OR OPEN
FOR TEMPORARY EXTERNAL USE
Instructions for use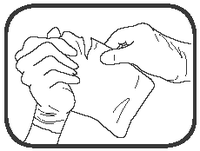 1. Tear Open CELOXTM 15g pack. Blot away any excess blood from the wound site.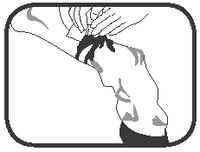 2. Quickly pour the granules onto the wound so that they cover the entire bleeding area and fill any wound void. Celox should be applied directly to the bleeding area.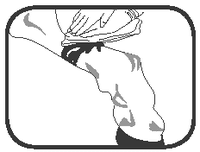 3. Quickly cover with gauze and apply firm pressure for 1 to 5 minutes depending on the severity of the bleeding.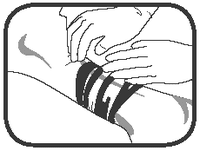 4. Wrap with a bandage and tie securely to maintain pressure on the wound.
5. Prior to further dressing/suturing, gently remove any excess Celox. Use saline if required.
6. Seek veterinary attention if necessary.
7. Discard any unused CELOX™ granules.
Indicated for the control of moderate to severe bleeding.
Celox Granules Caution
For external use only. Do not resterilize. Do not eat. Contains chitosan from shellfish.
Allergy studies show no adverse reactions*
Data on file*
Single use only
STERILE - R
* CELOX has been proven in controlled trials to stop major arterial bleeding within 3 mins. Laboratory testing has shown Celox to clot blood with 90 USP units heparin sodium / 1ml blood.
MedTrade Products Ltd, Electra House, Crewe Business Park, Crewe, CW1 6GL UK
www.celoxmedical.com
| | | |
| --- | --- | --- |
| | REF | |
| 15g PACK | FG08830381 | MTP-10-181 |
NAC No.: 11070150
BIONICHE ANIMAL HEALTH USA, INC.
Large Animal Division of Vetoquinol USA, Inc.
4250 N. SYLVANIA AVENUE, SUITE 3200A, FORT WORTH, TX, 76137
| | | |
| --- | --- | --- |
| Telephone: | | 877-580-7729 |
| Order Desk: | | 877-580-7729 |
| Fax: | | 817-529-7506 |
| Website: | | www.tomlyn.com |
| Email: | | customerservices@vetoquinolusa.com |
| | |
| --- | --- |
| | Every effort has been made to ensure the accuracy of the Celox Granules information published above. However, it remains the responsibility of the readers to familiarize themselves with the product information contained on the US product label or package insert. |