The originating document has been archived. We cannot confirm the completeness, accuracy and currency of the content.
Carpet Stain & Odor Eliminator (Canada)
This page contains information on Carpet Stain & Odor Eliminator for
veterinary use
.
The information provided typically includes the following:
Carpet Stain & Odor Eliminator Indications
Warnings and cautions for Carpet Stain & Odor Eliminator
Direction and dosage information for Carpet Stain & Odor Eliminator
Carpet Stain & Odor Eliminator
This treatment applies to the following species:
Manufacturer: Vétoquinol
FOR CARPET, FABRIC AND UPHOLSTERY
Instantly removes stains and odors
No bending or scrubbing necessary
Leaves no residue
Carpet Stain & Odor Eliminator Caution
IRRITANT - CONTENTS UNDER PRESSURE
SHAKE WELL BEFORE USING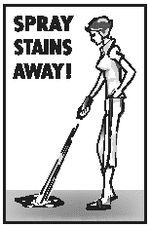 ALWAYS POINT CAN UPSIDE DOWN TO SPRAY
A powerful carpet stain and spot remover. Contains strong cleaners and degreasers to remove stains due to dirt, ink, grease, oil, mud, ketchup, urine, vomit, coffee, tea, alcoholic beverages, soft drinks and blood. Upside down spray valve allows easy application. Stream spray concentrates product on spots and stains without heavy overspray. This product quickly saturates materials for instant cleaning. Leaves no residue. Contains no solvents which might soften carpet backings. This product also contains an odor neutralizer which destroys odors associated with pets, such as those caused by urine, feces, vomit, blood, and food. A pleasant fragrance remains.
USE PRECAUTIONS: Although this product will not harm most carpet fabrics, the carpet needs to be tested for color fastness prior to using. To test for color fastness, spray small area of carpet in a hidden or out of the way spot and let dry. Do not oversaturate. Blot up cleaner thoroughly after application leaving carpet dry. If can is cold, product will foam but this will not impede the effectiveness of the product. Do not use in combination with any other stain or odor removing chemical(s).
Directions For Use
Can sprays upside down only. Remove protective cap. Shake well. Hold can upside down. Point opening in spray tip towards spot or stain. Depress the tab on the top of the spray tip to spray. Hold can at arm's length. It is not necessary to bend down to apply this product. Apply in short bursts until spot or stain is covered. Allow a short period of time for spotter to penetrate stain. Blot spot with a clean cloth working from center of stain out. Stain or spot will be gone in seconds. Excessive deposits of grease, oil, or ink may require additional applications. Wait until material is dry before reapplying.
DANGEROUS FUMES WHEN MIXED WITH OTHER PRODUCTS
MAY IRRITATE SKIN
MAY IRRITATE EYES
CONTAINER MAY EXPLODE IF HEATED
Do not mix with other household chemicals.
Do not breathe fumes.
Do not get on skin or clothing.
Do not get in eyes.
Do not puncture.
Do not burn.
Keep out of reach of children.
Use only in a well-ventilated area.
Store away from heat.
First Aid Treatment
Contains 2-Butoxyethanol and Isopropyl alcohol. If swallowed, call a Poison Control Centre or doctor immediately. Do not induce vomiting. If in eyes, rinse with water for at least 20 minutes. If on skin, rinse well with water.If breathed in, move person to fresh air.
Vétoquinol N.-A. Inc., 2000, ch. Georges, Lavaltrie, QC, Canada, J5T 3S5
1-800-363-1700
| | | |
| --- | --- | --- |
| NET | Code | |
| 510 g | 991610 | 50018C |
NAC No.: 12343400
VÉTOQUINOL N.-A. INC.
Commercial Division
2000, CHEMIN GEORGES, LAVALTRIE, QC, J5T 3S5
| | | |
| --- | --- | --- |
| Telephone: | | 450-586-2252 |
| Order Desk: | | 800-363-1700 |
| Fax: | | 450-586-4649 |
| Website: | | www.vetoquinol.ca |
| Email: | | info@vetoquinol.ca |
| | |
| --- | --- |
| | Every effort has been made to ensure the accuracy of the Carpet Stain & Odor Eliminator information published above. However, it remains the responsibility of the readers to familiarize themselves with the product information contained on the Canadian product label or package insert. |