Canine Imuno-Vax 10
This page contains information on Canine Imuno-Vax 10 for
veterinary use
.
The information provided typically includes the following:
Canine Imuno-Vax 10 Indications
Warnings and cautions for Canine Imuno-Vax 10
Direction and dosage information for Canine Imuno-Vax 10
Canine Imuno-Vax 10
This treatment applies to the following species:
Company: First Companion
Canine Distemper-Adenovirus Type 2-Coronavirus-Parainfluenza-Parvovirus Vaccine
Modified Live and Killed Virus
Leptospira Canicola-Grippotyphosa-Icterohaemorrhagiae-Pomona Bacterial Extract
For Use in Dogs Only
Description
Canine Imuno-Vax® 10 vaccine is a combination of immunogenic, attenuated strains of Canine Distemper, Canine Adenovirus Type 2 (CAV-2), Canine Parainfluenza, and Canine Parvovirus Type 2b, propagated in cell line tissue cultures. The diluent contains killed antigens for Canine Coronavirus Vaccine-Leptospira Canicola-Grippotyphosa-Icterohaemorrhagiae-Pomona bacterial extract. The CAV-2 fraction cross-protects against respiratory infection caused by infectious canine hepatitis (CAV-1).
Canine Imuno-Vax 10 Indications
For subcutaneous vaccination of healthy dogs 6 weeks of age or older as an aid in the prevention of disease caused by canine distemper, infectious canine hepatitis, canine adenovirus type 2, canine coronavirus, canine parainfluenza, and canine parvovirus (CPV), Leptospira canicola, Leptospira grippotyphosa, Leptospira icterohaemorrhagiae, and Leptospira pomona. This product contains a CPV 2b strain.
DIRECTIONS AND DOSAGE: The dosage is 1 mL injected subcutaneously. Open syringe by twisting or tapping the cap against a hard surface to break the heat weld. Prepare the vaccine by injecting the diluent into the vial containing the desiccated vaccine cake. Shake well. Withdraw entire contents into the syringe. Thoroughly prepare injection site with antiseptic. Lift the loose skin behind the neck or behind front leg and insert needle. Inject entire contents of syringe. Do not inject directly into blood vessel. Important note: Before injecting vaccine, pull back slightly on syringe plunger. If blood enters the syringe freely, choose another injection site. A recommended vaccination schedule should start at or about 6 weeks of age. The presence of maternal antibody is known to interfere with the development of active immunity. Puppies should be revaccinated every 2 to 3 weeks until at least 16 weeks of age. All dogs over 12 weeks of age should initially receive one dose of Canine lmuno-Vax® 10 and a second dose 2 to 3 weeks later. Annual revaccination with a single dose is recommended.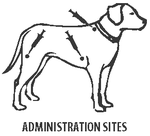 Precautions
Only vaccinate healthy animals. Animals incubating any disease or stressed due to shipping, malnutrition, or parasitism may not achieve or maintain an adequate immune response. Burn containers and unused contents. Although rare, severe allergic reactions (anaphylactoid) may occur that require immediate veterinary care. Antidote: Epinephrine.
Storage
Store out of direct sunlight at 35-45°F (2-7°C). Do not freeze.
PRESERVATIVES: Gentamicin and Thimerosal.
Manufactured by: Boehringer Ingelheim Vetmedica, Inc., St. Joseph, MO 64506
U.S. Veterinary License No. 124
Manufactured for: Aspen Veterinary Resources®, Ltd., Liberty, MO 64068
Canine Imuno-Vax® and firstCompanion® are registered trademarks of Aspen Veterinary Resources, Ltd.
This package contains one (1 dose) vial of dry vaccine, one (1 mL) vial of vaccine diluent and one disposable syringe.

FC180BI REV 08/13

150914-00
CPN: 1273068.0
FIRST COMPANION VETERINARY PRODUCTS
3155 W. HEARTLAND DRIVE, LIBERTY, MO, 64068
| | | |
| --- | --- | --- |
| Telephone: | | 816-415-4324 |
| Fax: | | 816-415-4314 |
| Website: | | www.aspenveterinaryresources.com |
| | | www.firstcompanion.net |
| | |
| --- | --- |
| | Every effort has been made to ensure the accuracy of the Canine Imuno-Vax 10 information published above. However, it remains the responsibility of the readers to familiarize themselves with the product information contained on the US product label or package insert. |