Canine Gonadotropin Releasing Factor Immunotherapeutic
This page contains information on Canine Gonadotropin Releasing Factor Immunotherapeutic for
veterinary use
.
The information provided typically includes the following:
Canine Gonadotropin Releasing Factor Immunotherapeutic Indications
Warnings and cautions for Canine Gonadotropin Releasing Factor Immunotherapeutic
Direction and dosage information for Canine Gonadotropin Releasing Factor Immunotherapeutic
Canine Gonadotropin Releasing Factor Immunotherapeutic
This treatment applies to the following species:
Manufacturer: Zoetis
Notice! This product license is conditional. Efficacy and/or potency of this product have not been fully demonstrated.
For use only in postpubescent intact male dogs
PRODUCT DESCRIPTION: This product is to be used as an aid in the treatment of postpubescent intact male dogs diagnosed with benign prostatic hyperplasia (BPH). This product is prepared from an analogue of gonadotropin releasing factor linked to a carrier protein. It is adjuvanted to increase the level and duration of beneficial effect.
DISEASE DESCRIPTION: BPH is a condition in which various hormonal influences cause an intact male's prostate gland to grow.2,4 It is the single most common disease of the canine prostate gland, and histological evidence of this condition can be observed in intact male dogs as early as 1.5 years of age.2,4 The upward progression of incidence of BPH is dramatic: by age six, 60% of intact male dogs are affected and, by age 9, this figure rises to 95%.4 BPH is differentiated from other prostatic diseases (such as bacterial prostatitis, prostatic cysts, and prostatic neoplasia) by assessment of prostate size, evaluation of prostatic fluid for evidence of infection, and prostatic biopsy.1,2,4
The pathogenesis of BPH, while not completely understood, is thought to be due to an age-related increase in sensitivity of the prostate gland to 5a-dihydrotestosterone, which is created from testosterone through the enzymatic action of 5a reductase.1,4 Testosterone is produced by the testicles and is regulated by an endocrine cascade that originates with gonadotropin releasing factor (GnRF).5 This immunotherapeutic works by eliciting antibodies that block GnRF and ultimately results in diminished levels of testosterone and subsequent involution of the prostate gland.3
SAFETY AND EFFICACY: Safety of this product has been demonstrated when administered according to label directions, and when administered as a 2X overdose (2 mL). No significant systemic reactions or adverse events were observed over a 14-day post-treatment observation period in these studies.
Preliminary trials involving 237 treatments resulted in approximately 10% mild injection site swellings that were only apparent by palpation, and resolved without treatment. No pain was reported upon injection in a controlled repeated overdose study, in which 24 adult dogs received a 2X overdose (2 mL) followed by a second 2X overdose 4 weeks later. A total of 4 injection site reactions out of the 48 administrations were observed during the 21-day observation period, and resolved without treatment. These mild injection site swellings were only apparent by palpation.
Canine Gonadotropin Releasing Factor immunotherapeutic constitutes an innovative, nonsurgical approach for the treatment of BPH through the interruption of testicular testosterone production and reduction of further stimulatory effects of testosterone upon the prostate gland. This product is conditionally licensed by the United States Department of Agriculture (USDA). Efficacy and/or potency of this product have not been fully demonstrated. In preliminary studies, all dogs treated with Canine Gonadotropin Releasing Factor Immunotherapeutic had the desired response of developing GnRF-specific antibodies. In a specific BPH efficacy study, a total of 13 dogs with enlarged prostates were treated twice (days 0 and 28) with either this product (9 dogs) or a placebo (4 dogs). Anti-GnRF antibody titers, testosterone levels, and prostate volume were measured at monthly intervals for 6 months. All treated dogs responded with high antibody titers and decreased testosterone levels after vaccination when compared to controls. Average prostate volume was considerably reduced in the treated group compared to the group of control dogs.
Figure 1. Mean Prostate Size (Cm3)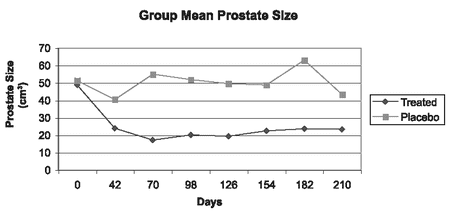 Canine Gonadotropin Releasing Factor Immunotherapeutic Caution
This product should be administered by, or under the supervision of, a veterinarian. Care should be taken to avoid accidental self-injection and/or needle-stick injury when administering this product. Accidental self-injection and/or needle-stick injury may affect fertility in both men and women. As this vaccine may affect pregnancy, women of childbearing age should take particular care in its handling and administration. Seek medical advice immediately in the event of accidental self-injection. To report an adverse event, contact Zoetis Inc. at 1-888-963-8471.
Directions For Use
General Directions: Vaccination of healthy dogs is recommended. Shake well. Aseptically administer 1 mL subcutaneously.
Primary Vaccination: Healthy dogs should receive 2 doses administered 4-6 weeks apart. Involution of the prostate gland typically begins 10-14 days after administration of the second dose.
Revaccination: The revaccination interval for this product has not been determined. A single repeat dose administered every 6 months is recommended.
Precautions
Store at 2°-8°C. Prolonged exposure to higher temperatures and/or direct sunlight may adversely affect potency. Do not freeze.
Use entire contents when first opened.
Sterilized syringes and needles should be used to administer this vaccine.
Transient and self-limiting swelling at the injection site may be seen following vaccination, and should resolve within 14-28 days.
The effect of this product upon subsequent fertility in dogs is unknown.
Dispose of containers, syringes, needles and any unused contents according to local biomedical waste handling requirements.
In case of anaphylaxis, administer epinephrine or equivalent.
References
1. Barsanti J, Finco D: Medical Management of Canine Prostatic Hyperplasia. In: Bonagura J, Kirk R, editors. Kirk's Current Veterinary Therapy XII. Philadelphia, PA, USA: W.B. Saunders Company, 1033-1034, 1995.
2. Bosu W. Prostatic Diseases (Benign Prostatic Hyperplasia). In: Aiello S, Mays A, editors. The Merck Veterinary Manual. 8th ed. Whitehouse Station, N.J., USA: Merck & Company, Inc. 1045-1046, 1998.
3. Fuerst J, Fiebiger E, Mack D, et al: The effect of active immunization against gonadotropin-releasing hormone on the ultrastructure of the rat ventral prostate. Urological Research 22(2):107-113, 1994.
4. Klausner J, Johnston S, Ford F. Canine Prostatic Disorders. In: Bonagura J, Kirk R, editors. Kirk's Current Veterinary Therapy XII. Philadelphia, PA, USA: W.B. Saunders Company, 1103-1108, 1995.
5. Stabenfeldt G, Edqvist L: Male Reproductive Processes. In: Swenson M, editor. Duke's Physiology of Domestic Animals. 10th ed. London, UK: Cornell University Press, 833-846, 1984.
Technical inquiries should be directed to Zoetis Inc. Veterinary Services, (888) 963-8471 (USA), (800) 461-0917 (Canada).
For veterinary use only
U.S. Veterinary License No. 190
Zoetis Inc., Kalamazoo, MI 49007
75-0823-03
Presentation: 5 x 1 dose.
NAC No.: 36902244
ZOETIS INC.
333 PORTAGE STREET, KALAMAZOO, MI, 49007
| | | |
| --- | --- | --- |
| Telephone: | | 269-833-4000 |
| Customer Service: | | 800-733-5500 and 800-793-0596 |
| Veterinary Medical Investigations & Product Support: | | 800-366-5288 |
| Technical Services (USA): | | 800-366-5288 |
| Website: | | www.zoetis.com |
| | |
| --- | --- |
| | Every effort has been made to ensure the accuracy of the Canine Gonadotropin Releasing Factor Immunotherapeutic information published above. However, it remains the responsibility of the readers to familiarize themselves with the product information contained on the US product label or package insert. |