Bronchi-Shield II Injectable
This page contains information on Bronchi-Shield II Injectable for
veterinary use
.
The information provided typically includes the following:
Bronchi-Shield II Injectable Indications
Warnings and cautions for Bronchi-Shield II Injectable
Direction and dosage information for Bronchi-Shield II Injectable
Bronchi-Shield II Injectable
This treatment applies to the following species:
Company: Elanco US
Canine Parainfluenza Vaccine
Modified Live Virus
Bordetella Bronchiseptica Bacterin
For Use in Dogs Only
This product has been shown to be effective for the vaccination of healthy dogs 9 weeks of age or older against canine parainfluenza and Bordetella bronchiseptica. For more information regarding efficacy and safety data go to productdata.aphis.usda.gov.
Directions and dosage: Aseptically rehydrate CPI cake with B. Bronchiseptica diluent supplied. Inject one 1 mL dose subcutaneously. Puppies 9 weeks or younger: vaccinate healthy puppies at 3-4 week intervals until 16 weeks of age for at least 3 doses. Protective immunity may not be established in all puppies vaccinated at less than 16 weeks of age because of maternal antibody interference. Puppies 16 weeks and adults: give a minimum of 2 doses at 3-4 week intervals. The need for annual booster vaccinations has not been established for this product; consultation with a veterinarian is recommended.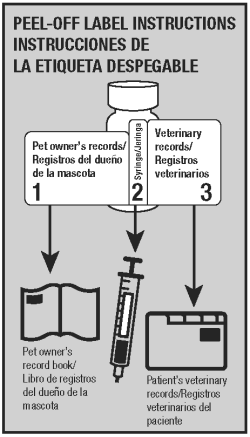 Precautions
Store out of direct sunlight at 35-46°F (2-8°C). Do not freeze. Do not mix with other products, except as specified on the label.
In the field study, gastroenteritis and diarrhea were observed in animals that were concomitantly parasitized. See the productdata.aphis.usda.gov website for more details. In case of anaphylactoid reaction, administer epinephrine. This product has not been tested in pregnant animals. In case of human exposure, contact a physician. Inactivate all unused contents before disposal.
Preservatives: Gentamicin, Amphotericin B and thimerosal.
Bronchi-Shield, Elanco and the diagonal bar logo are trademarks of Eli Lilly and Company or its affiliates.
© 2017 Elanco US Inc. all rights reserved.
Elanco US Inc., Fort Dodge, IA 50501
Phone: 888-545-5973
VLN/PCN 196/47A1.20
| | |
| --- | --- |
| 25 Doses: 25 vials of vaccine plus 25 x 1 mL vials of diluent | YL100726B |
CPN: 1943037.0
ELANCO US INC.
FORT DODGE, IA, 50501
| | | |
| --- | --- | --- |
| Customer Service: | | 317-276-1262 |
| Technical Service: | | 800-428-4441 |
| Website: | | www.elanco.us |
| Email: | | elanco@elanco.com |
| | |
| --- | --- |
| | Every effort has been made to ensure the accuracy of the Bronchi-Shield II Injectable information published above. However, it remains the responsibility of the readers to familiarize themselves with the product information contained on the US product label or package insert. |