The originating document has been archived. We cannot confirm the completeness, accuracy and currency of the content.
Audisan Ear Spray (Canada)
This page contains information on Audisan Ear Spray for
veterinary use
.
The information provided typically includes the following:
Audisan Ear Spray Indications
Warnings and cautions for Audisan Ear Spray
Direction and dosage information for Audisan Ear Spray
Audisan Ear Spray
This treatment applies to the following species:
Company: Rafter 8
Alfasan 4 pets
naturally
Veterinary Use Only
NN.G5D7
KEEP OUT OF REACH OF CHILDREN
USE REGULARLY TO HELP:
● Clean the outer ear
● Soften and remove ear wax and other unwanted debris
● Avoid the build up of unwanted elements
● Easy and exact application, no mess
● Soothe the ear
For routine ear cleansing, including wax removal or prevention of wax build-up, to maintain healthy ears.
READ THE INSERT CAREFULLY BEFORE USING THIS PRODUCT.
IT CONTAINS IMPORTANT INFORMATION FOR YOU ABOUT YOUR PET.
Audisan® can be used safely in the ears of dogs and cats.
● Regular use of Audisan® ensures the maintenance of good ear hygiene of your pet through the softening and removal of earwax and other undesired elements. It also helps to keep the outer ear and ear canal clean and cared for.
● Keep the insert.
● Consult your veterinarian if you require more information or advice.
● If undesirable effects occur, please notify your veterinarian.
IN THE INSERT:
1. What is Audisan® and what is it used for
2. How to use Audisan®.
3. How to store Audisan® and warnings.
1. What is Audisan® and what is it used for
Audisan® is a clear, colourless solution, in a glass bottle with a dosage pump with valve and a spray head. Every bottle contains 10 mL of olive oil and mineral oil suitable for about 200 dosages.
Audisan® is a natural ear care product without propellant gas with cleaning properties for ear hygiene for animals. Audisan® comes in a useful pump spray and contains olive oil which softens the earwax. Audisan® takes care of the dry, sensitive or chapped skin of the ear. For weekly use, it helps against the accumulation of earwax, skin particles and other contamination. Audisan® is ideal for dogs that swim regularly.
2. How to use Audisan®
Audisan® is a user-friendly ear spray allowing you to apply a measured quantity safely and effectively.
Audisan® supplies a small focused spray mist to cover the target area, which prevents overdosage, waste and mess.
After the desired number of sprays, you will need to clean the end of the spray head with a clean tissue.
Spray Dosage:
Dogs: spray 2-4 times per ear and repeat if necessary. Use weekly.
Cats: spray 1-2 times per ear and repeat if necessary. Use weekly.
The following instructions will help you achieve the best result with Audisan® ear spray:
● Warm the bottle/contents in the palm of your hand and shake vigorously.
● For a new bottle: activate the pump by spraying 3-5 times in the sink, away from your face. This will also help you to achieve the right feel for the spraying.
● Keep the bottle in your hand with your index finger on the pump, ready to spray (see figure A).
● Pull the ear of your pet slightly upward and aim the spray head on the auditory meatus (see figure B).
● One push on the button will produce one spray dose. It can be easier to practice this action at a distance away from your pet for a few times first.
● It is recommended to clean each ear separately with a clean tissue after application of the product.
● If you use the product preventively (weekly), it is not really necessary to clean the ears with a clean tissue.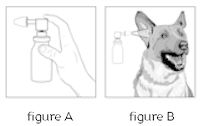 3. How to store Audisan® and warnings.
● Keep out of reach and sight of children.
● Store in an upright position, between 20°C and 30°C.
● Olive oil is a natural product, and no undesired effects have been noted or are known for this product, nor in interaction with other animal care products. Nonetheless, you should not use this product if your pet is irritable or allergic to olive oil or mineral oil. No undesired effects are known when it comes to overdosage of this product.
● Consult your veterinarian for advice for usage of this product if your pet recently underwent ear-related operations or had a perforated eardrum.
● Use only in animals older than 12 weeks.
● Only for external use.
● Avoid contact with the eyes.
● Wash your hands after use.
● Never put the spray head in the ear of an animal; this can cause serious pain and wounds to the auditory canal and the eardrums.
● Throw away your empty package according to the locally applicable guidelines.
● Do not use the spray after the expiry date on the label.
● For use in healthy ears only unless recommended by a veterinarian
● Discontinue use if there is discharge, discomfort, redness or irritation and consult your veterinarian.
Store upright between 15-30°C. Shake well before use.
Active Ingredients per 10 mL: 8 mL olive oil.
Rafter 8 Products Inc., 87 Skyline Crescent N.E., Calgary, Alberta, T2K 5X2
Tel: 1-800-461-8615
Audisan® is a registered trademark of Alfasan, Kuipersweg 9, 3449 JA Woerden NL
Brochure produced Sept. 2015
| | |
| --- | --- |
| 10 mL | Contains approx. 200 doses. |
NAC No.: 1219043.0
RAFTER 8 PRODUCTS
87 SKYLINE CRESCENT N.E., CALGARY, AB, T2K 5X2
| | | |
| --- | --- | --- |
| Telephone: | | 403-291-3640 |
| Order Desk: | | 800-461-8615 |
| Fax: | | 403-250-2703 |
| Website: | | www.rafter8.ca |
| Email: | | orders@rafter8.ca |
| | |
| --- | --- |
| | Every effort has been made to ensure the accuracy of the Audisan Ear Spray information published above. However, it remains the responsibility of the readers to familiarize themselves with the product information contained on the Canadian product label or package insert. |