Alvedia Lab Test Equine XM (Canada)
This page contains information on Alvedia Lab Test Equine XM for
veterinary use
.
The information provided typically includes the following:
Alvedia Lab Test Equine XM Indications
Warnings and cautions for Alvedia Lab Test Equine XM
Direction and dosage information for Alvedia Lab Test Equine XM
Alvedia Lab Test Equine XM
This treatment applies to the following species:
Manufacturer: Canadian Animal Blood Bank
TECHNOLOGY
THE FIRST EQUINE CROSSMATCH TEST
NEW
HOW TO PREVENT SEVERE EQUINE TRANSFUSION REACTIONS AND NEONATAL ISOERYTHROLYSIS?
A SIMPLE SOLUTION:
IN-HOUSE EQUINE CROSSMATCH TEST
ALL YOU NEED FOR A SAFE TRANSFUSION
The Importance Of Xm
IDENTIFYING A COMPLETELY COMPATIBLE DONOR IS ALMOST IMPOSSIBLE WITH MORE THAN THIRTY RBC ALLOANTIGENS IN SEVEN MAJOR BLOOD GROUPS (A, C, D, K, P, Q AND U) IDENTIFIED IN HORSES. THE A, C AND Q BLOOD TYPES ARE CONSIDERED AS THE MOST IMMUNOGENIC BLOOD GROUPS INVOLVED IN TRANSFUSION REACTIONS (ESPECIALLY AA AND QA ANTIGENS).
THE MOST COMMON INDICATIONS FOR BLOOD TRANSFUSIONS:
- ACUTE BLOOD LOSS FROM TRAUMA
- RUPTURED UTERINE ARTERY
- COAGULOPATHIES
- SURGERIES
- GUTTURAL POUCH MYCOSIS
- ACUTE ANEMIA
- NEONATAL ISOERYTHROLYSIS
IN HOUSE REAGENTS FOR A COMPLETE EQUINE BLOOD TYPING ARE NOT AVAILABLE YET, SO MAJOR AND MINOR CROSS MATCHING OF DONORS AND RECIPIENTS IS CURRENTLY THE MOST EFFECTIVE WAY TO PERFORM A SUITABLE TRANSFUSION.
MARES MAY BECOME SENSITIZED AS A RESULT OF EXPOSURE OF A WHOLE BLOOD TRANSFUSION OR PREVIOUS PREGNANCIES AND CAN DEVELOP SUFFICIENT AMOUNT OF ANTIBODIES TO CAUSE NI. NEONATAL ISOERYTHROLYSIS CAN BE PREVENTED BY CROSSMATCHING THE MARE WITH THE STALLION PRIOR TO MATING OR IN THE MONTH PRIOR TO FOALING TO EVALUATE THE LEVEL OF RISK.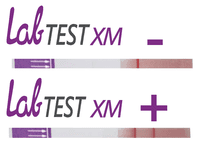 20 MINUTES PROCEDURE
ALL MATERIAL INCLUDED
CONTACT US:
● TO ORDER
● FOR PRICE LIST
● FOR FURTHER INFORMATION
● OR TO IDENTIFY YOUR LOCAL DISTRIBUTOR
Alvedia
Alice Veterinary Diagostic
11-13 RUE DES AULNES, 69760 LIMONEST - FRANCE
TEL: +33 478 380 239
FAX: +33 478 939 563
CONTACT@ALVEDIAVET.COM
WWW.ALVEDIA.COM
NAC No.: 1626005.0
CANADIAN ANIMAL BLOOD BANK
AB71 - 2055 NOTRE DAME AVENUE, WINNIPEG, MB, R3H 0J9
| | | |
| --- | --- | --- |
| Telephone: | | 204-632-2586 |
| Fax: | | 204-632-4859 |
| Website: | | www.canadiananimalbloodbank.ca |
| | |
| --- | --- |
| | Every effort has been made to ensure the accuracy of the Alvedia Lab Test Equine XM information published above. However, it remains the responsibility of the readers to familiarize themselves with the product information contained on the Canadian product label or package insert. |