Top 10 Money-Making Drugs of 2012
#1 - Nexium (esomeprazole)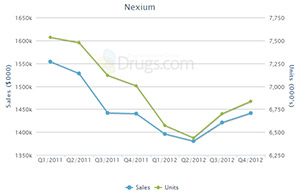 Nexium (esomeprazole) is AstraZeneca's popular proton pump inhibitor used to block excess stomach acid. Nexium, also known as "The Purple Pill", is used to treat heartburn and acid reflux, sometimes called GERD. In 2012 alone, Nexium had sales of over $5.6 billion, placing it solidly in the mega-blockbuster category.
However, all brand names must come to an end - and in May 2014 Nexium's patent will expire opening the doors for generics. An Rx-to-OTC switch of Nexium is also expected in 2014.
#2 - Abilify (aripiprazole)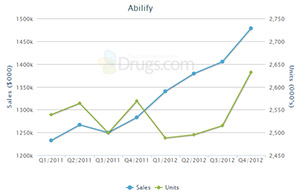 Abilify (aripiprazole) is an atypical antipsychotic drug manufactured by Otsuka/BMS and approved for the treatment of schizophrenia, bipolar disorder, and other psychiatric conditions. Sales of Abilify exceeded $5.6 billion in 2012 and it overtook Nexium in the fourth quarter to become the top selling drug nationwide.
Abilify's patent expires in 2015; however, with generic versions of other atypical antipsychotics now available, Abilify sales may erode early.
# 3 - Crestor (rosuvastatin)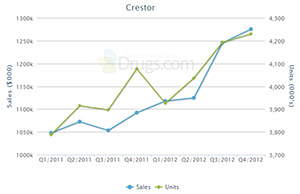 Crestor (rosuvastatin) comes from a well-known group of cholesterol-lowering drugs called HMG-CoA reductase inhibitors, or "statins". Lipitor, the number one selling drug to date, comes from this class. Crestor sales approached $4.8 billion in 2012 and remained strong in each quarter, even with generic Lipitor hitting the shelves in 2012.
Crestor loses patent protection in July 2016, but drug company coupons and robust direct-to-consumer advertising may add a boost to sales and brand loyalty.
#4 Advair Diskus (fluticasone/salmeterol)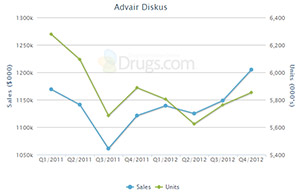 Advair Diskus is GlaxoSmithkline's (GSK) stand-by agent for both asthma and chronic obstructive pulmonary disease (COPD). Inhaled Advair contains fluticasone, a corticosteroid, and salmeterol, a bronchodilator. In 2012, Advair ranked as the fourth best selling drug in the U.S. with over $4.6 in revenues.
However, generics for Advair are forthcoming and GSK will be busy promoting it's new respiratory line which includes blockbuster hopeful Breo (fluticasone furoate/vilanterol).
#5 Cymbalta (duloxetine)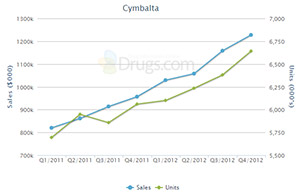 Cymbalta has almost become a household word. Lilly's Cymbalta (duloxetine) is FDA-approved for multiple ailments - depression, fibromylagia, anxiety, musculoskeletal and neuropathic pain - all common conditions in the U.S. market. Direct-to-consumer TV ads during prime time appear almost nightly.
Those vigorous marketing tactics seemed to have worked - in 2012 Cymbalta was ranked the 5th top selling drug in the U.S. with sales over $4.7 billion. Cymbalta is set to hit generic status in December 2013.
#6 Humira (adalimumab injection)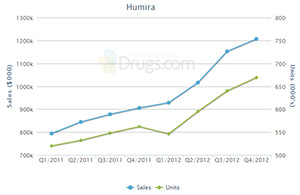 Humira (adalimumab), now the world's best selling TNF Inhibitor, is nothing short of a cash cow for AbbVie, yielding half of the company's revenue. Humira is used for rheumatoid arthritis, Crohn's disease, and psoriasis, among other ailments. In 2012, U.S. sales topped $4.4 billion, and sales remained strong in 2011, too.
Patent protection on Humira runs until 4Q 2016, but Humira may be one of the first biologics to face the uncertain biosimilar market. Humira 2013 sales are expected to hit $10 billion.
#7 Enbrel (etanercept injection)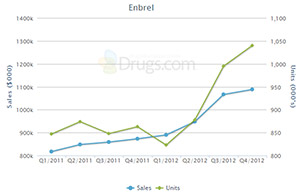 Enbrel (etanercept injection) is a strong competitor to Humira, but in terms of 2012 U.S. sales, it comes in at under $4 billion. Enbrel sales climbed throughout 2012, particularly in the 3rd quarter with a 12% boost.
However, like Humira, patent loss is looming for Enbrel. The Enbrel patent ends in Q1 2016, several quarters before Humira. It is not yet known if exact biosimilars can be produced for large biologic molecules, or what the FDA stance on biosimilar substitution will be going forward.
#8 Remicade (infliximab)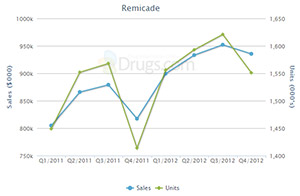 Remicade (infliximab), by Janssen Biotech, is third down the list for top selling TNF inhibitors, right below Humira and Enbrel. TNF inhibitors are pricey, with an average annual treatment cost of $14,000-$18,000.
Remicade sales in 2012 were over $3.7 billion, but in the last quarter of 2012 the numbers were shrinking. However, one advantage for Remicade is the patent does not expire until 3Q 2018. If biosimilars become available for its competitors, the patent date for Remicade may not matter.
#9 Copaxone (glatiramer)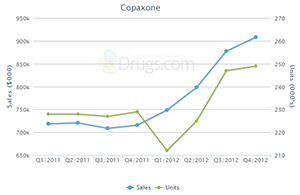 Copaxone (glatiramer) is a self-injectable protein combination used to treat and prevent relapse of multiple sclerosis (MS). Copaxone ranked as the top selling MS drug of 2012 with over $3.3 billion in sales. The newer oral MS agents Gilenya and Aubagio have been plagued with safety issues that have helped Copaxone to remain on top.
A new kid on the blockbuster block - oral Tecfidera - was newly approved for MS in March 2013 and one analyst predicts its sales may surpass that of Lipitor.
#10 Neulasta (pegfligrastim)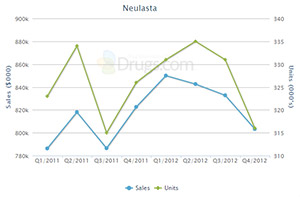 Amgen's Neulasta (pegfligrastim), a granulocyte-colony stimulating factor (G-CSF), is used to reduce the risk of infection in patients receiving white blood cell-depleting chemotherapy. Neulasta sales topped $3.3 billion in 2012, with patent expiration in 2015.
Amgen also makes Neupogen (filgrastim) - with patent loss in Q4 2013. G-CSF biosimilar development is striving to be underway, but is hitting roadblocks. Teva's product tbo-filgrastim is approved and should launch in Q4 2013, but it cannot be marketed as a substitute for Neupogen.
Finished: Top 10 Money-Making Drugs of 2012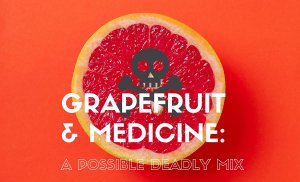 NEXT UP
Grapefruit and grapefruit juice can affect hundreds of prescription medications and can lead to important drug interactions. Will grapefruit juice alter any medications you are taking?
DON'T MISS
Osteoporosis is a condition where bones become weak and brittle and can easily break. Although more often diagnosed in older women, osteoporosis can affect anyone but there are several lifestyle changes you can make to keep your bones in the best health possible.
Further information
Always consult your healthcare provider to ensure the information displayed on this page applies to your personal circumstances.