First Aid for Mental Health:
Investigational Drugs to the Rescue
Need a New Drug?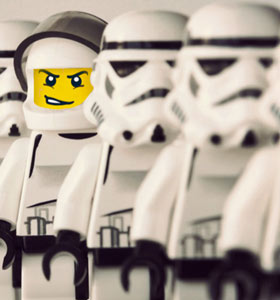 A quick glance at recent FDA drug approvals may lead you to believe that new therapies for mental illnesses - such as depression, anxiety, or ADHD - have all but dried up. But that could not be further from the truth. In fact, according to a 2016 report by PhRMA, there are over 100 medicines under development in this area, ranging from Phase I through FDA new drug application (NDA) review.
However, development of new drugs in mental health is a painstaking process. Pinpointing mechanisms and sites of actions and finding new therapeutic targets can be common setbacks for researchers.
The Burden of a Mental Health Illness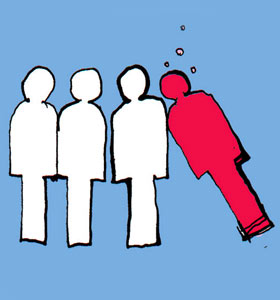 The numbers can be quite staggering when you look at statistics in the U.S. About 61 million adults, roughly 1 in 4, have been diagnosed with a mental health disorder.
ADHD affects 5% of children, and over 40 million adults have some form of anxiety. Depression is widespread; roughly 21 million adults suffer from this condition. Schizophrenia - a disabling condition psychotic often associated with substance abuse - accounts for about 2.4 million cases in America. And speaking of substance abuse and addiction - costs linked with these conditions alone exceed $600 million annually. Here's 10 drugs under research to help alleviate these burdens.
Aloradine (PH94B), Social Anxiety Disorder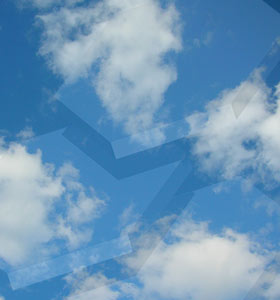 Social anxiety disorder, or social phobia, affects about 15 million adults. Patients with social phobia experience a persistent fear of most social, performance or speaking situations. Developed by Pherin Pharmaceuticals, aloradine (PH94B) has had success in Phase III trials of social phobia in women.
Aloradine is in a new drug class called "pherines" known as sensory receptor cell modulators and is given as a nose spray. It targets brain receptors via nasal chemosensory neurons with a 15 minute onset. Analysis of 91 patients shows that intranasal aloradine was effective in 75% of participants as compared with 37% on placebo. Side effects so far appear to be minimal.
Dextromethorphan/Quinidine (AVP-923), Agitation in Alzheimer's Disease
Agitation in Alzheimer's disease can lead to a dangerous, black box-contraindicated use of antipsychotic drugs to calm these dementia patients. Avanir is developing AVP-923, a combo drug with dextromethorphan, already approved for coughs and quinidine, a heart drug.
In a small study published in JAMA, study results showed a decline in agitation symptoms. However, almost 9% of patients suffered a fall, and 5% developed a urinary tract infection. Another combination of these drugs known as Nuedexta is already approved to treat pseudobulbar affect, a condition of sudden, frequent outbursts of crying or laughing.
Dasotraline (SEP-225289), ADHD and Binge Eating Disorder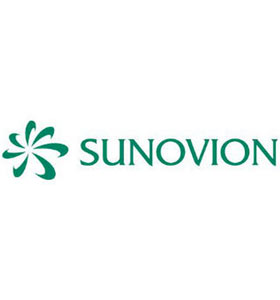 Attention deficit/hyperactivity disorder (ADHD) results in a lack of focus, overactivity, uncontrolled behavior, or some combination of these. Dasotraline, developed by Sunovion, is in Phase II-III studies for ADHD in adults and children ages 6 to 17.
Dubbed a "triple reuptake inhibitor", this drug targets serotonin, norepinephrine and dopamine, for a broader spectrum of activity. It's being developed as a once-daily treatment. Dasotraline is also being evaluated for its use in binge eating disorder, where a person loses control over eating, but does not purge, therefore putting the person at risk for obesity.
Fluoxetine Rapid Dissolve (AT001), Autistic Repetitive Behaviors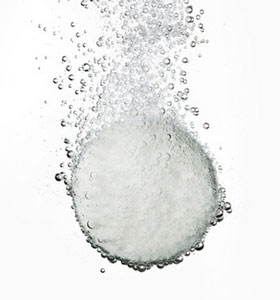 Fluoxetine is a well-known SSRI antidepressant that inhibits serotonin reuptake in the central nervous system. AT001, developed by Autism Therapeutics, is in Phase III trials for the treatment of autistic repetitive behaviors in children and adolescents and has completed phase II for adults.
If FDA approved, this formulation would be the first treatment for autistic patients suffering with repetitive behaviors. AT001 is being developed in a "Zydis" rapidly orally disintegrating tablet (ODT) in several strengths which will be taste-masked. The use of AT001 in autism has received orphan drug designation and Fast Track status from the FDA.
Cariprazine (Vraylar), Schizophrenia and Bipolar Disorder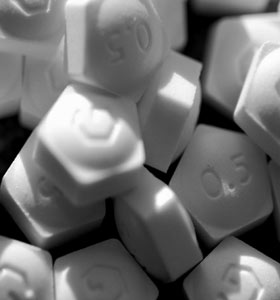 Cariprazine (Vraylar) was FDA-approved on September 17, 2015. Cariprazine, an oral atypical antipsychotic developed by Gedeon Richter/Allergan, is a potent dopamine D3/D2 receptor partial agonist. It is used for the treatment of patients with schizophrenia and for patients with manic or mixed episodes associated with bipolar I disorder.
Vraylar is also being studied for bipolar depression and as an adjunct for major depressive disorder. Common side effects reported with Vraylar include muscle movements, upset stomach and vomiting, drowsiness or feeling restless. The NDA was resubmitted after an FDA rejection in December 2014.
Rapastinel (GLYX-13), Depression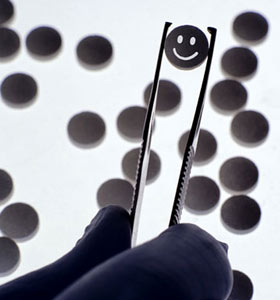 A new investigational class, the N-methyl-d-aspartate (NMDA) receptor modulators, has shown a rapid and long-lasting effect in depression. Rapastinel (GLYX-13), under research by Allergan, is in Phase III studies. The proposed use is intravenous add-on therapy for patients who don't have an adequate response to their current antidepressant. In clinical trials, effects occurred as quickly as 2 hours and lasted for 7 days after a single dose. Repeat dosing led to clinical effects lasting at least 10 weeks after the drug was stopped. Psychotic-like side effects, common with NMDA drugs, were not seen. Rapastinel received Breakthrough Therapy designation from the FDA for adjunctive treatment of Major Depressive Disorder (MDD). This follows the Fast Track Designation for rapastinel granted by the FDA in 2014.
NRX-1074, Depression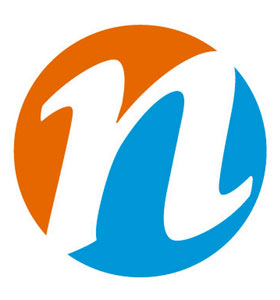 Unlike LY2940094, which is intravenous only, Allergan is also developing NRX-1074, an intravenous and orally administered NMDA agonist. Currently, NRX-1074 is in Phase II trials for the treatment of depression. Like LY2940094, it is fast-acting, and does not appear to elicit psychotic side effects as with some drugs that affect the NMDA receptor.
Positive effects in depression have been noted as quickly as 24 hours after administration, instead of the 3 to 4 weeks for an SSRI antidepressant effect. Severe forms of depression or even suicidal risk may be important uses for NRX-1074. NMDA modulators are in active research by several pharma companies.
Abilify Digital for Schizophrenia, Bipolar Disorder
Taking a medicine as prescribed can be hardship, especially with a mental health disorder. For example, patients with schizophrenia are often on long-term treatment and are at high risk for skipping treatment. In Sept. 2015, Proteus Digital Health and Otsuka Pharmaceuticals
submitted a drug-device combination for approval
to the FDA. Abilify (aripiprazole), a blockbuster
atypical antipsychotic
, has been combined with an ingestible sensor embedded in the tablet to measure medication-taking patterns. The information is communicated by Bluetooth to the patient and physician/caregiver (with patient consent) via a wearable patch sensor.
However, in April 2016 a Complete Response Letter from the FDA was sent to the sponsors. The FDA completed its review and has requested additional information, including data regarding the performance of the product under the conditions in which it is likely to be used, and further human factors investigations. Approval status is pending.
The Value of Mental Health Research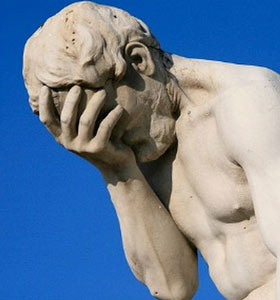 The burden of a mental health disorder can be eased with medications that vastly boost one's quality of life. For example, the antidepressant class known as selective-serotonin re-uptake inhibitors (SSRIs) has changed the face of depression. Advances in delayed-release properties have eased dosing for school children with ADHD. Long-acting injected agents can boost compliance in difficult-to-treat schizophrenia.
Yet many people still have treatment failures - whether it be due to lack of effectiveness or side effects - and need other treatment options. In addition, as research continues to identify biological mechanisms responsible for mental health disorders, novel therapies can be developed based on the latest scientific discovery.
Finished: First Aid for Mental Health: Investigational Drugs to the Rescue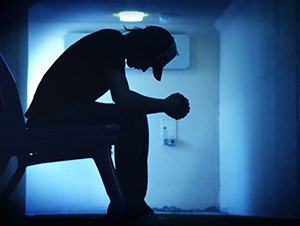 NEXT UP
Have you been feeling a bit down lately and not your usual self? Are those feelings starting to affect your work performance, school work, or relationships?
DON'T MISS
Lyrica (pregabalin) treats a wide range of conditions, from epilepsy to painful nerve conditions. Follow along with this slideshow to review dosing, side effects, and upcoming generic status.