VP-HEME OB DHA
Generic name: beta carotene, ascorbic acid, cholecalciferol, alpha-tocopherol, thiamine, riboflavin, niacinamide, pyridoxine, folic acid, cyanocobalamin, calcium carbonate, iron, magnesium oxide, zinc oxide, cupric oxide,omega-3 fatty acids
Dosage form: softgel
Drug class: Iron products, Vitamin and mineral combinations
Medically reviewed by Drugs.com. Last updated on Nov 23, 2020.
30 Tablets/30 Softgels
NDC: 76439-238-60
Rx
PRENATAL / POSTNATAL
Prescription Folate
On This Page
DESCRIPTION: VP-HEME OB + DHA is an orally administered PRENATAL / POSTNATAL prescription folate specifically formulated for the dietary management of patients with unique nutritional needs requiring increased folate levels.
VP-HEME OB + DHA should be administered under the supervision of a licensed medical practitioner.
Each oval, purple, film-coated tablet contains the following dietary ingredients:
The omega-3 fatty acids are derived from ultra-purified fish oil and/or algal oil that contains less than 1% EPA.

Vitamin D3 (as cholecalciferol)
400 IU
Vitamin E (as d-alpha tocopheryl acid succinate)
10 IU
Vitamin B1 (as thiamine mononitrate)
1.5 mg
Vitamin B2 (as riboflavin)
1.6 mg
Vitamin B3 (niacin as niacinamide)
17 mg
Vitamin B6 (as pyridoxine HCL)
50 mg
Folic Acid
1 mg
Biotin
30 mcg
Vitamin B12 (as cyanocobalamin)
12 mcg
Vitamin B5 (as d-calcium pantothenate)
10 mg
Iron
as Polysaccharide Iron Complex
28 mg
as heme iron
6 mg
Iodine (as potassium iodide powder)
250 mcg
Zinc (as zinc oxide)
4.5 mg
Selenium (as sodium selenate)
65 mcg
Copper (as cupric sulfate)
0.80 mg
Each soft gelatin capsule contains the following dietary ingredients:
Total Omega-3 long chain fatty acids
203 mg*
as DHA (docosahexaenoic acid)
200 mg
as ALA (alpha-linolenic acid)
0.5 mg
as DPA (docosapentaenoic acid)
2.5 mg
Other Ingredients (tablet): Microcrystalline Cellulose, Pregelatinized Starch, Di Calcium Phosphate, Purple Coating (hydroxypropylmethyl cellulose, titanium dioxide, polyvinyl alcohol, polyethylene glycol, talc, FD&C red #40 lake, FD&C blue #1 lake), Croscarmellose Sodium, Magnesium Stearate, Fumed Silica, Silicon Dioxide, Stearic Acid, Tripotassium Citrate, Citric Acid.
Other Ingredients (softgel): Gelatin (porcine), glycerin, purified water.
Since colors, flavors of natural origin vary from batch to batch in consistency - it may be necessary to substitute excipients as needed to ensure the highest therapeutic target, safety and quality.
This product contains fish (tuna, sardine, and anchovy). This product also contains bovine gelatin.
This product has been manufactured in a facility that also manufactures products containing tree nuts, peanuts, fish, egg, wheat, milk, soy and shellfish. Individuals with allergic tendencies to these substances should use discretion.
FOLATE REGULATION: The term "folate" refers to B vitamins that include folic acid and any forms of active pteroylglutamates regardless of the reduction state of the molecule. Folates are best known for their indication in pregnancy. During the first four weeks of pregnancy (when women do not even realized that they have conceived), adequate maternal folate intake is essential to reduce the risk of NTDs, which are congenital malformations produced by failure of the neural tube to form and close properly during embryonic development. However, folic acid, including reduced forms such as folinic acid, may obscure pernicious anemia above 0.1 mg doses, and must be administered under the supervision of a licensed medical practitioner. The 1971 and 1973 Federal Registers - in addition to the 1980 Folic Acid OTC Monograph, addressed this concern while establishing that increased folate was proper therapy in megaloblastic anemias of tropical and nontropical sprue, nutritional origin, pregnancy, infancy and childhood-specifically where homocysteine levels were elevated or risk of neural tube defects was at issue. (2,3) Special attention is paid to the condition of pernicious anemia due to the relationship between folate and cobalamin, and possible risks associated with metabolic imbalances that can exasperate that condition. Due to concerns surrounding pernicious anemia, the Federal Register Notice of August 2, 1973 (38 FR 20750) specifically states that: Dietary supplement preparations are available without a prescription (21 CFR 121.1134). Levels higher than dietary supplement amounts are available only with a prescription. Oral preparations supplying more than 0.8 mg of folate per dosage unit would be restricted to prescription dispensing and that a dietary supplement furnishing 0.8 mg could be prescribed when a maintenance level of 0.8 mg per day was indicated [emphasis added] 4.
*It is not known with certainty whether or not l-methylfolate can obscure pernicious anemia above 0.1 mg doses, so caution is advised also with this form of folate.
IRON, COBALAMINS & FOLATES
The megaloblastic state results from an imbalance between supply cofactors necessary for DNA synthesis / production. In the presence of B12 and/or folate deficiency-but specifically folate deficiency, megaloblastic change results. Inversely, increased demand for DNA in physiologically hyperproliferative states, such as hemolytic anemia or cancer, can lead to megaloblastic change in the face of freely available folate and B12.
MEDICAL FOODS & FOLATES
Folic acid - including reduced forms, may be added to medical foods as defined in section 5(b)(3) of the Orphan Drug ACT (21USC 360ee(b)(3)), or to food (21 CFR 172.345). 5
MEDICAL FOODS
Medical foods are intended for a patient who has a limited or impaired capacity to ingest, digest, absorb, or metabolize ordinary foodstuffs or certain nutrients, or who has other special medically determined nutrient requirements, the dietary management of which cannot be achieved by the modification of the normal diet alone. 6
REFERENCES
The Federal Register Notice of April 9, 1971 (36 FR 6843).
The Federal Register Notice of August 2, 1973 (38 FR 20750).
The Federal Register Notice of October 17, 1980 (45FR 69043 at 69044)
The Federal Register Notice of August 2, 1973 (38 FR 20750).
Code of Federal Regulations Title 21 Section 172.345.
Code of Federal Regulations Title 21 Section 101.9(j)(8).
Pedigree
This product is a prescription-folate with or without dietary ingredients that - due to increased folate levels (AUG 2 1973 FR 20750), requires an Rx on the label because of increased risk associated with masking of B12 deficiency (pernicious anemia).
As such, this product requires licensed medical supervision, an Rx status, and a National Drug Code (NDC) as required by pedigree reporting requirements and insurance-reimbursement applications.
FOLATE MECHANISM OF ACTION: FOLATE is essential for the production of certain coenzymes in many metabolic systems such as purine and pyrimidine synthesis. It is also essential in the synthesis and maintenance of nucleoprotein in erythropoiesis. It also promotes white blood cell (WBC) and platelet production in folate-deficiency anaemia.
FOLATE PHARMACOLOGY: FOLATES are metabolized to the active substrate tetrahydrofolate (THF) which is also the active moiety of all folates.
INDICATIONS AND USAGE: VP-HEME OB + DHA is indicated for the distinct nutritional requirements of patients in need of PRENATAL/POSTNATAL dietary supplementation as determined by a licensed medical practitioner. VP-HEME OB + DHA is also indicated as supplementation therapy during pre/post pregnancy as well as while lactating /non-lactating.
VP-HEME OB + DHA should be administered under the supervision of a licensed medical practitioner.
CONTRAINDICATIONS: This product is contraindicated in patients with a known hypersensitivity to any of the ingredients, including fish or fish oil.
WARNINGS: See product ingredients and consult a licensed medical practitioner or pharmacist with questions.
WARNING: Accidental overdose of iron-containing products is a leading cause of fatal poisoning in children under 6. Keep this product out of reach of children. In case of accidental overdose, call a doctor or poison control center immediately.
WARNING: Ingestion of more than 3 grams of omega-3 fatty acids per day has been shown to have potential antithrombotic effects, including an increased bleeding time and INR. Administration of omega-3 fatty acids should be avoided in patients on anticoagulants and in those known to have an inherited or acquired bleeding diathesis.
PRECAUTIONS: General: Folate, when administered as a single agent in doses about 0.1 mg daily, may obscure the detection of vitamin B12 deficiency (specifically, the administration of folic acid may reverse the hematological manifestations of B12 deficiency, including pernicious anemia, while not addressing the neurological manifestations). Folate therapy alone is inadequate for treatment of a vitamin B12 deficiency.
PATIENT INFORMATION: VP-HEME OB + DHA is a PRENATAL / POSTNATAL prescription folate to be used only under licensed medical supervision.
DRUG INTERACTIONS: Drugs which may interact with folate** include:
Antiepileptic drugs (AED): The AED class including, but not limited to, phenytoin, carbamazepine, primidone, valproic acid, fosphenytoin, valproate, phenobarbital and lamotrigine have been shown to impair folate absorption and increase the metabolism of circulating folate.
Additionally, concurrent use of folic acid has been associated with enhanced phenytoin metabolism, lowering the level of the AED in the blood and allowing breakthrough seizures to occur. Caution should be used when prescribing this product among patients who are receiving treatment with phenytoin and other anticonvulsants.
Capecitabine: Folinic acid (5-formyltetrahydrofolate) may increase the toxicity of capecitabine.
Cholestyramine: Reduces folic acid absorption and reduces serum folate levels.
Colestipol: Reduces folic acid absorption and reduces serum folate levels.
Cycloserine: Reduces folic acid absorption and reduces serum folate levels.
Dihydrofolate Reductase Inhibitors (DHFRI): DHFRIs block the conversion of folic acid to its active forms, and lower plasma and red blood cell folate levels. DHFRIs include aminopterin, methotrexate, pyrimethamine, triamterene, and trimethoprim.
Fluoxetine: Fluoxetine exerts a noncompetitive inhibition of the 5-methyltetrahydrofolate active transport in the intestine.
Isotretinoin: Reduced folate levels have occurred in some patients taking isotretinoin.
L-dopa, triamterene, colchicine, and trimethoprim may decrease plasma folate levels.
Nonsteroidal Anti-inflammatory Drugs (NSAIDs): NSAIDs have been shown to inhibit some folate dependent enzymes in laboratory experiments.
NSAIDs include ibuprofen, naproxen, indomethacin and sulindac.
Oral Contraceptives: Serum folate levels may be depressed by oral contraceptive therapy.
Methylprednisolone: Reduced serum folate levels have been noted after treatment with methylprednisolone.
Pancreatic Enzymes: Reduced folate levels have occurred in some patients taking pancreatic extracts, such as pancreatin and pancrelipase.
Pentamidine: Reduced folate levels have been seen with prolonged intravenous pentamidine.
Pyrimethamine: High levels of folic acid may result in decreased serum levels of pyrimethamine.
Smoking and Alcohol: Reduced serum folate levels have been noted.
Sulfasalazine: Inhibits the absorption and metabolism of folic acid.
Metformin treatment in patients with type 2 diabetes decreases serum folate.
Warfarin can produce significant impairment in folate status after a 6-month therapy.
Heme-iron: Can compete for transport and reduce folate absorption. Ensure adequate medical supervision to ensure proper iron levels.
Folinic acid may enhance the toxicity of fluorouracil.
Concurrent administration of chloramphenicol and folinic acid in folate-deficient patients may result in antagonism of the haematopoietic response to folate.
Caution should be exercised with the concomitant use of folinic acid and trimethoprim-sulfamethoxazole for the acute treatment of Pneumocystis carinii pneumonia in patients with HIV infection as it is associated with increased rates of treatment failure and mortality in a placebo controlled study.
**Folate is a broad term that includes folic acid and all reduced forms including l-methylfolate and folinic acid. VP-HEME OB + DHA does not contain l-methylfolate or folinic acid but these warnings are included as general folate information.
Drugs which interact with vitamin B12:
Antibiotics, cholestyramine, colchicines, colestipol, metformin, para-aminosalicylic acid, and potassium chloride may decrease the absorption of vitamin B12.
Nitrous oxide can produce a functional vitamin B12 deficiency.
Drugs which interact with vitamin B6:
Vitamin B6 should not be given to patients receiving the drug levodopa because the action of levodopa is antagonized by vitamin B6. However, vitamin B6 may be used concurrently in patients receiving a preparation containing both carbidopa and levodopa.
Isoniazid can produce a vitamin B6 deficiency.
Drugs which may interact with vitamin D3:
Certain thiazide diuretics, such as hydrochlorothiazide, as well as antacids, bile acid sequestrants (such as cholestyramine), mineral oil, orlistat, olestra, cimetidine, and anticonvulsant medications may reduce the absorption or increase the catabolism of vitamin D.
Vitamin D supplementation should not be given with calcium in those with hypercalcemia or conditions that may lead to hypercalcemia such as hyperparathyroidism and those who form calcium-containing kidney stones.
Drugs which may interact with zinc:
Concomitant administration of zinc supplements and certain antibiotics, specifically tetracyclines and quinolones, may decrease absorption of the antibiotic and potentially reduce its efficacy.
PREGNANCY and NURSING MOTHERS: VP-HEME OB + DHA is intended for use as a prescription PRENATAL folate before, during, and after pregnancy regardless of lactation status.
ADVERSE REACTIONS: Allergic sensitization has been reported following both oral and parental administration of folic acid, and may possibly occur with other forms of folate. Paresthesia, somnolence, nausea and headaches have been reported with vitamin B6. Mild transient diarrhea, polycythemia vera, itching, transitory exanthema and the feeling of swelling of the entire body have been associated with vitamin B12.
DOSAGE AND ADMINISTRATION: One tablet and one softgel daily or as directed by a licensed medical practitioner.
STORAGE: Store at Controlled Room Temperature 15°-30°C (59°-86°F). [See USP].
Protect from light and moisture. Dispense in a tight, light-resistant container.
HOW SUPPLIED: VP-HEME OB + DHA is supplied as oval, purple, film-coated tablets debossed on one side with "VPHEME" and oblong, clear enteric coated soft gelatin capsules, dispensed in child-resistant blister packs of 30 tablets and 30 softgels. NDC: 76439-238-60
*This product is a PRENATAL/POSTNATAL prescription folate that contains folate in an amount higher than 0.1 mg, and has an increased risk associated with masking of vitamin B12 deficiency and must be administered under a physician's supervision (AUG 3 1973 FR 20750). This product requires licensed medical supervision and a Rx status as required by pedigree reporting requirements.
KEEP THIS OUT OF REACH OF CHILDREN.
All prescriptions using this product shall be pursuant to state statutes as applicable. This is not an Orange Book product.
Call your medical practitioner about side effects. You may report side effects by calling (813) 283-1344.
Rx
Manufactured for:
Virtus Pharmaceuticals, LLC
Tampa, Florida 33619
VIRTUS
PHARMACEUTICALS
MADE IN CANADA
Rev. 9/2013
PRINCIPAL DISPLAY PANEL - 30 tablets carton text
VIRTUS
Pharmaceuticals
NDC 76439-238-60
VP-HEME OB
+ DHA
PRENATAL / POSTNATAL
Prescription Folate
Rx
30 Tablets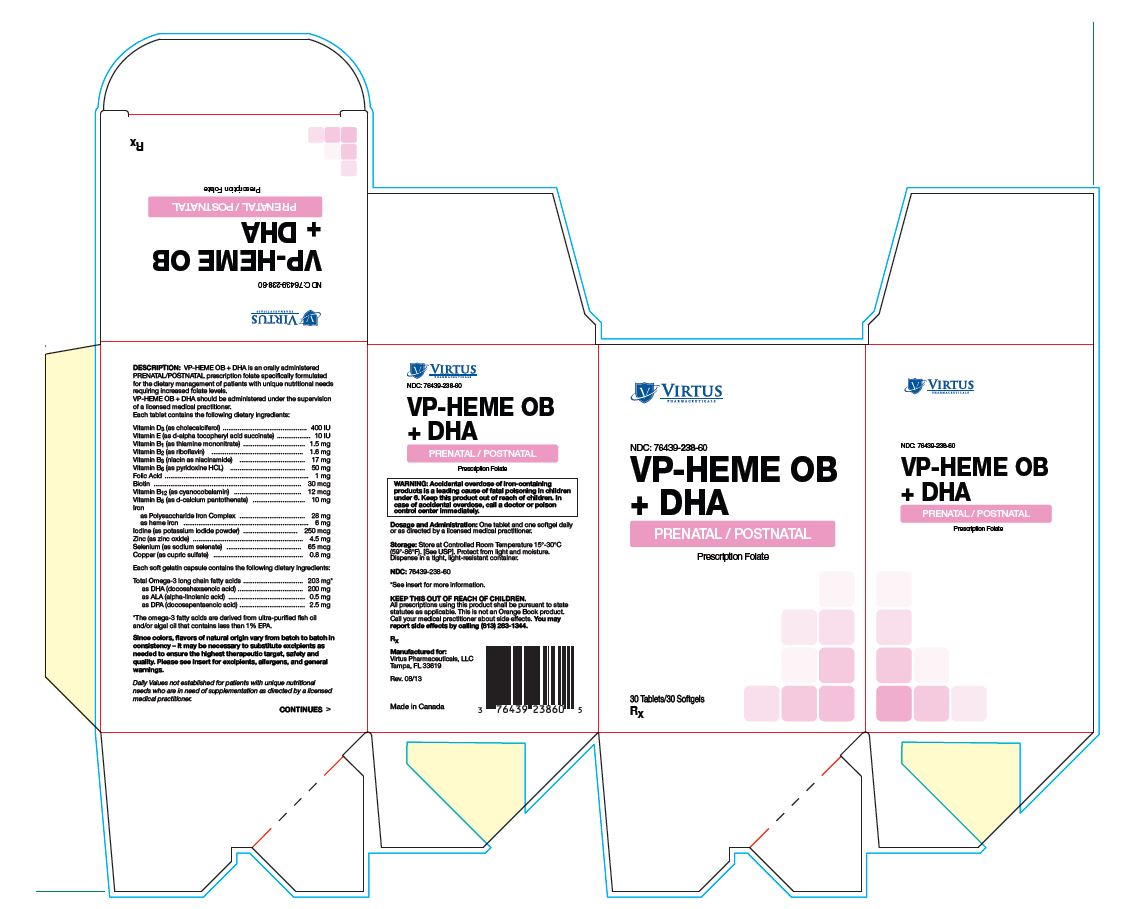 VP-HEME OB DHA
beta carotene, ascorbic acid, cholecalciferol, .alpha.-tocopherol acetate, dl-, thiamine mononitrate, riboflavin, niacinamide, pyridoxine hydrochloride, folic acid, cyanocobalamin, calcium carbonate, iron, magnesium oxide, zinc oxide, cupric oxide,omega-3 fatty acids kit
Product Information
Product Type
HUMAN PRESCRIPTION DRUG LABEL
Item Code (Source)
NDC:76439-238
Packaging
#
Item Code
Package Description
1
NDC:76439-238-30
30 BLISTER PACK (BLISTER PACK) in 1 CARTON
1
1 KIT (1 KIT) in 1 BLISTER PACK
Quantity of Parts
Part #
Package Quantity
Total Product Quantity
Part 1
30
Part 2
30
Part 1 of 2
VP-HEME OB
beta carotene, ascorbic acid, cholecalciferol, .alpha.-tocopherol acetate, dl-, thiamine mononitrate, riboflavin, niacinamide, pyridoxine hydrochloride, folic acid, cyanocobalamin, calcium carbonate, iron, magnesium oxide, zinc oxide, cupric oxide tablet, film coated
Product Information
Route of Administration
ORAL
DEA Schedule
Active Ingredient/Active Moiety
Ingredient Name
Basis of Strength
Strength
CHOLECALCIFEROL (CHOLECALCIFEROL)
CHOLECALCIFEROL
400 [iU]
.ALPHA.-TOCOPHEROL SUCCINATE, D- (.ALPHA.-TOCOPHEROL, D-)
.ALPHA.-TOCOPHEROL SUCCINATE, D-
10 [iU]
THIAMINE MONONITRATE (THIAMINE ION)
THIAMINE
1.5 mg
RIBOFLAVIN (RIBOFLAVIN)
RIBOFLAVIN
1.6 mg
NIACIN (NIACIN)
NIACIN
17 mg
PYRIDOXINE HYDROCHLORIDE (PYRIDOXINE)
PYRIDOXINE HYDROCHLORIDE
50 mg
FOLIC ACID (FOLIC ACID)
FOLIC ACID
1 mg
BIOTIN (BIOTIN)
BIOTIN
30 ug
CYANOCOBALAMIN (CYANOCOBALAMIN)
CYANOCOBALAMIN
12 ug
CALCIUM PANTOTHENATE (PANTOTHENIC ACID)
PANTOTHENIC ACID
10 mg
IRON SUCROSE (FERRIC CATION)
FERRIC CATION
28 mg
HEME IRON POLYPEPTIDE (HEME IRON POLYPEPTIDE)
HEME IRON POLYPEPTIDE
6 mg
POTASSIUM IODIDE (IODIDE ION)
IODIDE ION
250 ug
ZINC OXIDE (ZINC CATION)
ZINC CATION
4.5 mg
SODIUM SELENATE (SELENATE ION)
SELENIUM
65 mg
CUPRIC SULFATE (CUPRIC CATION)
CUPRIC CATION
0.80 mg
Inactive Ingredients
Ingredient Name
Strength
CELLULOSE, MICROCRYSTALLINE
STARCH, CORN
CALCIUM PHOSPHATE, DIBASIC, ANHYDROUS
HYPROMELLOSES
TITANIUM DIOXIDE
POLYVINYL ALCOHOL
POLYETHYLENE GLYCOLS
TALC
FD&C RED NO. 40
FD&C BLUE NO. 1
CROSCARMELLOSE SODIUM
MAGNESIUM STEARATE
SILICON DIOXIDE
STEARIC ACID
POTASSIUM CITRATE ANHYDROUS
CITRIC ACID MONOHYDRATE
Product Characteristics
Color
PURPLE
Score
2 pieces
Shape
OVAL
Size
18mm
Flavor
Imprint Code
VPHEME
Contains
Marketing Information
Marketing Category
Application Number or Monograph Citation
Marketing Start Date
Marketing End Date
unapproved drug other
12/01/2013
Part 2 of 2
VP-HEME DHA
mega-3 fatty acids capsule, gelatin coated
Product Information
Route of Administration
ORAL
DEA Schedule
Active Ingredient/Active Moiety
Ingredient Name
Basis of Strength
Strength
OMEGA-3 FATTY ACIDS (OMEGA-3 FATTY ACIDS)
OMEGA-3 FATTY ACIDS
203 mg
Inactive Ingredients
Ingredient Name
Strength
GELATIN
GLYCERIN
WATER
Product Characteristics
Color
YELLOW (clear)
Score
no score
Shape
CAPSULE
Size
17mm
Flavor
Imprint Code
Contains
Marketing Information
Marketing Category
Application Number or Monograph Citation
Marketing Start Date
Marketing End Date
unapproved drug other
12/01/2013
Marketing Information
Marketing Category
Application Number or Monograph Citation
Marketing Start Date
Marketing End Date
unapproved drug other
12/01/2013
Labeler - Virtus Pharmaceuticals LLC (969483143)
Virtus Pharmaceuticals LLC
More about multivitamin, prenatal
Consumer resources
Professional resources
Other brands
Related treatment guides