Tusscough DHC
Generic name: dihydrocodeine bitartrate, phenylephrine hydrochloride and chlorpheniramine maleate
Dosage form: oral syrup

Medically reviewed by Drugs.com. Last updated on Dec 22, 2020.
On This Page
Rx Only
CIII
Tusscough DHC Description
A sugar-free, alcohol-free, dye-free syrup for oral administration. Each teaspoonful (5 mL) contains:
(WARNING: May be habit forming)

Dihydrocodeine Bitartrate*
3 mg
Phenylephrine Hydrochloride
20 mg
Chlorpheniramine Maleate
5 mg
Inactive Ingredients: Methyl Paraben, Propyl Paraben, Benzoic Acid, Citric Acid, Saccharin Sodium, Grape Flavor, Natural Masking Flavor, Propylene Glycol, Glycerin, Sorbitol, and Purified Water.
Dihydrocodeine Bitartrate is an opioid analgesic and antitussive with the chemical name: Morphinan-6-ol, 4,5-epoxy-3-methoxy-17-methyl-, (5α, 6α)-2,3-dihydroxybutanedioate (1:1) (salt). Its structure is as follows:


C18H23NO3 • C4H6O6 M.W. 451.47
Phenylephrine Hydrochloride is a mydriatic and a decongestant with the chemical name: Benzenemethanol, 3-hydroxy-α-[(methylamino)methyl]-, hydrochloride. Its structure is as follows:


C9H13NO2 • HCl M.W. 203.67
Chlorpheniramine Maleate is an antihistaminic with the chemical name: 2-Pyridinepropanamine, γ-(4-chlorphenyl)-N,N-dimethyl-, (Z)-2-butenedioate (1:1). Its structure is as follows:


C16H19ClN2 • C4H4O4 M.W. 390.86
Tusscough DHC - Clinical Pharmacology
Dihydrocodeine Bitartrate is a semi-synthetic narcotic analgesic and antitussive related to codeine, with multiple actions qualitatively similar to those of codeine; the most prominent of these involve the central nervous system and organs with smooth muscle components.
Phenylephrine acts predominantly by a direct action on alpha adrenergic receptors. In therapeutic doses, the drug has no significant stimulant effect on the beta adrenergic receptors of the heart and cause little, if any, central nervous system stimulation. Following oral administration, constriction of blood vessels in the nasal mucosa may relieve nasal congestion.
Chlorpheniramine competitively antagonizes most of the smooth muscle stimulating actions of histamine on the H1 receptors of the GI tract, uterus, large blood vessels and bronchial muscle. It also antagonizes the action of histamine that results in increased capillary permeability and the formation of edema.
INDICATIONS
Tusscough DHC™ temporarily relieves nasal congestion, runny nose, sneezing, itching of the nose or throat, and itchy, watery eyes, also alleviates cough due to minor throat and bronchial irritation associated with a cold.
Contraindications
Tusscough DHC™ is contraindicated in patients with known hypersensitivity to any of the ingredients. Do not use in patients with severe hypertension, severe coronary artery disease, prostatic hypertrophy, patients on MAO inhibitor therapy (or for 14 days after stopping MAOI therapy), ventricular tachycardia, pheochromocytoma, or breast-feeding mothers. Also contraindicated in newborns, premature infants, patients with narrow angle glaucoma, stenosing peptic ulcer, asthma, bladder neck obstruction, or pyloroduodenal obstruction. Because of its drying effect on lower secretions, this product is not recommended in the treatment of bronchial asthma.
Warnings
Do not exceed recommended dosage. If nervousness, dizziness, or sleeplessness occurs, discontinue use and consult a doctor. If symptoms do not improve within 7 days or are accompanied by a fever, consult a doctor.
May cause drowsiness; alcohol, sedatives, and tranquilizers may increase the drowsiness effect. Avoid alcoholic beverages while taking this product. Do not take this product if you are taking sedatives or tranquilizers, without first consulting your doctor. Use caution when driving a motor vehicle or operating machinery.
Do not take this product for persistent or chronic cough such as occurs with smoking, asthma, or emphysema, or if cough is accompanied by excessive phlegm (mucus) unless directed by a doctor. A persistent cough may be a sign of a serious condition. If cough persists for more than 1 week, tends to recur, or is accompanied by fever, rash, or persistent headache, consult a doctor.
Do not take this product if you have a chronic pulmonary disease or shortness of breath unless directed by your doctor.
Dihydrocodeine should be prescribed and administered with the same degree of caution as all oral medications containing a narcotic analgesic. Patients should be warned that dihydrocodeine bitartrate is potentially habit forming. Extreme caution should be exercised in the use of dihydrocodeine in patients with severe respiratory impairment or patients with impaired respiratory drive.
If pregnant, or planning to become pregnant or are currently breast-feeding please contact your physician, or health-care provider before using or continuing use.
Use in Elderly
The elderly (60 years and older) are more likely to have adverse reactions to sympathomimetics. Overdosage of sympathomimetics in this age group may cause hallucinations, convulsions, CNS depression and death.
Respiratory Depression
At high doses or in sensitive patients. Dihydrocodeine may produce dose-related respiratory depression by acting directly on the brain stem respiratory center. Dihydrocodeine also affects the center that controls respiratory rhythm, and may produce irregular and periodic breathing.
Head Injury and Increased Intracranial Pressure
The respiratory depressant effects of narcotics and their capacity to elevate cerebrospinal fluid pressure may be markedly exaggerated in the presence of head injury, other intracranial lesions, or preexisting increase in intracranial pressure. Furthermore, narcotics produce adverse reactions which may obscure the clinical course of patients with head injuries.
Acute Abdominal Conditions
The administration of narcotics may obscure the diagnosis or clinical course of patients with acute abdominal conditions.
Sympathomimetic amines should be used judiciously and sparingly in patients with hypertension, diabetes mellitus, ischemic heart disease, increased intraocular pressure, hyperthyroidism, or prostatic hypertrophy. Sympathomimetics may produce central nervous system stimulation with convulsions or cardiovascular collapse with accompanying hypotension.
Antihistamines may impair mental and physical abilities required for the performance of potentially hazardous tasks, such as driving a vehicle or operating machinery, and may impair mental alertness in children. Chlorpheniramine has an atropine-like action and should be used with caution in patients with increased intraocular pressure, increased intraocular pressure, cardiovascular disease, hypertension, or in patients with a history of bronchial asthma. Do not exceed recommended dosage.
Precautions
General
Use caution in the presence of hypertension, cardiovascular disease, hyperthyroidism, diabetes, bronchial asthma, emphysema, chronic pulmonary disease, heart disease, thyroid disease, increased intraocular pressure, or prostatic hypertrophy.
Information for Patients
Tusscough DHC™, like all narcotics, may impair the mental and/or physical abilities required for the performance of potentially hazardous tasks such as driving a car or operating machinery; patients should be cautioned accordingly.
Stimulants, such as phenylephrine, are banned and tested for by the U.S. Olympic Committee (USOC) and the National Collegiate Athletic Association (NCAA).
Cough Reflex
Dihydrocodeine suppresses the cough reflex. As with all narcotics, caution should be exercised when Tusscough DHC™ is used postoperatively and in patients with pulmonary disease.
Drug Interactions
Patients receiving other narcotic analgesics, antipsychotics, antianxiety agents, or other CNS depressants (including alcohol) concomitantly with Tusscough DHC™ may exhibit an additive CNS depression. When combined therapy is contemplated, the dose of one or both agents should be reduced. The use of MAO inhibitors (or for 14 days after stopping MAOI therapy), or tricyclic antidepressants with dihydrocodeine preparations may increase the effect of either the antidepressant or dihydrocodeine. The concurrent use of anticholinergics with dihydrocodeine may produce paralytic ileus.
Antihistamines may cause drowsiness and ambulatory patients who operate machinery or motor vehicles should be cautioned accordingly.
MAO inhibitors (or for 14 days after stopping MAOI therapy) and beta adrenergic blockers increase the effect of sympathomimetics. Sympathomimetics may reduce the antihypertensive effects of methyldopa, mecamylamine, reserpine and veratrum alkaloids.
Usage in Pregnancy
Teratogenic Effects
Pregnancy Category C
There are no adequate and well-controlled studies in pregnant women. Tusscough DHC™ should be used during pregnancy only if the potential benefit justifies the potential risk to the fetus.
Non-Teratogenic Effects
Babies born to mothers who have been taking opioids regularly prior to delivery will be physically dependent. The withdrawal signs include irritability and excessive crying, tremors, hyperactive reflexes, increased respiratory rate, increased stools, sneezing, yawning, vomiting, and fever. The intensity of the syndrome does not always correlate with the duration of maternal opioid use or dose. There is no consensus on the best method of managing withdrawal. Chlorpromazine 0.7 to 1 mg/kg q 6h, and paregoric 2 to 4 drops/kg q 4h, have been used to treat withdrawal symptoms in infants. The duration of therapy is 4 to 28 days, with the dosage decreased as tolerated.
Labor and Delivery
As with all narcotics, administration of Tusscough DHC™ to the mother shortly before delivery may result in some degree of respiratory depression in the newborn, especially if higher doses are used.
Nursing Mothers
It is not known whether Tusscough DHC™ is excreted in human milk. Because many drugs are excreted in human milk and because potential for serious adverse reactions in nursing infants from Tusscough DHC™, a decision should be made whether to discontinue nursing or to discontinue the drug, taking into account the importance of the drug to the mother.
Codeine Warning
When physicians prescribe codeine-containing drugs to nursing women, they should inform their patients about the potential risks and the signs of morphine overdose. Nursing women taking codeine need to carefully watch their infants for signs of morphine overdose and seek medical attention immediately if the infant develops increased sleepiness (more than usual), difficulty breastfeeding or breathing, or decreased tone (limpness). Nursing mothers may also experience overdose symptoms such as extreme sleepiness, confusion, shallow breathing or severe constipation. When prescribing codeine to nursing mothers, physicians should choose the lowest effective dose over the shortest period of time and should closely monitor mother-infant pairs.
Drug metabolism is a complex process involving multiple genetic, environmental and physiologic factors. Limited evidence suggests that individuals who are ultra-rapid metabolizers (those with a specific CYP2D6 genotype) may convert codeine to its active metabolite, morphine, more rapidly and completely than other people. In nursing mothers, this metabolism can result in higher than expected serum and breast milk morphine levels. One published case report of an infant death raises concern that nursing babies may be at increased risk of morphine overdose if their mothers are taking codeine and are ultra-rapid metabolizers of the drug.
Pediatric Use
Safety and effectiveness in the pediatric population, under 12, have not been established.
Adverse Reactions
The most frequently observed reactions with dihydrocodeine include lightheadedness, dizziness, drowsiness, sedation, nausea and vomiting. These effects seem to be more prominent in ambulatory than in nonambulatory patients and some of these adverse reactions may be alleviated if the patient lies down. Patients sensitive to antihistamines may experience mild sedation. Possible side effects, of antihistamines are drowsiness, restlessness, dizziness, weakness, dry mouth, anorexia, nausea, vomiting, headache, nervousness, blurring of vision, polyuria, heartburn, dysuria and, very rarely, dermatitis. Individuals hyperreactive to sympathomimetic amines may display ephedrine-like reactions such as tachycardia, palpitations, headache, dizziness, or nausea. Sympathomimetics have been associated with certain untoward reactions including restlessness, tremor, weakness, pallor, respiratory difficulty, dysuria, insomnia, hallucinations, convulsions, CNS depression, arrhythmias and cardiovascular collapse with hypotension. Other adverse reactions include:
Central Nervous System: Drowsiness, mental clouding, lethargy, impairment of mental and physical performance, anxiety, fear, dysphoria, psychic dependence, mood changes.
Gastrointestinal System: The antiemetic phenothiazines are useful suppressing the nausea and vomiting which may occur, however, some phenothiazine derivatives seem to be anti analgesic and tend to increase the amount of narcotic required to produce pain relief, while other phenothiazines reduce the amount of narcotic required to produce a given level of analgesia.
Genitourinary System: Ureteral spasm, spasm of vesical sphincters and urinary retention have been reported.
Respiratory Depression: If significant respiratory depression occurs, it may be antagonized by the use of naloxone hydrochloride. Apply other supportive measures when indicated.
Drug Abuse and Dependence
Tusscough DHC™ is subject to Federal Controlled Substance Act (Schedule III). May be habit forming. Dihydrocodeine can produce drug dependence of the morphine type and, therefore, has the potential for being abused. Psychic dependence, physical dependence and tolerance may develop upon repeated administration of Tusscough DHC™ and it should be prescribed and administered with the same degree of caution appropriate to the use of other narcotic drugs.
Overdosage
Dihydrocodeine Bitartrate; Signs and Symptoms
Serious overdose with dihydrocodeine is characterized by respiratory depression (a decrease in respiratory rate and/or tidal volume, Cheyne-Stokes respiration, cyanosis), extreme somnolence progressing to stupor or coma, skeletal muscle flaccidity, cold and clammy skin, and sometimes bradycardia or hypotension. In severe overdosage, apnea, circulatory collapse, cardiac arrest and death may occur.
Treatment
Primary attention should be given to the reestablishment of adequate respiratory exchange through provision of a patent airway and the institution of assisted or controlled ventilation. The narcotic antagonist naloxone is a specific antidote against respiratory depression which may result from overdosage or unusual sensitivity to narcotics, including dihydrocodeine. Therefore, an appropriate dose of naloxone hydrochloride (see package insert) should be administered, preferably by the intravenous route, and simultaneously with efforts at respiratory resuscitation. Since the duration of action of dihydrocodeine may exceed that of the antagonist, the patient should be kept under continued surveillance and repeated doses of the antagonist should be administered as needed to maintain adequate respiration. An antagonist should not be administered in the absence of clinically significant respiratory or cardiovascular depression. Oxygen, intravenous fluids, vasopressors and other supportive measures should be employed as indicated. Gastric emptying may be useful in removing unabsorbed drug.
Tusscough DHC Dosage and Administration
Adults and children 12 years of age and older
1 teaspoonful (5 mL) every 4 to 6 hours.
This product is not indicated for use in children under 12 years of age. (see PRECAUTIONS, Pediatric Use.)
How is Tusscough DHC Supplied
Tusscough DHC™ is a clear, grape-flavored syrup, available in one pint (473 mL) bottles, NDC 51991-608-16.
Store at 25°C (77°F): excursions permitted to 15° - 30°C (59° - 86°F). See USP Controlled Room Temperature. Protect from freezing.
Dispense in a tight, light-resistant container as defined in the USP/NF.
WARNING: KEEP THIS AND ALL MEDICATIONS OUT OF THE REACH OF CHILDREN. IN CASE OF ACCIDENTAL OVERDOSE, SEEK PROFESSIONAL ASSISTANCE OR CONTACT A POISON CONTROL CENTER IMMEDIATELY.
Rx Only
All prescription substitutions using this product shall be pursuant to state statutes as applicable. This is not an Orange Book product.
Distributed by:
Breckenridge Pharmaceutical Inc.
Boca Raton, FL 33487
Manufactured by:
Provident Pharmaceuticals, LLC
Colorado Springs, CO 80919
lss. 06/09
PRINCIPAL DISPLAY PANEL - 473 mL Bottle Label
Breckenridge
Pharmaceutical, Inc.
NDC 51991-608-16
Tusscough DHC™
Syrup
Antitussive • Decongestant • Antihistamine
Each 5 mL (1 teaspoonful) contains:
Dihydrocodeine Bitartrate*
3 mg
*(WARNING: May be habit forming)
Phenylephrine Hydrochloride
20 mg
Chlorpheniramine Maleate
5 mg
SUGAR FREE • ALCOHOL FREE • DYE FREE
Rx Only
ONE PINT (473 mL)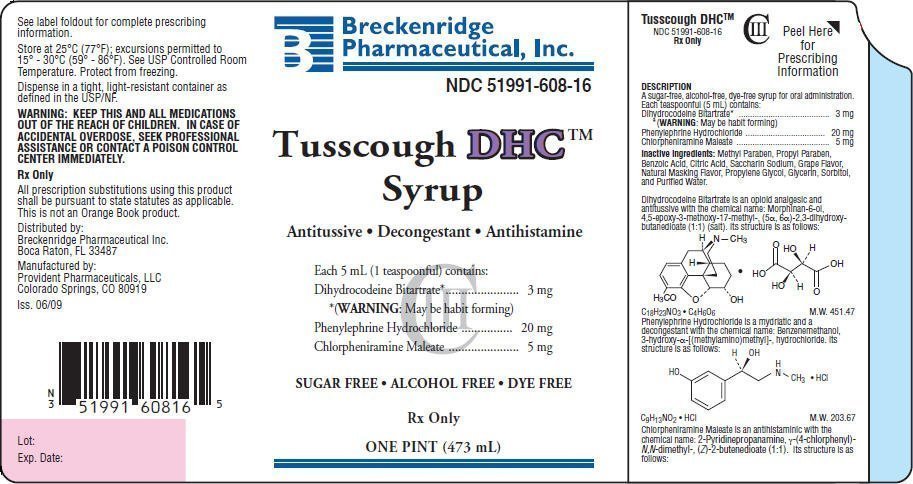 Tusscough DHC
dihydrocodeine bitartrate, phenylephrine hydrochloride, and chlorpheniramine maleate syrup
Product Information
Product Type
HUMAN PRESCRIPTION DRUG LABEL
Item Code (Source)
NDC:51991-608
Route of Administration
ORAL
DEA Schedule
CIII
Active Ingredient/Active Moiety
Ingredient Name
Basis of Strength
Strength
Dihydrocodeine Bitartrate (Codeine)
Dihydrocodeine Bitartrate
3 mg in 5 mL
Phenylephrine Hydrochloride (Phenylephrine)
Phenylephrine Hydrochloride
20 mg in 5 mL
Chlorpheniramine Maleate (Chlorpheniramine)
Chlorpheniramine Maleate
5 mg in 5 mL
Inactive Ingredients
Ingredient Name
Strength
Methylparaben
Propylparaben
Benzoic Acid
Citric Acid Monohydrate
Saccharin Sodium
grape
Propylene Glycol
Glycerin
Sorbitol
Water
Product Characteristics
Color
Score
Shape
Size
Flavor
GRAPE
Imprint Code
Contains
Packaging
#
Item Code
Package Description
1
NDC:51991-608-16
473 mL in 1 BOTTLE, PLASTIC
Marketing Information
Marketing Category
Application Number or Monograph Citation
Marketing Start Date
Marketing End Date
UNAPPROVED DRUG OTHER
08/01/2009
06/30/2011
Labeler - Breckenridge Pharmaceutical, Inc. (150554335)
Establishment
Name
Address
ID/FEI
Operations
Provident Pharms Inc
171901445
MANUFACTURE
Breckenridge Pharmaceutical, Inc.
More about Tusscough DHC (chlorpheniramine / dihydrocodeine / phenylephrine)
Professional resources
Other brands
Related treatment guides