Trexbrom
Generic name: carbetapentane citrate, phenylephrine hydrochloride and brompheniramine maleate
Dosage form: oral liquid
Drug class: Upper respiratory combinations
Medically reviewed by Drugs.com. Last updated on Dec 22, 2021.
On This Page
The Trexbrom brand name has been discontinued in the U.S. If generic versions of this product have been approved by the FDA, there may be generic equivalents available.
Trexbrom Description
Each teaspoonful (5mL) contains:
Carbetapentane
Citrate . . . . . . . . . . . . . 30 mg
Phenylephrine HCl . . . . . 10 mg
Brompheniramine
Maleate . . . . . . . . . . . . . 6 mg
INACTIVE INGREDIENTS
benzoic acid, bubblegum flavor, citric acid, edetate disodium USP, glycerin, propylene glycol, purified water, saccharin sodium, sodium citrate dihydrate and sorbitol.
Carbetapentane Citrate is an antitussive which occurs as a white crystalline powder. It is freely soluble in water, chloroform; soluble in alcohol, acetone, ethyl acetate. It is practically insoluble in ether, petr ether, benzene. The chemical name is 1-Phenylcyclopentanecarboxylic Acid 2-(2-Diethylaminoethoxy)ethyl Ester Citrate Salt. The chemical structure of Carbetapentane Citrate is as follows:

C20H31NO3 • C6H8O7 M.W. 525.59
Phenylephrine hydrochloride is an orally effective nasal decongestant. Chemically it is (R)-3-hydroxy-α-[(methylamino)methyl]benzenemethanol hydrochloride and has the following structural formula:

C9H13NO2 • HCI M.W. 203.67
Brompheniramine maleate is an antihistamine having the chemical name, 2-Pyridinepropanamine, γ-(4-bromophenyl)-N,N-dimethyl-, (±)-,(Z)-2-butenedioate (1:1)
The chemical structure of Brompheniramine Maleate is as follows:

C16H19BrN2 • C4H4O4 M.W. 435.31
Trexbrom - Clinical Pharmacology
Carbetapentane Citrate is a centrally acting non-narcotic antitussive agent with mild atropine-like antisecretory activity; used in the treatment of cough associated with upper respiratory infections.
Phenylephrine Hydrochloride is a nasal decongestant, and a potent postsynaptic alpha (α)-receptor agonist with little effect on the beta (β)-receptors of the heart.
Phenylephrine HCl has no effect on the (β)-adrenergic receptors of the bronchi or peripheral blood vessels. A direct action at receptors accounts for the greater part of its effects, only a small part being due to its ability to release norepinephrine. Therapeutic doses of phenylephrine HCl may cause vasoconstriction. It increases resistance and, to a lesser extent, decreases the capacitance of blood vessels. Total peripheral resistance is increased, resulting in increased systolic and diastolic blood pressure. Pulmonary arterial pressure is usually increased, and renal blood flow is usually decreased.
Local vasoconstriction and hemostasis occur following infiltration of phenylephrine HCl into tissues. The main effect of phenylephrine HCl on the heart is bradycardia; it produces a positive inotropic effect on the myocardium in doses greater than those usually used therapeutically.
Rarely, the drug may increase the irritability of the heart which can cause arrhythmias.
Cardiac output is decreased slightly. Phenylephrine HCl increases the work of the heart by increasing peripheral arterial resistance. Phenylephrine HCl has a mild central stimulant effect. Following oral administration of phenylephrine HCl, constriction of blood vessels in the nasal mucosa relieves nasal congestion associated with allergy or head colds.
Brompheniramine Maleate is classified as an alkylamine antihistamine. This class is among the most active histamine antagonists and is generally effective in relatively low milligram doses. Alkylamines cause a lesser degree of drowsiness and sedation than the phenothiazine antihistamines and hence may be more suitable for daytime use. It should be noted, however, that patients taking alkylamine antihistamines may experience some degree of drowsiness.
Indications and Usage for Trexbrom
For the temporary relief of symptoms associated with the common cold, allergies, hay fever, sinusitis, influenza, bronchitis and other respiratory illnesses. Relieves cough due to throat and bronchial irritation as may occur with the common cold, inhaled irritants, or related conditions.
Contraindications
Trexbrom( Liquid is contraindicated in patients hypersensitive to any of its ingredients. It is also contraindicated in patients with severe hypertension or severe coronary artery disease, or in those receiving monoamine oxidase inhibitor (MAOI) therapy. Antihistamines should not be used to treat lower respiratory tract conditions including asthma.
Warnings
Sympathomimetic amines should be used with caution in patients with hypertension, ischemic heart disease, diabetes mellitus, increased intraocular pressure, hyperthyroidism, or prostatic hypertrophy. Sympathomimetics may produce central nervous system stimulation with convulsions or cardiovascular collapse with accompanying hypotension.
DO NOT EXCEED RECOMMENDED DOSAGE.
Precautions
Information for Patients
Patient consultation should include the following information regarding proper use of this medication:
• Do not take more medication than the amount recommended.
• Do not take MAOIs while taking this medication.
• If a dose is missed, the medication should be taken as soon as possible unless it is almost time for the next dose; not doubling doses.
• This medication should be stored in a tight, light-resistant container at temperatures between 20°- 25°C (68°- 77°F), see USP Controlled Room Temperature.
• Keep all medications out of the reach of children. In case of accidental overdose, seek professional assistance or contact a poison control center immediately.
Drug Interactions
Beta adrenergic blockers and MAOIs may potentiate the pressor effect of phenylephrine. Concurrent use of digitalis glycosides may increase the possibility of cardiac arrhythmias. Sympathomimetics may reduce the hypotensive effects of guanethidine, mecamylamine, methyldopa, reserpine and veratrum alkaloids.
Concurrent use of tricyclic antidepressants may antagonize the effects of phenylephrine. Use of other vasopressor drugs during halothane anesthesia may cause serious cardiac arrhythmias. Do not prescribe this product for use in patients that are now taking a prescription MAOI (certain drugs for depression, psychiatric or emotional conditions, or Parkinson's disease), or for 14 days after stopping MAOI drug therapy.
Carcinogenesis, Mutagenesis, Impairment of Fertility
No data are available on the long-term potential of the components of this product for carcinogenesis, mutagenesis, or impairment of fertility in animals and humans.
Pregnancy
Pregnancy Category C. There are no adequate and well-controlled studies in pregnant women. This product should be used during pregnancy only if the potential benefits to the mother justify the potential risks to the infant.
Nursing Mothers
Due to the possible passage of the ingredients into breast milk, this product should not be given to nursing mothers.
Pediatric Use
Safety and effectiveness of this product in pediatric patients below the age of 6 years have not been established. Very young children may be more sensitive to the effects, especially the vasopressor effects, of sympathomimetic amines like phenylephrine.
Geriatric Use
Patients aged 60 and older are more likely to experience adverse reactions to sympathomimetics. Overdosage of sympathomimetics in this age group may cause hallucinations, convulsions, CNS depression, and death. In general, dose selection for an elderly patient should be cautious, usually starting at the low end of the dosing range, reflecting the greater frequency of decreased hepatic, renal or cardiac function, and of concomitant disease or drug therapy.
Adverse Reactions
Mild central nervous system stimulation, especially in those patients who are hypersensitive to sympathomimetic drugs, may occur. Nervousness, excitability, restlessness, dizziness, weakness, and insomnia may also occur.
Headache and drowsiness have also been reported. Large doses may cause lightheadedness, nausea, and/or vomiting. Sympathomimetic drugs have also been associated with certain untoward reactions including fear, anxiety, tenseness, pallor, respiratory difficulty, dysuria, insomnia, hallucination, convulsion, CNS depression, arrhythmias, and cardiovascular collapse with hypotension.
Overdosage
Signs and Symptoms: Central effects include restlessness, dizziness, tremor, hyper-reactive reflexes, talkativeness, irritability, and insomnia. Cardiovascular and renal effects include difficulty in urination, headache, flushing, palpitation, cardiac arrhythmias, hypertension with subsequent hypotension and circulatory collapse.
Gastrointestinal effects include dry mouth, anorexia, nausea, vomiting, diarrhea, and abdominal cramps.
Recommended Treatment: The patient should be induced to vomit, even if emesis has occurred spontaneously. Pharmacologic vomiting by the administration of ipecac syrup is a preferred method; however, vomiting should not be induced in patients with impaired consciousness. Precautions against aspiration must be taken, especially in infants and children. Following emesis, any drug remaining in the stomach may be absorbed by activated charcoal administrated as a slurry with water. Treatment of the signs and symptoms of overdosage is symptomatic and supportive.
Trexbrom Dosage and Administration
Adults and children 12 years and older: 1 teaspoon (5 mL).
Children 6 to 12 years of age: 1/2 teaspoon (2.5 mL).
May be repeated every 6 hours as required for relief. Not to exceed 4 doses in 24 hours. In mild cases or in particularly sensitive patients, less frequent or reduced doses may be adequate.
How is Trexbrom Supplied
Trexbrom( Liquid is a clear, sugar free, alcohol free, bubble gum flavored liquid. Available in 10 mL sample bottles (NDC 64543-500-10), 4 oz. Bottles (NDC 64543-500-04), and 16 oz. Bottles (NDC 64543-500-16).
KEEP THIS AND ALL MEDICATIONS OUT OF THE REACH OF CHILDREN. IN
CASE OF ACCIDENTAL OVERDOSE, SEEK PROFESSIONAL ASSISTANCE OR CONTACT A POISON CONTROL CENTER IMMEDIATELY.
Storage and Handling
Pharmacist: Dispense in a tight, light-resistant container with a child-resistant closure as defined in the USP/NF.
Store at controlled room temperature, 20°- 25°C (68°- 77°F), See USP Controlled Room Temperature.
Call Your Doctor for medical advice about side effects. You may report side effects to FDA at 1-800-FDA- 1088.
Rx Only
Manufactured for:
Capellon Pharmaceuticals, LLC
Fort Worth, TX 76118
500391 Rev. 09/09
PACKAGE LABEL.PRINCIPAL DISPLAY PANEL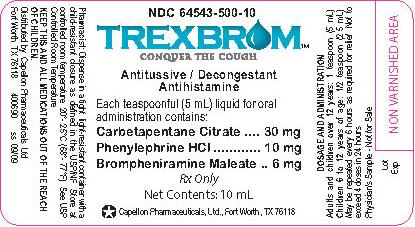 Figure 1: Trexbrom 10 mL sample label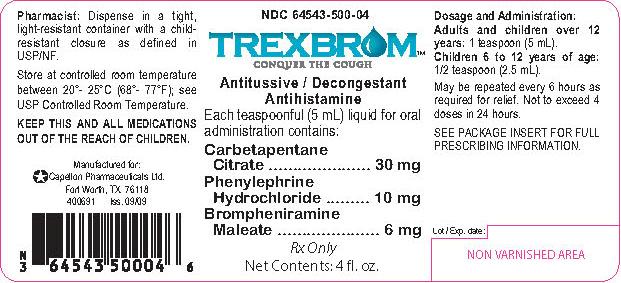 Figure 2: Trexbrom 4 oz product label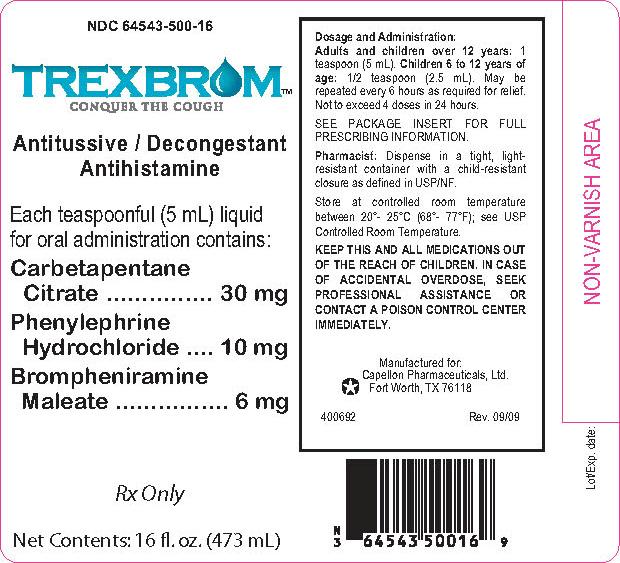 Figure 3: Trexbrom 16 oz. product label
Trexbrom
carbetapentane citrate / phenylephrine hcl / brompheniramine maleate liquid
Product Information
Product Type
HUMAN PRESCRIPTION DRUG LABEL
Item Code (Source)
NDC:64543-500
Route of Administration
ORAL
DEA Schedule
Active Ingredient/Active Moiety
Ingredient Name
Basis of Strength
Strength
PENTOXYVERINE CITRATE (PENTOXYVERINE)
PENTOXYVERINE CITRATE
30 mg in 5 mL
PHENYLEPHRINE HYDROCHLORIDE (PHENYLEPHRINE)
PHENYLEPHRINE HYDROCHLORIDE
10 mg in 5 mL
BROMPHENIRAMINE MALEATE (BROMPHENIRAMINE)
BROMPHENIRAMINE MALEATE
6 mg in 5 mL
Inactive Ingredients
Ingredient Name
Strength
BENZOIC ACID
CITRIC ACID MONOHYDRATE
EDETATE DISODIUM
GLYCERIN
PROPYLENE GLYCOL
WATER
SACCHARIN SODIUM
SODIUM CITRATE
SORBITOL
Product Characteristics
Color
Score
Shape
Size
Flavor
BUBBLE GUM
Imprint Code
Contains
Packaging
#
Item Code
Package Description
1
NDC:64543-500-10
10 mL in 1 BOTTLE
2
NDC:64543-500-04
118 mL in 1 BOTTLE
3
NDC:64543-500-16
473 mL in 1 BOTTLE
Marketing Information
Marketing Category
Application Number or Monograph Citation
Marketing Start Date
Marketing End Date
Unapproved drug other
11/07/2009
03/31/2013
Labeler - Capellon Pharmaceuticals, LLC (124568093)
Registrant - Capellon Pharmaceuticals, LLC (124568093)
Establishment
Name
Address
ID/FEI
Operations
Sovereign Pharmaceuticals, LLC
623168267
MANUFACTURE
Capellon Pharmaceuticals, LLC
More about Trexbrom (brompheniramine / chlophedianol / phenylephrine)
Related treatment guides