TL-HIST DM Liquid
Generic name: ompheniramine maleate, phenylephrine hydrochloride, and dextromethorphan hydrobromide
Dosage form: oral liquid
Drug class: Upper respiratory combinations
Medically reviewed by Drugs.com. Last updated on Dec 22, 2020.
On This Page
NDC 13811-068-16
Drug Facts
The TL-Hist DM brand name has been discontinued in the U.S. If generic versions of this product have been approved by the FDA, there may be generic equivalents available.
Active Ingredients
Each 5 mL (1 teaspoonful) of strawberry flavored liquid for oral administration contains:
4 mg Brompheniramine Maleate
7.5 mg Phenylephrine HCl
15 mg Dextromethorphan HBr
Purpose
Antihistamine
Decongestant
Cough Suppressant
Brompheniramine Maleate is an antihistamine having the chemical name, 2-Pyridinepropanamine,γ-(4-bromophenyl) -N, N-dimethyl-, (±)-,(Z)-2-butenedioate (1:1). Its structure is as follows: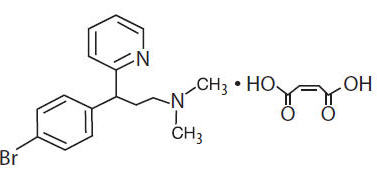 C16H19BrN2•C4H4O4 M.W. 435.31
Phenylephrine Hydrochloride is an orally effective nasal decongestant having the chemical name, (–)-m-Hydroxy-α-[(methylamino)methyl]benzyl alcohol hydrochloride, an adrenergic which occurs as white or practically white, odorless crystals, having a bitter taste. It is freely soluble in water and in alcohol. Its structure is as follows: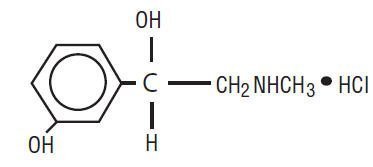 C9H13NO2 • HCl M.W. 203.67
Dextromethorphan Hydrobromide is a salt of the methyl ether of the dextrorotatory isomer of levorphanol, a narcotic analgesic. Chemically, it is Morphinan, 3-methoxy-17-methyl-, (9α, 13α, 14α)-, hydrobromide, monohydrate. Its structure is as follows: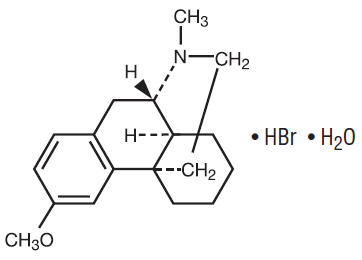 C18H25NO • HBr • H2O M.W. 370.32
TL-HIST DM Liquid - Clinical Pharmacology
Brompheniramine Maleate
Brompheniramine Maleate is classified as an alkylamine antihistamine. This class is among the most active histamine antagonists and is generally effective in relatively low milligram doses. Alkylamines cause a lesser degree of drowsiness and sedation than the phenothiazine antihistamines and hence may be more suitable for daytime use. It should be noted, however, that patients taking alkylamine antihistamines may experience some degree of drowsiness.
Phenylephrine Hydrochloride
Phenylephrine Hydrochloride is a sympathomimetic amine which acts predominantly by a direct action on alpha (α)-adrenergic receptors. In therapeutic doses, the drug has no significant stimulant effect on the beta (β)-adrenergic receptors of the heart. Clinically, Phenylephrine HCl shrinks swollen mucous membranes, reduces tissue hyperemia, edema, and nasal congestion; and increases nasal airway patency. In therapeutic doses the drug causes little, if any, central nervous system (CNS) stimulation.
Dextromethorphan Hydrobromide
Dextromethorphan Hydrobromide is an antitussive agent which, unlike the isomeric levorphanol, has no analgesic or addictive properties. The drug acts centrally and elevates the threshold for coughing. It is about equal to codeine in depressing the cough reflex. In therapeutic dosage, Dextromethorphan Hydrobromide does not inhibit ciliary activity. Dextromethorphan Hydrobromide is rapidly absorbed from the gastrointestinal tract, metabolized by the liver and excreted primarily in the urine.
INDICATIONS
TL-HIST DM Liquid is indicated for the temporary relief of runny nose, sneezing, itching of the nose or throat, and itchy, watery eyes due to hay fever or other upper respiratory allergies or allergic rhinitis; for the symptomatic relief of respiratory conditions characterized by dry, non-productive cough and in the presence of tenacious mucus and/or mucus plugs in the respiratory tract; Nonnarcotic cough suppressant for the temporary control of cough due to minor throat and bronchial irritation associated with the common cold or inhaled irritants; calms the cough control center and relieves coughing.
Contraindications
Patients with hypersensitivity or idiosyncrasy to any of its ingredients. Do not use in newborn infants, premature infants, in nursing mothers, in patients with severe hypertension, severe coronary artery disease, ischemic heat disease, or in those receiving monoamine oxidase (MAO) inhibitors. Antihistamines are contraindicated in patients with narrow-angle glaucoma, urinary retention, peptic ulcer, and during an asthma attack. Antihistamines should not be used to treat lower respiratory tract conditions including asthma.
Warnings
Do not exceed recommended dosage. If nervousness, dizziness, or sleeplessness occur, discontinue use and consult a doctor.
If symptoms do not improve within 7 days or are accompanied by fever, consult a doctor. Do not take this product if you have heart disease, high blood pressure, thyroid disease, diabetes, or difficulty in urination due to enlargement of the prostate gland unless directed by a doctor.
A persistent cough may be a sign of a serious condition. If cough persists for more than 1 week, tends to recur, or is accompanied by fever, rash, or persistent headache, consult a doctor. Do not take this product for persistent or chronic cough such as occurs with smoking, asthma, or emphysema, or if cough is accompanied by excessive phlegm (mucus) unless directed by a doctor.
Use caution when giving to children or patients with chronic pulmonary disease, shortness of breath, difficulty in breathing, asthma, emphysema, high blood pressure, heart disease, diabetes, thyroid disease, or difficulty in urination due to enlargement of the prostate gland unless directed by a physician. Antihistamines may impair mental and physical abilities required for the performance of potentially hazardous tasks, such as driving a car or operating machinery, and may impair mental alertness in children. Antihistamines may cause hyperexcitability, especially in children. At doses higher than the recommended dose, nervousness, dizziness, or sleeplessness may occur.
Especially in infants and small children, antihistamines in overdosage may cause hallucinations, convulsions, and death. If nervousness, dizziness, or sleeplessness occurs, discontinue use and consult a doctor. Administration of Dextromethorphan Hydrobromide may be accompanied by histamine release and should be used with caution in atopic children.
If a hypertensive crisis occurs, these drugs should be discontinued immediately and therapy to lower blood pressure should be instituted immediately. Fever should be managed by means of external cooling.
Precautions
General
Before prescribing medication to suppress or modify cough, it is important to ascertain that the underlying cause of cough is identified, that modification of cough does not increase the risk of clinical or physiologic complications, and that appropriate therapy for the primary disease is provided. Because of its antihistamine component, TL-HIST DM Liquid should be used with caution in patients with a history of bronchial asthma, narrow-angle glaucoma, gastrointestinal obstruction, or urinary bladder-neck obstruction. Because of its sympathomimetic component, TL-HIST DM Liquid should be used with caution in patients with diabetes, hypertension, heart disease, or thyroid disease.
Information for Patients
Patients should be warned about engaging in activities requiring mental alertness and motor coordination, such as driving a car or operating machinery. Patients should be cautioned to get up slowly from a lying or sitting position and to lie down in nausea occurs. Alcohol or other sedative drugs may enhance the drowsiness caused by antihistamines.
Drug/Laboratory Test Interactions
MAO inhibitors prolong and intensify the anticholinergic effects of antihistamines. Antihistamines may have additive effects with alcohol and other CNS depressants, e.g., hypnotics, sedatives, tranquilizers, antianxiety agents.
Do not use if you are now taking a prescription monoamine oxidase inhibitor (MAOI) (certain drugs for depression, psychiatric, or emotional conditions, or Parkinson's disease), or for 2 weeks after stopping the MAOI drug. If you do not know if your prescription drug contains an MAOI, ask a doctor or pharmacist before taking this product.
CNS Depressants - concomitant use of antihistamines with alcohol, tricyclic antidepressants, barbiturates and other CNS depressants may have an additive effect.
Antihypertensives - the antihypertensive effects of guanethidine, methyldopa, mecamylamine, reserpine, and veratrum alkaloids may be reduced by sympathomimetics. Beta-adrenergic blocking agents may also interact with sympathomimetics.
Carcinogenesis, Mutagenesis, Impairment of Fertility
No data are available on the long-term potential of the components of this product for carcinogenesis, mutagenesis, or impairment of fertility in animals and humans.
Teratogenic Effects
Pregnancy Category C
There are no adequate and well-controlled studies in pregnant women. It is also not known whether TL-HIST DM Liquid can cause fetal harm when administered to a pregnant woman or can affect reproduction capacity. This product should be used during pregnancy only if the potential benefits to the mother justify the potential risks to the infant.
Nursing Mothers
Because of the higher risk of intolerance of antihistamines in small infants generally, and in newborns and prematures in particular, TL-HIST DM Liquid is contraindicated in nursing mothers.
Pediatric Use
Not recommended for use in patients under 2 years of age.
Geriatric Use
Confusion, dizziness, sedation, hypotension, hyperexcitability, and anticholinergic side effects, such as dryness of mouth and urinary retention (especially in males), may be more likely to occur in geriatric patients taking antihistamines. Geriatric patients taking sympathomimetics may be more likely to experience confusion, hallucinations, seizures and CNS depression. Geriatric patients may also be more sensitive to the effects, especially to the vasopressor effects of sympathomimetic amines.
Adverse Reactions
Slight to moderate drowsiness may occur. Other possible side effects common to antihistamines and decongestants in general include:
General: urinary, drug rash, anaphylactic shock, photosensitivity, excessive perspiration, chills, dryness of mouth, nose, and throat.
Cardiovascular System: hypotension, headache, palpitations, tachycardia, extra systoles.
Dermatologic: hemolytic anemia, hypoplastic anemia, thrombocytopenia, agranulocytosis.
Central Nervous System: sedation, sleepiness, dizziness, disturbed coordination, fatigue, confusion, restlessness, excitation, nervousness, tremor, irritability, insomnia, euphoria, paresthesias, blurred vision, diplopia, vertigo, tinnitus, acute labyrinthitis, hysteria, neuritis, convulsions.
Gastrointestinal: epigastric distress, anorexia, nausea, vomiting, diarrhea, constipation.
Genitourinary: urinary frequency, difficult urination, urinary retention, early mensea.
Respiratory: thickening of bronchial secretions, tightness of chest and wheezing, nasal stuffiness.
Hematologic System: hemolytic anemia, thrombocytopenia, agranulocytosis.
Overdosage
Signs and Symptoms
Since TL-HIST DM Liquid contains three pharmacologically different compounds, treatment of overdosage should be based upon the symptomatology of the patient as it relates to the individual ingredients. Therefore, it is difficult to predict the exact manifestation of symptoms in a given individual. A description of symptoms which are likely to appear after ingestion of an excess of the individual components follows.
Overdosage with antihistamines may cause hallucinations, convulsions or possible death, especially in children. Antihistamines are more likely to cause dizziness, sedation, and hypotension in elderly patients. Overdosage with sympathomimetic amines can cause cardiac arrhythmias, cerebral hemorrhage and pulmonary edema. It can also cause palpitation, tremor, dizziness, vomiting, fear, labored breathing, headache, dryness of mouth, pallor, weakness, panic, anxiety, confusion, hallucinations, and delirium.
In the event of overdosage, emergency treatment should be started immediately. Overdosage with Dextromethorphan may produce central excitement and mental confusion. Very high doses may produce respiratory depression. One case of toxic psychosis (hyperactivity, marked visual and auditory hallucinations) after ingestion of a single 300 mg dose of Dextromethorphan has been reported. Dextromethorphan Hydrobromide in toxic doses will cause drowsiness, ataxia, nystagmus, opisthotonos and convulsive seizures. Since there is no specific antidote for overdose, treatment is symptomatic and supportive with possible utilization of the following:
Induction of emesis (syrup of Ipecac recommended); however, precaution against aspiration is necessary, especially in infants and children. Gastric lavage (isotonic or 0.45% sodium chloride solution) if patient is unable to vomit within three hours of ingestion. Saline cathartics (milk of magnesia) are sometimes used.
Vasopressors to treat hypotension, however, epinephrine should not be used since it may further lower blood pressure. Oxygen and intravenous fluid. Precaution against the use of stimulants (analeptic agents) is recommended because they may cause seizures.
Short-acting barbiturates, diazepam, or paraldehyde, may be administered to control seizures. Hyperpyrexia, especially in children, may require treatment with tepid water sponge baths or a hypothermic blanket. Apnea is treated with ventilatory support.
TL-HIST DM Liquid Dosage and Administration
Adults and pediatric patients 12 years of age and over
1 teaspoonful (5 mL) every 4 to 6 hours not to exceed 6 teaspoons in 24 hours.
Children 6 to under 12 years of age
½ teaspoonful (2.5 mL) every 4 to 6 hours not to exceed 3 teaspoonfuls in 24 hours.
Shake liquid well before use.
Also contains the following inactive ingredients (in alphabetical order): Citric Acid, Methyl Paraben, Potassium Citrate, Potassium Sorbate, Propyl Paraben, Propylene Glycol, Purified Water, Sorbitol Solution 70%, Strawberry Flavor, Sucralose
How is TL-HIST DM Liquid Supplied
TL-HIST DM Liquid is a clear solution with a strawberry flavor which contains 4 mg Brompheniramine Maleate, 7.5 mg Phenylephrine HCl and 15 mg Dextromethorphan HBr, available in 16 fl oz (473 mL) bottles NDC 13811-068-16.
Dispense in a tight, light-resistant container as defined in USP/NF with a child-resistant closure.
Protect from light and moisture.
Store at controlled room temperature 15°-30°C (59°-86°F).
Manufactured for:
Trigen Laboratories, Inc.
Sayreville, NJ 08872
Rev. 12/09
PRINCIPAL DISPLAY PANEL - 473 mL Bottle Label
NDC 13811-068-16
TL-HIST DM
Liquid
Antihistamine • Decongestant
• Cough Suppressant
Each 5 mL (1 teaspoonful) of
strawberry flavored liquid
for oral administration contains:
Brompheniramine
Maleate
4 mg
Phenylephrine
HCl
7.5 mg
Dextromethorphan HBr
15 mg
TRIGEN
LABORATORIES
16 fl oz (473 mL)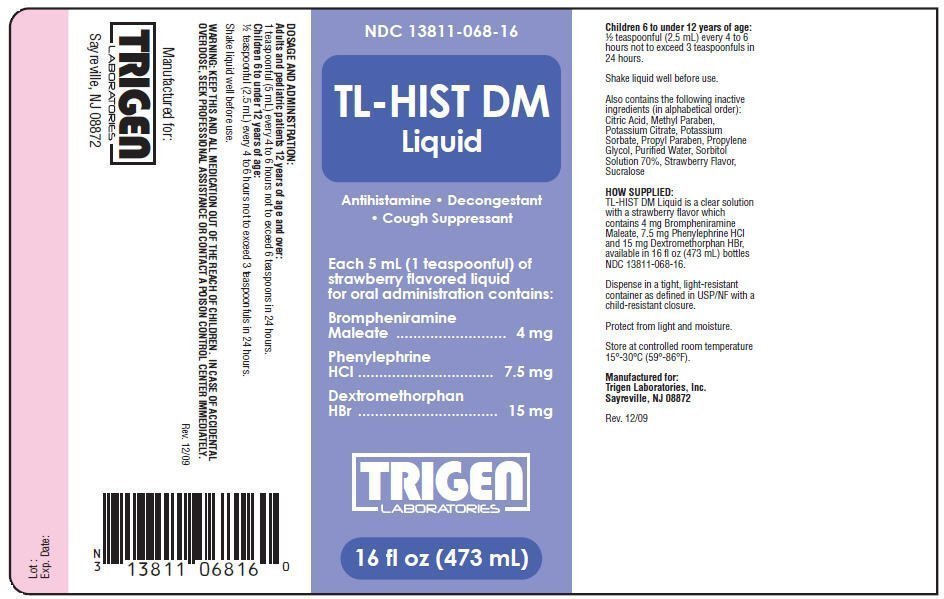 TL-HIST DM
brompheniramine maleate, phenylephrine hydrochloride, and dextromethorphan hydrobromide liquid
Product Information
Product Type
HUMAN PRESCRIPTION DRUG LABEL
Item Code (Source)
NDC:13811-068
Route of Administration
ORAL
DEA Schedule
Active Ingredient/Active Moiety
Ingredient Name
Basis of Strength
Strength
Brompheniramine Maleate (Brompheniramine)
Brompheniramine Maleate
4 mg in 1 mL
Phenylephrine Hydrochloride (Phenylephrine)
Phenylephrine Hydrochloride
7.5 mg in 1 mL
Dextromethorphan Hydrobromide (Dextromethorphan)
Dextromethorphan Hydrobromide
15 mg in 1 mL
Inactive Ingredients
Ingredient Name
Strength
Citric Acid Monohydrate
Methylparaben
Potassium Citrate
Potassium Sorbate
Propylparaben
Propylene Glycol
Water
Sorbitol
Sucralose
Product Characteristics
Color
Score
Shape
Size
Flavor
STRAWBERRY
Imprint Code
Contains
Packaging
#
Item Code
Package Description
1
NDC:13811-068-16
473 mL in 1 BOTTLE
Marketing Information
Marketing Category
Application Number or Monograph Citation
Marketing Start Date
Marketing End Date
UNAPPROVED DRUG OTHER
01/01/2010
Labeler - TRIGEN Laboratories, Inc. (830479668)
Establishment
Name
Address
ID/FEI
Operations
TG United Liquid, Inc.
830980947
MANUFACTURE
TRIGEN Laboratories, Inc.
More about TL-Hist DM (brompheniramine / dextromethorphan / phenylephrine)
Consumer resources
Professional resources
Related treatment guides