Tekral Tablets
Generic Name: diphenhydramine hydrochloride and pseudoephedrine hydrochloride
Dosage Form: tablet, multilayer, extended release

Medically reviewed by Drugs.com. Last updated on Dec 22, 2020.
On This Page
Tekral Tablets Description
Each light green and light yellow bi-layered capsule shaped tablet that is scored on one side and debossed "TEKRAL" on the opposite side contains:
Diphenhydramine Hydrochloride . . . . 100 mg
Pseudoephedrine Hydrochloride . . . . . 120 mg
Tekral( tablets are specially formulated to provide prolonged activity and contain active ingredients of the following therapeutic classes: antihistamine and nasal decongestant.
Inactive ingredients include: calcium phosphate dibasic, colloidal silicon dioxide, D&C Yellow #10, Green Lake blend green dye, lactose monohydrate, magnesium stearate (veg.), methylcellulose, microcrystalline cellulose, povidone and stearic acid.
Diphenhydramine Hydrochloride is an antihistamine having the chemical name, Ethanamine, 2-(diphenylmethoxy)- N,N-dimethyl-, hydrochloride. The chemical structure of Diphenhydramine Hydrochloride is as follows: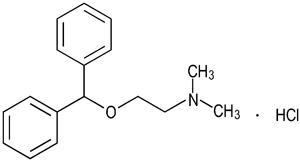 C17H21NO • HCl M.W. 291.82
Pseudoephedrine hydrochloride is a decongestant having the chemical name Benzenemethanol, α-[1- (methylamino) ethyl]-,[S- (R*,R*)]-, hydrochloride. It has the following chemical structure:


C10H15NO • HCl M.W. 201.69
Tekral Tablets - Clinical Pharmacology
Diphenhydramine hydrochloride is an antihistamine with anticholinergic (drying) and sedative side effects. Antihistamines appear to compete with histamine for cell receptor sites on effector cells. Diphenhydramine hydrochloride is widely distributed throughout the body, including the CNS. A portion of the drug is excreted unchanged in the urine, while the rest is metabolized via the liver.
Pseudoephedrine hydrochloride is a sympathomimetic which acts predominately on alpha receptors and has little effect on beta receptors. Because of this selective activity, it functions as a nasal decongestant with minimal CNS stimulation although the latter is known to occur in some instances.
Indications and Usage for Tekral Tablets
Tekral® tablets are indicated for the temporary relief of symptoms associated with seasonal and perennial allergic rhinitis and vasomotor rhinitis, including nasal congestion.
Contraindications
This product is contraindicated in patients with hypersensitivity to antihistamines or sympathomimetic amines, in nursing mothers, in infants and in patients receiving monoamine oxidase inhibitor (MAOI) therapy (see Drug Interactions section) or in patients with narrow angle glaucoma, urinary retention, peptic ulcer and during an asthmatic attack. Sympathomimetic amines are contraindicated in patients with severe hypertension or severe coronary artery disease.
Warnings
Caution should be exercised in patients with stenosing peptic ulcer, pyloroduodenal obstruction, or bladder-neck obstruction, hypertension, diabetes mellitus, ischemic heart diseases, hyperthyroidism, increased intraocular pressure narrow angle glaucoma and prostatic hypertrophy. Patients sixty (60) years and older may demonstrate an increased response to this drug combination, both in therapeutic effect and in the incidence of adverse reactions and hence a lower dose may be more appropriate for these patients.
Antihistamines and/or decongestants may cause excitability particularly in children. At doses higher than the recommended dose, nervousness, dizziness or sleeplessness may occur.
Precautions
General
Preparations containing pseudoephedrine should be used with caution in the presence of hypertension; coronary artery disease; any other cardiovascular disease; glaucoma; prostatic hypertrophy; hyperthyroidism; diabetes. Antihistamines have an atropine-like action and, therefore, should be used with caution in patients with a history of bronchial asthma, increased intraocular pressure, hyperthyroidism, cardiovascular disease and hypertension.
Information for Patients
Patient consultation should include the following information regarding proper use of this medication:
• Do not take more medication than the amount recommended.
• Take medication with food, water, or milk to minimize gastric irritation.
• Swallow extended release dosages whole.
• Do not drive or operate machinery if drowsiness or dizziness occurs.
• Do not ingest alcoholic beverages, monoamine oxidase inhibitors, or CNS depression- producing medications (hypnotics, sedatives, tranquilizers) while taking this medication.
• If a dose is missed, the medication should be taken as soon as possible unless it is almost time for the next dose. Do not double doses.
• This medication should be stored in a tight, light-resistant container at temperatures between 20°-25°C (68°- 77°F); see USP Controlled Room Temperature.
• Keep all medications out of the reach of children. In case of accidental over dose, seek professional assistance or contact a poison control center immediately.
Caution patients about the signs of potential side effects, especially:
• Anticholinergic effects clumsiness or unsteadiness; severe drowsiness; severe dryness of mouth, nose, or throat; flushing or redness of face; shortness of breath or troubled breathing.
• Blood dyscrasias – sore throat and fever, unusual bleeding or bruising, unusual tiredness or weakness.
• Fast or irregular heartbeat.
• Psychotic episodes.
• Tightness in chest.
DRUG & OR LABORATORY TEST INTERACTIONS
Antihistamines may interfere with diagnostic test results for skin tests using allergen extracts. The in vitro addition of pseudoephedrine to sera containing the cardiac isoenzyme MB of serum creatine phosphokinase progressively inhibits the activity of the enzyme. The inhibition becomes complete over six hours.
Drug Interactions
Do not take this product if you are presently taking, or have taken within the preceding two weeks, a prescription drug for high blood pressure or depression without first consulting your physician.
• MAOIs and Tricyclic Antidepressants – may prolong and intensify the anticholinergic (drying) effects of antihistamines. When sympathomimetic drugs are given to patients receiving MAOIs, hypertensive reactions, including hypertensive crises, may occur.
• CNS Depressants – concomitant use of antihistamines with alcohol, tricyclic antidepressants, barbiturates and other CNS depressants may have an additive effect.
• Antihypertensives - the antihypertensive effects of guanethidine, methyldopa, mecamylamine, reserpine, and veratrum alkaloids may be reduced by sympathomimetics. Beta-adrenergic blocking agents may also interact with sympathomimetics.
• Digitalis – increased ectopic pacemaker activity can occur when pseudoephedrine is used concomitantly with digitalis.
• Antacids – increase the rate of absorption of pseudoephedrine while kaolin decreases it.
Carcinogenesis, Mutagenesis, Impairment of Fertility
No data are available on the long-term potential of the components of this product for carcinogenesis, mutagenesis, or impairment of fertility in animals and humans.
Pregnancy
Pregnancy Category C. There are no adequate and well-controlled studies in pregnant women. This product should be used during pregnancy only if the potential benefits to the mother justify the potential risks to the infant.
Nonteratogenic Effects
Pseudoephedrine passes through the blood-brain and placental barriers. Antihistamines should not be used in the third trimester of pregnancy because newborns and premature infants may have severe reactions to them, such as convulsions.
Nursing Mothers
It is not known whether this drug is excreted in human milk. However, certain antihistamines and sympathomimetics are known to be excreted in human milk. Because of the higher risks of antihistamines for infants generally, and for newborns and prematures in particular, a decision should be made whether to discontinue nursing or to discontinue the drug, taking into account the importance of the drug to the mother. There is a report of irritability, excessive crying and disturbed sleeping patterns in a nursing infant whose mother had taken a product containing an antihistamine and pseudoephedrine.
Pediatric Use
Do not give this product to children under 6 years of age except under the advice and supervision of a physician.
Geriatric Use
Confusion, dizziness, sedation, hypotension, hyperexcitability, and anticholinergic side effects, such as dryness of mouth and urinary retention (especially in males), may be more likely to occur in geriatric patients taking antihistamines. Geriatric patients taking sympathomimetics may be more likely to experience confusion, hallucinations, seizures and CNS depression. Geriatric patients may also be more sensitive to the effects, especially to the vasopressor effects of sympathomimetic amines. Demonstrate safe use of a short-acting antihistamine / sympathomimetic formulation before use of an extended release formulation in elderly patients.
Adverse Reactions
The physician should be alert to the possibility of any of the adverse reactions which have been observed with sympathomimetic and antihistaminic drugs. These include: drowsiness; confusion, restlessness, nausea, vomiting, drug rash, vertigo, palpitation, anorexia, dizziness, dysuria due to vesicle sphincter spasm, headache, insomnia, anxiety, tension, weakness, tachycardia, angina, sweating, blood pressure elevation, mydriasis, gastric distress, abdominal cramps, central nervous system stimulation and circulatory collapse.
Drug Abuse and Dependence
Pseudoephedrine, like other central nervous system stimulants, has been abused. At high doses, subjects commonly experience an elevation of mood, a sense of increased energy and alertness and decreased appetite. Some individuals become anxious, irritable and loquacious. In addition to the marked euphoria, the user can experience a sense of markedly enhanced physical strength and mental capacity. With continued use, tolerance develops, the user increases the dose, and toxic signs and symptoms appear. Depression may follow rapid withdrawal. Stimulants such as pseudoephedrine are banned and tested for by the U.S. Olympic Committee (USOC) and the National Collegiate Athletic Association (NCAA).
Overdosage
Signs and Symptoms: This product is comprised of pharmacologically different components: an antihistamine and a sympathomimetic amine. Therefore, it is difficult to predict the exact manifestation of symptoms in a given individual. A description of symptoms which are likely to appear after ingestion of an excess of the individual components follows:
Overdosage with antihistamines may cause hallucinations, convulsions or possible death, especially in infants and children. Antihistamines are more likely to cause dizziness, sedation and hypotension in elderly patients. Overdosage with sympathomimetic amines can cause cardiac arrhythmias, cerebral hemorrhage and pulmonary edema. It can also cause palpitation, tremor, dizziness, vomiting, fear, labored breathing, headache, dryness of mouth, pallor, weakness, panic, anxiety, confusion, hallucinations and delirium.
Recommended General Treatment: In the event of overdosage, emergency treatment should be started immediately. Since the action of extended release products may continue for as long as 12 hours, treatment at overdosage should be directed toward reducing further absorption and supporting the patient for at least that length of time. Since there is no specific antidote for overdose with antihistamine and decongestant combinations, treatment is symptomatic and supportive with possible utilization of the following:
• Induction of emesis (syrup of ipecac recommended); however, precaution against aspiration is necessary especially in infants and children.
• Gastric lavage (isotonic or 0.45% sodium chloride solution) if patient is unable to vomit within three hours of ingestion.
• Saline cathartics (milk of magnesia) are sometimes used.
• Vasopressors to treat hypotension; however, epinephrine should not be used since it may further lower blood pressure.
• Oxygen and intravenous fluid.
• Precaution against the use of stimulants (analeptic agents) is recommended because they may cause seizures.
• Short-acting barbiturates, diazepam or paraldehyde may be administered to control seizures.
• Hyperpyrexia, especially in children, may require treatment by means of external cooling.
• Apnea is treated with ventilatory support.
Tekral Tablets Dosage and Administration
Adults and children over 12 years of age: One tablet every 12 hours. Not to exceed 2 tablets in 24 hours.
Children 6 to 12 years of age: Consult Physician
Children under 6 years of age: Do not give this product to children under 6 years of age except under the advice and supervision of a physician.
How is Tekral Tablets Supplied
Tekral( tablets are supplied as light green and light yellow bilayered capsule shaped tablets with "TEKRAL" debossed on one side of the tablet, and scored on the opposite side. Available in bottles of 90 tablets (NDC 64543-025-90), and physician samples of 2 tablet blister packs, (NDC 64543-025-02).
KEEP THIS AND ALL MEDICATION OUT OF THE REACH OF CHILDREN. IN CASE OF ACCIDENTAL OVERDOSE, SEEK PROFESSIONAL ASSISTANCE OR CONTACT A POISON CONTROL CENTER IMMEDIATELY.
Storage and Handling
Dispense in tight, light-resistant containers as defined in the USP/NF with child-resistant closures.
Store at controlled room temperature 20°-25°C (68°- 77°F); see USP Controlled Room Temperature.
Call Your Doctor for medical advice about side effects. You may report side effects to FDA at 1-800-FDA-1088.
Rx Only
Distributed by:
Capellon Pharmaceuticals, Ltd.
Fort Worth, TX 76118
500385
Iss. 09/09
PRINCIPAL DISPLAY PANEL


Figure 1: Bottle label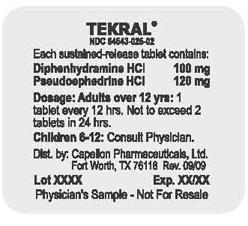 Figure 2: Sample Label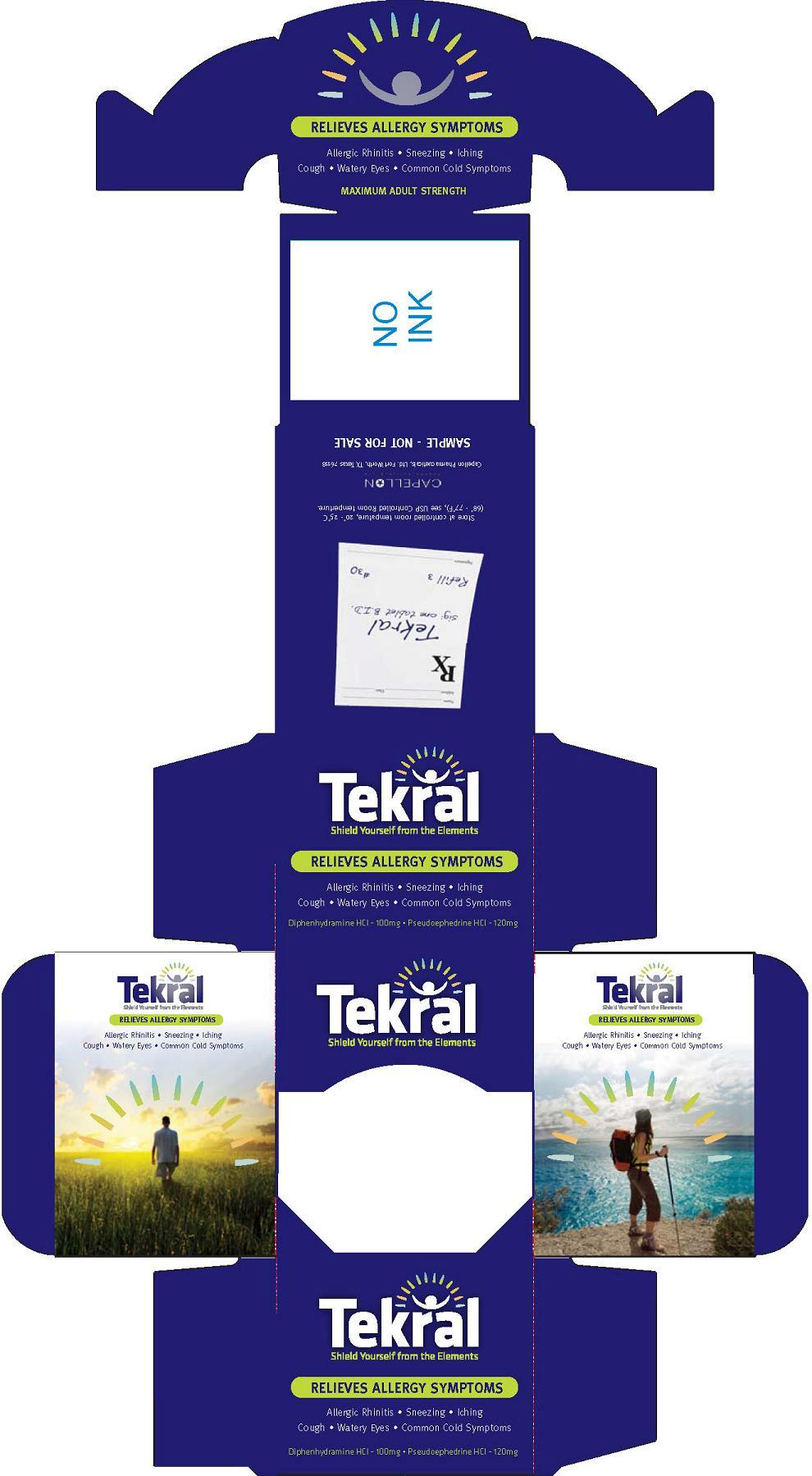 Figure 3: Blister Carton
TEKRAL
diphenhydramine / pseudoephedrine hcl tablet, multilayer, extended release
Product Information
Product Type
HUMAN PRESCRIPTION DRUG LABEL
Item Code (Source)
NDC:64543-025
Route of Administration
ORAL
DEA Schedule
Active Ingredient/Active Moiety
Ingredient Name
Basis of Strength
Strength
DIPHENHYDRAMINE HYDROCHLORIDE (DIPHENHYDRAMINE)
DIPHENHYDRAMINE HYDROCHLORIDE
100 mg
PSEUDOEPHEDRINE HYDROCHLORIDE (PSEUDOEPHEDRINE)
PSEUDOEPHEDRINE HYDROCHLORIDE
120 mg
Inactive Ingredients
Ingredient Name
Strength
CALCIUM PHOSPHATE
SILICON DIOXIDE
D&C YELLOW NO. 10
FD&C BLUE NO. 1
LACTOSE MONOHYDRATE
MAGNESIUM STEARATE
HYPROMELLOSE 2208 (4000 MPA.S)
CELLULOSE, MICROCRYSTALLINE
POVIDONE K30
STEARIC ACID
Product Characteristics
Color
YELLOW (Light) , GREEN (Light)
Score
2 pieces
Shape
CAPSULE
Size
19mm
Flavor
Imprint Code
TEKRAL
Contains
Packaging
#
Item Code
Package Description
1
NDC:64543-025-90
90 TABLET, MULTILAYER, EXTENDED RELEASE (TABLET) in 1 BOTTLE
2
NDC:64543-025-02
12 BLISTER PACK (BLISTER PACK) in 1 CARTON
2
2 TABLET, MULTILAYER, EXTENDED RELEASE (TABLET) in 1 BLISTER PACK
Marketing Information
Marketing Category
Application Number or Monograph Citation
Marketing Start Date
Marketing End Date
Unapproved drug other
11/07/2009
11/30/2012
Labeler - Capellon Pharmaceuticals, LLC (124568093)
Registrant - Capellon Pharmaceuticals, LLC (124568093)
Establishment
Name
Address
ID/FEI
Operations
Sovereign Pharmaceuticals, LLC
623168267
MANUFACTURE
Capellon Pharmaceuticals, LLC
More about Tekral (diphenhydramine / pseudoephedrine)
Consumer resources
Related treatment guides