Sonahist
Generic name: chlorpheniramine maleate and phenylephrine hydrochloride
Dosage form: oral liquid

Medically reviewed by Drugs.com. Last updated on February 19, 2021.
On This Page
The Sonahist brand name has been discontinued in the U.S. If generic versions of this product have been approved by the FDA, there may be generic equivalents available.
Indications and Usage for Sonahist
Sonahist is indicated for symptomatic relief of upper respiratory symptoms, including nasal congestion, associated with allergy or hay fever.

Sonahist Dosage and Administration
Children 6 to under 12 years of age: 2 dropperfuls (2 mL) every 4-6 hours; Children 2 to under 6 years of age: 1 dropperful (1 mL) every 4-6 hours; Children under 2 years of age: As directed by a physician.

Dosage Forms and Strengths
Sonahist Pediatric Drops is supplied as clear, orange-vanilla flavored pediatric drops. Each dropperful (1 mL) contains: 1 mg chlorpheniramine maleate; 2 mg phenylephrine hydrochloride.

Contraindications
Sonahist is contraindicated in patients with hypersensitivity or idiosyncrasy to any of its ingredients, patients taking monoamine oxidase (MAO) inhibitors or for two weeks after stopping the MAOI drug, patients with narrow-angle glaucoma, severe coronary artery disease, urinary retention, peptic ulcer, severe hypertension, patients with breathing problems such as emphysema or chronic bronchitis, or nursing mothers.

Warnings and Precautions
Use with caution in patients with hypertension, cardiovascular disease, hyperthyroidism, diabetes, narrow-angle glaucoma, or prostatic hypertrophy. Do not use in patients taking monoamine oxidase (MAO) inhibitors, or for 14 days after stopping treatment with an MAOI.

Antihistamines should be used with considerable caution in patients with narrow-angle glaucoma, stenosing peptic ulcer, pyloroduodenal obstruction, symptomatic prostatic hypertrophy, or bladder-neck obstruction. Antihistamines are more likely to cause dizziness, sedation and hypotension in elderly patients.

Chlorpheniramine Maleate may cause excitability especially in children. Do not give this product to children who have a breathing problem such as chronic bronchitis, or who have glaucoma, without first consulting the child's doctor. May cause drowsiness. Sedatives and tranquilizers may increase the drowsiness effect. Do not give this product to children who are taking sedatives or tranquilizers, without first consulting the child's doctor.

Phenylephrine HCl should not be used if you have heart disease, high blood pressure, thyroid disease, diabetes, or difficulty in urination due to enlargement of the prostate gland unless directed by a doctor. Do not exceed recommended dosage. If nervousness, dizziness, or sleeplessness occurs, discontinue use and consult a doctor.

Adverse Reactions
Antihistamines may cause sedation, dizziness, diplopia, vomiting, diarrhea, dry mouth, headache, nervousness, nausea, anorexia, heartburn, weakness, polyuria and dysuria and, rarely, excitability in children. Urinary retention may occur in patients with prostatic hypertrophy.

Sympathomimetic amines may cause convulsions, CNS stimulation, cardiac arrhythmias, respiratory difficulty, increased heart rate or blood pressure, hallucinations, tremors, nervousness, insomnia, weakness, pallor and dysuria.

Drug Interactions
Antihistamines have additive effects with alcohol and other CNS depressants (hypnotics, sedatives, tranquilizers, antianxiety agents, etc.). MAO inhibitors prolong and intensify the anticholinergic (drying) effects of antihistamines. MAO inhibitors may enhance the effect of phenylephrine HCl. Sympathomimetics may reduce the effects of antihypertensive drugs.

USE IN SPECIFIC POPULATIONS
Pregnancy
Teratogenic effects: Category C. Animal reproduction studies have not been conducted with this product. It is not known whether this product can cause fetal harm when administered to a pregnant woman or effect reproduction capacity. Give to pregnant women only if clearly needed. Administration of phenylephrine HCl to patients in late pregnancy or labor may cause fetal anoxia or bradycardia by increasing contractility of the uterus and decreasing uterine blood flow.

Nursing mothers
Some sympathomimetics are excreted in breast milk. Use of this product by nursing mothers is not recommended.

Geriatric Use
Antihistamines are more likely to cause dizziness, sedation and hypotension in elderly patients

Overdosage
Overdosage with sympathomimetic amines can cause hypertension, headache, convulsions, cerebral hemorrhage and vomiting may occur. Premature ventricular beats and short paroxysms of ventricular tachycardia may also occur. Headache may be a symptom of hypertension. Bradycardia may also be seen early in Phenylephrine HCI overdosage through stimulation of baroreceptors. Excessive CNS stimulation may result in excitement tremor, restlessness, and insomnia. Other effects may include pallor mydriasis, hyperglycemia, and urinary retention. Severe overdosage may cause tachypnea or hypernea, hallucinations, convulsions, or delirium, but in some individuals, there may be CNS depression. Arrhythmias (including ventricular fibrillation) may lead to hypotension and circulatory collapse. Severe hypokalemia can occur, probably due to a compartmental shift rather than a depletion of potassium.

Should sympathomimetic symptoms predominate, central action constitutes the greatest danger. In the small child, symptoms include excitability, hallucination, ataxia, incoordination, tremors, flushed face and fever. Convulsion, fixed and dilated pupils, coma and death may occur in severe cases. In the adult, fever and flushing are uncommon, excitement leading to convulsions and postictal depression is often proceeded by drowsiness and coma. Respiration is usually not seriously depressed; blood pressure is usually stable.

Treatment: The patient should be induced to vomit, even if emesis has occurred spontaneously. Pharmacologic vomiting by the administration of ipecac syrup is a preferred method, however, vomiting should not be induced in patients with impaired consciousness. Precautions against aspiration must be taken, especially in infants and children. Following emesis, any drug remaining in the stomach may be absorbed by activated charcoal administered as a slurry with water. Treatment of the signs and symptoms of overdosage is symptomatic and supportive.

Sonahist Description
Sonahist is an antihistamine/nasal decongestant combination available for oral administration as Pediatric Drops. Sonahist is available as a clear, sweet orange-vanilla flavored Pediatric Drops. Each dropperful (1 mL) of Sonahist contains 1 mg Chlorpheniramine maleate and 2 mg Phenylephrine Hydrochloride.

Sonahist Pediatric Drops contains the following inactive ingredients: Glycerin, Propylene Glycol, Sorbitol, Sodium Citrate, Sodium Saccharin, Orange-Vanilla Flavor, Purified Water, Methyl Paraben, Propyl Paraben.

Chlorpheniramine maleate is an antihistamine having the chemical name: 2-Pyridinepropanamine, g-(4-chlorophenyl)-N, N-dimethyl-,(Z)-2-butenedioate(1:1). Chemically, it is 3-methoxy-17-methyl-(9a, 13a, 14a)-, morphinan hydrobromide monohydrate.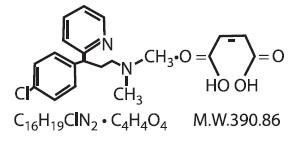 Phenylephrine HCl is a sympathomimetic amine used as a vasoconstrictor having the chemical name (–)-m-Hydroxy-a-[(methylamino)methyl] benzyl alcohol hydrochloride.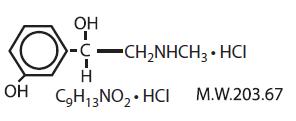 Sonahist - Clinical Pharmacology
Sonahist combines the antihistamine action of Chlorpheniramine, with the sympathomimetic decongestant effect of Phenylephrine. Sonahist has an antihistamine with anticholinergic (drying) and sedative side effects. Antihistamines appear to compete with histamine for cell receptor sites on effector cells.

Chlorpheniramine competitively antagonizes most of the smooth-muscle stimulating actions of histamine on the H1 receptors and the GI tract, uterus, large blood vessels and bronchial muscle. It also antagonizes the action of histamine that results in increased capillary permeability and the formation of edema.

Phenylephrine hydrochloride acts predominantly by a direct action on alpha adrenergic receptors. In therapeutic doses, the drug has no significant stimulant effect on the beta adrenergic receptors of the heart. Following oral administration, constriction of blood vessels in the nasal mucosa may relieve nasal congestion. In therapeutic doses, the drug causes little, if any, central nervous system stimulation.

NONCLINCIAL TOXICOLOGY
Carcinogenesis, Mutagenesis, Impairment of Fertility
Long term studies in animals to determine mutagenic and carcinogenic potential have not been performed.

How Supplied/Storage and Handling
Sonahist is clear with a sweet orange-vanilla flavor. Available in 1 fl oz (30 mL) bottles (NDC 49769-326-21).

Storage
Dispense in a tight, light-resistant container as defined in the USP/NF with a child-resistant closure. Store at controlled room temperature 20°-25°C (68°-77°F); excursions permitted 15°-30°C (59°-86°F). [See USP Controlled Room Temperature.]

PATIENT COUNSELING INFORMATION
Patients taking Sonahist should be advised that this drug may cause drowsiness and has an additive effect with alcohol. Patients should be warned about engaging in activities requiring mental alertness such as driving a car or operating appliances, machinery, etc.

Persistent cough may indicate a serious condition. If cough persists for more than one week, tends to recur, or is accompanied by a high fever, rash or persistent headache, consult a physician.

Manufactured for:
Kylemore Pharmaceuticals
Suwanee, GA 30024
326-10 Iss. 12/09

PACKAGING
Sonahist Carton: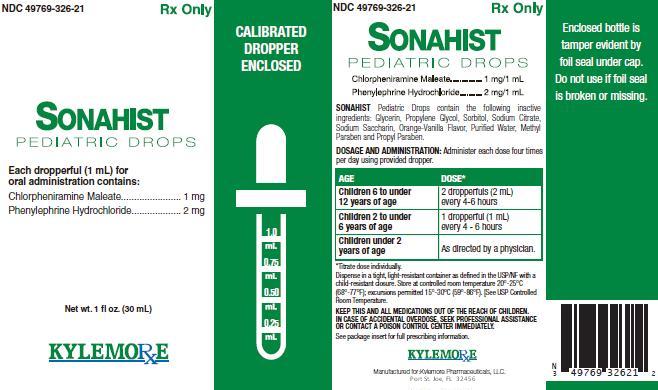 Sonahist Label: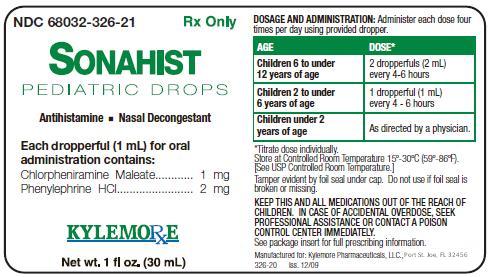 Sonahist
chlorpheniramine maleate, phenylephrine hydrochloride liquid
Product Information
Product Type
HUMAN PRESCRIPTION DRUG LABEL
Item Code (Source)
NDC:49769-326
Route of Administration
ORAL
DEA Schedule
Active Ingredient/Active Moiety
Ingredient Name
Basis of Strength
Strength
CHLORPHENIRAMINE MALEATE (CHLORPHENIRAMINE)
CHLORPHENIRAMINE MALEATE
1 mg in 1 mL
PHENYLEPHRINE HYDROCHLORIDE (PHENYLEPHRINE)
PHENYLEPHRINE HYDROCHLORIDE
2 mg in 1 mL
Inactive Ingredients
Ingredient Name
Strength
WATER
PROPYLENE GLYCOL
SORBITOL
GLYCERIN
METHYLPARABEN
PROPYLPARABEN
SODIUM CITRATE
SACCHARIN SODIUM
Product Characteristics
Color
Score
Shape
Size
Flavor
ORANGE (orange-vanilla)
Imprint Code
Contains
Packaging
#
Item Code
Package Description
1
NDC:49769-326-21
30 mL in 1 BOTTLE
Marketing Information
Marketing Category
Application Number or Monograph Citation
Marketing Start Date
Marketing End Date
unapproved drug other
12/01/2009
09/30/2012
Labeler - Kylemore Pharmaceuticals, LLC (831892471)
Kylemore Pharmaceuticals, LLC
More about Sonahist (chlorpheniramine / phenylephrine)
Consumer resources
Professional resources
Other brands
Related treatment guides