Qroxin Patch
Generic name: menthol, capsaicin
Dosage form: patch

Medically reviewed by Drugs.com. Last updated on Aug 24, 2020.
Warnings
For external use only
Use only as directed
Avoid contact with eyes and mucus membranes
Do not use on wounds or damaged skin
Stop use and ask a doctor if symptoms persist for more than seven days, or clear up and occur again within a few days, or rash, itching or excessive skin irritation occurs
Do not cover with bandage
Do not use if you are allergic to Menthol
Consult phsyciain for children under 12
Keep out of reach of children
Menthol 5.00%
Capsaicin 0.0375%
Water, glycerine, sodium polyacrylate, polysorbate 80, laoe vera gel juice, EDTA disodium salt, diazolidinyl urea, methylparaben, iodoproynyl butylcabamate, proylparaben
Adults and children 12 years and over apply to affected area; change patch 1 to 2 times daily
Children under 12 years, consult physician before use
How to apply
clean and dry affected area
cut open pouch and remove patch
remove protective fim and apply directly to area of pain
apply to affected area not more than 3 times daily
wash hands with soap after applying patch
reseal pouch containing unused patches
Use for the temporary relief of minor aches and muscle pains associated wit harthritis, simple bachache, strains, muscle soreness and stiffness.
DESCRIPTION:
Qroxin (Menthol 5%/Capsaicin 0.0375%) is comprised of an adhesive material containing Menthol and Capsaicin which is applied to a woven polyester backing and covered with a PET film release line. The release liner is removed prior to application to the skin. The size of the patch is 12.5 cm x 8.5cm.
Menthol is checmically designated as 2-Isopropyl-5- methylcyclohexanol. It is colourless, hexagonal crystals, usually needle-like; fused masses or crystalline powder with a pleasant, peppermint-like odour. If has a melting point between 31°C to 36° C.
Capsaicin is chemically designated as (6E)-N-(4-Hydroxy-3- methoxybenzyl)-8-methyl-6-nonenamide. It is a crystalline white powder. It has a melting point of 65° C.
Each adhesive patch contains 850 mg of Menthol and 6.375 mg of Capsaicin. It also contains the following inactive ingredients: Water, Glcerin, Sodium Polyacrylate (250000MV), Polysorbate 80, Aloe Vera Leaf, Edetate Disodium, Diazolidinyl Urea, Methylparaben, Iodopropynyl, Butylcarbamate and Propylparaben.
CLINICAL PHARMACOLOGY: Pharmacodynamics
Menthol works by targeting th k-opiod receptior on the TRPM8 neuron. THe TRPM8 neuron is normally activated at temperatures between (8° - 28° C). Menthol causes the neuron to fire at temperatures above normal activation which triggers the characteristic cooling sensation. Also because of menthol's specific targeting of the k-opioid receptor, it is endowed with analgesic properties.
Capsaicin is a naturally occurring compound. Iit is found in chili peppers and is what gives is "heat". Capsaicin has been found to be effective in reducing inflammation and pain. When Capsaicin enters the body it binds with the protein TRPV1 which is located on pain and heat neurons. When the TRPV1 proton is activated (between
37° - 45° C) it opens the calcium ion channel and give the sensation
of pain and heat. When Capsaicin binds to the TRPV1 proton it forces the ion channel to open below its normal activation temperature which is why it gives the distinct heating sensation. It is thought that prolonged activation of these neurons by Capsaicin depletes substance P, a neurotransmitter for pain and heat. the end result appears that the nerves are overwhelmed by the influx and unable to report pain for an extended period of time.
Pharmacokinetics
Absorption
The amount of Menthol and Capsaicin systemically absorbed is directly related to both the duration of application and the surface area over which it is applied.
In a pharmacokinetic study, a single-dose, three-treatment
crossover study to evaluate the percutaneous absorption of menthol from patch (study drug) and two reference menthol ointments (1.25% and 16%) was performed. The study was to show that the systemic absorption of the active ingredients in patch did not fall outside the bioavailability of the menthol associated with the lower and upper ointment limits. The results are summarized in table 1.
The data showed that patch did not deliver systemic drug levels in excess of those levels associated with the 16% menthol ointment preparation. the Clinical Overview concluded that patch will not be associated with systemic safety concerns.
Table 1.
Plasma Menthol Uncorrected Plasma Menthol Baseline-
Corrected
Treatment Cmax
(ng/mlL) Tmax
(hr) AUC0-t
(ng•hr/mlL) Cmax
(ng/mlL) Tmax
(hr) AUC0-24
(ng•hr/mlL)
4 x Patch
(N=34) 15.5 (5.07) 3.30 (3.04) 129 (34.5) 14.5 (4.85) 3.30 (3.04) 104 (30.6)
1.25%
Menthol Ointment (N=34) 5.14
(2.04) 5.94
(6.26) 57.9 (22.6) 4.06
(1.74) 5.94
(6.26) 33.1 (17.5)
16%
Menthol Ointment (N=34) 24.2
(10.1d) 3.74
(0.90) 220 (81.0) 23.1
(10.2) 3.74
(0.90) 194 (82.6)
Metabolism
Menthol is rapidly metabolized in human bodies into metabolites
such as polyols and hydroxy acids that are subsequently excreted as such or, most predominantly, as glucuronide conjugates.
Capsaicin is metabolized extensively by the liver CYP450 enzymes and Carboxyesterase class enzymes and yield numerous byproducts via alkyl, aromatic, and amide metabolic pathways. Due to metabolic changes to the vanilliod ring and capsaicin's hydrophobic alkyl side chain, the metabolites possess less potential at the VR1 receptor. Capsaicin also possess numerous electrophile metabolites, that can bind to liver enzymes and proteins via a reactive arene oxide or quinone methide group.
INDICATIONS AND USAGE
Qroxin is indicated for the temporary relief of minor aches and muscle pains associated with arthritis, simple backache, strains, muscles soreness and stiffness.
CONTRAINDICATIONS
Qroxin is contraindicated in patients with a known history of sensitivity to any component of the product.
WARNINGS
Accidental Exposure in Children
The potential exists for a small child or a pet to suffer serious adverse effect from chewing or ingesting a new or used Qroxin Patch, although the risk with this formulation has not been evaluated. It is important for patients to store and dispose of Alevver out of the reach of children, pets and others. (See HANDLING AND DISPOSAL)
Excessive Dosing
Excessive dosing by applying Qroxin to larger areas for longer than the recommended wearing time could result in increased absorption and higher blood concentrations. Longer duration of application, application of more than the recommended number of patches, smaller patients, or impaired elimination may all contribute to increasing the blood concentration.
PRECAUTIONS General
Allergic Reactions
Patients allergic to Menthol or Capsaicin or any other ingredient in
Qroxin should not use Qroxin.
Non-intact Skin
Application to broken or inflamed skin, although not tested, may result in higher blood concentrations from increased absorption. Qroxin is only recommended for use on intact skin.
Eye Exposure
The contact of Qroxin with eyes, although not studied, should be
avioded based on the findings of sever eye irritations with the use of similar products in animals. If eye contact occurs, immediately wash out the eye with water or saline.
Pregnancy
Nursing Mothers
Qroxin has not been studied in nursing mothers. Caution should be
exercised when Qroxin is administered to a nursing mother.
Pediatric Use
Safety and effectiveness in pediatric patients have not been established.
DOSAGE AND ADMINISTRATION
Apply Qroxin to intact skin to cover the most painful area. Apply up to four patches per day. Each patch should not be applied for more than 8 hours in a given 24-hour period. Patches may be cut into smaller sizes with scissors prior to removal of the release liner. Clothing may be worn over the area of application. Smaller areas of treatment are recommended in a debilitated patient, or a patient with impaired elimination.
If irritation or a burning sensation occurs during application, remove the patch and do not reapply until the irritation subsides.
Analgesic/counterirritant
External analgesic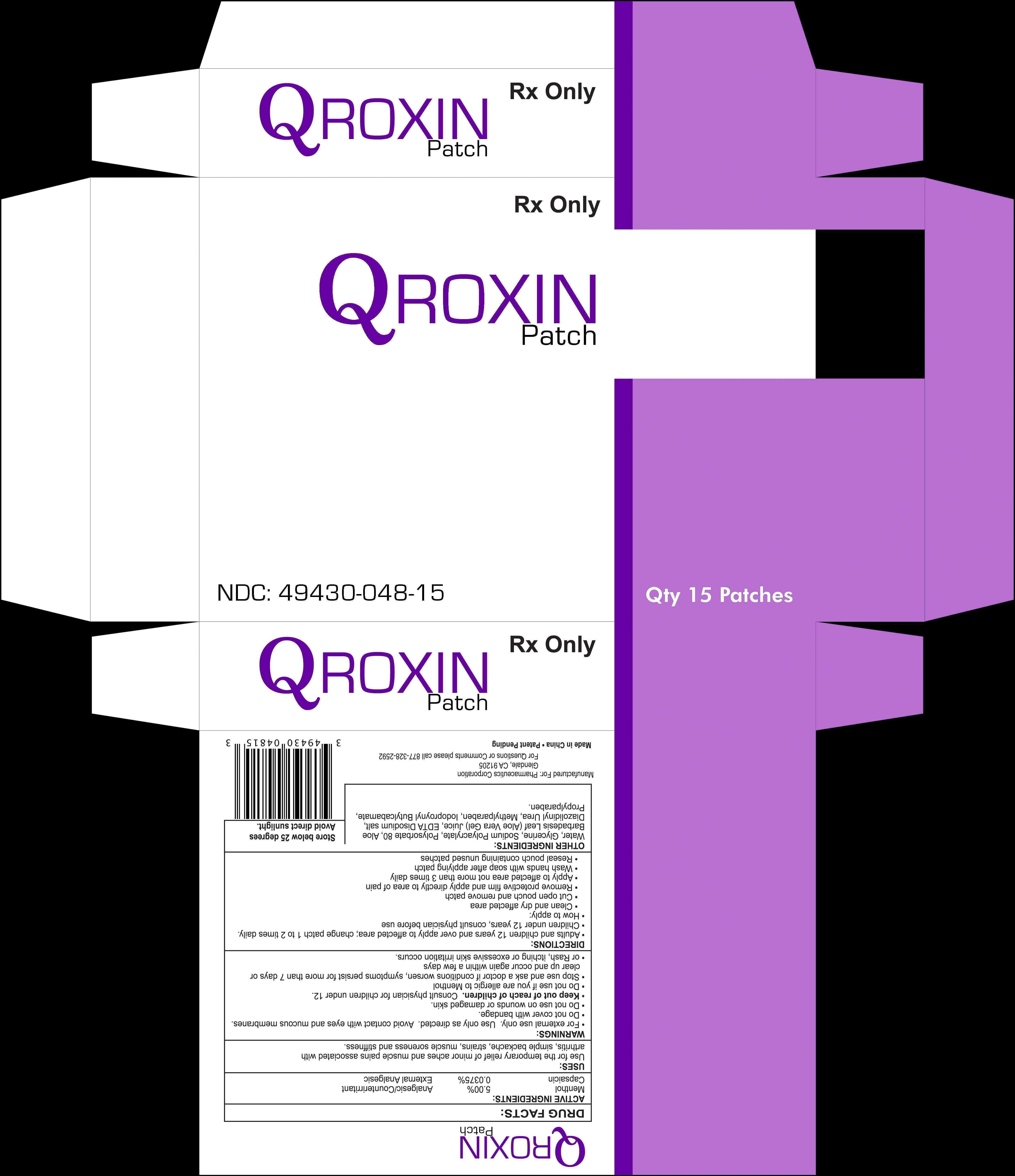 Qroxin Patch
menthol, capsaicin patch
Product Information
Product Type
HUMAN PRESCRIPTION DRUG LABEL
Item Code (Source)
NDC:49430-048
Route of Administration
TOPICAL
DEA Schedule
Active Ingredient/Active Moiety
Ingredient Name
Basis of Strength
Strength
CAPSAICIN (CAPSAICIN)
CAPSAICIN
0.0375 g in 100 g
MENTHOL (MENTHOL)
MENTHOL
5 g in 100 g
Inactive Ingredients
Ingredient Name
Strength
WATER
GLYCERIN
POLYSORBATE 80
ALOE VERA LEAF
EDETATE DISODIUM
DIAZOLIDINYL UREA
METHYLPARABEN
IODOPROPYNYL BUTYLCARBAMATE
PROPYLPARABEN
Packaging
#
Item Code
Package Description
1
NDC:49430-048-15
100 g in 1 PACKAGE
Marketing Information
Marketing Category
Application Number or Monograph Citation
Marketing Start Date
Marketing End Date
unapproved drug other
08/28/2014
Labeler - Pharmaceutics Corporation (079132026)
Pharmaceutics Corporation
More about Qroxin Patch (capsaicin / menthol topical)
Consumer resources
Professional resources
Other brands
Related treatment guides