PNV OB with DHA
Generic name: prenatal nutritional supplement
Dosage form: tablets/softgel capsules
Drug class: Iron products, Vitamin and mineral combinations
Medically reviewed by Drugs.com. Last updated on Feb 19, 2021.
Rx Only
On This Page
SUPPLEMENT FACTS
Each tablet contains:
| | |
| --- | --- |
| A (beta carotene) | 2700 IU |
| D (cholecalciferol) | 400 IU |
| C (ascorbic acid) | 70 mg |
| E (dl-alpha tocopheryl acetate) | 30 IU |
| Folic Acid | 1 mg |
| B1 (thiamine mononitrate) | 1.6 mg |
| B2 (riboflavin) | 1.8 mg |
| B6 (pyridoxine hydrochloride) | 2.5 mg |
| B12 (cyanocobalamin) | 12 mcg |
| Niacin (niacinamide) | 18 mg |
| Calcium (calcium carbonate) | 100 mg |
| Elemental Iron (ferrous fumerate) | 65 mg |
| Magnesium (magnesium oxide) | 25 mg |
| Zinc (zinc oxide) | 25 mg |
| Copper (copper oxide) | 2 mg |
| Each softgel capsule contains: | |
| Docosahexaenoic Acid (DHA) | 250 mg |
| Lauric Acid | 20 mg |
OTHER INGREDIENTS (softgel): bovine gelatin, glycerin USP and water.
OTHER INGREDIENTS (tablet): dicalcium phosphate dihydrate, magnesium stearate, microcrystalline cellulose, pharmaceutical glaze, stearic acid and silicon dioxide,
INDICATIONS: PNV - OB with DHA is indicated to provide vitamin, mineral and omega-3 fatty acid supplementation prior to conception, throughout pregnancy and during the postnatal period for the lactating and non-lactating mother, including individuals with known allergies to fish. PNV - OB with DHA does not contain fish, fish oils, fish proteins or fish byproducts.
CONTRAINDICATIONS: Folic acid (pteroylglutamic acid) is contraindicated in patients with untreated and uncomplicated pernicious anemia, and in those with anaphylactic sensitivity to folic acid. Iron therapy is contraindicated in patients with hemochromatosis and patients with iron storage disease or the potential for iron storage disease due to chronic hemolytic anemia (e.g., inherited anomalies of hemoglobin structure or synthesis and/or red cell enzyme deficiencies, etc.), pyridoxine responsive anemia or cirrhosis of the liver. Cyanocobalamin is contraindicated in patients with sensitivity to cobalt or to cyanocobalamin (vitamin B12).
WARNING: Pernicious anemia should be ruled out before starting treatment. While folic acid corrects the blood picture of pernicious anemia, it does not ameliorate the attendant neurologic involvement. Resistance to treatment may be due to depressed hematopoiesis, alcoholism, the presence of anti-metabolic drugs and to deficiencies of vitamins. Prolonged use of iron salts may produce iron storage disease.
Ingestion of more than 3 grams of omega-3 fatty acids (such as DHA) per day has been shown to have potential antithrombotic effects, including an increased bleeding time and International Normalized Ratio (INR). Administration of omega-3 fatty acids should be avoided in patients taking anticoagulants and in those known to have an inherited or bleeding diathesis, individuals who have or suspected that they may have iron metabolism abnormalities should use caution in using supplemental iron. Iron supplementation in these individuals may lead to excess iron in the parenchyma of many organs. Iron storage and associated organ function tests may be indicated to ensure the delivery of needed iron to the neonate while ensuring the health of the mother.
WARNING: Accidental overdose of iron-containing products is a leading cause of fatal poisoning in children under 6. Keep this product out of reach of children. In case of accidental overdose, call a doctor or poison control center immediately.
PRECAUTIONS: Folic acid (pteroylglutamic acid) and Vitamin B12 microbiological blood assays are invalidated by the administration of most antibiotics, methotrexate and pyrimethamine. Folic acid (pteroylglutamic acid) is not effective reversing the toxic effects of methotrexate. Folinic acid (5-formyltetrahydrofolic acid) must be used in that situation. Black tarry stools may be due to either occult GI bleeding or iron therapy or both. Folic acid may partially correct the hematological damage due to Vitamin B12 deficiency of pernicious anemia, while the associated neurological damage progresses. In rare instances, allergic sensitization has been reported following both oral and parenteral administration of folic acid. Supplementation of the diet by milk or other dietary sources of Calcium may be advisable. Exercise caution to ensure that the prescribed dosage of DHA does not exceed 1 gram (1000 mg) per day.
ADVERSE REACTIONS: Allergic sensitivity reactions and gastrointestional disturbances may occur.
DOSAGE AND ADMINISTRATION: Before, during and after pregnancy, one tablet and one softgel daily,or as directed by a physician.
HOW SUPPLIED: 42192-352-60. PNV - OB with DHA is supplied in child-resistant blister cards containing 30 doses per carton (1 tablet and 1 golden - colored DHA softgel capsule equals 1 daily dose). Each unit-of-use dispensing carton contains 5 cards with 6 unit-doses per card which is a 30-day supply. The brown tablet is imprinted with "352" on one side and is blank on the other. The golden - colored DHA softgel capsule is not imprinted. The listed product number is not a National Drug Code, but has merely been formatted to comply with standard industry practice for pharmacy and insurance computer systems.
Store at 20° - 25°C (68° - 77°F); excursions permitted to 15° - 30°C (59° - 86°F) [See USP Controlled Room Temperature.]
All prescription substitutions and/or recommendations using this product shall be made subject to state and federal statutes as applicable. Please note: this is not an Orange Book product and has not been subjected to FDA therapeutic equivalency or other equivalency testing. No representation is made as to generic status or bioequivalency. Each person recommending a prescription substitution using this product shall make such recommendations based on each such person's professional opinion and knowledge, upon evaluating the active ingredients, excipients, inactive ingredients and chemical information provided herein. THESE STATEMENTS HAVE NOT BEEN EVALUATED BY THE FOOD AND DRUG ADMINISTRATION. THIS PRODUCT IS NOT INTENDED TO DIAGNOSE, TREAT, CURE OR PREVENT ANY DISEASE.
MANUFACTURED FOR: Acella Pharmaceuticals, LLC • Alpharetta, GA 30022 • 1-800-541-4802
Rev 0313
PRINCIPAL DISPLAY PANEL - 30 tablets
42192-352-60
PNV - OB with DHA
Prenatal Nutritional Supplement
Rx Only
With Omega-3 (DHA) and 15 important
vitamins and minerals
30 day supply - 30 tablets and 30 softgel capsules
Acella
PHARMACEUTICALS, LLC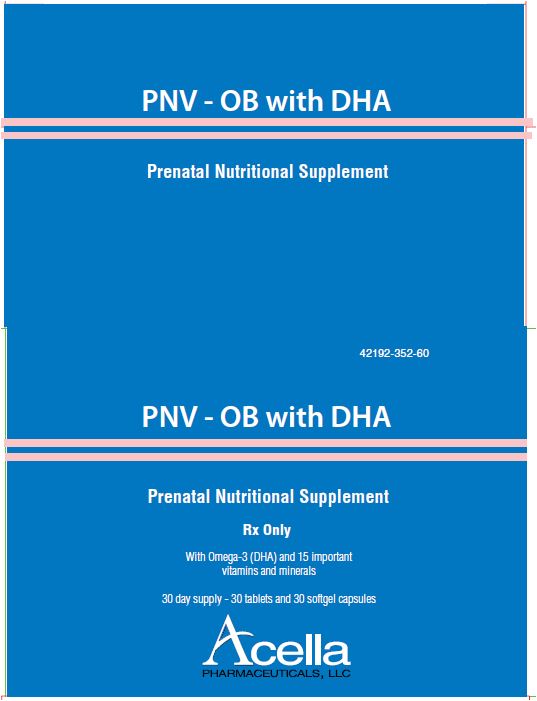 PNV-OB-DHA
.beta.-carotene, cholecalciferol, ascorbic acid, .alpha.-tocopherol acetate, dl-, folic acid, thiamine mononitrate, riboflavin, pyridoxine hydrochloride, cyanocobalamin, niacinamide, calcium carbonate, ferrous fumarate, magnesium oxide, zinc oxide, cupric oxide and doconexent kit
Product Information
Product Type
HUMAN PRESCRIPTION DRUG LABEL
Item Code (Source)
NDC:42192-352
Packaging
#
Item Code
Package Description
1
NDC:42192-352-60
30 BLISTER PACK (BLISTER PACK) in 1 CARTON
1
1 KIT (KIT) in 1 BLISTER PACK
Quantity of Parts
Part #
Package Quantity
Total Product Quantity
Part 1
30
Part 2
30
Part 1 of 2
PNV-OB-DHA
.beta.-carotene, cholecalciferol, ascorbic acid, .alpha.-tocopherol acetate, dl-, folic acid, thiamine mononitrate, riboflavin, pyridoxine hydrochloride, cyanocobalamin, niacinamide, calcium carbonate, ferrous fumarate, magnesium oxide, zinc oxide, cupric oxide and doconexent tablet
Product Information
Route of Administration
ORAL
DEA Schedule
Active Ingredient/Active Moiety
Ingredient Name
Basis of Strength
Strength
.BETA.-CAROTENE (.BETA.-CAROTENE)
.BETA.-CAROTENE
2700 [iU]
CHOLECALCIFEROL (CHOLECALCIFEROL)
CHOLECALCIFEROL
400 [iU]
ASCORBIC ACID (ASCORBIC ACID)
ASCORBIC ACID
70 mg
.ALPHA.-TOCOPHEROL ACETATE, DL- (.ALPHA.-TOCOPHEROL, DL-)
.ALPHA.-TOCOPHEROL, DL-
30 [iU]
FOLIC ACID (FOLIC ACID)
FOLIC ACID
1 mg
THIAMINE MONONITRATE (THIAMINE ION)
THIAMINE
1.6 mg
RIBOFLAVIN (RIBOFLAVIN)
RIBOFLAVIN
1.8 mg
PYRIDOXINE HYDROCHLORIDE (PYRIDOXINE)
PYRIDOXINE HYDROCHLORIDE
2.5 mg
CYANOCOBALAMIN (CYANOCOBALAMIN)
CYANOCOBALAMIN
12 ug
NIACINAMIDE (NIACINAMIDE)
NIACINAMIDE
18 ug
CALCIUM CARBONATE (CALCIUM CATION)
CALCIUM CARBONATE
100 mg
FERROUS FUMARATE (FERROUS CATION)
FERROUS CATION
65 mg
MAGNESIUM OXIDE (MAGNESIUM CATION)
MAGNESIUM OXIDE
25 mg
ZINC OXIDE (ZINC OXIDE)
ZINC OXIDE
25 mg
CUPRIC OXIDE (CUPRIC CATION)
CUPRIC CATION
2 mg
Inactive Ingredients
Ingredient Name
Strength
CALCIUM PHOSPHATE, DIBASIC, DIHYDRATE
MAGNESIUM STEARATE
CELLULOSE, MICROCRYSTALLINE
SHELLAC
STEARIC ACID
SILICON DIOXIDE
Product Characteristics
Color
BROWN
Score
no score
Shape
CAPSULE
Size
15mm
Flavor
Imprint Code
352
Contains
Marketing Information
Marketing Category
Application Number or Monograph Citation
Marketing Start Date
Marketing End Date
unapproved drug other
05/17/2013
05/31/2015
Part 2 of 2
DHA
omega 3 fatty acids capsule, liquid filled
Product Information
Route of Administration
ORAL
DEA Schedule
Active Ingredient/Active Moiety
Ingredient Name
Basis of Strength
Strength
DOCONEXENT (DOCONEXENT)
DOCONEXENT
250 mg
Inactive Ingredients
Ingredient Name
Strength
LAURIC ACID
GELATIN
GLYCERIN
WATER
Product Characteristics
Color
YELLOW (golden)
Score
no score
Shape
OVAL
Size
24mm
Flavor
Imprint Code
Contains
Marketing Information
Marketing Category
Application Number or Monograph Citation
Marketing Start Date
Marketing End Date
dietary supplement
05/17/2013
05/31/2015
Marketing Information
Marketing Category
Application Number or Monograph Citation
Marketing Start Date
Marketing End Date
unapproved drug other
05/17/2013
05/31/2015
Labeler - Acella Pharmaceuticals, LLC (825380939)
Acella Pharmaceuticals, LLC
More about multivitamin, prenatal
Consumer resources
Professional resources
Other brands
Related treatment guides