Phenylephrine, Carbetapentane, Potassium Guaiacolsulfonate
Dosage form: liquid
Drug class: Upper respiratory combinations
Medically reviewed by Drugs.com. Last updated on Jan 22, 2021.
On This Page
Phenylephrine, Carbetapentane, Potassium Guaiacolsulfonate Description
Phenylephrine 10 mg/Carbetapentane 20 mg/Potassium Guaiacolsulfonate 100 mg/5 mL is an alcohol free, dye free, sugar free, clear and colorless liquid with a raspberry mint scent and flavor.
Each 5mL (1 teaspoonful) for oral administration contains:
Phenylephrine hydrochloride .....10 mg
Carbetapentane citrate ..... 20 mg
Potassium guaiacolsulfonate .....100 mg
Inactive ingredients: sodium citrate, citric acid, sodium saccharin, sorbitol, glycerin, propylene glycol, deionized water, menthol mint and raspberry flavor.

Phenylephrine hydrochloride is an orally effective nasal decongestant having the chemical name, benzenemethanol, 3-hydroxy-α−[(methylamino)methyl]-hydrochloride, an adrenergic which occurs as white or practically white, odorless crystals, having a bitter taste. It is freely soluble in water and in alcohol. The structural formula is: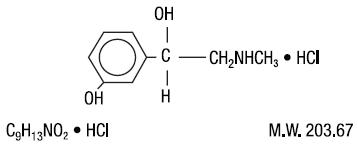 Carbetapentane citrate or, 1-Phenylcyclopentane-carboxylic acid, 2-(2-diethylaminoethoxy) ethyl ester citrate, is a white crystalline powder. It is freely soluble in water and chloroform. Its structure is as follows: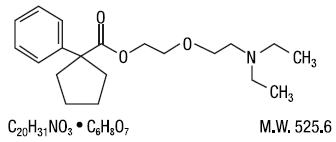 Chemically, potassium guaiacolsulfonate is benzene-sulfonic acid, hydroxy-methoxy-, monopotassium salt, hemihydrate with the following structure:



Phenylephrine, Carbetapentane, Potassium Guaiacolsulfonate - Clinical Pharmacology
Phenylephrine HCI:
Phenylephrine HCI, a nasal decongestant, is a potent postsynaptic alpha-receptor agonist with little effect on the beta receptors of the bronchi or peripheral blood vessels. Therapeutic doses of phenylephrine HCl may cause vasoconstriction. It increases resistance and, to a lesser extent, decreases capacitance of blood vessels. Total peripheral resistance is increased, resulting in increased systolic and diastolic blood pressure. Pulmonary arterial pressure is usually increased, and renal blood flow is usually decreased. Local vasoconstriction and hemostasis occur following infiltration of phenylephrine HCI into tissues. The main effect of phenylephrine HCI on the heart is bradycardia; it produces a positive inotropic effect on the myocardium in doses greater than those usually used therapeutically. Rarely, the drug may increase the irritability of the heart which can cause arrhythmia. Cardiac output is decreased slightly. Phenylephrine HCI increases the work of the heart by increasing peripheral arterial resistance. Phenylephrine HCI has a mild central stimulant effect. Following oral administration of phenylephrine HCI, constriction of blood vessels in the nasal mucosa relieves nasal congestion associated with allergy or head colds. This may occur within 15 to 20 minutes and may persist for up to 4 hours.

Carbetapentane citrate:
Carbetapentane citrate is a centrally acting non-narcotic antitussive.

Potassium guaiacolsulfonate:
Potassium guaiacolsulfonate is a stimulant expectorant.
Indications and Usage for Phenylephrine, Carbetapentane, Potassium Guaiacolsulfonate
For temporary relief of nonproductive cough, nasal congestion, and other upper respiratory symptoms associated with allergy, influenza, sinusitis bronchitis, or the common cold.
Contraindications
Patients with hypersensitivity to any of the listed ingredients, patients taking monoamine oxidase (MAO) inhibitors, patients with narrow-angle glaucoma, urinary retention, peptic ulcer, severe hypertension or coronary artery disease or intracranial lesion associated with increased intracranial pressure, or patients undergoing an asthmatic attack.
Warnings
Sympathomimetic amines should be used with caution in patients with hypertension, ischemic heart disease, diabetes mellitus,
increased intraocular pressure, hyperthyroidism, or prostatic hypertrophy. Sympathomimetics may produce central nervous stimulation with convulsions or cardiovascular collapse with accompanying hypotension.

KEEP THIS AND ALL MEDICATIONS OUT OF THE REACH OF CHILDREN. IN CASE OF ACCIDENTAL OVERDOSE, CONTACT A POISON CONTROL CENTER AND SEEK PROFESSIONAL ASSISTANCE IMMEDIATELY.
Precautions
General:
Use with caution in patients with severe impairment of liver or kidney function, hypothyroidism, thyroid diseases, Addison's diseases, hypertension, heart disease, asthma, increased intraocular pressure, diabetes mellitus, and prostatic hypertrophy or urethral stricture. Narcotics may obscure the diagnosis or clinical course in patients with acute abdominal conditions or head injuries.
Information for Patients:
DO NOT EXCEED RECOMMENDED DOSES. DISCONTINUE USE IF ADVERSE REACTION(S) OCCUR.
Drug interactions:
MAO inhibitors prolong and intensify the anticholinergic effects of reserpine, veratrum alkaloids, methyldopa, and mecamylamine. Effects of sympathomimetics are increased with MAO inhibitors and beta adrenergic blockers.
Carcinogenesis, Mutagenesis, Impairment of Fertility:
Teratogenic Effects:
Pregnancy Category C: Animal reproduction studies have not been conducted with this product. It is also not known whether this medication can cause fetal harm when administered to a pregnant woman or affect reproduction capacity.
Phenylephrine 10 mg/Carbetapentane 20 mg/Potassium Guaiacolsulfonate 100 mg/5 mL
should be given to a pregnant woman only if clearly needed.
Labor and Delivery:
Administration of phenylephrine to patients in late pregnancy or labor may cause fetal anoxia or bradycardia by increasing contractility of the uterus and decreasing uterine blood flow.
Nursing Mothers:
Some sympathomimetics are excreted in breast milk. Use of this product by nursing mothers is not recommended.
Geriatric Use:
The elderly are more likely to experience adverse reactions to sympathomimetics. An overdose of sympathomimetics in this age group may cause hallucinations, convulsions, CNS, depression, and death.
Adverse Reactions
Phenylephrine HCI: Hyper-reactive individuals may display ephedrine-like reactions such as tachycardia, palpitations, headache, dizziness, or nausea. Sympathomimetics have been associated with certain adverse reactions including fear, anxiety, nervousness, restlessness, tremor, weakness, pallor, respiratory difficulty, dysuria, insomnia, hallucinations, convulsions, CNS, depression, arrhythmias, and cardiovascular collapse with hypotension.
To report SUSPECTED ADVERSE REACTIONS, contact FDA at 1-800-FDA-1088 or www.fda.gov/medwatch.
Overdosage
No information is available as to specific results of an overdose of
Phenylephrine 10 mg/Carbetapentane 20 mg/Potassium Guaiacolsulfonate 100 mg/5 mL
. The signs, symptoms and treatment described below are those of hydrocodone, ephedrine, and H1 antihistamines.
Signs and Symptoms:
Should narcotic effects predominate, respiratory depression may occur characterized by a decrease in respiratory rate and/or tidal volume, Cheyne-Stokes respiration and cyanosis. Other symptoms include sleepiness, extreme somnolence progressing to stupor or coma, skeletal muscle flaccidity, cold and clammy skin, bradycardia and hypotension. In severe cases apnea, circulatory collapse, cardiac arrest, and death may occur. Should sympathomimetic symptoms predominate, central effects include restlessness, dizziness, tremor, hyperactive reflexes, talkativeness, irritability and insomnia. Cardiovascular and renal effects include difficulty in micturition, headache, flushing, palpitation, cardiac arrythmias, hypertension and subsequent hypotension and circulatory collapse. Gastrointestinal effects include dry mouth, metallic taste, anorexia, nausea, vomiting, diarrhea, and abdominal cramps. Should antihistamine effects predominate, central action constitutes the greatest danger. In the small child, symptoms include excitation, hallucination, ataxia, incoordination, tremors, flushed face and fever. Convulsions, fixed and dilated pupils, coma and death may occur in severe cases. In the adult, fever and flushing are uncommon; excitement leading to convulsions and postictal depression is often preceded by drowsiness and coma. Respiration is usually not seriously depressed; blood pressure is usually stable.

Treatment:
· Evacuate stomach contents as condition warrants. Activated charcoal may be useful.
· Maintain a non-stimulating environment.
· Monitor cardiovascular status.
· Do not give stimulants.
· Reduce fever with cool sponging.
· Intravenous nalaxone, nalorphine or leballorphan may antagonize narcotic respiratory depression.
· If sedatives and anticonvulsants are necessary for control of CNS excitation and seizures, monitor respiratory status carefully because of possible addictive effects with hydrocodone.
· Physostigmine may reverse anticholinergic symptoms.
· Further care is symptomatic and supportive.
Phenylephrine, Carbetapentane, Potassium Guaiacolsulfonate Dosage and Administration
Phenylephrine 10 mg/Carbetapentane 20 mg/Potassium Guaiacolsulfonate 100 mg/5 mL is administered orally as follows:
ADULTS: 1-2 teaspoonfuls every 4-6 hours or as directed by a physician.
CHILDREN 6 to 12 years of age: 1 teaspoonful every 4-6 hours or as directed by a physician.
How is Phenylephrine, Carbetapentane, Potassium Guaiacolsulfonate Supplied
Phenylephrine 10 mg/Carbetapentane 20 mg/Potassium Guaiacolsulfonate 100 mg/5 mL is an alcohol free, dye free, sugar free, clear and colorless liquid with a raspberry mint scent and flavor supplied in 16 oz (473 mL) bottles, NDC 68032-490-16.

Store at controlled room temperature between 15°-30°C (59°-86°F).
PHARMACIST: Dispense in a tight, light resistant container with a child resistant closure as described in the USP/NF.
TAMPER EVIDENT BY HEAT SEAL UNDER CAP. DO NOT USE IF THERE IS EVIDENCE OF TAMPERING.

Manufactured for:
River's Edge Pharmaceuticals, LLC
Suwanee, GA 30024
Rx Only
Iss. 2/10 490-10
PACKAGING
Below represents the current packaging being used:

NDC 68032-490-16
Phenylephrine 10 mg/Carbetapentane 20 mg/Potassium Guaiacolsulfonate 100 mg/5 mL
Decongestant • Antitussive • Expectorant

One Pint (473 mL)

DOSAGE AND ADMINISTRATION:
ADULTS: 1-2 teaspoonfuls every 4-6 hours or as directed by a physician.
CHILDREN 6 to 12 years of age: 1 teaspoonful every 4-6 hours or as directed by a physician.

Refer to package insert for full prescribing information.

DISPENSE: In a tight, light resistant container with a child resistant closure as described in the USP/NF.

STORE AT CONTROLLED ROOM TEMPERATURE BETWEEN 15°-30°C (59°-86°F).

TAMPER EVIDENT BY HEAT SEAL UNDER CAP. DO NOT USE IF THERE IS EVIDENCE OF TAMPERING.

KEEP THIS AND ALL MEDICATIONS OUT OF THE REACH OF CHILDREN.

IN CASE OF ACCIDENTAL OVERDOSE, CONTACT A POISON CONTROL CENTER AND SEEK PROFESSIONAL ASSISTANCE IMMEDIATELY.

Manufactured for:
River's Edge Pharmaceuticals, LLC.
Suwanee, GA 30024

Rx Only
Iss. 2/10
490-20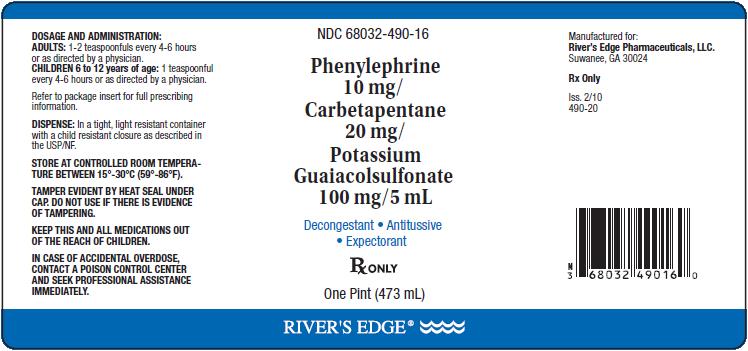 PHENYLEPHRINE CARBETAPENTANE POTASSIUM GUAIACOLSULFONATE
Phenylephrine, Carbetapentane, Potassium Guaiacolsulfonate liquid
Product Information
Product Type
HUMAN PRESCRIPTION DRUG LABEL
Item Code (Source)
NDC:68032-490
Route of Administration
ORAL
DEA Schedule
Active Ingredient/Active Moiety
Ingredient Name
Basis of Strength
Strength
PHENYLEPHRINE (PHENYLEPHRINE)
PHENYLEPHRINE
10 mg in 5 mL
CARBETAPENTANE (CARBETAPENTANE)
CARBETAPENTANE
20 mg in 5 mL
POTASSIUM GUAIACOLSULFONATE (POTASSIUM CATION)
POTASSIUM GUAIACOLSULFONATE
100 mg in 5 mL
Inactive Ingredients
Ingredient Name
Strength
SODIUM CITRATE
CITRIC ACID MONOHYDRATE
SACCHARIN SODIUM
SORBITOL
GLYCERIN
PROPYLENE GLYCOL
WATER
Product Characteristics
Color
Score
Shape
Size
Flavor
RASPBERRY (Raspberry-Mint)
Imprint Code
Contains
Packaging
#
Item Code
Package Description
1
NDC:68032-490-16
473 mL in 1 BOTTLE
Marketing Information
Marketing Category
Application Number or Monograph Citation
Marketing Start Date
Marketing End Date
unapproved drug other
03/01/2010
Labeler - River's Edge Pharmaceuticals, LLC (133879135)
River's Edge Pharmaceuticals, LLC
More about carbetapentane / phenylephrine / potassium guaiacolsulfonate
Related treatment guides