Omeoformula 4 Breast
Generic name: adenosine triphosphate, aconitic acid, cis-, sus scrofa embryo, sus scrofa pituitary gland, magnesium phosphate, sus scrofa mamma, nadide, senecio vulgaris, pulsatilla vulgaris, sus scrofa skin and sus scrofa uterus
Dosage form: injection, solution
1. INDICATIONS AND USAGE
1.1. Breast tissue revitalisation
1.2. Breast Firming.


2. DOSAGE AND ADMINISTRATION
2.1. Treatment for IM application: 1 vial 1-3 times a week according to severity and clinic evolution.
2.2. Treatment using mesotherapy technique: Apply 0,3 ml for each point. Using a 13 mm, 30G or a 4 mm, 27G needle, make the classic intradermal injections utilizing mesotherapy technique.
Sites of application: Tissue area around the breast, without injecting the mammal gland.
- From the clavicle, go down along the pectoral muscle with 3 parallel injection lines.
- From the areola, proceed with 4 injection lines, in a sunburst shape.
- In the space below the breast, along its insertion on the thorax.
Standard protocol consists of one treatment a week for 5-7 weeks. For prolonged treatments, 2 treatments for the first week, 1 treatment a week for 1 month and then 1 treatment a month are recommended.

Discard unused solution.

2.3. Opening of Vials: Use sterile needles and sterile syringe. Do not reuse. Do not use if foreign particles are present. Draw 1 cc of air into syringe, insert needle into vial inject air and withdraw the solution into the syringe.



3. DOSAGE FORMS AND STRENGTHS
3.1. Injectable solution for subcutaneneous, intradermal or intramuscular administration.
Pharmaceutical forms: 2 ml glass vials
3.2. Each ingredient is attenuated according to the procedures stated in the Homeopathic Pharmacopeia of United States.
Active ingredients: Adenosintriphosphate 10X; Cis-Aconitic acid 10X; Embryo 6X; Hypophysis 6X; Hypophysis 30X; Magnesia phosphorica 10X; Mamma 6X; Mamma 30X; Nadidum 10X; Old man in the spring 4X; Pulsatilla 4X; Skin tissue 6X; Uterus 6X.
Inactive ingredient: Sterile isotonic sodium chloride solution.


4. CONTRAINDICATIONS
4.1. There is no history of hypersensitivity to OMEOFORMULA®4-BREAST. However patients with a known hypersensitivity to any ingredient should be tested before use. Make a spot injection (0.1ml) into the forearm and observe for any reactions for 1 hour.

5. WARNINGS AND PRECAUTIONS
5.1. Be sure to disinfect the area before application. Skin disinfection helps avoid the infection at the site of administration due to saprophytic bacteria (i.e. atypical mycobacteria, staphylococcus genus) that may be present on the skin.

6. ADVERSE REACTIONS
6.1. The most common mild adverse reaction is slight reddening at the injection site due to the mechanical effect of the needle or a superficial skin reaction of mild erythema.

7. DRUG INTERACTIONS
7.1. None Known.

8. USE IN SPECIFIC POPULATIONS
8.1 Pregnancy: Pregnancy category C. Animal reproduction studies have not been conducted with OMEOFORMULA®4-BREAST. OMEOFORMULA®4-BREAST should not be administered to a pregnant woman.
8.2 Nursing mothers: OMEOFORMULA®4-BREAST is not indicated for use in a nursing woman.
8.3 Pediatric use: OMEOFORMULA®4-BREAST is not indicated for pediatric use.
8.4 Geriatric use: No restrictions.


9. DRUG ABUSE AND DEPENDENCE
9.1. No Known.
10. OVERDOSAGE
10.1. No Known.

11. DESCRIPTION
OMEOFORMULA® 4-BREAST is a sterile solution made with isotonic sodium chloride solution.
Its formulation is based on classical Homeopathy and each ingredient has been selected according to the homeopathic description as referred in Materia Medica.
The firming and toning activity is due to the suis-organ ingredients that are supported with the ingredients that stimulate the collagen pathway.



12. CLINICAL PHARMACOLOGY
12.1. Mechanism of Action
The medication acts through a low-dose enzymatic mechanism.
12.2. Pharmacodynamics
The physiological effects of OMEOFORMULA® 4-BREAST is due to the effects of the ingredients, as they are listed in the Homeopathic Materia Medica.
12.3. Pharmacokinetics
The homeopathic attenuation provides complete bioavability of the active ingredients.

13. NONCLINICAL TOXICOLOGY
13.1. OMEOFORMULA® 4-BREAST has no level of toxicity due to the attenuation of the ingredients.


14. CLINICAL STUDIES
OMEOFORMULA®4-BREAST formulation is based on classical Homeopathy and each ingredient has been selected according to the homeopathic description as referred in Materia Medica.

15. REFERENCES
15.1. E.Italia, M. De Bellis: Manuale di Omeo-mesoterapia – Guna Ed. 1995
15.2. H.H.Reckeweg: Materia Medica omeopatica. Ed. 1 Guna Editore.

16. HOW SUPPLIED/STORAGE AND HANDLING
16.1. NDC 17089-275-31 10 glass vials packed in carton box
16.2. NDC 17089-275-32 50 glass vials packed in carton box
16.3. Store at room temperature, 20-25°C (68-77° F). Avoid freezing and excessive heat.
17. PATIENT COUNSELING INFORMATION
17.1. Patients should be informed of the homeopathic approach and the therapeutic goals of OMEOFORMULA® 4-BREAST.

PACKAGE LABEL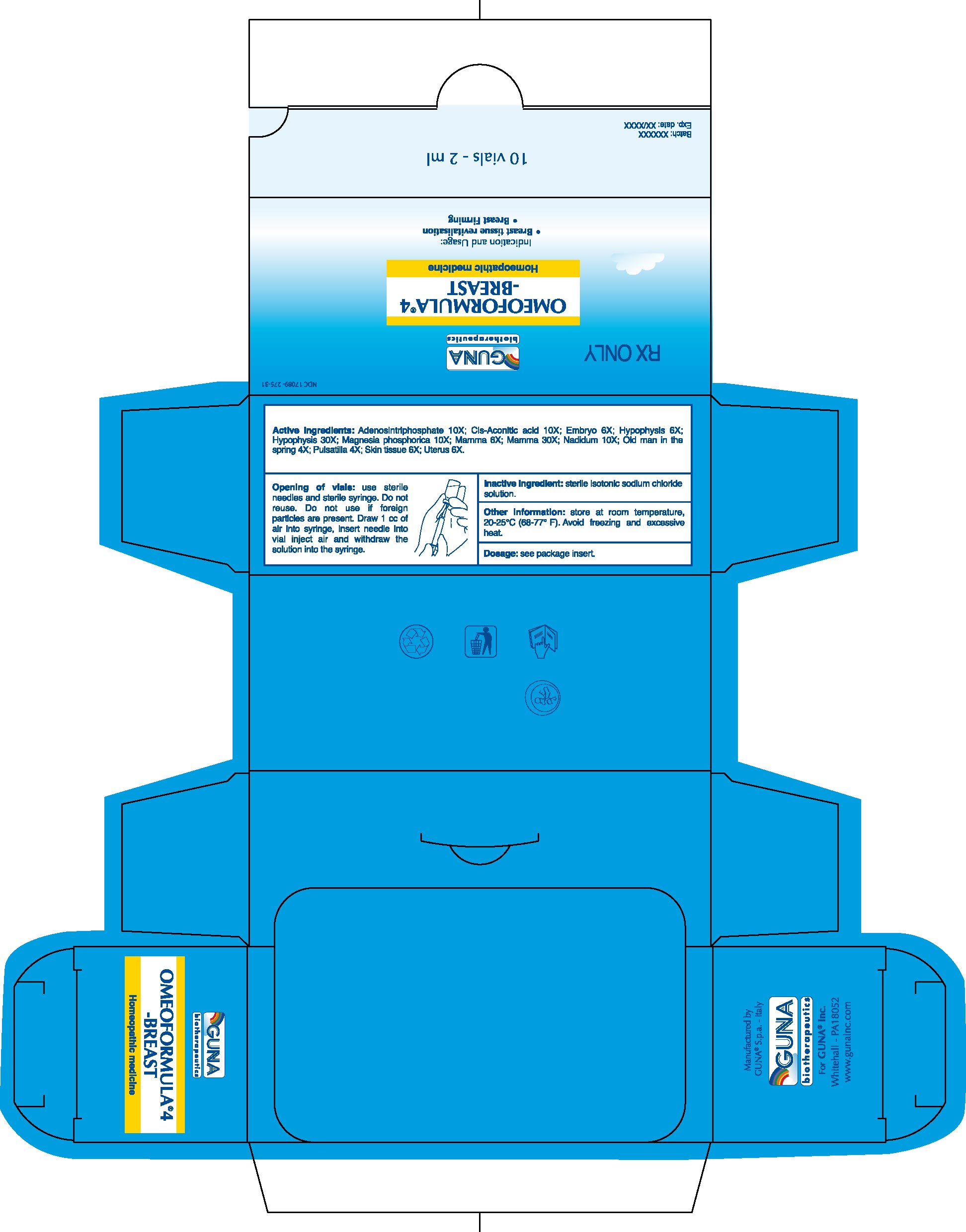 OMEOFORMULA4-BREAST
aconitic acid, cis - adenosine triphosphate - magnesium phosphate - nadide - pulsatilla vulgaris - senecio vulgaris - sus scrofa mamma - sus scrofa pituitary gland - sus scrofa skin - sus scrofa uterus - sus scrofa embryo - injection, solution
Product Information
Product Type
HUMAN PRESCRIPTION DRUG LABEL
Item Code (Source)
NDC:17089-275
Route of Administration
INTRADERMAL, SUBCUTANEOUS, INTRAMUSCULAR
DEA Schedule
Active Ingredient/Active Moiety
Ingredient Name
Basis of Strength
Strength
ADENOSINE TRIPHOSPHATE (ADENOSINE TRIPHOSPHATE)
ADENOSINE TRIPHOSPHATE
10 [hp_X] in 2 mL
ACONITIC ACID, CIS- (ACONITIC ACID, CIS-)
ACONITIC ACID, CIS-
10 [hp_X] in 2 mL
SUS SCROFA EMBRYO (SUS SCROFA EMBRYO)
SUS SCROFA EMBRYO
6 [hp_X] in 2 mL
SUS SCROFA PITUITARY GLAND (SUS SCROFA PITUITARY GLAND)
SUS SCROFA PITUITARY GLAND
6 [hp_X] in 2 mL
MAGNESIUM PHOSPHATE (MAGNESIUM CATION)
MAGNESIUM PHOSPHATE
10 [hp_X] in 2 mL
SUS SCROFA MAMMA (SUS SCROFA MAMMA)
SUS SCROFA MAMMA
6 [hp_X] in 2 mL
NADIDE (NADIDE)
NADIDE
10 [hp_X] in 2 mL
SENECIO VULGARIS (SENECIO VULGARIS)
SENECIO VULGARIS
4 [hp_X] in 2 mL
PULSATILLA VULGARIS (PULSATILLA VULGARIS)
PULSATILLA VULGARIS
4 [hp_X] in 2 mL
SUS SCROFA SKIN (SUS SCROFA SKIN)
SUS SCROFA SKIN
6 [hp_X] in 2 mL
SUS SCROFA UTERUS (SUS SCROFA UTERUS)
SUS SCROFA UTERUS
6 [hp_X] in 2 mL
Inactive Ingredients
Ingredient Name
Strength
SODIUM CHLORIDE
0.018 mL in 2 mL
WATER
Packaging
#
Item Code
Package Description
1
NDC:17089-275-31
10 VIAL, GLASS (VIAL) in 1 BOX
1
2 mL in 1 VIAL, GLASS
2
NDC:17089-275-32
50 VIAL, GLASS (VIAL) in 1 BOX
2
2 mL in 1 VIAL, GLASS
Marketing Information
Marketing Category
Application Number or Monograph Citation
Marketing Start Date
Marketing End Date
unapproved homeopathic
09/29/2006
Labeler - Guna spa (430538264)
Establishment
Name
Address
ID/FEI
Operations
Guna spa
430538264
manufacture
Guna spa