Guna-Neck.
Generic name: anti-interleukin-1.alpha. immunoglobulin g rabbit, canakinumab, arnica montana, sus scrofa cartilage, sus scrofa collagen, calcium sulfide, sus scrofa meniscus, toxicodendron pubescens leaf, solanum nigrum and metenkefalin
Dosage form: injection, solution

1. INDICATIONS AND USAGE
1.1. Neck pain due degenerative cervical spine disorders (cervical osteoarthritis, arthrosis)
1.2. Neck pain due to cervical muscular trigger points (use with GUNA®-MUSCLE)
1.3. Stiff neck syndrome
1.4. Simple neck pain
1.5. Whiplash
1.6. Postural neck ache
1.7. Cervical spine enthesopathy
1.8. Mechanical imbalance (facet joint syndrome)
1.9. Cervical spinal malalignment syndrome
1.10. Cervical spinal nerve root pain (use with GUNA®-NEURAL)
1.11. Arnold's syndrome (use with GUNA®-NEURAL).


2. DOSAGE AND ADMINISTRATION
2.1. Standard protocol for IM administration: 1 vial 1-3 times a week according to severity and clinical progress.
2.2. Standard protocol according to mesotherapy technique: 1 vial per treatment: 2 treatments for the first 2 weeks, 1 treatment a week till pain relief (average 8-10 sessions). For chronic pathologies: continue 1 treatment a week for 1 month till pain relief, then 1 treatment a month.
Select application site according to trigger points, tender points, referred pain zones, acupuncture points, key nerve points, "local pain points". Using a 13 mm, 30G or a 4 mm, 27G needle, make the classic intradermal injection according to mesotherapy technique.
Discard unused solution.
2.3. Opening of Vials: Use sterile needles and sterile syringe. Do not reuse. Do not use if foreign particles are present. Draw 1 cc of air into syringe, insert needle into vial inject air and withdraw the solution.


3. DOSAGE FORMS AND STRENGTHS
3.1. 2 ml glass vials
Each ingredient is attenuated according to the Homeopathic Pharmacopeia of the United States.
Active ingredients: Cartilago 4X, Anti interleukin 1 alpha 4C, Anti interleukin 1 beta 4C, Beta-Endorphin 4C, Magnesia phosphorica 8X, Nux vomica 10X, Picricum acidum 10X, Silicea 4X, Crotalus horridus 10X, Intervertebral disk 4X.
Inactive ingredient: Sterile isotonic sodium chloride solution.


4. CONTRAINDICATIONS
4.1 Patients under anticoagulant therapy or with known vessel fragility or coagulation diseases should be kept under strict observation during the therapy.

5. WARNINGS AND PRECAUTIONS
5.1. Spinal pain requires differential diagnosis for musculoskeletal, neurological, and soft tissue pathologies including but not limited to: disc injuries, herniated disc, and referred pain from organ pathologies and primary or secondary cancer pain. Classification according to muscular pain, radicular nerve pain, skeletal pain, and osteoarticular pain should be made.
5.2. Skin cleansing/disinfection is required before application. Saprophytic bacteria may produce injection site abscesses with improper skin preparation.

6. ADVERSE REACTIONS
6.1. The most common mild adverse reaction is slight reddening at the injection site due to the mechanical effect of the needle or a superficial skin reaction of mild erythema.

7. DRUG INTERACTIONS
7.1. None Known.

8. USE IN SPECIFIC POPULATIONS
8.1 Pregnancy: Pregnancy category C. Animal reproduction studies have not been conducted with GUNA®-NECK. GUNA®-NECK should not be given to a pregnant woman.
8.2 Nursing mothers: It is not known whether any of the ingredients in GUNA®-NECK are secreted in human milk. However, since many drugs are secreted in human milk, caution should be exercised when GUNA®-NECK is administered to a nursing woman.
8.3 Pediatric use: No restrictions.
8.4 Geriatric use: No restrictions.

9. DRUG ABUSE AND DEPENDENCE
9.1. No Known.
10. OVERDOSAGE
10.1. No Known.

11. DESCRIPTION
11.1 GUNA®-NECK is a sterile solution made with isotonic sodium chloride solution.
It is a homeopathic complex medicine, whose active ingredients have been selected in order to promote 2 main activities:
• Detoxification of the connective tissue matrix
• Pain modulation through stimulation of the physiological mechanism of pain control.
Attenuation of the biological substrates acts to target the area of activity of the product.



12. CLINICAL PHARMACOLOGY
12.1. Mechanism of Action
Due to the homeopathic nature of the active ingredients, receptors may be activated by feedback regulation. Beta-endorphins at the 4C dose activate the membrane receptors for endogenous endorphins that play a key role in pain relief. Anti-IL1 induces a down regulation of IL-1 inflammatory activity.
12.2. Pharmacodynamics
The physiological effects of GUNA®-NECK are due to the action of the ingredients, as described in the Homeopathic Materia Medica.
In Homeopathy there is no direct relationship between dose and effect, but rather there is a relationship between attenuation and effect.
In GUNA®-NECK the attenuation of each ingredient has been selected according to the Arndt-Schulz Principle (inverted effect law). Attenuation of the physiological ingredients promotes membrane receptor feedback in order to normalize altered biological pathways. In Addition the attenuation technique activates the low dilutions and stabilizes clinical activity of the compound.
12.3. Pharmacokinetics
The homeopathic attenuation provides complete bioavailability of the active ingredients.


13. NONCLINICAL TOXICOLOGY
13.1. GUNA®-NECK has no level of toxicity due to the attenuation of the ingredients.


14. CLINICAL STUDIES
GUNA®-NECK formulation is based on classical Homeopathy and each ingredient has been selected according to its description in the Homeopathic Materia Medica. The product is intended for application to target points such as acupuncture points, Weihe points, and neurological key points.
Clinical indications of the key ingredients:
Anti interleukin 1 alpha 4C / Anti interleukin 1 beta 4C:
• Biological classification: Interleukin 1 receptor antagonist (IL-1ra) belongs to the IL-1 family. Endogenous IL-1ra is produced in human autoimmune and chronic inflammatory diseases.
• Etiopathogenesis: It binds to IL-1 receptors in competition with IL-1, but does not elicit intracellular response from this binding. Its key role is counteracting the proinflammatory effects of IL-1.
• Space-time localization: next to Arnica. Reference group: Arnica-Mercurius.
• Clinical: Immunological based diseases, autoimmune and chronic inflammatory diseases, acute and chronic pain, osteoarthritis, chronic arthritis, inflammatory psoriasis, wet eczema, localised inflammatory swelling. Appropriate for local application.
• Modalities: : Worsens with cold and movement. Improves with rest and warm.
• Association with other cell mediators: TNF 15C / IL8 4C /
NT4 4C / GCSF 4C.
Beta-Endorphin 4C:
• Biological classification: Neuropeptide and neurotransmitter. It is produced by the anterior lobe of the hypophysis and by the hypothalamus.
• Etiopathogenesis: It acts on the mechanism that enhances pain. It suppresses the memory of painful events and negative experiences.
• Space-time localization: next to Arnica.
Reference group: Mercurius.
• Clinical: Pain management by enhancing the immune response. It acts on modulating pain, cardiac, gastric and vascular function as well as panic syndrome and satiation. Organic and functional pain. Remedy for somatization disorders. It enhances acupuncture sessions. Antidepressive activity. It may improve individual positive attitudes.
• Modalities: It worsens with fatigue and intensive exercise.
• Association with other cell mediators: Sepia / Arnica / Aconitum / Bromum / Aurum / Iodium / IL6 4C / Melatonin 15C, 30C, 12LM, 18LM, 30LM / NT4 4C / BDNF 4C


15. REFERENCES
15.1. I. Bianchi: Citochine e Interferoni. Farmacologia e Clinica. Nuova IPSA Editore.
15.2. L. Milani: Weihe e altri Punti tra Agopuntura e Omeopatia. Guna Editore.
15.3. J. Malzac: Materia Medica Immunologica. IPSA Editore.
15.4. H.H. Reckeweg: Homeopathic Materia medica omeopatica. Aurelia Verlag.

16. HOW SUPPLIED/STORAGE AND HANDLING
16.1. NDC 17089-279-31 10 glass vials packaged in carton box
16.2. NDC 17089-279-32 50 glass vials packaged in carton box
16.3. Store at room temperature, 20-25°C (68-77° F). Avoid freezing and excessive heat.
17. PATIENT COUNSELING INFORMATION
17.1. Patients should be informed about Homeopathy and Acupuncture and the main differences with conventional clinical approaches.

PACKAGE LABEL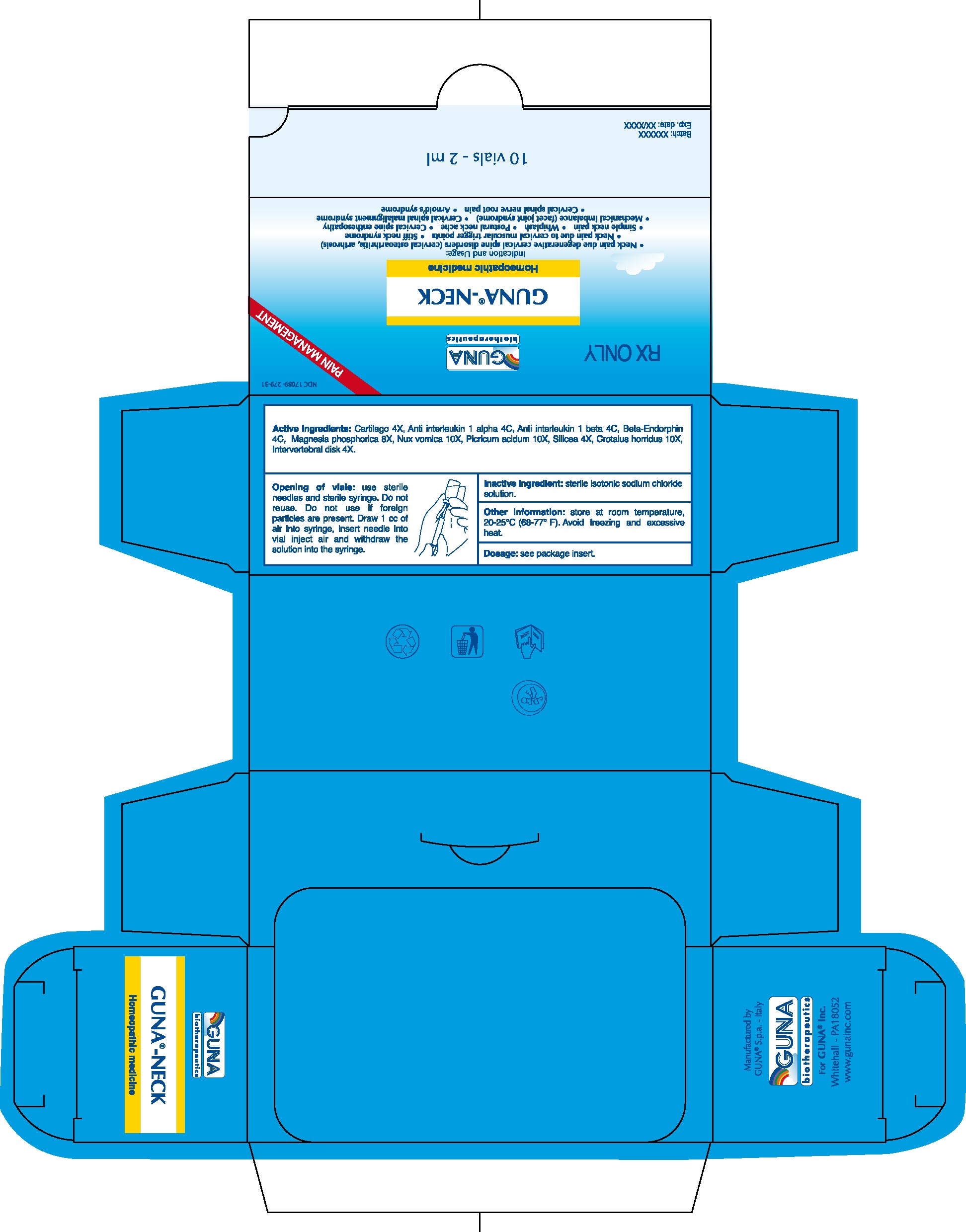 GUNA-NECK
canakinumab - crotalus horridus horridus venom - magnesium phosphate - metenkefalin - phytolacca americana root - silicon dioxide - strychnos nux-vomica seed - sus scrofa cartilage - sus scrofa intervertebral disk - anti-interleukin-1.alpha. immunoglobulin g rabbit - injection, solution
Product Information
Product Type
HUMAN PRESCRIPTION DRUG LABEL
Item Code (Source)
NDC:17089-279
Route of Administration
INTRADERMAL, SUBCUTANEOUS, INTRAMUSCULAR
DEA Schedule
Active Ingredient/Active Moiety
Ingredient Name
Basis of Strength
Strength
ANTI-INTERLEUKIN-1.ALPHA. IMMUNOGLOBULIN G RABBIT (ANTI-INTERLEUKIN-1.ALPHA. IMMUNOGLOBULIN G RABBIT)
ANTI-INTERLEUKIN-1.ALPHA. IMMUNOGLOBULIN G RABBIT
4 [hp_C] in 2 mL
CANAKINUMAB (CANAKINUMAB)
CANAKINUMAB
4 [hp_C] in 2 mL
METENKEFALIN (METENKEFALIN)
METENKEFALIN
4 [hp_C] in 2 mL
SUS SCROFA CARTILAGE (SUS SCROFA CARTILAGE)
SUS SCROFA CARTILAGE
4 [hp_X] in 2 mL
CROTALUS HORRIDUS HORRIDUS VENOM (CROTALUS HORRIDUS HORRIDUS VENOM)
CROTALUS HORRIDUS HORRIDUS VENOM
10 [hp_X] in 2 mL
SUS SCROFA INTERVERTEBRAL DISK (SUS SCROFA INTERVERTEBRAL DISK)
SUS SCROFA INTERVERTEBRAL DISK
4 [hp_X] in 2 mL
MAGNESIUM PHOSPHATE (MAGNESIUM CATION)
MAGNESIUM PHOSPHATE
8 [hp_X] in 2 mL
STRYCHNOS NUX-VOMICA SEED (STRYCHNOS NUX-VOMICA SEED)
STRYCHNOS NUX-VOMICA SEED
10 [hp_X] in 2 mL
TRINITROPHENOL (TRINITROPHENOL)
TRINITROPHENOL
10 [hp_X] in 2 mL
SILICON DIOXIDE (SILICON DIOXIDE)
SILICON DIOXIDE
4 [hp_X] in 2 mL
Inactive Ingredients
Ingredient Name
Strength
SODIUM CHLORIDE
0.018 mL in 2 mL
WATER
Packaging
#
Item Code
Package Description
1
NDC:17089-279-31
10 VIAL, GLASS (VIAL) in 1 BOX
1
2 mL in 1 VIAL, GLASS
2
NDC:17089-279-32
50 VIAL, GLASS (VIAL) in 1 BOX
2
2 mL in 1 VIAL, GLASS
Marketing Information
Marketing Category
Application Number or Monograph Citation
Marketing Start Date
Marketing End Date
unapproved homeopathic
09/29/2006
Labeler - Guna spa (430538264)
Establishment
Name
Address
ID/FEI
Operations
Guna spa
430538264
manufacture
Guna spa