Gabavale-5
Generic name: diazepam, choline
Dosage form: oral kit

On This Page
DESCRIPTION
Diazepam is a benzodiazepine derivative. Chemically, diazepam is 7-Chloro-1,3-dihydro-1-methyl-5-phenyl-2H-1,4-benzodiazepin-2-one. It is a colorless crystalline compound, and is insoluble in water. The structural formula is represented below: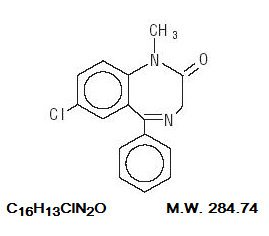 Diazepam Tablets USP 2 mg, 5 mg and 10 mg, for oral administration, contain the following inactive ingredients: anhydrous lactose, magnesium stearate and microcrystalline cellulose.

Diazepam Tablets USP 5 mg also contain DandC Yellow No. 10.

Diazepam Tablets USP 10 mg also contain FDandC Blue No. 1.

PHARMACOLOGY
In animals, diazepam appears to act on parts of the limbic system, the thalamus and hypothalamus, and induces calming effects. Diazepam, unlike chlorpromazine and reserpine, has no demonstrable peripheral autonomic blocking action, nor does it produce extrapyramidal side effects; however, animals treated with diazepam do have a transient ataxia at higher doses. Diazepam was found to have transient cardiovascular depressor effects in dogs. Long-term experiments in rats revealed no disturbances of endocrine function.

Oral LD50 of diazepam is 720 mg/kg in mice and 1240 mg/kg in rats. Intraperitoneal administration of 400 mg/kg to a monkey resulted in death on the sixth day.

Reproduction Studies
A series of rat reproduction studies was performed with diazepam in oral doses of 1, 10, 80 and 100 mg/kg. At 100 mg/kg there was a decrease in the number of pregnancies and surviving offspring in these rats. Neonatal survival of rats at doses lower than 100 mg/kg was within normal limits. Several neonates in these rat reproduction studies showed skeletal or other defects. Further studies in rats at doses up to and including 80 mg/kg/day did not reveal teratological effects on the offspring.

In humans, measurable blood levels of diazepam were obtained in maternal and cord blood, indicating placental transfer of the drug.
INDICATIONS
Diazepam Tablets USP are indicated for the management of anxiety disorders or for the short-term relief of the symptoms of anxiety. Anxiety or tension associated with the stress of everyday life usually does not require treatment with an anxiolytic.

In acute alcohol withdrawal, diazepam may be useful in the symptomatic relief of acute agitation, tremor, impending or acute delirium tremens and hallucinosis.

Diazepam is a useful adjunct for the relief of skeletal muscle spasm due to reflex spasm to local pathology (such as inflammation of the muscles or joints, or secondary to trauma); spasticity caused by upper motor neuron disorders (such as cerebral palsy and paraplegia); athetosis; and stiff-man syndrome.

Oral diazepam may be used adjunctively in convulsive disorders, although it has not proved useful as the sole therapy.

The effectiveness of diazepam in long-term use, that is, more than 4 months, has not been assessed by systematic clinical studies. The physician should periodically reassess the usefulness of the drug for the individual patient.
CONTRAINDICATIONS
Diazepam Tablets USP are contraindicated in patients with a known hypersensitivity to this drug and, because of lack of sufficient clinical experience, in children under 6 months of age. It may be used in patients with open angle glaucoma who are receiving appropriate therapy, but is contraindicated in acute narrow angle glaucoma.
WARNINGS
Diazepam is not of value in the treatment of psychotic patients and should not be employed in lieu of appropriate treatment. As is true of most preparations containing CNS-acting drugs, patients receiving diazepam should be cautioned against engaging in hazardous occupations requiring complete mental alertness such as operating machinery or driving a motor vehicle.

As with other agents which have anticonvulsant activity, when diazepam is used as an adjunct in treating convulsive disorders, the possibility of an increase in the frequency and/or severity of grand mal seizures may require an increase in the dosage of standard anticonvulsant medication. Abrupt withdrawal of diazepam in such cases may also be associated with a temporary increase in the frequency and/or severity of seizures.

Since diazepam has a central nervous system depressant effect, patients should be advised against the simultaneous ingestion of alcohol and other CNS-depressant drugs during diazepam therapy.
Usage in Pregnancy
An increased risk of congenital malformations associated with the use of minor tranquilizers (diazepam, meprobamate and chlordiazepoxide) during the first trimester of pregnancy has been suggested in several studies. Because use of these drugs is rarely a matter of urgency, their use during this period should almost always be avoided. The possibility that a woman of childbearing potential may be pregnant at the time of institution of therapy should be considered. Patients should be advised that if they become pregnant during therapy or intend to become pregnant they should communicate with their physicians about the desirability of discontinuing the drug.
Management of Overdosage
Manifestations of diazepam overdosage include somnolence, confusion, coma and diminished reflexes. Respiration, pulse and blood pressure should be monitored, as in all cases of drug overdosage, although, in general, these effects have been minimal following overdosage. General supportive measures should be employed, along with immediate gastric lavage. Intravenous fluids should be administered and an adequate airway maintained. Hypotension may be combated by the use of norepinephrine or metaraminol. Dialysis is of limited value. As with the management of intentional overdosage with any drug, it should be borne in mind that multiple agents may have been ingested.

Flumazenil, a specific benzodiazepine receptor antagonist, is indicated for the complete or partial reversal of the sedative effects of benzodiazepines and may be used in situations when an overdose with a benzodiazepine is known or suspected. Prior to the administration of flumazenil, necessary measures should be instituted to secure airway, ventilation, and intravenous access. Flumazenil is intended as an adjunct to, not as a substitute for, proper management of benzodiazepine overdose. Patients treated with flumazenil should be monitored for re-sedation, respiratory depression, and other residual benzodiazepine effects for an appropriate period after treatment. The prescriber should be aware of a risk of seizure in association with flumazenil treatment, particularly in long-term benzodiazepine users and in cyclic antidepressant overdose. The complete flumazenil package insert including CONTRAINDICATIONS, WARNINGS and PRECAUTIONS should be consulted prior to use.

Withdrawal symptoms of the barbiturate type have occurred after the discontinuation of benzodiazepines (see DRUG ABUSE AND DEPENDENCE section).
PRECAUTIONS
If diazepam is to be combined with other psychotropic agents or anticonvulsant drugs, careful consideration should be given to the pharmacology of the agents to be employed — particularly with known compounds which may potentiate the action of diazepam, such as phenothiazines, narcotics, barbiturates, MAO inhibitors and other antidepressants. The usual precautions are indicated for severely depressed patients or those in whom there is any evidence of latent depression; particularly the recognition that suicidal tendencies may be present and protective measures may be necessary. The usual precautions in treating patients with impaired renal or hepatic function should be observed.

In elderly and debilitated patients, it is recommended that the dosage be limited to the smallest effective amount to preclude the development of ataxia or oversedation (2 mg to 2 ½ mg once or twice daily, initially, to be increased gradually as needed and tolerated).

The clearance of diazepam and certain other benzodiazepines can be delayed in association with Tagamet (cimetidine) administration. The clinical significance of this is unclear.
Information for Patients
To assure the safe and effective use of benzodiazepines, patients should be informed that, since benzodiazepines may produce psychological and physical dependence, it is advisable that they consult with their physician before either increasing the dose or abruptly discontinuing this drug.
ADVERSE REACTIONS
Side effects most commonly reported were drowsiness, fatigue and ataxia. Infrequently encountered were confusion, constipation, depression, diplopia, dysarthria, headache, hypotension, incontinence, jaundice, changes in libido, nausea, changes in salivation, skin rash, slurred speech, tremor, urinary retention, vertigo and blurred vision. Paradoxical reactions such as acute hyperexcited states, anxiety, hallucinations, increased muscle spasticity, insomnia, rage, sleep disturbances and stimulation have been reported; should these occur, use of the drug should be discontinued.

Because of isolated reports of neutropenia and jaundice, periodic blood counts and liver function tests are advisable during long-term therapy. Minor changes in EEG patterns, usually low-voltage fast activity, have been observed in patients during and after diazepam therapy and are of no known significance.
DRUG ABUSE AND DEPENDENCE
Diazepam tablets are classified by the Drug Enforcement Administration as a schedule IV controlled substance.

Withdrawal symptoms, similar in character to those noted with barbiturates and alcohol (e.g., convulsions, tremor, abdominal and muscle cramps, vomiting and sweating), have occurred following abrupt discontinuance of diazepam. The more severe withdrawal symptoms have usually been limited to those patients who received excessive doses over an extended period of time. Generally milder withdrawal symptoms (e.g., dysphoria and insomnia) have been reported following abrupt discontinuance of benzodiazepines taken continuously at therapeutic levels for several months. Consequently, after extended therapy, abrupt discontinuation should generally be avoided and a gradual dosage tapering schedule followed. Addiction-prone individuals (such as drug addicts or alcoholics) should be under careful surveillance when receiving diazepam or other psychotropic agents because of the predisposition of such patients to habituation and dependence.
DOSAGE AND ADMINISTRATION
Dosage should be individualized for maximum beneficial effect. While the usual daily dosages given below will meet the needs of most patients, there will be some who may require higher doses. In such cases, dosage should be increased cautiously to avoid adverse effects.
| | |
| --- | --- |
| Adults: | Usual Daily Dose |
| Management of Anxiety Disorders and relief of Symptoms of Anxiety. | Depending on severity of symptoms — 2 mg to 10 mg, 2 to 4 times daily |
| Symptomatic Relief in Acute AlcoholWithdrawal. | 10 mg, 3 or 4 times during the first 24 hours, reducing to 5 mg, 3 or 4 times daily as needed |
| Adjunctively for Relief of Skeletal Muscle Spasm. | 2 mg to 10 mg, 3 or 4 times daily |
| Adjunctively in Convulsive Disorders | 2 mg to 10 mg, 2 to 4 times daily |
| Geriatric Patients, or in the presence of debilitating disease. | 2 mg to 2 ½ mg, 1 or 2 times daily initially; increase gradually as needed and tolerated |
| Children: | |
| Because of varied responses to CNS-acting drugs, initiate therapy with lowest dose and increase as required. Not for use in children under 6 months. | 1 mg to 2 ½ mg, 3 or 4 times daily initially; increase gradually as needed and tolerated |
HOW SUPPLIED
Diazepam Tablets USP 2 mg are scored, round, white tablets imprinted DAN 5621 and 2 supplied in bottles of 100, 500 and 1000.

Diazepam Tablets USP 5 mg are scored, round, yellow tablets imprinted DAN 5619 and 5 supplied in bottles of 100, 500 and 1000.

Diazepam Tablets USP 10 mg are scored, round, blue tablets imprinted DAN 5620 and 10 supplied in bottles of 100, 500 and 1000.
Dispense in tight, light-resistant container with child-resistant closure.

Store at 20°-25°C (68°-77°F). [See USP controlled room temperature.]

Watson Laboratories, Inc.
Corona, CA 92880 USA
GABAdone (US patent pending) capsules by oral administration. A specially formulated Medical Food product, consisting of a proprietary blend of amino acids and polyphenol ingredients in specific proportions, for the dietary management of the metabolic processes of sleep disorders (SD).
Must be administered under physician supervision.

Medical Foods
Medical Food products are often used in hospitals (e.g., for burn victims or kidney dialysis patients) and outside of a hospital setting under a physician's care for the dietary management of diseases in patients with particular medical or metabolic needs due to their disease or condition. Congress defined "Medical Food" in the Orphan Drug Act and Amendments of 1988 as "a system which is formulated to be consumed or administered enterally [or orally] under the supervision of a physician and which is intended for the specific dietary management of a disease or condition for which distinctive nutritional requirements, based on recognized scientific principles, are established by medical evaluation." Medical Foods are complex formulated products, requiring sophisticated and exacting technology. GABAdone has been developed, manufactured, and labeled in accordance with both the statutory and the FDA regulatory definition of a Medical Food. GABAdone must be used while the patient is under the ongoing care of a physician.
SLEEP DISORDERS (SD)

SD as a Metabolic Deficiency Disease
A critical component of the definition of a Medical Food is the requirement for a distinctive nutritional deficiency. FDA scientists have proposed a physiologic definition of a distinctive nutritional deficiency as follows: "the dietary management of patients with specific diseases requires, in some instances, the ability to meet nutritional requirements that differ substantially from the needs of healthy persons. For example, in establishing the recommended dietary allowances for general, healthy population, the Food and Nutrition Board of the Institute of Medicine National Academy of Sciences, recognized that different or distinctive physiologic requirements may exist for certain persons with "special nutritional needs arising from metabolic disorders, chronic diseases, injuries, premature birth, other medical conditions and drug therapies. Thus, the distinctive nutritional needs associated with a disease reflect the total amount needed by a healthy person to support life or maintain homeostasis, adjusted for the distinctive changes in the nutritional needs of the patient as a result of the effects of the disease process on absorption, metabolism, and excretion." It was also proposed that in patients with certain disease states who respond to nutritional therapies, a physiologic deficiency of the nutrient is assumed to exist. For example, if a patient with sleep disorders responds to a tryptophan formulation by improving the duration and quality of sleep, a deficiency of tryptophan is assumed to exist.

Patients with sleep disorders are known to have nutritional deficiencies of tryptophan, choline, flavonoids, and certain antioxidants. Patients with sleep disorders frequently exhibit reduced plasma levels of tryptophan and have been shown to respond to oral administration of tryptophan or a 5-hydoxytryptophan formulation. Research has shown that tryptophan reduced diets result in a fall in circulating tryptophan. Patients with sleep disorders frequently experience activation of the tryptophan degradation pathway that increases the turnover of tryptophan leading to a reduced level of production of serotonin for a given tryptophan blood level. Research has also shown that a genetic predisposition to accelerated tryptophan degradation can lead to increased tryptophan requirements in certain patients with sleep disorders.

Choline is required to fully potentiate acetylcholine synthesis by brain neurons. A deficiency of choline leads to reduced acetylcholine production by the neurons. Low fat diets, frequently used by patients with sleep disorders, are usually choline deficient. Flavonoids potentiate the production of acetylcholine by the neurons thereby inducing REM sleep. Low fat diets and diets deficient in flavonoid rich foods result in inadequate flavonoid concentrations, impeding acetylcholine production in certain patients with sleep disorders. Provision of tryptophan, choline, and flavonoids with antioxidants, in specific proportions can restore the production of beneficial serotonin and acetylcholine, thereby improving sleep quality.
PRODUCT DESCRIPTION

Primary Ingredients
GABAdone consists of a proprietary blend of amino acids, cocoa, ginkgo biloba and flavonoids in specific proportions. These ingredients fall into the category of "Generally Regarded as Safe" (GRAS) as defined by the Food and Drug Administration (FDA) (Sections 201(s) and 409 of the Federal Food, Drug, and Cosmetic Act). A GRAS substance is distinguished from a food additive on the basis of the common knowledge about the safety of the substance for its intended use. The standard for an ingredient to achieve GRAS status requires not only technical demonstration of non-toxicity and safety, but also general recognition of safety through widespread usage and agreement of that safety by experts in the field. Many ingredients have been determined by the U.S. Food and Drug Administration (FDA) to be GRAS, and are listed as such by regulation, in Volume 21 Code of Federal Regulations (CFR) Sections 182, 184, and 186.

Amino Acids
Amino Acids are the building blocks of protein. All amino acids are GRAS listed as they have been ingested by humans for thousands of years. The doses of the amino acids in GABAdone are equivalent to those found in the usual human diet; however the formulation uses specific ratios of the key ingredients to elicit a therapeutic response. Tryptophan, for example, is an obligatory amino acid. The body cannot make tryptophan and must obtain tryptophan from the diet. Tryptophan is needed to produce serotonin. Serotonin is required to induce sleep. Patients with sleep disorders have altered serotonin metabolism. Some patients with sleep disorders have a resistance to the use of tryptophan that is similar to the mechanism found in insulin resistance. Patients with sleep disorders cannot acquire sufficient tryptophan from the diet to establish normal sleep architecture without ingesting a prohibitively large amount of calories, particularly calories from protein.

Flavonoids
Flavonoids are a group of phytochemical compounds found in all vascular plants including fruits and vegetables. They are a part of a larger class of compounds known as polyphenols. Many of the therapeutic or health benefits of colored fruits and vegetables, cocoa, red wine, and green tea are directly related to their flavonoid content. The amounts of specially formulated flavonoids found in GABAdone cannot be obtained from conventional foods in the necessary proportions to elicit a therapeutic response.

Physical Description
GABAdone is a yellow to light brown powder. GABAdone contains L-Glutamic Acid, 5-Hydroxytryptophan as Griffonia Seed Extract, Acetyl L-Carnitine HCL, Gamma Amino Butyric Acid, Choline Bitartrate, Hydrolyzed Whey Protein, Cocoa, Ginkgo Biloba, Valerian Root, and Grape Seed Extract.

Other Ingredients
GABAdone contains the following inactive or other ingredients, as fillers, excipients, and colorings: magnesium stearate, microcrystalline cellulose, Maltodextrin NF, gelatin (as the capsule material).
CLINICAL PHARMACOLOGY

Mechanism of Action
GABAdone acts by restoring and maintaining the balance of the neurotransmitters, serotonin, and acetylcholine that are required for maintaining normal sleep architecture. A deficiency of these neurotransmitters is associated with sleep disorders.

Metabolism
The amino acids in GABAdone are primarily absorbed by the stomach and small intestines. All cells metabolize the amino acids in GABAdone. Circulating tryptophan and choline blood levels determine the production of serotonin and acetylcholine.

Excretion
GABAdone is not an inhibitor of cytochrome P450 1A2, 2C9, 2C19, 2D6, or 3A4. These isoenzymes are principally responsible for 95% of all detoxification of drugs, with CYP3A4 being responsible for detoxification of roughly 50% of drugs. Amino acids do not appear to have an effect on drug metabolizing enzymes.
INDICATIONS FOR USE
GABAdone is intended for the clinical dietary management of the metabolic processes in patients with sleep disorders and sleep disorders associated with anxiety.

- Insomnia
- Sleep maintenance insomnia
- Sleep disorders of circadian origin
- Sleep disorders associated with anxiety
- Snoring
CLINICAL EXPERIENCE
Patients taking GABAdone have demonstrated significant functional improvements when this therapeutic agent is used for the dietary management of the metabolic processes associated with sleep disorders. The administration of GABAdone results in the induction and maintenance of sleep in patients with sleep disorders. GABAdone has no effect on normal blood pressure.
PRECAUTIONS AND CONTRAINDICATIONS
GABAdone is contraindicated in an extremely small number of patients with hypersensitivity to any of the nutritional components of GABAdone.
ADVERSE REACTIONS
Oral supplementation with L-tryptophan or choline at high doses up to 15 grams daily is generally well tolerated. The most common adverse reactions of higher doses — from 15 to 30 grams daily — are nausea, abdominal cramps, and diarrhea. Some patients may experience these symptoms at lower doses. The total combined amount of amino acids in each GABAdone capsule does not exceed 400 mg.
DRUG INTERACTIONS
GABAdone does not directly influence the pharmacokinetics of prescription drugs. Clinical experience has shown that administration of GABAdone may allow for lowering the dose of co-administered drugs under physician supervision.
OVERDOSE
There is a negligible risk of overdose with GABAdone as the total dosage of amino acids in a one month supply (60 capsules) is less than 25 grams. Overdose symptoms may include diarrhea, weakness, and nausea.

POST-MARKETING SURVEILLANCE
Post-marketing surveillance has shown no serious adverse reactions. Reported cases of mild rash and itching may have been associated with allergies to GABAdone flavonoid ingredients, including cinnamon, cocoa, and chocolate. The reactions were transient in nature and subsided within 24 hours.
DOSAGE AND ADMINISTRATION
Recommended Administration
For the dietary management of the metabolic processes in patients with sleep disorders. Take (2) capsules daily at bedtime. An additional dose of one or two capsules may be taken after awakenings during the night. As with most amino acid formulations GABAdone should be taken without food to increase the absorption of key ingredients.
How Supplied
GABAdone is supplied in blue and white, size 0 capsules in bottles of 60 capsules.

Physician Supervision
GABAdone is a Medical Food product available by prescription only and must be used while the patient is under ongoing physician supervision.

U.S. patent pending.

Manufactured by Arizona Nutritional Supplements, Inc. Chandler AZ 85225

Distributed by Physician Therapeutics LLC, Los Angeles, CA 90077. www.ptlcentral.com

© Copyright 2003-2006, Physician Therapeutics LLC, all rights reserved

NDC # 68405-004-02
Storage
Store at room temperature, 59-86OF (15-30OC) Protect from light and moisture. GABAdone is supplied to physicians in a recyclable plastic bottle with a child-resistant cap.
Directions for use: Must be administered under physician supervision. For adults only. As a Medical Food, take one (1) or two (2) capsules daily at bedtime or as directed by physician. Fot the dietary management of sleep disorders. Contains no added sugar, starch, wheat, yeast, preservatives, artificial flavor. Storage: Keep tightly closed in a cool dry place 8-32 degree centigrade (45-90 degree F), relative humidity, below 50%. Warning: Keep this product out of the reach of children. NDC# 68405-004-02 PHYSICIAN THERAPEUTICS GABADONE Medical Food Rx only 60 Capsules Ingredients: Each serving (per 2 capsules) contains: Proprietary Amino Acid Blend Choline Bitartrate, Gamma Amino Butyric Acid (GABA), Glutamic Acid (L-Glutamic Acid), Whey Protein Hydrolysate 80%, Griffonia Seed Extract (5-HTP), Cocoa Extract (fruit), Proprietary Herbal Blend Indian Valerian Extract 4:1 (root), Ginkgo Biloba (leaves), Acetyl L-Carnitine HCI, Grape Extract (95% Polyphenols) (seed) Other IngredientsL Gelatin, tricalcium phosphate, silicon dioxide, vegetable magnesium stearate, FDandC blue #1, titanium dioxide. Distributed exclusively by: Physicians Therapeutics LLC A Divisions of Targeted Medical Pharma, Inc. Los Angeles, CA 90077 www.ptlcentral.com Patent Pending 68405-004-02
A Convenience Packed Medical Food and Drug Gabavale-5 PHYSICIAN THERAPEUTICS > GAVAdone 60 Capsules > Diazepam 5 mg 30 Tablets No Refills Without Physician Authorization Rx Only NDC# 68405-054-26 of this co-pack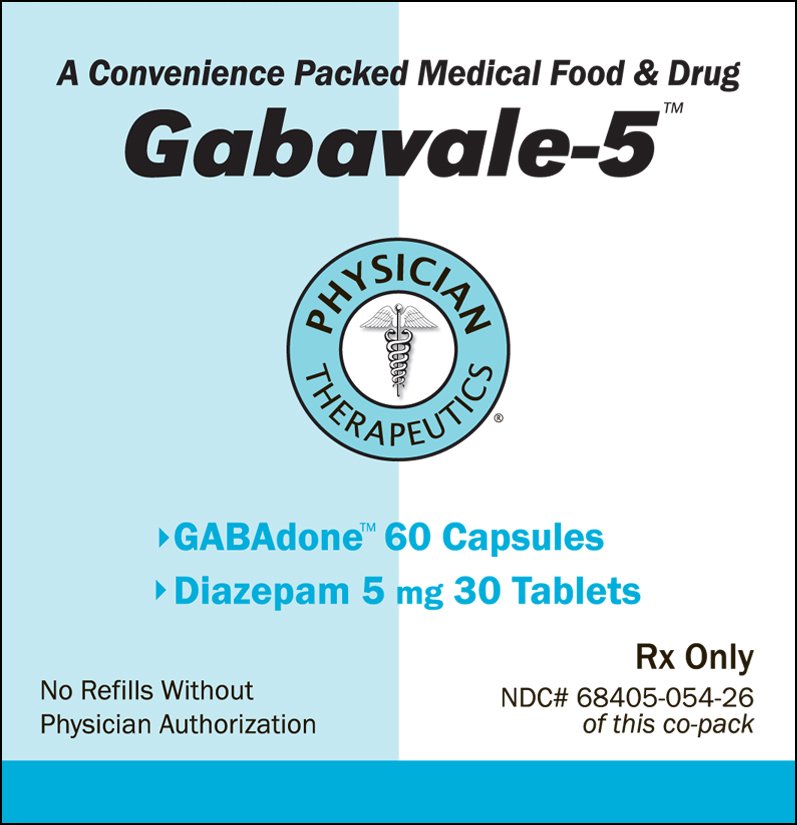 Gabavale-5
diazepam, choline kit
Product Information
Product Type
HUMAN PRESCRIPTION DRUG LABEL
Item Code (Source)
NDC:68405-054
Packaging
#
Item Code
Package Description
1
NDC:68405-054-26
1 KIT (KIT) in 1 KIT
Quantity of Parts
Part #
Package Quantity
Total Product Quantity
Part 1
1 BOTTLE
30
Part 2
1 BOTTLE
60
Part 1 of 2
DIAZEPAM
diazepam tablet
Product Information
Item Code (Source)
NDC:0591-5613
Route of Administration
ORAL
DEA Schedule
Active Ingredient/Active Moiety
Ingredient Name
Basis of Strength
Strength
DIAZEPAM (DIAZEPAM)
DIAZEPAM
5 mg
Inactive Ingredients
Ingredient Name
Strength
ANHYDROUS LACTOSE
MAGNESIUM STEARATE
CELLULOSE, MICROCRYSTALLINE
D&C YELLOW NO. 10
Product Characteristics
Color
yellow (YELLOW)
Score
2 pieces
Shape
ROUND
Size
8mm
Flavor
Imprint Code
DAN;5619;5
Contains
Packaging
#
Item Code
Package Description
1
NDC:0591-5613-10
30 TABLET (TABLET) in 1 BOTTLE
Marketing Information
Marketing Category
Application Number or Monograph Citation
Marketing Start Date
Marketing End Date
ANDA
ANDA071135
05/07/2011
Part 2 of 2
GABADONE
choline capsule
Product Information
Route of Administration
ORAL
DEA Schedule
Active Ingredient/Active Moiety
Ingredient Name
Basis of Strength
Strength
CHOLINE (CHOLINE)
CHOLINE
125 mg
Inactive Ingredients
Ingredient Name
Strength
MAGNESIUM STEARATE
CELLULOSE, MICROCRYSTALLINE
MALTODEXTRIN
GELATIN
Product Characteristics
Color
blue (BLUE WHITE)
Score
no score
Shape
CAPSULE
Size
20mm
Flavor
Imprint Code
;
Contains
Packaging
#
Item Code
Package Description
1
60 CAPSULE (CAPSULE) in 1 BOTTLE
Marketing Information
Marketing Category
Application Number or Monograph Citation
Marketing Start Date
Marketing End Date
Medical Food
05/07/2011
Marketing Information
Marketing Category
Application Number or Monograph Citation
Marketing Start Date
Marketing End Date
unapproved drug other
05/07/2011
Labeler - Physician Therapeutics LLC (931940964)
Establishment
Name
Address
ID/FEI
Operations
Watson Laboratories, Inc
840054118
manufacture
Establishment
Name
Address
ID/FEI
Operations
Targeted Medical Pharma Inc.
126962740
manufacture
Physician Therapeutics LLC