Flo-Coat
Generic Name: barium sulfate
Dosage Form: rectal suspension

Medically reviewed by Drugs.com. Last updated on Jul 22, 2020.
On This Page
Flo-Coat Description
Flo-Coat is a raspberry-vanilla flavored, low viscosity, rapid flowing suspension of barium sulfate USP. It is a contrast medium developed for double contrast colon examinations.

The product contains 100% w/v barium sulfate USP, suspending and dispersing agents, simethicone, citric acid, potassium sorbate, sodium citrate and water. Barium sulfate has the empirical formula of BaSO4.
Flo-Coat - Clinical Pharmacology
Barium sulfate is an insoluble material which, because of its density, provides a positive contrast during x-ray examination. Barium sulfate is an inert radiopaque material which is not absorbed or metabolized and is eliminated intact from the body in a manner similar to other non-absorbed inorganic materials. Excretion rate is a function of gastrointestinal transit time.
Indications and Usage for Flo-Coat
Flo-Coat is indicated for use in double contrast colon examinations.
Contraindications
Barium sulfate products are contraindicated in patients with known or suspected obstruction of the colon, known or suspected gastrointestinal tract perforation, suspected tracheoesophageal fistula, obstructing lesions of the small intestine, pyloric stenosis, inflammation or neoplastic lesions of the rectum, recent rectal biopsy, or known hypersensitivity to barium sulfate formulations.

Barium sulfate suspensions should not be used for infants with swallowing disorders or for newborns with complete duodenal or jejunal obstruction or when distal small bowel or colon obstruction is suspected. Barium sulfate suspension is not recommended for very small preterm infants and young babies requiring small volumes of contrast media or for infants and young children when there is a possibility of leakage from the gastrointestinal tract, such as necrotizing enterocolitis, unexplained pneumoperitoneum, gasless abdomen, other bowel perforation, esophageal perforation or post operative anastomosis.

Known hypersensitivity or allergy to latex is a contraindication for the use of balloon retention enema tips containing latex. The use of a retention cuff enema tip is not necessary or desirable in patients with normal sphincter tone. The presence of adequate sphincter tone can be judged by preliminary rectal digital examination.
Warnings
Serious adverse reactions, including death, have been reported with the administration of barium sulfate formulations and are usually associated with the technique of administration, the underlying pathological condition and/or patient hypersensitivities.

Barium sulfate preparations used as radiopaque media contain a number of additives to provide diagnostic properties and patient palatability. Allergic responses following the use of barium sulfate suspensions have been reported. Skin irritation, redness, inflammation and hives have been reported for infants and small children following spillage of barium sulfate suspension on their skin. These responses are thought to be caused by the flavors and/or preservatives used in the product.

Barium sulfate suspension has been reported to cause obstruction of the small bowel (impaction) in pediatric patients with cystic fibrosis. It has also been reported to cause fluid overload from the absorption of water during studies in infants when Hirschsprung's Disease is suspected.

Barium sulfate suspension intravasation can be a serious complication. Mortality has been reported as a result of vaginal or rectal intravasation and is believed to be due to massive pulmonary embolism occurring within minutes of the inciting event.

In patients with increased cranial pressure, barium sulfate suspension enemas present an additional risk of further increasing intracranial pressure.

Care must be taken during the insertion of an enema tip into the patient to prevent application of pressure to the vagus nerve which can lead to vasovagal reactions and syncopal episodes. Cardiac arrhythmia or other cardiovascular side effects can occur as a result of colon distention.
Precautions
General
Diagnostic procedures which involve the use of radiopaque contrast agents should be carried out under the direction of personnel with the requisite training and with a thorough knowledge of the particular procedure to be performed. A history of bronchial asthma, atopy, as evidenced by hay fever and eczema, a family history of allergy, or a previous reaction to a contrast agent warrant special attention. Caution should be exercised with the use of radiopaque media in severely debilitated patients and in those with marked hypertension or advanced cardiac disease.

Anaphylactic and allergic reactions have been reported during double contrast examinations in which glucagon has been used.

An increased risk of perforation has been reported in neonates with intussusception. In patients with cystic fibrosis or blind loops of the bowel or ileus, there is a risk of inspissation leading to partial or complete obstruction.

In neonates and infants with motility disorders such as Hirschsprung's Disease retention of large amounts of barium sulfate suspension may result in absorption of water from the suspension and fluid overload. The addition of small amounts of salt to the barium sulfate suspension has been reported to reduce the problem.

Ingestion of barium sulfate suspension is not recommended in patients with a history of food aspiration. If barium sulfate suspension is aspirated into the larynx, further administration of the suspension should be immediately discontinued.

Patient preparation for diagnostic gastrointestinal examinations frequently requires cathartics and a liquid diet. The various preparations can result in water loss for the patient. Patients should be rehydrated quickly following a barium sulfate suspension examination of the gastrointestinal tract. In patients with reduced colon motility, saline cathartics may be required after the barium sulfate suspension enema. Saline cathartics are recommended on a routine basis in patients with a history of constipation unless clinically contraindicated.

Where enema tips are used, care must be taken during insertion into the patient, since forceful or too deep insertion may cause tearing or perforation of the rectum. Insertion of an enema tip should be done only after digital examination by qualified medical personnel. When balloon retention tips are used, care should be taken to avoid overinflation of the balloon, since overfilling or asymmetrical filling may cause displacement of the tip. Such a displacement can lead to rectal perforation or barium sulfate granulomas. Inflation of the balloon should be done under fluoroscopic control by qualified medical personnel. Do not unnecessarily move the enema tip once inserted.

A specially designed enema tip is required for a barium sulfate suspension examination of a colostomy patient.

Intubation of an enteroclysis catheter should be done by qualified medical personnel. Perforation of the duodenum has been reported.

Because of reported anaphylactoid reactions to latex, the use of non-latex gloves during the procedure should be considered.
Pregnancy
Safe use of barium sulfate during pregnancy has not been established. Barium sulfate should be used in pregnant women only if the possible benefits outweigh the potential risks. Elective radiography of the abdomen is considered to be contraindicated during pregnancy due to the risk to the fetus from radiation exposure. Radiation is known to cause harm to the unborn fetus exposed in utero.

Pediatric Use
The radiographic contrast agents used for examination of children do not differ substantially from those used for adults. The variation in physical sizes of pediatric patients requires more thorough attention to individualizing dosage. The volume of barium sulfate suspension and the barium sulfate content required will also depend upon the technique used and the clinical need.
Adverse Reactions
Adverse reactions accompanying the use of barium sulfate formulations are infrequent and usually mild, though severe reactions (approximately 1 in 500,000) and fatalities (approximately 1 in 2,000,000) have occurred. Procedural complications are rare, but may include aspiration pneumonitis, barium sulfate impaction, granuloma formation, intravasation, embolization and peritonitis following intestinal perforation, vasovagal and syncopal episodes, and fatalities. EKG changes have been shown to occur following or during barium sulfate suspension enemas. It is of the utmost importance to be completely prepared to treat any such occurrence.

Due to the increased likelihood of allergic reactions in atopic patients, a complete history of known and suspected allergies as well as allergic-like symptoms, such as rhinitis, bronchial asthma, eczema and urticaria, must be obtained prior to any medical procedure.

Transient bacteremia, beginning almost immediately and lasting up to 15 minutes, may also occur during rectal administration of barium sulfate suspension, and rarely septicemia has been reported.

A rare mild allergic reaction would most likely be generalized pruritus, erythema or urticaria (approximately 1 in 100,000 reactions). Such reactions will often respond to an antihistamine. More serious reactions (approximately 1 in 500,000) may result in laryngeal edema, bronchospasm or hypotension.

Severe reactions which may require emergency measures are often characterized by peripheral vasodilation, hypotension, reflex tachycardia, dyspnea, bronchospasm, agitation, confusion and cyanosis, progressing to unconsciousness. Treatment should be initiated immediately according to established standard of care.

Apprehensive patients may develop weakness, pallor, tinnitus, diaphoresis and bradycardia following the administration of any diagnostic agent. Such reactions are usually non-allergic in nature.

Allergic reactions to the enema accessories, in particular to retention catheters (tips) with latex cuffs, can occur. Such reactions could occur immediately and result in the previously mentioned acute allergic-like responses or might be delayed in appearance and result in a contact dermatitis. Known atopic patients, particularly those with a history of asthma or eczema, should be evaluated for alternative methods of administration in order to avoid these adverse reactions. These plastic/rubber accessories are disposable, single-use devices that must not be reused or left in the body cavity for an extended period of time.


Postmarketing Experiences
The following adverse experiences have been reported in patients receiving products containing barium sulfate. These adverse experiences are listed alphabetically: abdominal cramping, abdominal pain, diarrhea, fever, foreign body trauma relating to procedural complications, headache, laryngeal burning and irritation, leukocytosis, nausea, procedural site reactions, rash and vomiting.
Flo-Coat Dosage and Administration
Individual technique will determine the suspension quantity and barium sulfate content to be used. Because of the rapid flow characteristics of Flo-Coat, caution should be exercised not to overfill the colon.

Shake VIGOROUSLY for 30 seconds before using.

The following procedure is suggested for double contrast examination of a well prepared, adult colon. This procedure is intended as a guide only. The actual procedure will depend upon patient symptoms and conditions as well as physician preference and judgement.

An enema administration system with 1/2" ID tubing, such as Aircon, is used for ease of administration. At the physician's discretion, fluoroscopy may be used during the introduction of the barium sulfate suspension to determine contraindications for continuing the examination.

Start with the patient either prone or in the left lateral position (physician preference). The examination should be performed by a trained physician or properly trained medical personnel. The enema tip is inserted and taped to the buttocks with one or two pieces of tape. Approximately 500 mL of the suspension (or enough to reach the splenic flexure) is introduced into the colon.

After introducing Flo-Coat to the splenic flexure, the clamp on the 1/2" tubing is shut. The patient is now turned left anterior oblique and air is introduced.

The patient is turned to the prone position, air is introduced and the patient is rotated onto the right side. Additional air is introduced to move the column of barium sulfate suspension to the hepatic flexure. The patient is turned onto their back and additional air is introduced. If Flo-Coat has not reached the cecum, the head of the table may be raised to 45°. Finally, the patient is turned onto their left side and additional air is introduced. Additional turning of the patient with the introduction of air may be required to achieve complete distention of the colon.

With the patient prone, the enema bag is placed on the floor and the 1/2" tubing clamp opened in order to drain the barium sulfate suspension from the rectum. Spot films of the rectosigmoid may now be obtained. Additional air may be insufflated to provide adequate distention of the colon.

Removal of the enema tip at this time is optional, according to the preference of the examiner. Rotate the patient slowly 360° taking spot films and overhead radiographs.

For single patient use only. Properly discard unused portion.

How is Flo-Coat Supplied
Catalog No. 129296. NDC 68240-327-90. 900 mL (30 fl. oz.) bottles; twelve (12) bottles per case.

Store at 25°C (77°F); excursions permitted to 15° to 30°C (59° to 86°F). Protect from freezing.

Flo-Coat is a trademark of Lafayette Pharmaceuticals, Incorporated.


Made in Mexico
Manufactured by:
Mallinckrodt Inc.
St. Louis, MO 63042 USA
www.Mallinckrodt.com

MID 1304623 Rev 04/2009


DOUBLE CONTRAST
LOWER G.I.
Pre-mixed
Fast-flowing
100% w/v
tyco
Healthcare
Mallinckrodt
Package Label - Principal Display Panel - 900 mL Bottle
L A F A Y E T T E
Flo-Coat™
BARIUM SULFATE SUSPENSION
DOUBLE CONTRAST / LOWER G.I. EXAMS
Rx only
NDC 68240-327-90
Catalog No. 129296
A raspberry-vanilla flavored, low viscosity, rapid flowing 100% w/v (55% w/w) barium sulfate USP suspension for double contrast colon examinations.
Contents: Barium sulfate USP, suspending and dispersing agents, simethicone, citric acid, potassium sorbate, sodium citrate and water.
Contraindications: Do not use in patients with suspected gastrointestinal tract perforation or known hypersensitivity to barium sulfate formulations.
Dosage and Administration: See package insert for complete instructions.
Shake VIGOROUSLY for 30 seconds before using.
For single patient use only. Properly discard unused portion.
Storage: Store at 25ºC (77ºF); excursions permitted to 15° to 30ºC (59° to 86°F). Protect from freezing.
Net Contents: 900 mL (30 fl. oz.)
Made in Mexico
Manufactured by Mallinckrodt Inc.
St. Louis, MO 63042 USA
www.Mallinckrodt.com
MID 1600150
Rev 04/2009
O3™ ANTIMICROBIAL TECHNOLOGY
tyco/Healthcare
MALLINCKRODT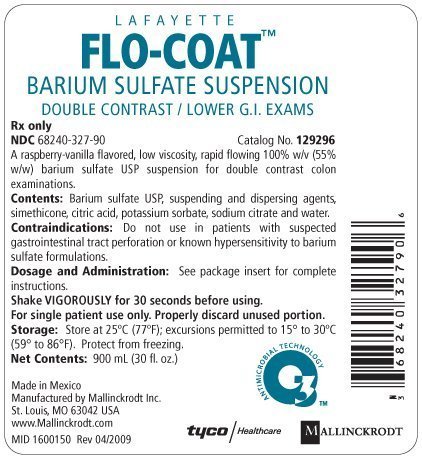 Flo-Coat
barium sulfate suspension
Product Information
Product Type
HUMAN PRESCRIPTION DRUG LABEL
Item Code (Source)
NDC:68240-327
Route of Administration
RECTAL
DEA Schedule
Active Ingredient/Active Moiety
Ingredient Name
Basis of Strength
Strength
BARIUM SULFATE (BARIUM CATION)
BARIUM SULFATE
1000 mg in 1 mL
Inactive Ingredients
Ingredient Name
Strength
SODIUM HYPOCHLORITE
WATER
HYDROGEN PEROXIDE
POTASSIUM SORBATE
TRISODIUM CITRATE DIHYDRATE
CROSCARMELLOSE SODIUM
CITRIC ACID MONOHYDRATE
BENTONITE
HYDROXYETHYL CELLULOSE (140 CPS AT 5%)
Product Characteristics
Color
Score
Shape
Size
Flavor
RASPBERRY, VANILLA
Imprint Code
Contains
Packaging
#
Item Code
Package Description
1
NDC:68240-327-90
12 BOTTLE, PLASTIC (BOTTLE) in 1 CASE
1
900 mL in 1 BOTTLE, PLASTIC
Marketing Information
Marketing Category
Application Number or Monograph Citation
Marketing Start Date
Marketing End Date
unapproved drug other
12/01/2009
05/31/2011
Labeler - Mallinckrodt Inc. (810407189)
Establishment
Name
Address
ID/FEI
Operations
Mallinckrodt Medical, S.A. de C.V.
810407189
analysis, manufacture
Mallinckrodt Inc.
More about Flo-Coat (barium sulfate)
Consumer resources
Professional resources
Other brands
Related treatment guides