Exefen IR Tablets
Generic name: pseudoephedrine hydrochloride and guaifenesin
Dosage form: tablet
Drug class: Upper respiratory combinations
Medically reviewed by Drugs.com. Last updated on Apr 21, 2021.
On This Page
Rx Only
Exefen IR Tablets Description
Each immediate-release tablet for oral administration contains:
Pseudoephedrine HCl 60 mg
Guaifenesin 400 mg
Inactive ingredients
Croscarmellose Sodium, Magnesium Stearate, Maltodextrin, Microcrystalline Cellulose, Polyvinylpyrrolidone, Silica and Stearic Acid.
Pseudoephedrine hydrochloride is an adrenergic (vasoconstrictor) which occurs as fine, white to off white crystals or powder, having a faint characteristic odor. It is very soluble in water, freely soluble in alcohol and sparingly soluble in chloroform. The chemical name is benzenemethanol, α - [1-(methylamino) ethyl]-, [S-(R*,R*)]-, hydrochloride. The structural formula is: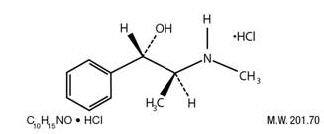 Guaifenesin is an expectorant and occurs as a white to slightly gray, crystalline powder, having a bitter taste. It may have a slight characteristic odor. It is soluble in water, in alcohol, in chloroform, in glycerin and in propylene glycol. The chemical name is: 1,2 propanediol, 3-(2-methoxyphenoxy)-. Chemically, Guaifenesin is 1,2-Propanediol, 3-(2-methoxyphenoxy)-,(+) and has the following structural formula: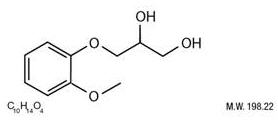 Exefen IR Tablets - Clinical Pharmacology
Pseudoephedrine
Pseudoephedrine acts as an indirect sympathomimetic agent by stimulating sympathetic (adrenergic) nerve endings to release norepinephrine. Norepinephrine in turn stimulates alpha and beta receptors throughout the body. The action of pseudoephedrine is apparently more specific for the blood vessels of the upper respiratory tract and less specific for the blood vessels of the systemic circulation.The vasoconstriction elicited at these sites results in the shrinkage of swollen tissues in the sinuses and nasal passages. Pseudoephedrine is rapidly and almost completely absorbed from the gastrointestinal tract. Considerable variation in half-life has been observed ( from about 4 1/2 to 10 hours), which is attributed to individual differences in absorption and excretion. Excretion rates are also altered by urine pH, increasing with acidification and decreasing with alkalinization. As a result, mean half-life falls to about 4 hours at pH 5 and increases to 12 to 13 hours at pH 8.
After administration of a 60 mg tablet, 87 to 96% of the Pseudoephedrine is cleared from the body within 24 hours. The drug is distributed to body tissues and fluids, including fetal tissue, breast milk, and the central nervous system (CNS). About 55 to 75% of an administered dose is excreted unchanged in the urine; the remainder is apparently metabolized in the liver to inactive compounds by Ndemethylation, parahydroxylation and oxidative deamination.
Guaifenesin
Guaifenesin is an expectorant which increases respiratory tract fluid secretions and helps to loosen phlegm and bronchial secretions. By reducing the viscosity of secretions, Guaifenesin increases the efficiency of the cough reflex and of ciliary action in removing accumulated secretions from the trachea and bronchi. Guaifenesin is readily absorbed from the gastrointestinal tract and is readily metabolized and excreted in the urine. Guaifenesin has a plasma half-life of one hour. The major urinary metabolite is β -(2-methoxyphenoxy) lactic acid.
INDICATIONS
EXEFEN-IR Tablets are indicated for the relief of nasal congestion due to the common cold, hay fever or other upper respiratory allergies and nasal congestion associated with sinusitis. To promote nasal or sinus drainage; for the relief of Eustachian tube congestion; for adjunctive therapy in serous otitis media; for the symptomatic relief of respiratory conditions characterized by dry, non-productive cough and in the presence of tenacious mucus and/or mucus plugs in the respiratory tract.
Contraindications
EXEFEN-IR is contraindicated in patients with hypersensitivity to Guaifenesin or with hypersensitivity or idiosyncrasy to sympathomimetic amines which may be manifested by insomnia, dizziness, weakness, tremor or arrhythmias.
Sympathomimetic amines are contraindicated in patients with severe hypertension, severe coronary artery disease and in patients on monoamine oxidase (MAO) inhibitor therapy.
Nursing Mothers
Contraindicated because of the higher than usual risk for infants from sympathomimetic amines.
Newborn or Premature Infants
EXEFEN-IR Tablets should not be administered to premature or full-term infants.
Warnings
Sympathomimetic amines should be used judiciously and sparingly in patients with hypertension, diabetes mellitus, ischemic heart disease, increased intraocular pressure, hyperthyroidism, or prostatic hypertrophy. Sympathomimetics may produce CNS stimulation and convulsions or cardiovascular collapse with accompanying hypotension.
Do not exceed recommended dosage.
Hypertensive crises can occur with concurrent use of Pseudoephedrine and an MAO inhibitor, and for 14 days after stopping the MAO inhibitor therapy, indomethacin, or with beta blockers and methyldopa. If a hypertensive crisis occurs, these drugs should be discontinued immediately and therapy in lower blood pressure should be instituted. Fever should be managed by means of external cooling.
Precautions
General
Use with caution in patients with: hypertension; coronary artery disease; any other cardiovascular disease; glaucoma; prostatic hypertrophy; hyperthyroidism, diabetes.
Before prescribing medication to suppress or modify cough, it is important that the underlying cause of the cough is identified, that modification of the cough does not increase the risk of clinical or physiological complications, and that appropriate therapy for the primary disease is instituted.
Information for Patients
Patients should be instructed to check with physician if symptoms do not improve within 5 days or if fever is present.
Drug Interactions
MAO inhibitors and beta adrenergic blockers increase the effect of sympathomimetics. Sympathomimetics may reduce the antihypertensive effects of methyldopa, mecamylamine, reserpine, and veratrum alkaloids. Care should be taken in administering EXEFEN-IR Tablets concomitantly with other sympathomimetic amines, since their combined effects on the cardiovascular system may be harmful to the patient.
Drug/Laboratory Test Interactions
Guaifenesin may increase renal clearance for urate and thereby lower serum uric acid levels. Guaifenesin may produce an increase in urinary 5-hydroxyindolacetic acid and may therefore interfere with the interpretation of this test for the diagnosis of carcinoid syndrome. It may also falsely elevate the VMA test for catechols. Administration of this product should be discontinued 48 hours prior to the collection of urine specimens for such tests.
Carcinogenesis, Mutagenesis, Impairment of Fertility
No long term or reproduction studies in animals have been performed with EXEFEN-IR Tablets to evaluate its carcinogenic, mutagenic and impairment of fertility potential.
Pregnancy
Pregnancy Category C
Animal reproduction studies have not been conducted with EXEFEN-IR Tablets. It is not known whether EXEFEN-IR Tablets can cause fetal harm when administered to a pregnant woman or can affect reproduction capacity. EXEFEN-IR Tablets should be given to a pregnant woman only if clearly needed.
Nursing Mothers
Pseudoephedrine is contraindicated in nursing mothers because of the higher than usual risk for infants from sympathomimetic amines.
Use in the Elderly
The elderly (60 years and older) are more likely to have adverse reactions to sympathomimetics. Overdosage of sympathomimetics in this age group may cause hallucinations, convulsions, CNS depression and death.
Adverse Reactions
Pseudoephedrine
Pseudoephedrine may cause mild central nervous system stimulation, especially in those patients who are hypersensitive to sympathomimetic drugs. Nervousness, excitability, restlessness, dizziness, weakness and insomnia may also occur. Headache and drowsiness have also been reported. Large doses may cause lightheadedness, nausea and/or vomiting. Sympathomimetic drugs have also been associated with certain untoward reactions including fear, anxiety, tenseness, restlessness, tremor, weakness, pallor, respiratory difficulty, dysuria, insomnia, hallucinations, convulsions, CNS depression, arrhythmias, and cardiovascular collapse with hypotension.
Guaifenesin
No serious side effects have been reported with Guaifenesin.
Overdosage
Overdosage with pseudoephedrine can cause excessive CNS stimulation resulting in excitement, nervousness, anxiety, tremor, restlessness, and insomnia. Other effects include tachycardia, hypertension, pallor, mydriasis, hyperglycemia and urinary retention. Severe overdosage may cause tachypnea or hyperpnea, hallucinations, convulsions or delirium, but in some individuals there may be CNS depression with somnolence, stupor or respiratory depression. Arrhythmias (including ventricular fibrillation) may lead to hypotension and circulatory collapse. Severe hypokalemia can occur, probably due to compartmental shift rather than depletion of potassium. No organ damage or significant metabolic derangement is associated with Pseudoephedrine overdosage.
The LD50 (single, oral dose) of Pseudoephedrine is 726 mg/kg in the mouse, 2206 mg/kg in the rat and 1177 mg/kg in the rabbit. The toxic and lethal concentrations in human biologic fluids are not known. Excretion rates increase with urine acidification and decrease with alkalinization. Few reports of toxicity due to pseudoephedrine have been published and no case of fatal overdosage is known.
Treatment
The patient should be induced to vomit, even if emesis has occurred spontaneously; however, vomiting should not be induced in patients with impaired consciousness. Precautions against aspiration should be taken, especially in infants and children.
Ipecac syrup is the preferred method for inducing vomiting. The action of ipecac syrup is facilitated by physical activity and the administration of eight to twelve fluid ounces of water. If emesis does not occur in fifteen minutes, the dose of ipecac should be repeated. Following emesis, any drug remaining in the stomach may be absorbed by activated charcoal administered as a slurry with water.
If vomiting is unsuccessful or contraindicated, gastric lavage should be performed. Isotonic and one-half isotonic saline are the lavage solutions of choice. Saline cathartics, such as milk of magnesia, draw water into the bowel by osmosis and, therefore, may be valuable for their action of rapid dilution of bowel content.
Treatment of the signs and symptoms of overdosage is symptomatic and supportive. Vasopressors maybe used to treat hypotension. Short- acting barbiturates, diazepam or paraldehyde maybe administered to control seizures. Hyperpyrexia, especially in children, may require treatment with tepid water sponge baths or a hypothermic blanket. Apnea is treated with ventilatory support. Stimulants (analeptic agents) should not be used.
Guaifenesin
Overdosage with Guaifenesin is unlikely to produce toxic effects since its toxicity is low. Guaifenesin, when administered by stomach tube to test animals in doses up to 5 grams/kg, produced no signs of toxicity. In severe cases of overdosage, treatment should be aimed at reducing further absorption of the drug. Gastric emptying (Syrup of Ipecac) and/or lavage is recommended as soon as possible after ingestion.
Exefen IR Tablets Dosage and Administration
Adults and Children over 12 years of age: 1 tablet by mouth every 4-6 hours not to exceed 4 tablets in 24 hours. Children 6 to under 12 years: 1/2 tablet by mouth every 4-6 hours not to exceed 2 tablets in 24 hours.
How is Exefen IR Tablets Supplied
EXEFEN-IR Tablets are supplied as white, oval- shaped tablets, debossed "LL 154"; in bottles of 100 Tablets. NDC 68047-154-01
Dispense in a tight, light-resistant container with a child-resistant closure as defined in the USP/NF.
Protect from light and moisture. Store at room temperature, USP.
WARNING: KEEP THIS AND ALL MEDICATIONS OUT OF THE REACH OF CHILDREN. IN CASE OF ACCIDENTAL OVERDOSE, SEEK PROFESSIONAL ASSISTANCE OR CONTACT A POISON CONTROL CENTER IMMEDIATELY.
Rx Only
Report Adverse Reactions to:
Distributed by:
LARKEN
LABORATORIES
276 Nissan Parkway, Suite B
Canton, MS 39046
Or Call Toll Free: 1-888-527-5522
Manufactured by:
Contract Pharmacal Corp.
135 Adams Ave.
Hauppauge, NY 11788 USA
Rev. 12/08
PRINCIPAL DISPLAY PANEL - 100 Tablet Bottle Label
NDC 68047-154-01
EXEFEN - IR
DECONGESTANT - EXPECTORANT
IMMEDIATE- RELEASE TABLETS
Each Tablet Contains:
Pseudoephedrine HCl .....60mg
Guaifenesin .....400mg
Rx Only
100 Tablets


EXEFEN IR
pseudoephedrine hydrochloride and guaifenesin tablet
Product Information
Product Type
HUMAN PRESCRIPTION DRUG LABEL
Item Code (Source)
NDC:68047-154
Route of Administration
ORAL
DEA Schedule
Active Ingredient/Active Moiety
Ingredient Name
Basis of Strength
Strength
Pseudoephedrine Hydrochloride (Pseudoephedrine)
Pseudoephedrine Hydrochloride
60 mg
Guaifenesin (Guaifenesin)
Guaifenesin
400 mg
Inactive Ingredients
Ingredient Name
Strength
Croscarmellose Sodium
Magnesium Stearate
Maltodextrin
Stearic Acid
Product Characteristics
Color
WHITE
Score
no score
Shape
OVAL
Size
16mm
Flavor
Imprint Code
LL;154
Contains
Packaging
#
Item Code
Package Description
1
NDC:68047-154-01
100 TABLET (TABLET) in 1 BOTTLE, DISPENSING
Marketing Information
Marketing Category
Application Number or Monograph Citation
Marketing Start Date
Marketing End Date
Unapproved drug other
09/22/2009
10/31/2012
Labeler - Larken Laboratories, Inc. (791043719)
Registrant - Larken Laboratories, Inc. (791043719)
Larken Laboratories, Inc.
More about ExeFen-IR (guaifenesin / pseudoephedrine)
Professional resources
Other brands
Related treatment guides