EndaCof-C
Generic name: codeine phosphate and chlorpheniramine maleate
Dosage form: oral liquid
Drug class: Upper respiratory combinations
Medically reviewed by Drugs.com. Last updated on April 21, 2021.
On This Page
EndaCof-C Description
EndaCof-C Liquid is a sugar free, alcohol free, dye free, gluten free, cotton candy flavored antitussive/antihistamine available for oral administration.
Each teaspoonful (5 mL) contains:
Codeine Phosphate ………..……. 10 mg
(WARNING: May be habit forming)
Chlorpheniramine Maleate ….... 2 mg
Codeine Phosphate is an alkaloid, obtained from opium or prepared from morphine by methylation. Codeine phosphate occurs as fine, white, needle-shaped crystals, or white, crystalline powder. It is affected by light. Its chemical name is: 7,8-Didehydro-4,5-(-epoxy-3-methoxy-17-methylmorphinan<-6-(-ol phosphate (1:1) (salt) hemihydrate. Its structure is as follows:
Figure 1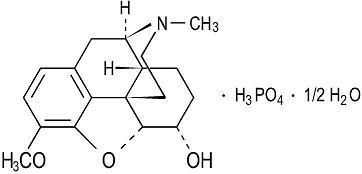 C18H21NO3 • H3PO4 • ½ H2O M.W. 406.37
Chlorpheniramine Maleate is an antihistamine having the chemical name: 2-Pyridinepropanamine, γ-(4-chlorphenyl) -N,N-dimethyl-, (Z)-2-butenedioate (1:1). , and has the following chemical formula:
Figure 2


C16H19ClN2 • C4H4O4 M.W. 390.86
INACTIVE INGREDIENT
Inactive Ingredients: Propylene glycol, Sorbitol, Citric acid, Sodium benzoate, Saccharin sodium, Cotton candy flavor, Purified Water.
EndaCof-C - Clinical Pharmacology
Codeine Phosphate
Codeine is a centrally acting analgesic and antitussive which is w ell absorbed orally. Following absorption, codeine is metabolized by the liver and metabolic products are excreted in the urine.
Chlorpheniramine Maleate
Chlorpheniramine is an alkylamine type antihistamine. This group of antihistamines is among the most active histamine antagonists and is generally effective in relatively low doses. The drugs are not so prone to produce drowsiness and are therefore among the most suitable agents for daytime use, but a significant proportion of patients do experience this effect.
Indications and Usage for EndaCof-C
Temporarily relieves cough due to minor throat and bronchial irritation as may occur with the common cold or inhaled irritants. Temporarily reduces the intensity of coughing. Suppresses the impulse to cough to help you rest. Temporarily relieves runny nose and reduces sneezing, itching of the nose or throat, and itchy, watery eyes due to hay fever or other upper respiratory allergies (allergic rhinitis).
Contraindications
Patients with hypersensitivity or idiosyncrasy to any of its ingredients. Do not use in newborn infants, premature infants, in nursing mothers, in patients with severe hypertension, severe coronary artery disease, ischemic heart disease, or in those receiving monoamine oxidase (MAO) inhibitors. EndaCof-C Liquid should not be used during pregnancy or in nursing mothers.
Antihistamines are contraindicated in patients with narrow-angle glaucoma, urinary retention, peptic ulcer, and during an asthma attack. Antihistamines should not be used to treat lower respiratory tract conditions including asthma.
Warnings
May cause excitability especially in children. Do not take this product, unless directed by a doctor, if you have a breathing problem such as emphysema or chronic bronchitis, or if you have glaucoma or difficulty in urination due to enlargement of the prostate gland. May cause drowsiness; alcohol, sedatives, and tranquilizers may increase the drowsiness effect. Avoid alcoholic beverages while taking this product. Do not take this product if you are taking sedatives or tranquilizers, without first consulting your doctor. Use caution when driving a motor vehicle or operating machinery. Do not give this product to children who are taking sedatives or tranquilizers, without first consulting the child's doctor.
A persistent cough may be a sign of a serious condition. If cough persists for more than 1 week, tends to recur, or is accompanied by fever, rash, or persistent headache, consult a doctor. Do not take this product for persistent or chronic cough such as occurs with smoking, asthma, or emphysema, or if cough is accompanied by excessive phlegm (mucus) unless directed by a doctor. Adults and children who have a chronic pulmonary disease or shortness of breath, or children who are taking other drugs, should not take this product unless directed by a doctor. May cause or aggravate constipation.
Use caution when giving to children or patients with chronic pulmonary disease, shortness of breath, difficulty inbreathing, asthma, emphysema, high blood pressure, heart disease, diabetes, thyroid disease, or difficulty in urination due to enlargement of the prostate gland unless directed by a physician. Antihistamines may cause hyper excitability, especially in children. At doses higher than the recommended dose, nervousness, dizziness, or sleeplessness may occur. Especially in infants and small children, antihistamines in overdosage may cause hallucinations, convulsions, and death.
If a hypertensive crisis occurs, these drugs should be discontinued immediately and therapy to lower blood pressure should be instituted immediately. Fever should be managed by means of external cooling.
Precautions
General
Before prescribing medication to suppress or modify cough, it is important to ascertain that the underlying cause of cough is identified, that modification of cough does not increase the risk of clinical or physiologic complications, and that appropriate therapy for the primary disease is provided. Because of its sympathomimetic component EndaCof-C Liquid should be used with caution in patients with diabetes, hypertension, heart disease, or thyroid disease.
Information for Patients
Patients should be warned about engaging in activities requiring mental alertness and motor coordination, such as driving a car or operating machinery. Patients should be cautioned to get up slowly from a lying or sitting position and to lie down if nausea occurs.
Drug Interactions
Patients receiving other narcotic analgesics, anti-psychotics, anti-anxiety agents, or other CNS depressants (including alcohol) concomitantly with this drug may exhibit an additive CNS depression. When such combined therapy is contemplated, the dose of one or both agents should be reduced. The concurrent use of anticholinergics with codeine may produce paralytic ileums. MAO inhibitors prolong and intensify the anticholinergic effects of antihistamines. Antihistamines may have additive effects with alcohol and other CNS depressants, e.g., hypnotics, sedatives, tranquilizers, anti-anxiety agents.
Carcinogenesis, Mutagenesis, Impairment of Fertility
Animal studies of EndaCof-C Liquid to assess the carcinogenic and mutagenic potential to the effect on fertility have not been performed.
Pregnancy
Pregnancy Category C
Animal reproduction studies have not been conducted with EndaCof-C Liquid. It is also not known whether EndaCof-C Liquid can cause fetal harm when administered to a pregnant woman or can affect reproduction capacity. EndaCof-C Liquid should be given to a pregnant woman only if clearly needed.
Nursing Mothers
EndaCof-C Liquid is contraindicated in nursing mothers.
Pediatric Use
Not recommended for use in patients under 6 years of age.
Geriatric Use
The elderly (60 years of age or older) are more likely to exhibit adverse reactions. Caution should be taken when prescribing this drug to the elderly.
Adverse Reactions
The most frequent adverse reactions to EndaCof-C Liquid include sedation; dryness of mouth, nose, and throat; thickening of bronchial secretions; dizziness. Other adverse reactions may include:
Cardiovascular System: Hypotension, headache, palpitations, tachycardia, extra systoles. Dermatologic: Urticaria, drug rash, photosensitivity, and pruritus.
Central Nervous System: Sedation, sleepiness, dizziness, disturbed coordination, fatigue, confusion, restlessness, excitation, nervousness, tremor, irritability, insomnia, euphoria, paresthesias, blurred vision, diplopia, vertigo, tinnitus, acute labyrinthitis, hysteria, neuritis, convulsions.
Gastrointestinal: Epigastric distress, anorexia, nausea, vomiting, diarrhea, constipation.
Genitourinary: Urinary frequency, difficult urination, urinary retention, early menses.
Hematologic System: Hemolytic anemia, thrombocytopenia, agranulocytosis.
Overdosage
Codeine
Signs and Symptoms: Overdosage with codeine is characterized by respiratory depression (a decrease in respiratory rate and/or tidal volume, Cheyne-Stokes respiration, cyanosis), pinpoint pupils, extreme somnolence progressing to stupor or coma, skeletal muscle flaccidity, cold and clammy skin, and sometimes bradycardia and hypotension. In severe overdosage, particularly by the intravenous route, apnea, circulatory collapse, cardiac arrest and death may occur.
Treatment: Induce emesis if patient is alert and is seen prior to 6 hours following ingestion. Precautions against aspiration must be taken, especially in infants and small children. Gastric lavage may be carried out, although in some instances tracheotomy may be necessary prior to lavage. CNS stimulants may counter CNS depression. Should CNS hyperactivity or convulsive seizures occur, intravenous short-acting barbiturates may be indicated. Hypertensive responses and/or tachycardia should be treated appropriately. Oxygen, intravenous fluids, and other supportive measures should be employed as indicated.
Chlorpheniramine Maleate
Signs and Symptoms: Antihistamine overdosage may vary from central nervous system depression (sedation, apnea, and cardiovascular collapse) to stimulation (insomnia, hallucinations, tremors or convulsions). Other signs and symptoms may be dizziness, tinnitus, ataxia, blurred vision, and hypotension. Stimulation and atropine-like signs and symptoms (dry mouth; fixed, dilated pupils; flushing; hyperthermia, and gastrointestinal symptoms) are particularly likely in children.
Treatment: Emergency treatment should be started immediately. Vomiting should be induced, even if it has occurred spontaneously. Vomiting by the administration of ipecac syrup is preferred. Vomiting should not be induced in patients with impaired consciousness. The action of ipecac is facilitated by physical activity and by the administration of eight to twelve fluid ounces of water. If emesis does not occur within fifteen minutes, the dose of ipecac should be repeated. Precautions against aspiration must be taken, especially in infants and children. Following emesis, any drug remaining in the stomach may be absorbed by activated charcoal administered as a slurry with water. If vomiting is unsuccessful or contraindicated, gastric lavage should be performed. Isotonic and one-half isotonic saline are the lavage solutions of choice. Saline cathartics, such as milk of magnesia, draw water into the bowel by osmosis and, therefore, may be valuable for their action in rapid dilution of bowel content. After emergency treatment the patient should continue to be medically monitored. Treatment of the signs and symptoms of overdosage is symptomatic and supportive.
Stimulants (analeptic agents) should not be used. Vasopressors may be used to treat hypotension. Short-acting barbiturates, diazepam, or paraldehyde may be administered to control seizures. Hyperpyrexia, especially in children, may require treatment with tepid water sponge baths or a hypothermic blanket. Apnea is treated with ventilatory support.
DOSAGE AND ADMINISTRATION*
Adults and children 12 years of age and over: 1 to 2 teaspoonfuls (5-10 mL) every 4 to 6 hours. Not to exceed 8 teaspoonfuls in a 24 hour period. Children 6 to under 12 years of age: 1/2 to 1 teaspoonful (2.5 - 5 mL) every 4 to 6hours. Not to exceed 4 teaspoonfuls in a 24 hour period.
*In mild cases or in particularly sensitive patients, less frequent or reduced doses may be appropriate and adequate.
How is EndaCof-C Supplied
EndaCof-C Liquid is a sugar free, alcohol free, dye free, clear, cotton candy flavored, liquid in 16 fl oz. (473mL) bottles, NDC 68047-145-16.
KEEP THIS AND ALL MEDICATIONS OUT OF THE REACH OF CHILDREN. IN CASE OF ACCIDENTAL OVERDOSE, SEEK PROFESSIONAL ASSISTANCE OR CONTACT A POISON CONTROL CENTER IMMEDIATELY.
Tamper evident by foil seal under cap. Do not use if foil seal is broken or missing.
Storage and Handling
Store at 15°-30°C (59°-86°F) [see USP Controlled Room Temperature.]
Distributed by:
Larken Laboratories, Inc.
Canton, MS 39046
Manufactured by:
Deltex Pharmaceutical, Inc.
Rosenberg, TX 77471
Rev. 03/09
PACKAGE LABEL.PRINCIPAL DISPLAY PANEL
Figure 3: Container Label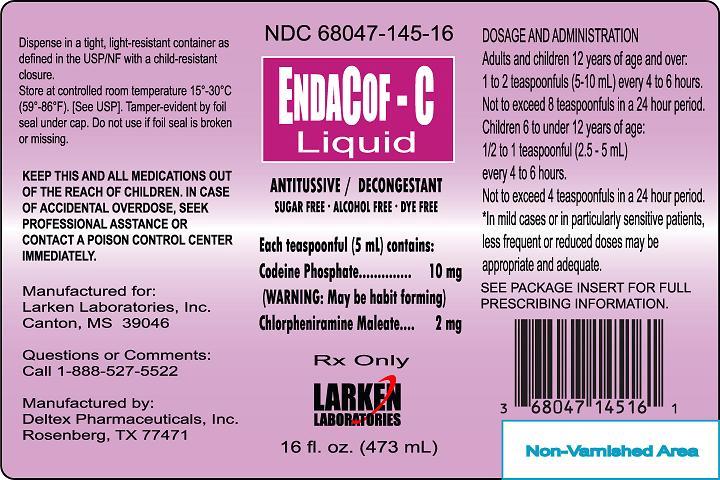 EndaCof-C
codeine phosphate and chlorpheniramine maleate liquid
Product Information
Product Type
HUMAN PRESCRIPTION DRUG LABEL
Item Code (Source)
NDC:68047-145
Route of Administration
ORAL
DEA Schedule
Active Ingredient/Active Moiety
Ingredient Name
Basis of Strength
Strength
CODEINE PHOSPHATE (CODEINE)
CODEINE PHOSPHATE
10 mg in 5 mL
CHLORPHENIRAMINE MALEATE (CHLORPHENIRAMINE)
CHLORPHENIRAMINE MALEATE
2 mg in 5 mL
Inactive Ingredients
Ingredient Name
Strength
PROPYLENE GLYCOL
SORBITOL
CITRIC ACID MONOHYDRATE
SODIUM BENZOATE
SACCHARIN SODIUM
WATER
Product Characteristics
Color
Score
Shape
Size
Flavor
COTTON CANDY
Imprint Code
Contains
Packaging
#
Item Code
Package Description
1
NDC:68047-145-16
473 mL in 1 BOTTLE
Marketing Information
Marketing Category
Application Number or Monograph Citation
Marketing Start Date
Marketing End Date
Unapproved drug other
05/25/2009
Labeler - Larken Laboratories, Inc. (791043719)
Registrant - Larken Laboratories, Inc. (791043719)
Establishment
Name
Address
ID/FEI
Operations
Deltex Pharmaceuticals
019851778
MANUFACTURE
Larken Laboratories, Inc.
More about Endacof-C (chlorpheniramine / codeine)
Consumer resources
Professional resources
Other brands
Related treatment guides