Duocaine
Generic name: lidocaine hydrochloride and bupivacaine hydrochloride
Dosage form: injection

Medically reviewed by Drugs.com. Last updated on Nov 23, 2020.
On This Page
Duocaine Description
Duocaine™ is a sterile aqueous solution that contains a mixture of local anesthetic agents, 1% lidocaine and 0.375% bupivacaine.
Duocaine™ solution contains lidocaine HCl, which is chemically designated as acetamide, 2-(diethylamino)-N-(2, 6-dimethylphenyl)-, monohydrochloride and has a molecular weight of 270.80. Lidocaine HCl (C14H22N2O•HCl) has the following structure: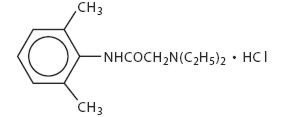 Duocaine™ solution also contains bupivacaine HCl, which is chemically designated as 2-piperidinecarboxamide, 1-butyl-N-(2,6-dimethylphenyl)-, monohydrochloride, monohydrate, a white crystalline powder that is freely soluble in 95 percent ethanol, soluble in water, and slightly soluble in chloroform or acetone and has a molecular weight of 342.90. Bupivacaine HCl (C18H28N2O•HCl•H2O) has the following structure:


Bupivacaine and lidocaine are related chemically and pharmacologically to the aminoacyl local anesthetics. Bupivacaine is a homologue of mepivacaine, and all three of these anesthetics contain an amide linkage between the aromatic nucleus and the amino or piperidine group. They differ in this respect from the procaine-type local anesthetics, which have an ester linkage.
The pKa of bupivacaine (8.1) is similar to that of lidocaine (7.86). However, bupivacaine possesses a greater degree of lipid solubility and is protein bound to a greater extent than lidocaine.
Each mL of Duocaine contains: Actives: lidocaine HCl 10 mg, bupivaoaine HCl 3.75 mg. Inactives: sodium chloride, purified water, and hydrochloric acid and/or sodium hydroxide to adjust the pH. It has an osmolality of 280 to 350 mOsmol/kg and a pH of 5.0 to 6.5.
Duocaine - Clinical Pharmacology
Duocaine™ blocks the generation and conduction of nerve impulses, presumably increasing the threshold for electrical excitation in the nerve, by slowing the propagation of the nerve impulse, and by reducing the rate of rise of the action potential.
Systemic absorption of Duocaine™ produces effects on the cardiovascular and central nervous systems. It may cause changes in cardiac output, total peripheral resistance, and mean arterial pressure. It can also produce central nervous system stimulation, depression, or both.
Pharmacokinetics
Absorption
The rate of systemic absorption of local anesthetics is dependent upon the total dose and concentration of drug administered, the route of administration, the vascularity of the administration site, and the presence or absence of a vasoconstrictor agents in the anesthetic solution.
Lidocaine and bupivacaine are absorbed after peribulbar, parabulbar, and retrobulbar blockage administration.
The mean (SD) [range] pharmacokinetic parameters of lidocaine and bupivacaine in plasma after a single 10 mL dose (100 mg lidocaine and 37.5 mg bupivacaine) by peribulbar block in 6 subjects were as follows:
Cmax (ng/ml)
AUC 0–t (ng.h/ml)
T max (min)
Lidocaine
Bupivacaine
Lidocaine
Bupivacaine
Lidocaine
Bupivacaine
1287 (522)
552 (218)
2913 (1497)
1291 (536)
20
21
[550 –1910]
[300–900]
[1226–5199]
[708–2141]
[12–30]
[12–33]
Therapeutic effects of lidocaine are generally associated with plasma levels at 6 to 25 µmole/L (1500 to 6000 ng free base per mL). The blood to plasma distribution ratio is approximately 0.84. Objective adverse manifestations become increasingly apparent with increasing plasma levels above 6000 ng free base per mL.
A dilute concentration of epinephrine, e.g. 1:200,000 or 5µg/mL, usually reduces the rate of systemic absorption and peak plasma concentration of lidocaine and bupivacaine, permitting the use of moderately larger total doses and sometimes prolonging the duration of action.
Distribution
Depending upon the route of administration, local anesthetics are distributed to some extent to all body tissues, with high concentrations found in highly perfused organs such as the liver, lungs, heart, and brain.
The plasma protein binding of lidocaine is dependent on drug concentration, and the fraction bound decreases with increasing concentration. At concentrations of 1 to 4 mcg free base per mL, 60 to 80 percent of lidocaine is protein bound. In addition to lidocaine concentration, the binding is dependent on the plasma concentration of the alpha-1-acid glycoprotein.
Lidocaine readily crosses the placental and blood-brain barriers. Bupivacaine hydrochloride has a low fetal/maternal ratio of 0.2 to 0.4.
Metabolism
Lidocaine is metabolized by the liver, and less than 10% of a dose is excreted unchanged in the urine. Oxidative N dealkylation, a major pathway of metabolism, results in the metabolites monoethylglycinexylidide and glycinexylidide. The pharmacological/toxicological activities of these metabolites are similar to, but less potent than, lidocaine. The primary metabolite in urine is a conjugate of 4-hydroxy-2,6,- dimethylaniline.
Because of the rapid rate at which lidocaine is metabolized, any condition that alters liver function, including changes in liver blood flow, which could result from severe congestive heart failure in shock, may alter lidocaine kinetics. The half-life may be two-fold or more, greater in patients with liver dysfunction. Renal dysfunction does not affect lidocaine kinetics, but may increase the accumulation of metabolites. Dialysis has negligible effects on the kinetics of lidocaine.
Bupivacaine is metabolized primarily in the liver via conjugation with glucuronic acid. Pipecoloxylidine is the major metabolite of bupivacaine. Only 6% of bupivacaine is excreted unchanged in the urine. Patients with hepatic disease, especially those with severe hepatic disease, may be more susceptible to the potential toxicities of the amidetype local anesthetics.
Elimination
The Kidney is the main excretory organ for most local anesthetics and their metabolites.
The elimination half-life of lidocaine following an intravenous bolus injection is typically 1.5 to 2 hours. The half-life of bupivacaine in adults is 2.7 hours.
Indications and Usage for Duocaine
Duocaine™ (lidocaine HCl - bupivacaine HCl injection 1% / 0.375%) is indicated for the production of local or regional anesthesia for ophthalmologic surgery by peripheral nerve block techniques such as parabulbar, retrobulbar and facial blocks.
Peribulbar nerve block anesthesia, with or without epinephrine and/or hyaluronidase.
Retrobulbar and facial nerve block anesthesia, with or without epinephrine and/or hyaluronidase.
Contraindications
Duocaine™ is contraindicated in patients with a known hypersensitivity to lidocaine or bupivacaine or any local anesthetic agent of the amide type or to other components of lidocaine and/or bupivacaine solutions.
Duocaine™ should not be used in patients with Stokes-Adams syndrome. Wolff Parkinson-White syndrome, or with severe degrees of sinoatrial atrioventricular, or intraventricular block in the absence of an artificial pacemaker.
Warnings
Duocaine™, like any local anesthetics, should only be employed by clinicians who are well versed in diagnosis and management of dose-related toxicity and other acute emergencies which might arise from the block to be employed, and then only after ensuring the immediate availability of oxygen, other resuscitative drugs, cardiopulmonary resuscitative equipment, and the personnel resources needed for proper management of toxic reaction and related emergencies (see: ADVERSE REACTIONS, PRECAUTIONS, and OVERDOSAGE). Delay in proper management of dose-related toxicity, underventilation from any cause and/or altered sensitivity may lead to the development of acidosis, cardiac arrest and, possibly, death.
Systemic toxicity of local anesthetics usually results from either accidental intravascular injection or administration of an excessive dose. It is essential that aspiration for blood be done prior to injecting Duocaine™, both the original dose and all subsequent doses, to avoid intravascular injection. The needle must be repositioned until no blood can be elicited by aspiration. Note, however, that the absence of blood in the syringe does not guarantee that intravascular injection has been avoided.
If a vasoconstrictor, such as epinephrine, has been added for reducing the rate of systemic absorption of anesthetics, Duocaine™ solution should not be used concomitantly with ergot-type oxytocic drugs, because a severe persistent hypertension may occur. Likewise, Duocaine™ containing a vasoconstrictor should be used with extreme caution in patients receiving monoamine oxidase (MAO) inhibitors or antidepressants of the triptyline or imipramine types, because severe prolonged hypertension may be the result.
Precautions
General
Clinicians who perform anesthesia for ophthalmic surgery should be aware that the anesthetic potency and toxicity of local anesthetics are additive, though not synergistic. As a mixture of local anesthetics, the total doses of Duocaine™ should not exceed the maximum recommended dose equivalent for either drug. Being the same chemical classes of local anesthetics, the dose-dependent toxicity of Duocaine™ is similar for both lidocaine and bupivacaine.
To minimize the possibility of toxic reactions of Duocaine™, the lowest dosage that results in effective anesthesia should be used to avoid high plasma levels and serious adverse effects. An intravascular injection is still possible even if aspirations for blood are negative. Resuscitative equipment, oxygen, and other resuscitative drugs should be available for immediate use. (See: WARNINGS and ADVERSE REACTIONS). The rapid injection of a large volume of Duocaine™ solution, especially in retrobulbar block, should be avoided and fractional (incremental) doses should be used when feasible.
Repeated doses of Duocaine™ may cause significant increases in blood levels with each repeated dose because of slow accumulation of the drug or its metabolites. Debilitated, elderly patients, acutely ill patients, and children should be given reduced doses commensurate with their age and physical condition. Duocaine™ should also be used with caution in patients with severe shock or heart block.
Preparations containing a vasoconstrictor should be used with caution in patients during or following the administration of potent general anesthetic agent, since cardiac arrhythmia may occur under such conditions.
Careful and constant monitoring of cardiovascular and respiratory (adequacy of ventilation) vital signs and the patient's state of consciousness should be accomplished after each Duocaine™ (lidocaine HCl - bupivacaine HCl injection 1% / 0.375%). Restlessness, anxiety, tinnitus, dizziness, blurred vision, tremors, depression or drowsiness may be early warning signs of central nervous system toxicity.
Since amide-type local anesthetics are metabolized by the liver, Duocaine™ should be used with caution in patients with hepatic disease. Patients with severe hepatic disease, because of their inability to metabolize local anesthetics normally, are at greater risk of developing toxic plasma concentrations. Duocaine™ should also be used with caution in patients with impaired cardiovascular function since they may be less able to compensate for functional changes associated with the prolongation of A-V conduction produced by these drugs.
Duocaine™ should be used with caution in persons with known drug sensitivities. Patients allergic to para-aminobenzolic acid derivatives (procaine, tetracaine, benzocaine and chloro-procaine, etc.) have not shown cross sensitivity to lidocaine and bupivacaine.
Small doses of Duocaine™ injected into the head area, including periocular blocks, and facial nerve blocks, may produce adverse reactions similar to systemic toxicity seen with unintentional intravascular injections of large doses. Confusion, convulsion, respiratory depression and/or respiratory arrest, and cardio-vascular stimulation or depression have been reported. These reactions may be due to intra-arterial injection of the local anesthetic with retrograde flow to the cerebral circulation. They also may be due to puncture of the dural sheath of the optic nerve during retrobulbar block with diffusion of any local anesthetic along the subdural space to the midbrain. Clinicians who perform retrobulbar and peribulbar blocks should be aware that there have been reports of respiratory arrest following local anesthetic injection.
Information for Patients
When appropriate, patients should be informed in advance that they may experience temporary loss of sensation and motor activity of their eye(s).
Drug Interactions
The administration of local anesthetic solutions containing vasoconstrictor such as epinephrine to patients receiving monoamine oxidase inhibitors or tricyclic antidepressants may produce severe, prolonged hypertension. Phenothiazine and butyrophenone may reduce or reverse the pressor effect of epinephrine. Concurrent administration of vasopressor drugs and ergot-type oxytocic drugs may cause severe, persistent hypertension or cerebrovascular accidents. Concurrent use of these agents should generally be avoided. In situations when concurrent therapy is necessary, careful patient monitoring is essential.
Lidocaine hydrochloride should be used with caution in patients with digitalis toxicity accompanied by atrioventricular block. Concomitant use of beta-blocking agents may reduce hepatic blood flow and thereby reduce lidocaine clearance.
Lidocaine and tocainide are pharmacologically similar. The concomitant use of these two agents may cause an increased incidence of adverse reactions, including central nervous system adverse reactions such as seizure.
Carcinogenesis, Mutagenesis, and Impairment of Fertility
Long-term studies in animals using most local anesthetics, including lidocaine and bupivacaine, to evaluate the carcinogenic potential have not been conducted. Lidocaine is not mutagenic in the Ames assay, chromosomal aberration test in human lymphocytes in vitro, or in the mouse micronucleus test in vivo.
Pregnancy
Teratogenic Effects
Pregnancy Category C
Reproductive studies have been performed in rats at 30 mg/kg subcutaneously, approximately 1.4 times the maximum recommended human dose of 200 mg on the basis of body surface conversion, and have revealed no evidence of harm to the fetus caused by lidocaine.
There are no adequate and well-controlled studies in pregnant women of the effect of either lidocaine or bupivacaine on the developing fetus. Duocaine™ should be used in pregnancy only if the potential benefit justifies the potential risk to the fetus.
Labor and Delivery
It has been demonstrated that Bupivacaine component of Duocaine™ crosses the placenta when absorbed from the periocular fat after ocular blockage administration, can cause varying degrees of maternal, fetal and neonatal toxicity. (see: CLINICAL PHARMACOLOGY, Pharmacokinetics). The potential for toxicity depends upon the procedure performed, the type and amount of drug used, and the technique of drug administration. Adverse reactions in the parturient, fetus and neonate involve alterations of the central nervous system, peripheral vascular tone and cardiac function.
Nursing Mothers
Bupivacaine has been reported to be excreted in human milk suggesting that the nursing infant could be theoretically exposed to a dose of the drug. It is not known if lidocaine is excreted in human milk. Because of the potential for serious adverse reactions in nursing infants from Duocaine™, a decision should be made whether to discontinue nursing or not administer Duocaine™, taking into account the importance of the drug to the mother.
Pediatric Use
Safey and effectiveness have not been established in pediatric patients below 12 years of age.
Geriatric Use
No overall differences in safety or effectiveness have been observed between elderly and other adult patients.
Adverse Reactions
Reactions to Duocaine™ are characteristic of those associated with other amide-type local anesthetics. A major cause of adverse reactions to this group of drugs may be associated with its excessive plasma levels, which may be due to overdosage, unintentional intravascular injection or slow metabolic degradation.
Systemic
The most commonly encountered acute adverse experiences that demand immediate countermeasures are related to the central nervous system and the cardiovascular system. These adverse experiences are generally dose related and due to high plasma levels which may result from overdosage, rapid absorption from the injection site, diminished tolerance or from unintentional intravascular injection of the Duocaine™. Hypotension due to loss of sympathetic tone and respiratory paralysis or underventilation due to cephalad extension of the motor level of anesthesia may occur. This may lead to the secondary cardiac arrest if untreated. Factors influencing plasma protein binding, such as acidosis, systemic diseases which alter protein production, or competition with other drugs for protein binding sites, may diminish individual tolerance.
Central Nervous System Reactions
These are characterized by excitation and/or depression. Restlessness, anxiety, dizziness, tinnitus, blurred vision or tremors may occur, possibly proceeding to convulsions. However, excitement may be transient or absent, with depression being the first manifestation of an adverse reaction. This may quickly be followed by drowsiness merging into unconsciousness and respiratory arrest. Drowsiness following the administration of Duocaine™ is usually an early sign of a high blood level of the drug and may occur as a consequence of rapid absorption. Other central nervous system effects may be nausea, vomiting, chills, and constriction of the pupils.
Cardiovascular System Reactions
High doses or unintentional intravascular injection may lead to high plasma levels and related depression of the myocardium, decreased cardiac output, heart block, hypotension, bradycardia, ventricular arrhythmia, including ventricular tachycardia and ventricular fibrillation, and cardiac arrest (see: WARNINGS, PRECAUTIONS, and OVERDOSAGE sections).
Allergic
Duocaine™, as a mixture of amide-type local anesthetic, allergic type reactions are rare and may occur as a result of sensitivity to the local anesthetic or to other formulation ingredients, such as sulfites in epinephrine containing solutions (see WARNINGS). These reactions are characterized by signs such as cutaneous lesions, urticaria, pruritus, erythema, angioneurotic edema (including laryngeal edema), tachycardia, sneezing, nausea, vomiting, dizziness, syncope, excessive sweating, elevated temperature, and possibly, anaphylactoid symptomatology (including severe hypotension). Cross sensitivity among members of the amide-type local anesthetic group has been reported. If allergic reactions occur, they should be managed by conventional means. The detection of sensitivity by skin testing is of doubtful value.
Neurologic
In the practice of retrobulbar or peribulbar block, occasional unintentional penetration of ophthalmic artery or nerve may occur. Subsequent adverse effects may depend partially on the amount of drug administered intrathecally and the physiological and physical effects of a dural sheath puncture. Inadvertent needle penetration of the optic nerve sheath may result in depositing the local anesthetic directly in the subarachnoid space. Neurologic effects following unintentional subarachnoid administration during ocular block anesthesia may include spinal block by varying magnitude (including high or total spinal block); hypotension secondary to spinal block; urinary retention, fecal and urinary incontinence; loss of perineal sensation and sexual function; persistent anesthesia, paresthesia, weakness, paralysis of the lower extremities and loss of sphincter control, all of which may have slow, incomplete or no recovery; headache; backache; septic meningitis; meningismus; slowing of labor; or cranial nerve palsies due to traction on nerves from loss of cerebrospinal fluid.
There have been reported cases of permanent injury to extraocular muscles requiring surgical repair following retrobulbar administration of bupivacaine.
Overdosage
Acute emergencies from Duocaine™ overdosage are generally related to high plasma levels encountered during therapeutic use of the drug or to unintended subarachnoid injection of Duocaine™ solution (see: ADVERSE REACTIONS, WARNINGS, and PRECAUTIONS). Systemic absorption of large amount of Duocaine™ reaching the toxicity thresholds of plasma concentration (the toxicity thresholds of drug concentration in humans are 6000 ng/mL for lidocaine and 1600 ng/mL for bupivacaine) produces effects on the cardiovascular and central nervous systems. The toxic blood concentrations depress cardiac conduction and excitability, which may lead to atrioventricular block, ventricular arrhythmias and to cardiac arrest, sometimes resulting in fatalities. In addition, myocardial contractility is depressed and peripheral vasodilation occurs, leading to decreased cardiac output and arterial blood pressure. Following systemic absorption, Duocaine™ can produce central nervous system stimulation, depression or both. Apparent central stimulation is usually manifested as restlessness, tremors and shivering, progressing to convulsions, followed by depression and coma, progressing ultimately to respiratory arrest. However, Duocaine™ (bupivacaine) has a primary depressant effect on the medulla and on higher centers. The depressed stage may occur without a prior excited stage.
Duocaine Dosage and Administration
For retrobulbar injection, 2–5 mL of Duocaine™ solution (20–50 mg of lidocaine and 7–18 mg of bupivacaine) is injected; a portion of the dose is injected retrobulbarly and the remainder may be used to block the facial nerve.
For peribulbar block, the usual dose is 6–12 mL of Duocaine™ solution (60–120 mg of lidocaine and 22–45 mg of bupivacaine), and this technique produces akinesia of the superior oblique muscle, the eyelids and the orbicularis oculi muscle.
Maximum recommended dosage
Maximum dosage limit must be individualized in each case after evaluating the size and physical status of the patients, as well as the usual rate of systemic absorption from a particular injection site.
For normal healthy adults, the individual maximum recommended dose of Duocaine™ without epinephrine should not exceed 0.18 mL/kg (0.08 mL/lb) of body weight, and in general it is recommended that the maximum total dose not exceed 12 mL(120 mg of lidocaine and 45 mg of bupivacaine). When used with epinephrine the maximum individual dose should not exceed 0.28 mL/kg (0.14 mL/lb) of body weight, and in general it is recommended that the maximum total dose does not exceed 20 mL(200 mg of lidocaine and 75 mg of bupivacaine).
NOTE: Parenteral drug products should be inspected visually for particulate matter and discoloration prior to administration. The Injection is not to be used if it is cloudy or contains a precipitate.
Unused portions of solutions in single dose containers should be discarded, since this product form contains no preservatives.
How is Duocaine Supplied
These solutions are not for spinal anesthesia.
Duocaine™ (lidocaine HCl - bupivacaine HCl injection) 1% / 0.375%
| Stock No. | NDC No. | Size |
| --- | --- | --- |
| 9071 | 0548-9071-00 | 10 mL fill in 10 mL container |
The drug product is aseptically filled into 10 cc clear glass vials with gray rubber stoppers and flip-off seals. Packaged in a carton of 25 single dose vials.
Store at 15° to 25°C (59° to 77°F).
Discard unused portion after initial use.
Preservative Free
Amphastar Pharmaceuticals, Inc.
Rancho Cucamonga, CA 91730 U.S.A.
Rx Only
4-03
6990716C
PRINCIPAL DISPLAY PANEL - 10 mL Carton Label
Duocaine ™
(lidocaine HCl - bupivacaine HCl injection)
1% / 0.375% Sterile
25 x 10 mL
Single Dose Vials
Rx Only
10 mL
For Retrobulbar and Parabulbar Anesthesia
PRESERVATIVE-FREE
NDC 0548-9071-00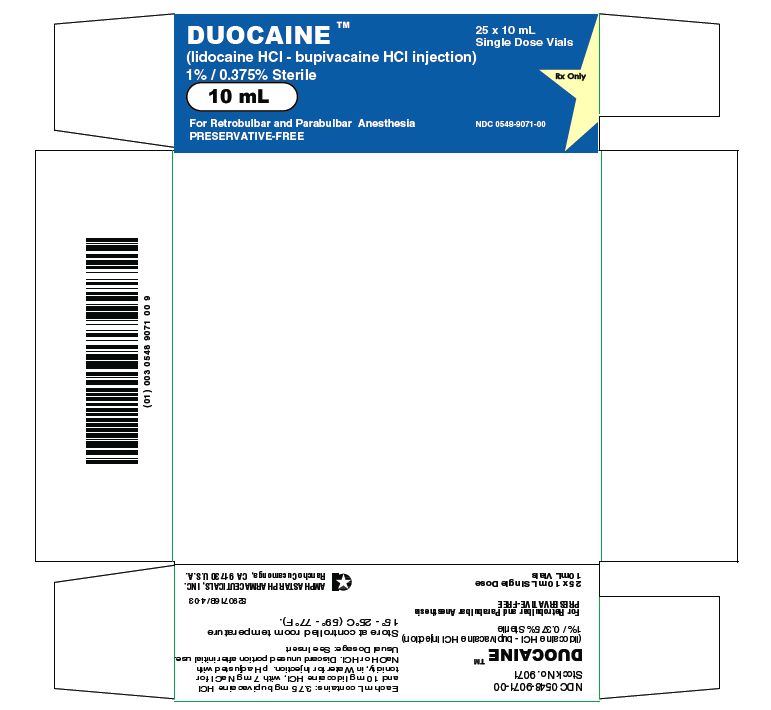 Duocaine
lidocaine hydrochloride and bupivacaine hydrochloride injection
Product Information
Product Type
HUMAN PRESCRIPTION DRUG LABEL
Item Code (Source)
NDC:0548-9071
Route of Administration
RETROBULBAR
DEA Schedule
Active Ingredient/Active Moiety
Ingredient Name
Basis of Strength
Strength
lidocaine hydrochloride (lidocaine)
lidocaine hydrochloride
10 mg in 1 mL
bupivacaine hydrochloride (bupivacaine)
bupivacaine hydrochloride
3.75 mg in 1 mL
Inactive Ingredients
Ingredient Name
Strength
sodium chloride
water
hydrochloric acid
sodium hydroxide
Packaging
#
Item Code
Package Description
1
NDC:0548-9071-00
25 BOTTLE, GLASS (BOTTLE) in 1 CARTON
1
10 mL in 1 BOTTLE, GLASS
Marketing Information

Marketing Category
Application Number or Monograph Citation
Marketing Start Date
Marketing End Date
NDA
NDA021496
05/23/2003
05/31/2005
Labeler -

Amphastar Pharmaceuticals, Inc. (024736733)
Establishment

Name
Address
ID/FEI
Operations
Amphastar Pharmaceuticals, Inc.
024736733
ANALYSIS, MANUFACTURE
Amphastar Pharmaceuticals, Inc.
More about Duocaine (bupivacaine / lidocaine)
Related treatment guides