Chlorphenylcaine Ear Drops
Generic name: phenylephrine hydrochloride, antipyrine, benzocaine
Dosage form: otic drops
Drug class: Otic anesthetics
Medically reviewed by Drugs.com. Last updated on Dec 22, 2020.
On This Page
DESCRIPTION:
ACTIVE INGREDIENTS:
Phenylephrine HCl ..... 0.25%
Antipyrine ..... 5%
Benzocaine..... 5%
INACTIVE INGREDIENTS:
Propylene Glycol, Sodium Metabisulfite.
Chlorphenylcaine Otic Drops is an analgesic-decongestant ear drop. Phenylephrine HCl is a sympathomimetic amine with local vasoconstriction or decongestant action. It is chemically, (1) Benzenemethanol, 3-hydroxy-α-[(methylamino)methyl]-, hydrochloride (R)-. (2) (—)-m-Hydroxy-α-[methylamino)methyl] benzyl alcohol hydrochloride. It occurs as white crystals and is freely soluble in water and alcohol. Antipyrine is an analgesic with local anesthetic action. It is chemically 2, 3-dimethyl-1- phenyl-3-pyrazolin-5-one. Antipyrine appears as colorless crystals or white powder and is soluble in water and alcohol. Benzocaine is a local anesthetic. It is chemically ethyl p-aminobenzoate. It occurs as white crystals or white crystalline powder and is slightly soluble in water and soluble in organic solvents.

CLINICAL PHARMACOLOGY:
Topical application of phenylephrine produces vasoconstriction mainly by a direct effect on α-adrenergic receptors. Phenylephrine, after absorption, is metabolized in the liver and the intestine by the enzyme monoamine oxidase (MAO). The type, route and rate of excretion of metabolites have not been defined. Like other local anesthetics, benzocaine acts by blocking nerve conduction first in autonomic, then in sensory and finally in motor nerve fibers. Its effect appears to be due to decreased nerve cell membrane permeability to sodium ions or competition with calcium ions for membrane binding sites. A vasoconstrictor, such as phenylephrine is added to decrease the rate of absorption and prolong the duration of action of the anesthetics. Antipyrine is believed to have analgesic and local anesthetic effects on the nerve endings. After absorption, it is slowly metabolized in the liver by oxidation and conjugated with glucuronic acid and is excreted in urine mainly in the conjugated form.

INDICATIONS AND USAGE:
Chlorphenylcaine Otic Drops may be used as a topical anesthetic in the external auditory canal to relieve ear pain. It may be used concomitantly with systemic antibiotics as in the treatment of acute otitis media.

CONTRAINDICATIONS:
Chlorphenylcaine Otic Drops is contraindicated in patients sensitive to any of its ingredients. This medication should not be applied in the external auditory canal if there is a perforated eardrum or when this medication can reach the middle ear.

WARNINGS:
KEEP OUT OF REACH OF CHILDREN. NOT FOR OPHTHALMIC OR ORAL USE.
As with all drugs containing a sympathomimetic or anesthetic, systemic reactions may occur after local application. Phenylephrine may cause blanching of the skin. Allergic and idiosyncratic reactions to local anesthetics have been observed infrequently. Discontinue promptly if sensitization or irritation occurs. Cross-sensitivity reactions between the members of the caine group or local anesthetics have been reported. Contains sodium metabisulfite, a sulfite that may cause allergic-type reactions including anaphylactic symptoms and life-threatening or less severe asthmatic episodes in certain susceptible people. The overall prevalence of sulfite sensitivity in the general population is unknown and probably low. Sulfite sensitivity is seen more often in asthmatic than nonasthmatic people.
PRECAUTIONS:
General:
Drugs containing a sympathomimetic should be used with caution in the elderly and in patients with hypertension, increased intraocular pressure, diabetes mellitus, ischemic heart disease, hyperthyroidism and prostatic hypertrophy. High plasma levels of benzocaine and antipyrine may cause CNS stimulation with nausea and vomiting. Such levels, however are unlikely to be attained following local application in the external ear.
Drug interactions:
MAO inhibitors and β-adrenergic blockers enhance the effects of sympathomimetics. Benzocaine is hydrolyzed in the body to p-aminobenzoic acid which competes with the antibacterial action of sulfonomides. These are unlikely to occur as the absorption from the external ear canal is limited.
Carcinogenesis, Mutagenesis, Impairment of Fertility:
There have been no studies in animals or humans to evaluate the carcinogenesis, mutagenesis or impairment of fertility for RE Chlorphenylcaine Otic Drops.
Pregnancy: Pregnancy Category C:
There are no adequate and well-controlled studies in pregnant women. This product should only be given to pregnant women if clearly needed.
Nursing Mothers:
It is not known whether this drug is excreted in human milk. Caution should be used when administered to nursing women.
Pediatric Use:
Safety and effectiveness in children below the age of 12 have not been established.
ADVERSE REACTIONS:
Following its absorption, phenylephrine may produce a pressor response or cause restlessness, anxiety, nervousness, weakness, pallor, headache and dizziness. Absorption of benzocaine and antipyrine in the plasma may cause chills, nausea, vomiting, tinnitus and agranulocytosis. Such reactions are unlikely following application of
Chlorphenylcaine Otic Drops
on the external ear canal. Benzocaine can cause a hypersensitivity reaction consisting of rash, urticaria and edema. Individuals frequently exposed to ester-type local anesthetics can develop contact dermatitis characterized by erythema and pruritus.
Call your doctor for medical advice about side effects. You may report side effects to the FDA at 1-800-FDA-1088.
OVERDOSAGE:
Overdosage is more likely to be associated with accidental or deliberate ingestion rather than cutaneous absorption. Call your local poison control center and/or your doctor if overdosage is suspected. Phenylephrine may cause hypertension, headache, vomiting and palpitations if absorbed. Effects of benzocaine overdosage may include yawning, restlessness, excitement, nausea and vomiting. Antipyrine overdosage may cause giddiness, tremor, sweating and skin eruptions. Treatment is symptomatic. If ingestion of the contents of a bottle or more of this product is recent or food is present in the stomach, induction of emesis with ipecac syrup, gastric emptying and lavage and introduction of activated charcoal may be recommended.

DOSAGE AND ADMINISTRATION:
Using the dropper, administer Chlorphenylcaine Otic Drops into the external ear canal until the canal is filled. Insert a cotton pledget (or absorbent dressing) into the opening of the ear after moistening with Chlorphenylcaine Otic Drops. Repeat every 2 to 4 hours, if necessary, until pain is relieved. Replace dropper in bottle without rinsing.

STORAGE:
Store at 15º-30ºC (59º-86ºF) [See USP Controlled Room Temperature]. Store in a tight, light-resistant container. [See USP.] Keep bottle tightly closed.
HOW SUPPLIED:
Chlorphenylcaine Otic Drops are supplied as a clear liquid in 15 mL vial, NDC 49769-377-15, and include a wrapped dropper.

Manufactured for:
Kylemore Pharmaceuticals
Suwanee, GA 30024
Iss. 12/09 377-10
PACKAGING:
Chlorphenylcaine Otic Drops labeling:

Chlorphenylcaine Otic Drops carton: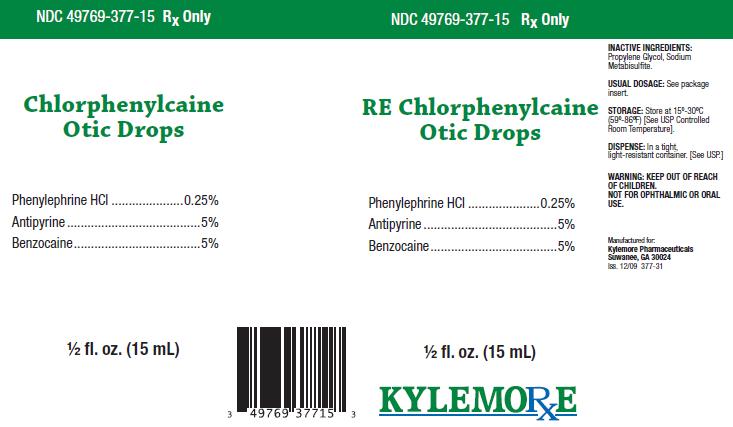 CHLORPHENYLCAINE
phenylephrine hydrochloride, antipyrine, benzocaine liquid
Product Information
Product Type
HUMAN PRESCRIPTION DRUG LABEL
Item Code (Source)
NDC:49769-377
Route of Administration
AURICULAR (OTIC)
DEA Schedule
Active Ingredient/Active Moiety
Ingredient Name
Basis of Strength
Strength
PHENYLEPHRINE HYDROCHLORIDE (PHENYLEPHRINE)
PHENYLEPHRINE HYDROCHLORIDE
.25 in 15 mL
ANTIPYRINE (ANTIPYRINE)
ANTIPYRINE
5 in 15 mL
BENZOCAINE (BENZOCAINE)
BENZOCAINE
5 in 15 mL
Packaging
#
Item Code
Package Description
1
NDC:49769-377-15
15 mL in 1 VIAL
Marketing Information
Marketing Category
Application Number or Monograph Citation
Marketing Start Date
Marketing End Date
unapproved drug other
01/01/2010
Labeler - Kylemore Pharmaceuticals, LLC (831892471)
Kylemore Pharmaceuticals, LLC
More about Chlorphenylcaine (antipyrine / benzocaine / phenylephrine otic)