Ceredase
Generic name: alglucerase
Dosage form: injection, solution, concentrate
Drug class: Lysosomal enzymes
Medically reviewed by Drugs.com. Last updated on Jan 22, 2021.
On This Page
Ceredase Description
Ceredase® (alglucerase injection) is a modified form of the enzyme, ß-glucocerebrosidase (ß-D-glucosyl-N-acylsphingosine glucohydrolase, EC 3.2.1.45). Alglucerase is a monomeric glycoprotein of 497 amino acids with carbohydrates making up approximately 6% of the molecule (Mr=59,300 as determined by SDS-PAGE). The unmodified enzyme (ß-glucocerebrosidase) also contains 497 amino acids and contains approximately 12% carbohydrate (Mr=67,000). The carbohydrates on the unmodified enzyme consist of N-linked carbohydrate chains of the complex and high mannose type. Glucocerebrosidase and alglucerase catalyze the hydrolysis of the glycolipid, glucocerebrosidase, within the lysosomes of the reticuloendothelial system.
Alglucerase is prepared by modification of the oligosaccharide chains of human ß-glucocerebrosidase. The modification alters the sugar residues at the non-reducing ends of the oligosaccharide chains of the glycoprotein so that they are predominantly terminated with mannose residues which are specifically recognized by carbohydrate receptors on macrophage cells.
Ceredase® is supplied as a clear sterile non-pyrogenic solution of alglucerase in a citrate buffered solution (53 mM citrate, 143 mM sodium) containing 1% albumin human USP. The enzyme is supplied in one concentration, 400 units per bottle (80 units/mL) with a fill volume of 5 mL per bottle. An enzyme unit (U) is defined as the amount of enzyme required to hydrolyze in one minute one micromole of the synthetic substrate, p-nitrophenyl-ß-D-glucopyranoside.
Ceredase® is purified from a large pool of human placental tissue collected from selected donors. Steps have been introduced into the manufacturing process to reduce further the risk of viral contamination. However, no procedure has been shown to be totally effective in removing viral infectivity (see PRECAUTIONS). Each lot of product has been tested and found negative for hepatitis B surface antigen (HBsAg) and for human immunodeficiency virus antigen (HIV-1) and antibody (HIV-1/2).
Human chorionic gonadotropin (hCG) is a naturally occurring hormone in human placenta. It is likely the hCG is partially deglycosylated. In vitro studies have previously demonstrated biological activity of approximately 3 units of hCG activity per unit Ceredase®, as determined by an in vitro cell based assay. New process steps have since been introduced into the manufacturing process that significantly reduce the amount of hCG present in the Ceredase® product. Initial manufacturing data indicate that the resulting level of hCG in the product is less than 1 μg hCG per mg Ceredase® protein, as determined by the ELISA assay. These data indicate that the level of hCG in the product has been reduced about 15 fold as a result of the new process steps.
Ceredase - Clinical Pharmacology
Ceredase® (alglucerase injection) catalyzes the hydrolysis of the glycolipid, glucocerebroside, to glucose and ceramide as part of the normal degradation pathway for membrane lipids. Glucocerebroside is primarily derived from hematologic cell turnover. Gaucher disease is characterized by a functional deficiency in ß-glucocerebrosidase enzymatic activity and the resultant accumulation of lipid glucocerebroside in tissue macrophages which become engorged and are termed Gaucher cells. Gaucher cells are typically found in liver, spleen and bone marrow and occasionally, as well, in lung, kidney and intestine. Secondary hematologic sequelae include severe anemia and thrombocytopenia in addition to the characteristic progressive hepatosplenomegaly. Skeletal complications, including osteonecrosis and osteopenia with secondary pathological fractures, are a common feature of Gaucher disease.
Pharmacokinetics
Following an intravenous infusion of different doses (between 0.6 and 234 units/kg) of Ceredase® (alglucerase injection) over a 4-hour period, steady-state enzymatic activity was achieved by 60 minutes. Individual steady-state enzymatic activity and area under the curve of the activity increased linearly with the infused dose (0.6 and 121 units/kg). Following infusion termination, plasma enzymatic activity declined rapidly with elimination half-life ranging between 3.6 and 10.4 minutes. Plasma clearance of Ceredase®, calculated from its plasma enzymatic activity, was variable and ranged between 6.34 and 25.39 mL/min/kg, whereas the volume of distribution ranged from 49.4 to 282.1 mL/kg. Within the dosage range of 0.6 and 121 units/kg, elimination half-life, plasma clearance, and volume of distribution values appear to be independent of the infused dose.
Pharmacologic Actions
Chronic administration of Ceredase® (alglucerase injection) in 13 patients with Type I Gaucher disease from initial studies induced the following effects:
Splenomegaly and hepatomegaly

were significantly reduced, presumably by disruption of the lysosomal storage sites and metabolism of glucocerebroside in Gaucher cells. This effect was demonstrated within 6 months of initiation of therapy.

Hematologic deficiencies

in hemoglobin, hematocrit, erythrocyte and platelet counts were significantly improved. In most patients a change in hemoglobin was the first observable effect. In some patients hemoglobin levels were normalized after 6 months of therapy.

Improved mineralization

of bone, as revealed by plain radiographs of long bones, occurred in three patients after prolonged treatment as a result of a reduction in the osteolytic actions of lipid-laden Gaucher cells in the marrow.

Cachexia and wasting

in children were reduced.
Indications and Usage for Ceredase
Ceredase® (alglucerase injection) is indicated for use as a long-term enzyme replacement therapy for children, adolescents and adult patients with a confirmed diagnosis of Type I Gaucher disease who exhibit signs and symptoms that are severe enough to result in one or more of the following conditions:
moderate-to-severe anemia;
thrombocytopenia with bleeding tendency;
bone disease;
significant hepatomegaly or splenomegaly.
Contraindications
There are no known contraindications to the use of Ceredase® (alglucerase injection).
Warnings
Approximately 13% of patients treated clinically and tested to date have developed IgG antibody to Ceredase® during the first year of therapy. It appears that patients who will develop IgG antibody are most likely to do so within 6 months of treatment and will rarely develop antibodies to Ceredase® after 12 months of therapy. Approximately 25% of patients with detectable IgG antibodies experienced symptoms of hypersensitivity.
Thus, patients with antibody to Ceredase® have a higher risk of hypersensitivity reaction. Conversely, not all patients with symptoms of hypersensitivity have detectable antibody and further evaluation of their antibody isotypes and mechanisms is continuing. It is suggested that patients be monitored periodically for IgG antibody formation.
At present, should a patient experience a reaction with symptoms suggestive of hypersensitivity, it is recommended that a serum sample for tryptase levels and complement activation be drawn within two hours of the event after appropriate treatment of the symptoms. Subsequent serum for testing antibody to Ceredase® would be helpful. Decreased efficacy has been noted in less than 0.5% of treated patients due to antibodies to Ceredase®.
Precautions
General
Therapy with Ceredase® (alglucerase injection) should be directed by physicians knowledgeable in the management of patients with Gaucher disease. Treatment with Ceredase® should be approached with caution in patients who have exhibited symptoms of hypersensitivity to the product. Pretreatment with antihistamines has allowed continued use of Ceredase® in some patients (see ADVERSE REACTIONS). Ceredase® should also be used with caution in patients with androgen sensitive malignancies, e.g., prostate cancer and patients with known prior allergies to hCG.
Ceredase® is prepared from pooled human placental tissue that may contain the causative agents of some viral diseases. Manufacturing steps have been designed to reduce the risk of transmitting viral infectious agents. These steps have demonstrated in vitro inactivation of a panel of model viruses, including human immunodeficiency virus (HIV-1). The risk of contamination from slowly acting or latent viruses, including the Creutzfeldt-Jacob disease agent, is believed to be remote but has not been tested. Accordingly, the benefits and the risks of treatment with this product should be assessed prior to use.
Carcinogenesis, Mutagenesis, Impairment of Fertility
Studies have not been conducted to assess the potential effects of Ceredase® on carcinogenesis or mutagenesis. Histopathology studies using hCG-reduced Ceredase® to detect effects on spermatogenesis in rats have revealed no testicular changes.
Pregnancy Category C
Animal reproductive studies have not been conducted with Ceredase®. It is also not known whether Ceredase® can cause fetal harm when administered to a pregnant woman, or can affect reproductive capacity. Ceredase® should be given to a pregnant woman only if clearly needed.
Nursing Mothers
Since Ceredase® may be excreted in human milk, caution should be exercised when Ceredase® is administered to a nursing woman.
Pediatric Use
The safety and effectiveness of Ceredase® (alglucerase injection) have been established in patients between 2 and 16 years of age. Use of Ceredase® in this age group is supported by evidence from adequate and well-controlled studies of Ceredase® and Cerezyme® (imiglucerase for injection) in adults and pediatric patients, with additional data obtained from the medical literature and from long-term postmarketing experience. Ceredase® has been administered to patients younger than 2 years of age, however the safety and effectiveness in patients younger than 2 have not been established.
As hCG has been detected in Ceredase®, physicians should be alert for signs of early virilization in males under the age of ten. One case of precocious puberty has been reported to date, however due to the recent introduction of manufacturing steps designed to reduce the level of hCG in Ceredase®, the likelihood of this occurrence is reduced.
Adverse Reactions
Experience in over 1000 patients treated with Ceredase® has revealed a small number of adverse events. Some of these events were related to the route of administration including discomfort, pruritus, burning and swelling or sterile abscess at the site of venipuncture. The remaining experiences consisted of slight fever, chills, abdominal discomfort, nausea or vomiting. None of these events were judged to require medical intervention.
Symptoms suggestive of hypersensitivity have been noted in a limited number of patients. Onset of such symptoms has occurred during or shortly after infusions; these symptoms have included pruritus, flushing, urticaria/angioedema (a small number of patients have had upper airway involvement), chest discomfort, respiratory symptoms, nausea and abdominal cramping. Hypotension has been reported to occur during a few of these events (see WARNINGS).
Pretreatment with antihistamines and reduced rate of infusion has allowed continued use of Ceredase® in most patients. Additional adverse symptoms which have been reported include: fatigue, vasomotor irritability or hot flash, weakness, headache, light headedness, dysosmia, oral ulcerations, backache and transient peripheral edema, and diarrhea. Menstrual abnormalities and false positive pregnancy tests have previously been reported, but due to the introduction of manufacturing steps designed to reduce the level of hCG in Ceredase®, the likelihood of these occurrences is reduced.
OVERDOSE
No obvious toxicity was detected after single doses up to 234 units/kg. There is no experience with larger doses.
Ceredase Dosage and Administration
Ceredase® (alglucerase injection) is administered by intravenous infusion over 1-2 hours. Dosage should be individualized for each patient. Initial dosage may be as little as 2.5 units/kg of body weight 3 times a week up to as much as 60 units/kg administered as frequently as once a week or as infrequently as every 4 weeks. 60 units/kg every 2 weeks is the dose for which the most data are available. Disease severity may dictate that drug be initiated with relatively high doses or relatively frequent administration. After patient response is well-established, a reduction in dosage may be attempted for maintenance therapy. Progressive reductions can be made at intervals of 3-6 months while carefully monitoring response parameters.
Ceredase® should not be shaken. Each bottle should be inspected visually for particulate matter and discoloration before use. Any bottles exhibiting particulate matter or discoloration should not be used. DO NOT USE Ceredase® after the expiration date on the bottle.
On the day of use, the appropriate amount of Ceredase® for each patient is diluted with 0.9% sodium chloride IV solution to a final volume not to exceed 200 mL. Aseptic techniques should be used when diluting the dose. Ceredase®, when diluted to 100 to 200 mL, has been shown to be stable for up to 18 hours when stored at 2-8°C. The use of an in-line particulate filter is recommended for the infusion apparatus. Since Ceredase® does not contain any preservative, after opening, bottles should not be stored for subsequent use.
Relatively low toxicity, combined with the extended time course of response, allows small dosage adjustments to be made occasionally to avoid discarding partially used bottles. Thus, the dosage administered in individual infusions may be slightly increased or decreased to utilize fully each bottle as long as the monthly administered dosage remains substantially unaltered.
How is Ceredase Supplied
Ceredase® (alglucerase injection) is supplied as a clear sterile citrate buffered solution (53 mM citrate, 143 mM sodium) containing 1% albumin human USP. The following package is available:
-The 400 unit bottle contains 5 mL in a 10 mL glass bottle. NDC 58468-1060-1.
Store at 2-8°C.
Ceredase® (alglucerase injection) is manufactured by:
Genzyme Corporation
500 Kendall Street
Cambridge, MA 02142
Certain manufacturing operations have been performed by other firms.
Package Label - Principal Display Panel - 5 mL Carton
NDC 58468-1060-1
Ceredase®
(alglucerase injection)
5 mL
Concentration:
80 U/mL
For
intravenous
infusion only
Genzyme Corporation
500 Kendall Street
Cambridge, MA 02142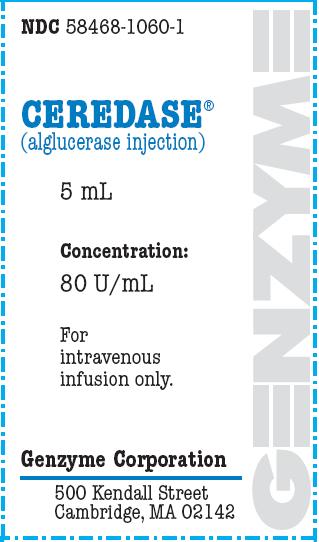 Ceredase
alglucerase injection, solution, concentrate
Product Information
Product Type
HUMAN PRESCRIPTION DRUG LABEL
Item Code (Source)
NDC:58468-1060
Route of Administration
INTRAVENOUS
DEA Schedule
Active Ingredient/Active Moiety
Ingredient Name
Basis of Strength
Strength
ALGLUCERASE (ALGLUCERASE)
ALGLUCERASE
80 U in 1 mL
Inactive Ingredients
Ingredient Name
Strength
TRISODIUM CITRATE DIHYDRATE
13.7 mg in 1 mL
CITRIC ACID MONOHYDRATE
1.57 mg in 1 mL
ALBUMIN (HUMAN)
10 mg in 1 mL
Packaging
#
Item Code
Package Description
1
NDC:58468-1060-1
5 mL in 1 BOTTLE
Marketing Information

Marketing Category
Application Number or Monograph Citation
Marketing Start Date
Marketing End Date
NDA
NDA020057
04/05/1991
04/01/2011
Labeler -

Genzyme Corporation (025322157)
Establishment

Name
Address
ID/FEI
Operations
Oso Biopharmaceuticals
826977121
MANUFACTURE
Establishment

Name
Address
ID/FEI
Operations
Genzyme Corporation
034378252
API MANUFACTURE
Genzyme Corporation
More about Ceredase (alglucerase)
Consumer resources