Brom Mal Phenyl HCl Dex HBr
Generic name: brompheniramine maleate, phenylephrine hydrochloride, dextromethorphan hydrobromide
Dosage form: liquid
Drug class: Upper respiratory combinations
Medically reviewed by Drugs.com. Last updated on Jan 22, 2021.
Indications and Usage for Brom Mal Phenyl HCl Dex HBr
Brom Mal/Phenyl HCl/ Dex HBr 4/7.5/15 mg/5 mL Liquid is indicated for the temporary relief of symptoms of upper respiratory tract disorders such as nasal congestion, sinusitis, vasomotor rhinitis and hay fever; as well as for the temporary relief of coughs associated with respiratory tract infections and associated conditions such as sinusitis, pharyngitis, bronchitis, and asthma, when these conditions are complicated by tenacious mucus and/or mucus plugs and congestion. Brom Mal/Phenyl HCl/ Dex HBr 4/7.5/15 mg/5 mL Liquid is effective in a productive as well as a nonproductive cough, but is of particular value in a dry, nonproductive cough which tends to injure the mucous membrane of the air passages.
DOSAGE AND ADMINISTRATION*
Adults and Children 12 years of age and older: 1 teaspoonful every 4 to 6 hours, not to exceed 6 teaspoonfuls in a 24 hour period.
Children 6 to 12 years of age: 1/2 teaspoonful every 4 to 6 hours, not to exceed 3 teaspoonfuls in a 24 hour period.
Not recommended for children under 6 years of age.
*In mild cases or in particularly sensitive patients, less frequent or reduced doses may be appropriate and adequate.
DOSAGE FORM AND STRENGTH
Oral solution, brompheniramine maleate 4 mg, phenylephrine hydrochloride 7.5 mg, and dextromethorphan hydrobromide 15 mg/5 mL

Contraindications
Brom Mal/Phenyl HCl/ Dex HBr 4/7.5/15 mg/5 mL Liquid is contraindicated in patients with a known hypersensitivity to any of the components. Patients known to be hypersensitive to other sympathomimetic amines may exhibit cross sensitivity with phenylephrine. It is also contraindicated in infants and newborns, patients with severe hypertension, severe coronary artery disease, hyperthyroidism, and in patients on MAO inhibitor therapy. Patient idiosyncrasy to adrenergic agents may be manifested by insomnia, dizziness, weakness, tremor, or arrhythmias.
Warnings and Precautions
Do not exceed recommended dosage. Discontinue use if adverse reactions occur.

5.1 General
Before prescribing medication to suppress or modify cough, it is important to ascertain the underlying cause of the cough, that modification of cough does not increase the risk of clinical or physiological complications, and that appropriate therapy for the primary disease is instituted.

5.2 Special Risk Patients
Use with caution in patients with diabetes, hypertension, or cardiovascular disease.

Hypertensive crises can occur with concurrent use of MAO inhibitors (and for 14 days after stopping MAO inhibitor therapy), indomethacin, or with beta-blockers and methyldopa. If a hypertensive crisis occurs, these drugs should be discontinued immediately and therapy to lower blood pressure should be instituted.

Antihistamines have an atropine-like action and therefore should be used with caution in patients with a history of bronchial asthma, increased intraocular pressure, hypothyroidism, cardiovascular disease and hypertension.

Sympathomimetics may produce central nervous system stimulation with convulsions or cardio-vascular collapse with accompanying hypotension. Sympathomimetic amines should be used judiciously and sparingly in patients with hypertension, diabetes mellitus, ischemic heart disease, increased intraocular pressure, hyperthyroidism or prostatic hypertrophy.
Adverse Reactions
Side effects may include drowsiness, dizziness, nervousness, insomnia, headache, palpitation, and dysuria.

To report SUSPECTED ADVERSE REACTIONS, contact FDA at 1-800-FDA-1088 or www.fda.gov/medwatch.

Drug Interactions
Beta-adrenergic blockers and MAO inhibitors may potentiate the pressor effect of phenylephrine. Concurrent use of digitalis glycosides may increase the possibility of cardiac arrhythmias. Sympathomimetics may reduce the hypotensive effects of guanethidine, mecamylamine, methyldopa, reserpine and veratrum alkaloids. Concurrent use of tricyclic antidepressants may antagonize the effects of phenylephrine. Use of other vasopressor drugs during halothane anesthia may cause serious cardiac arrhythmias.
USE IN SPECIFIC POPULATIONS
8.1 Pregnancy
Teratogenic Effects - Pregnancy Category C
It is not known whether this product can cause fetal harm when administered to a pregnant woman or can affect reproduction capacity. Brom Mal/Phenyl HCl/ Dex HBr 4/7.5/15 mg/5 mL Liquid should be given to a pregnant woman only if clearly needed.

8.3 Nursing Mothers
Small amounts of phenylephrine are excreted in breast milk. Use of this product by nursing mothers is not recommended because of the higher than usual risk for infants from sympathomimetic amines.

8.4 Pediatric Use
Safety and effectiveness in pediatric patients below the age of 6 have not been established.

8.5 Geriatric Use
Elderly patients (60 years of age and older) are more likely to experience adverse reactions to sympathomimetics.
Drug Abuse and Dependence
Central nervous system stimulants have been abused. At high doses, subjects commonly experience an elevation of mood, a sense of increased energy and alertness, and decreased appetite. Some individuals become anxious, irritable, and talk excessively. In addition to the marked euphoria, the user experiences a sense of markedly enhanced physical strength and mental capacity. With continued use, tolerance develops, the user increases the dose, and toxic signs and symptoms appear. Depression may follow rapid withdrawal.

There is no information to indicate that abuse or dependency occurs with guaifenesin or with the combination of guaifenesin, dextromethorphan and phenylephrine.
Overdosage
This product is comprised of three pharmacologically different components. Therefore, it is difficult to predict the exact manifestation of symptoms in a given individual.

10.1 Signs and Symptoms
Dextromethorphan in toxic doses will cause drowsiness, ataxia, nystagmus, opisthotonos and convulsive seizures. Overdosage with sympathomimetic amines can cause cardiac arrhythmias, cerebral hemorrhage and pulmonary edema. It can also cause palpitation, tremor, dizziness, vomiting, fear, labored breathing, headache, dryness of mouth, pallor, weakness, panic, anxiety, confusion, hallucinations, and delirium.

10.2 Treatment
Recommended treatment of acute overdosage would likely be based upon treating the patient for the symptoms of overdosage of phenylephrine. The treatment of overdosage should provide symptomatic and supportive care. If the amount ingested is considered dangerous or excessive, induce vomiting with ipecac syrup unless the patient is convulsing, comatose, or has lost the gag reflex, in which case perform gastric lavage using a large bore tube. If indicated, follow with activated charcoal and a saline cathartic.
Brom Mal Phenyl HCl Dex HBr Description
Brom Mal/Phenyl HCl/ Dex HBr 4/7.5/15 mg/5 mL Liquid is an alcohol-free, sugar-free, dye-free, strawberry-flavored, clear liquid.
Each 5 mL (one teaspoonful) for oral administration contains:
Brompheniramine maleate..... 4 mg
Phenylephrine hydrochloride ..... 7.5 mg
Dextromethorphan hydrobromide.....15 mg

Brom Mal/Phenyl HCl/ Dex HBr 4/7.5/15 mg/5 mL Liquid also contains: glycerin, propylene glycol, sorbitol, citric acid, sodium citrate, sodium saccharin, strawberry flavor, purified water.

Brompheniramine Maleate is an antihistamine having the chemical name, 2-Pyridinepropanamine,у-(4-bromophenyl)-N, N-dimethyl-, (±)-,(Z)-2-butenedioate (1:1), with the following structure: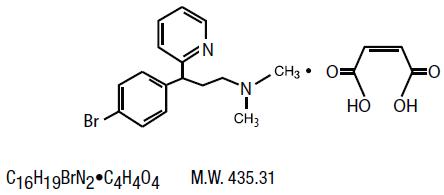 Phenylephrine hydrochloride is an orally effective nasal decongestant. Chemically it is (–)-m-Hydroxy-α-[(methylamino)methyl]benzyl alcohol hydrochloride with the following chemical structure: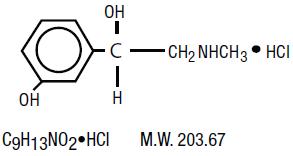 Dextromethorphan hydrobromide is a salt of the methyl ether of the dextrorotatory isomer of levorphanol, a narcotic analgesic. Chemically, it is 3-methoxy-17-9α, 13α, 14α-morphinan hydrobromide monohydrate and has the following structural formula: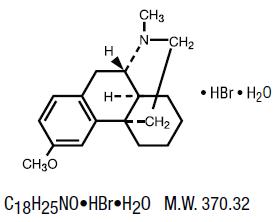 Brom Mal Phenyl HCl Dex HBr - Clinical Pharmacology
12.1 Mechanism of Action
Brompheniramine maleate
Alkylamine-type antihistamines such as brompheniramine maleate are among the most potent H1 blockers and are generally effective in relatively low doses. Although brompheniramine is not as prone as other types of antihistamines to cause drowsiness, a significant proportion of patients do experience this effect. CNS stimulation is more common with alkylamines.

Phenylephrine HCl
Phenylephrine hydrochloride is a sympathomimetic amine which acts predominantly by a direct action on alpha (α) adrenergic receptors. In therapeutic doses, the drug has no significant stimulant effect on the beta (β) adrenergic receptors of the heart. Clinically, phenylephrine shrinks swollen mucous membranes, reduces tissue hyperemia, edema, and nasal congestion; and increases nasal airway patency. In therapeutic doses the drug causes little, if any, central nervous system (CNS) stimulation.

Dextromethorphan hydrobromide
Dextromethorphan hydrobromide acts centrally to elevate the threshold for coughing. It has no analgesic or addictive properties. The onset of antitussive action occurs in 15 to 30 minutes after administration and is of long duration.
How Supplied/Storage and Handling
16.1 How Supplied
Brom Mal/Phenyl HCl/ Dex HBr 4/7.5/15 mg/5 mL Liquid is an alcohol-free, sugar-free, dye-free, strawberry-flavored, clear liquid supplied in 16 oz. (473 mL) bottles, NDC 68032-456-16.

16.2 Storage and Handling
KEEP THIS AND ALL MEDICATIONS OUT OF THE REACH OF CHILDREN. IN CASE OF ACCIDENTAL OVERDOSE, SEEK PROFESSIONAL ASSISTANCE OR CONTACT A POISON CONTROL CENTER IMMEDIATELY.
Store at 59°-86°F (15°-30°C) [See USP Controlled Room Temperature].
PHARMACIST: Dispense in a tight, light-resistant container as defined in the USP/NF with a child-resistant closure.
Patient Counseling Information
Patients receiving Brom Mal/Phenyl HCl/ Dex HBr 4/7.5/15 mg/5 mL Liquid should be given the following information:
1. Do not exceed the recommended dosage of Brom Mal/Phenyl HCl/ Dex HBr 4/7.5/15 mg/5 mL Liquid.
2. Report adverse experiences occurring during therapy.
3. Brom Mal/Phenyl HCl/ Dex HBr 4/7.5/15 mg/5 mL Liquid may cause drowsiness or excitability.

*Sections or subsections omitted from the full prescribing information are not listed.

Manufactured for:
River's Edge Pharmaceuticals, LLC.
Suwanee, GA 30024
Rev. 01/10 456-10
PACKAGING
NDC 68032-456-16
Brom Mal/Phenyl HCl/Dex HBr 4/7.5/15mg/5 mL LIQUID

• ANTIHISTAMINE
• DECONGESTANT
• ANTITUSSIVE

Rx Only
Brompheniramine Maleate 4 mg/5 mL
Phenylephrine Hydrochloride 7.5 mg/5 mL
Dextromethorphan Hydrobromide 15 mg/5 mL
Strawberry Flavor
EACH TEASPOONFUL (5 mL) CONTAINS:
Brompheniramine Maleate ..... 4 mg
Phenylephrine HCl ..... 7.5 mg
Dextromethorphan HBr ..... 15 mg
16 fl oz (473 mL)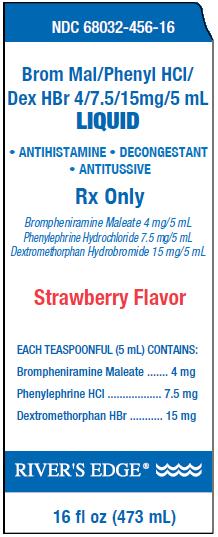 Brom Mal Phenyl HCl Dex HBr
brompheniramine maleate, phenylephrine hydrochloride, dextromethorphan hydrobromide liquid
Product Information
Product Type
HUMAN PRESCRIPTION DRUG LABEL
Item Code (Source)
NDC:68032-456
Route of Administration
ORAL
DEA Schedule
Active Ingredient/Active Moiety
Ingredient Name
Basis of Strength
Strength
BROMPHENIRAMINE MALEATE (BROMPHENIRAMINE)
BROMPHENIRAMINE MALEATE
4 mg in 5 mL
PHENYLEPHRINE HYDROCHLORIDE (PHENYLEPHRINE)
PHENYLEPHRINE HYDROCHLORIDE
7.5 mg in 5 mL
DEXTROMETHORPHAN HYDROBROMIDE (DEXTROMETHORPHAN)
DEXTROMETHORPHAN HYDROBROMIDE
15 mg in 5 mL
Inactive Ingredients
Ingredient Name
Strength
GLYCERIN
PROPYLENE GLYCOL
SORBITOL
CITRIC ACID MONOHYDRATE
SODIUM CITRATE
SACCHARIN SODIUM
WATER
Product Characteristics
Color
Score
Shape
Size
Flavor
STRAWBERRY
Imprint Code
Contains
Packaging
#
Item Code
Package Description
1
NDC:68032-456-16
473 mL in 1 BOTTLE
Marketing Information
Marketing Category
Application Number or Monograph Citation
Marketing Start Date
Marketing End Date
unapproved drug other
02/10/2010
Labeler - River's Edge Pharmaceuticals, LLC (133879135)
River's Edge Pharmaceuticals, LLC
More about brompheniramine / dextromethorphan / phenylephrine
Consumer resources
Professional resources
Other brands
Related treatment guides