Bencort Lotion
Generic name: benzoyl peroxide and hydrocortisone
Dosage form: lotion, kit
Drug class: Topical acne agents
Medically reviewed by Drugs.com. Last updated on Nov 23, 2020.
On This Page
INDICATIONS AND USAGE:
For the treatment of acne vulgaris.
Bencort Lotion Dosage and Administration
Shake well before use. Apply a thin film, 1 to
3 times daily, gently massaging into skin or as directed by a physician.

TO THE PHARMACIST
At the time of dispensing, add the contents of the
Bencort Benzoyl Peroxide Powder vial to the Bencort Lotion in the bottle.
Shake well to ensure uniform dispersion. Place expiration date of three (3) months on
the label. Bencort Lotion is 25 grams net weight.
Contraindications
Bencort Lotion is contraindicated in patients
hypersensitive to benzoyl peroxide, hydrocortisone, other corticosteroids or to any
ingredient contained in this product. Topical steroids are contraindicated in viral
diseases of the skin, such as varicella or vaccinia. Topical corticosteroids should not
be used in patients with markedly impaired circulation since skin ulceration has
occurred in these patients following use of the drugs.
Warnings and Precautions
Irritation including peeling, itching and/or redness
may occur, especially at the start of treatment. If any of these effects persist or worsen,
stop using and contact your doctor immediately. Smaller amounts of the drug may need to
be applied less often. Consult your doctor for instructions. For external use only. Keep away
from the eyes and mucous membranes. If severe irritation or swelling develops, discontinue
use and seek appropriate therapy.
Adverse Reactions
The most frequent adverse reactions to benzoyl peroxide
are irritation and contact dermatitis. Although 0.5% hydrocortisone is considered
safe, the following adverse reactions have been reported with topical corticosteroids,
especially under occlusive dressings: burning, itching, irritation, dryness, folliculitis,
hypertrichosis, acneform eruptions, hypopigmentation, perioral dermatitis, allergic
contact dermatitis, maceration of the skin, secondary infection, skin atrophy, striae,
miliaria.

This is not a complete list of possible adverse effects. If you notice other effects not
listed above, contact your doctor or pharmacist.
Call your doctor for medical advice about side effects. You may
report side effects to the FDA at 1-800-FDA-1088.
Drug Interactions
Before using this medication, tell your doctor or
pharmacist of all prescription and nonprescription products you currently use.

USE IN SPECIFIC POPULATIONS
Pregnancy, Category C: Animal reproduction studies have not been conducted
with Bencort Lotion. It is also not known whether Bencort Lotion can cause
fetal harm when administered to pregnant women or affect reproduction capacity.
Bencort Lotion should be given to pregnant women only if clearly needed.

Nursing Mothers: It is not known whether this drug is excreted in human milk.
Because many drugs are excreted in human milk, caution should be exercised when
Bencort Lotion is administered to nursing women.

Pediatric Use: Safety and effectiveness in pediatric patients below the age of 12
have not been established.
Overdosage
This medication may be harmful if swallowed. If swallowing or
overdose is suspected, contact your local poison control center or emergency room
immediately or the National Poison Hotline at 1-800-222-1222.
Bencort Lotion Description
Bencort Lotion (benzoyl peroxide 5% and hydrocortisone 0.5%)
TOPICAL LOTION. Each gram contains, as dispensed, 50 mg benzoyl peroxide and 5 mg
hydrocortisone.Inactive Ingredients: acetylated lanolin alcohol, BHA, C12-15 alkyl
benzoate, cetyl acetate, cetyl alcohol, citric acid, decyl oleate, dioctyl sodium
sulfosuccinate, EDTA, elaeis guineensis (palm) fruit extract, glycine soja (soybean) seed
extract, hydroxyethylcellulose, lanolin oil, methylparaben, mineral oil, oleyl acetate,
oryzanol, pentasodium pentetate, polysorbate 20, PPG-5-ceteth-20, propyl gallate,
propylene glycol, propylene glycol stearate, propylparaben, purified water (aqua), silica,
simethicone, sodium phosphate, stearyl acetate, stearyl heptanoate, tetrasodium EDTA,
tricalcium phosphate, trisodium phosphate.

The structural formula for benzoyl peroxide (Mol. Formula: C14H10O4; Mol. Weight
242.23):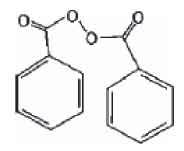 The structural formula for hydrocortisone, pregn-4-ene-3,20-dione, 11,17,21-
trihydroxy-,(11b)- (Mol. Formula: C21H30O5; Mol. Weight 362.47 ):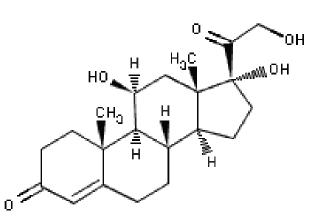 Bencort Lotion - Clinical Pharmacology
Benzoyl peroxide is an antibacterial agent shown
to be effective against P. acnes. The antibacterial action of benzoyl peroxide is believed
to be due to the release of reactive oxygen species. Benzoyl peroxide has a keratolytic
effect which may contribute to its efficacy. Benzoyl peroxide has been shown to be
absorbed by the skin where it is converted into benzoic acid.
Hydrocortisone shares the actions of other topical corticosteroids and are used for their
anti-inflammatory and vasoconstrictive actions.
NONCLINICAL TOXICOLOGY – Carcinogenesis, Mutagenesis, Impairment of Fertility:
Long-term studies in animals have not been performed to
evaluate carcinogenic potential.
How Supplied/Storage and Handling
Bencort Lotion is
supplied as bottles, 25 grams net weight as dispensed, NDC 68032-303-91. Package
contains a bottle of Bencort Lotion, net weight 21.2 grams and a vial of Bencort
Benzoyl Peroxide Powder containing a mixture of 35% benzoyl peroxide. The
inactive ingredients are tricalcium phosphate, silica and dioctyl sodium sulfosuccinate.
Net weight of vial is 3.8 grams. Keep bottle tightly closed.
Store at room temperature 20°-25°C (68°-77°F). Do not freeze.
Caution: Federal law prohibits dispensing without prescription.
KEEP THIS AND ALL MEDICATIONS OUT OF REACH OF CHILDREN
Manufactured for:
River's Edge
Pharmaceuticals, LLC
Suwanee, GA 30024
303-11
Iss. 02/09
PACKAGING
Rx Only
NDC: 68032-419-92

Bencort Lotion Kit
(benzoyl peroxide 5% and hydrocortisone 0.5%)

Kit Contains:
• Becort Lotion 25g (as dispensed)
• Benzoyl Peroxide 35% Powder (to be added to the Bencort Lotion)
• Bencort Glycerin Cleansing Lotion 60g
• Product Information

Combined NEW WT 85g (3 oz.)

Indications: An aid in the treatment of acne.

DOSAGE AND ADMINISTRATION: Shake well before use. Apply a thin film 1 to 3 times daily, gently messaging into skin or as directed by a physician.

TO THE PHARMACIST: At the time of dispensing, add the contents of the Bencort Benzoyl Powder vial to the Bencort Hydrocortisone Lotion in the bottle. Shake well to ensure uniform dispersion. Place expiration date of three (3) months on the label. Bencort Lotion is 25g net weight, as dispensed.

Caution: Federal law prohibits dispensing without a prescription.

• Keep away from eyes. FOR TOPICAL USE ONLY. Not for ophthalmic, oral, or intravaginal use.
• Keep out of reach of children
• Keep bottle tightly closed.
• Store at room temperature 20-25C (68-77F). Do not freeze.

Consult package insert for complete prescribing information.

Apply with caution to the neck and/or other sensitive areas. There may be a slight transitory stinging or burning sensation on initial applications. Colored or dyed garments and linens may be bleached by the benzoyl peroxide.

If irritation or sensitivity occurs, discontinue use and consult your physician.

Manufactured for:
River's Edge Pharmaceuticals, LLC
Suwanee, GA 30024
Iss. 10/09


BENCORT
Bencort Lotion kit
Product Information
Product Type
HUMAN PRESCRIPTION DRUG LABEL
Item Code (Source)
NDC:68032-419
Packaging
#
Item Code
Package Description
1
NDC:68032-419-92
1 KIT (CARTON) in 1 KIT
Quantity of Parts
Part #
Package Quantity
Total Product Quantity
Part 1
1 VIAL
3.8 g
Part 2
1 TUBE
25 g
Part 1 of 2
BENCORT
benzoyl peroxide powder powder
Product Information
Item Code (Source)
NDC:68032-303
Route of Administration
TOPICAL
DEA Schedule
Active Ingredient/Active Moiety
Ingredient Name
Basis of Strength
Strength
BENZOYL PEROXIDE (BENZOYL PEROXIDE)
BENZOYL PEROXIDE
35 in 3.8 g
Packaging
#
Item Code
Package Description
1
NDC:68032-303-21
3.8 g in 1 VIAL
Marketing Information
Marketing Category
Application Number or Monograph Citation
Marketing Start Date
Marketing End Date
unapproved drug other
10/01/2009
Part 2 of 2
BENCORT
benzoyl peroxide 5% and hydrocortisone 0.5% lotion lotion
Product Information
Item Code (Source)
NDC:68032-303
Route of Administration
TOPICAL
DEA Schedule
Active Ingredient/Active Moiety
Ingredient Name
Basis of Strength
Strength
BENZOYL PEROXIDE (BENZOYL PEROXIDE)
BENZOYL PEROXIDE
5 in 25 g
HYDROCORTISONE (HYDROCORTISONE)
HYDROCORTISONE
0.5 in 25 g
Packaging
#
Item Code
Package Description
1
NDC:68032-303-11
25 g in 1 TUBE
Marketing Information
Marketing Category
Application Number or Monograph Citation
Marketing Start Date
Marketing End Date
unapproved drug other
10/01/2009
Marketing Information
Marketing Category
Application Number or Monograph Citation
Marketing Start Date
Marketing End Date
unapproved drug other
10/01/2009
Labeler - River's Edge Pharmaceuticals, LLC (133879135)
River's Edge Pharmaceuticals, LLC
More about Bencort (benzoyl peroxide / hydrocortisone topical)
Consumer resources
Professional resources
Other brands
Related treatment guides