Be-Flex Plus
Generic name: acetaminophen, salicylamide, and phenyltoloxamine citrate
Dosage form: capsule, gelatin coated
Drug class: Analgesic combinations
Medically reviewed by Drugs.com. Last updated on Jan 22, 2021.
On This Page
Be-Flex Plus Description
Each Be-Flex Plus Capsule contains:
Acetaminophen ……………... 300 mg
Salicylamide ..... 200 mg
Phenyltoloxamine Citrate .... 20 mg
Acetaminophen, 4'hydroxyacetanilide, a slightly bitter, white, odorless, crystalline powder is a non-opiate, nonsalicylate analgesic and antipyretic. It is soluble in boiling water and in 1 N sodium hydroxide; freely soluble in alcohol. It has the following structural formula:


C8H9NO2 M.W. 151.16
Salicylamide, 2-hydroxybenzamide, is an analgesic which occurs as a white, practically odorless, crystalline powder. It is slightly soluble in water and in chloroform; soluble in alcohol and in propylene glycol; freely soluble in ether and in solutions of alkalies. It has the following structural formula: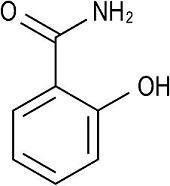 C7H7NO2 M.W. 137.14
Phenyltoloxamine citrate, N, N-dimethyl-2-(α-phenyl-o-tolyloxy)-ethylamine citrate, is an antihistamine which occurs as crystals from water or methanol. It is soluble in water. Phenyltoloxamine has the following structural formula: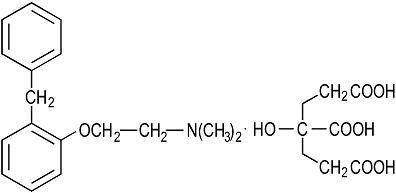 C17H21NO • C6H8O7 M.W. 447.36
INACTIVE INGREDIENT
Be-Flex Plus Capsules contain the following inactive ingredients: Croscarmellose Sodium, FD&C Blue #1 Lake, FD&C Red #40 Lake, Gelatin, Polyvinylpyrrolidone, Pregelatinized Starch, Sodium Starch Glycolate, Stearic Acid and Titanium Dioxide.
Be-Flex Plus - Clinical Pharmacology
Be-Flex Plus is designed to combine the analgesic, antipyretic properties of acetaminophen and salicylamide with mild antihistamine properties of phenyltoloxamine. Salicylamide is the amide of salicylic acid but it is not metabolized to salicylate and does not show cross sensitivity reactions with salicylate compounds. Consequently, it may be administered to patients hypersensitive to aspirin and other salicylates. In addition to analgesic action, salicylamide is also categorized as an antipyretic and antirheumatic agent.
Salicylamide is rapidly and almost completely absorbed from the GI tract following oral administration and therefore promotes an initial, rapid relief from pain or fever. It has not been established whether salicylamide has anti-inflammatory effects. In animals the drug produces hypotensive effects, possibly by dilating peripheral blood vessels, and depresses the CNS.
The analgesic action of acetaminophen involves peripheral influences, but the specific mechanism is as yet undetermined. Antipyretic activity is mediated through hypothalamic heat regulating centers. Acetaminophen inhibits prostaglandin synthetase. Therapeutic doses of acetaminophen have negligible effects on the cardiovascular or respiratory systems; however, toxic doses may cause circulatory failure and rapid, shallow breathing. Acetaminophen is rapidly and completely absorbed from the gastrointestinal tract and is distributed throughout most body tissues. The plasma half-life is 1.25 to 3 hours, but may be increased by liver damage and following overdosage.
Elimination of acetaminophen is principally by liver metabolism (conjugation) and subsequent renal excretion of metabolites. Approximately 85% of an oral dose appears in the urine within 24 hours of administration, most as the glucuronide conjugate, with small amounts of other conjugates and unchanged drug.
Phenyltoloxamine belongs to the ethanolamine chemical class of antihistamines. It acts by competing with histamine for H1 histamine receptor sites, thereby preventing the action of histamine on the cell. Clinically, phenyltoloxamine suppresses the histamine mediated symptoms of allergic rhinitis, relieving sneezing, rhinorrhea, and itching of the eyes, nose, and throat.
Indications and Usage for Be-Flex Plus
Be-Flex Plus Capsules are indicated for the temporary relief of mild to moderate pain and discomfort due to simple headache; for temporary relief of such pain associated with muscle and joint soreness, neuralgia, sinusitis, minor menstrual cramps, the common cold or grippe, toothache, and minor aches and pains of rheumatism and arthritis.
Contraindications
Be-Flex Plus Capsules are contraindicated in patients hypersensitive to acetaminophen, salicylates, or phenyltoloxamine. Be- Flex Plus Capsules should not be taken by patients taking medication for blood-clotting or if they have kidney or liver dysfunction.
Warnings
Caution: If pain persists for more than 10 days, or if redness is present, consult a physician immediately. Children and teenagers should not use this medication for chicken pox or flu symptoms before a doctor is consulted about Reye syndrome, a rare but serious illness. Acetaminophen in massive overdosage may cause hepatotoxicity in some patients (see OVERDOSAGE). Salicylates should be used with extreme caution in the presence of peptic ulcer or coagulation abnormalities. In rare instances, the use of salicylamide in persons allergic to salicylates can result in life-threatening allergic episodes. Phenyltoloxamine citrate should be used with extreme caution in patients with stenosing peptic ulcer, pyloroduodenal obstruction, prostatic hypertrophy, or bladder neck obstruction. This compound has an atropine-like action and therefore should be used with caution in patients with a history of bronchial asthma, increased intraocular pressure, cardiovascular disease, or hypertension.
Precautions
General
Patients who have bronchial asthma or are allergic to aspirin, use with caution until sensitivity has been determined.
Information for Patients
This product may cause sedation. Patients should be cautioned against engaging in activities requiring mental alertness, such as driving a car or operating machinery.
Drug Interactions
The sedative effects of phenyltoloxamine are additive to the CNS depressant effects of alcohol, hypnotics, sedatives and tranquilizers. Although it has not been established that salicylamide shares all the toxic potentials of salicylates, the usual precautions of salicylate administration should probably be observed since salicylamide is structurally and pharmacologically related to the salicylates. Be-Flex Plus Capsules may increase the effects of oral anticoagulants and this may result in abnormal bleeding. Phenobarbital may decrease the effect of acetaminophen by hastening its elimination from the body.
DRUG & OR LABORATORY TEST INTERACTIONS
Acetaminophen may produce false-positive test results for urinary 5-hydroxyindoleacetic acid.
Pregnancy
Pregnancy Category C. Animal reproduction studies have not been conducted with Be-Flex Plus Capsules. It is also not known whether Be-Flex Plus Capsules can cause fetal harm when administered to a pregnant woman or can affect reproduction capacity. Be-Flex Plus Capsules should be given to a pregnant woman only if clearly needed.
Nursing Mothers
Acetaminophen is known to be excreted in human milk. Because of the potential for serious adverse reactions in nursing infants, a decision should be made whether to discontinue nursing or to discontinue the drug, taking into account the importance of the drug to the mother.
Pediatric Use
Safety and effectiveness of Be-Flex Plus Capsules in children below the age of 6 have not been established.
Geriatric Use
Do not exceed a total dose of 8 capsules in 24 hours. This drug may be eliminated more slowly than in younger adults. Prolonged use in excessive doses can cause anemia, liver damage with jaundice, and kidney damage.
Adverse Reactions
The following adverse reactions have been reported for each of the individual components or combinations of ingredients.
Acetaminophen - urticaria, epigastric distress, dizziness, palpitations, allergic reactions, rash, thrombocytopenia, and agranulocytosis.
Salicylamide - Dose-related GI and CNS disturbances are the most common adverse effects of salicylamide. GI disturbances may include nausea, vomiting, heartburn, anorexia, or diarrhea. CNS disturbances may include dizziness, drowsiness, lightheadedness, faintness, or headache. Flushing, hyperventilation, sweating, dry mouth, rash, thrombocytopenia purpura, and mild salicylism have also been reported. Adverse GI and CNS effects occur infrequently with salicylamide doses of 325-650 mg but occur often with higher doses. Tinnitus, ecchymoses, hemorrhagic lesions, leukopenia, or thrombocytopenia may also occur with high doses.
Phenyltoloxamine - urticaria, drowsiness, disturbed coordination, inability to concentrate, dizziness, insomnia, tremors, nervousness, palpitation, convulsions, muscular weakness, gastric distress, diarrhea, intestinal cramps, blurred vision, hypotension, urinary retention, dryness of mouth, throat and nose, xerostomia and nausea.
Overdosage
Acetaminophen:
Signs and Symptoms: In acetaminophen overdosage: dose-dependent, potentially fatal hepatic necrosis is the most serious adverse effect. Renal tubular necrosis, hypoglycemic coma and thrombocytopenia may also occur. Early symptoms following a potentially hepatotoxic overdose may include: nausea, vomiting, diaphoresis and general malaise. Clinical and laboratory evidence of hepatic toxicity may not be apparent until 48 to 72 hours postingestion. In adults hepatic toxicity has rarely been reported with acute overdoses of less than 10 grams, or fatalities with less than 15 grams.
Treatment: The stomach should be emptied promptly by gastric lavage or by induction of emesis with syrup. If the dose of acetaminophen may have exceeded 140 mg/kg, acetylcysteine should be administered as early as possible. Serum acetaminophen levels should be obtained, since levels four or more hours following ingestion help predict acetaminophen toxicity. Do not await acetaminophen assay results before initiating treatment. Hepatic enzymes should be obtained initially, and repeated at 24-hour intervals. Methemoglobinemia over 30% should be treated with methylene blue by slow intravenous administration. The toxic dose for adults for acetaminophen is 10 g.
Salicylamide:
Signs and Symptoms: Mild salicylate toxicity may produce symptoms of dizziness, tinnitus, difficulty in hearing, nausea, vomiting, diarrhea and mental confusion.
Treatment: These symptoms will usually disappear after the medication is discontinued and blood levels of the salicylate drops.
Be-Flex Plus Dosage and Administration
Adults and children 12 years and older: 1 or 2 capsules every 4 hours; maximum daily dose, 8 capsules. Children 6 to 12 years of age: one-half adult dose; maximum daily dose, 4 capsules.
Do not use for more than 10 days unless directed by physician.
How is Be-Flex Plus Supplied
Be-Flex Plus Capsules contain acetaminophen 300 mg, salicylamide 200 mg, and phenyltoloxamine citrate 20 mg, and are supplied as orange colored capsules imprinted "LL 16" on capsule body, in bottles of 100, NDC 68047-116-01.
Storage and Handling
Store at controlled room temperature 15°-30°C (59°-86°F). Dispense in a tight, light resistant container as defined in USP/NF with a child-resistant closure.
WARNING: KEEP THIS AND ALL MEDICATION OUT OF THE REACH OF CHILDREN.
CAUTION: Federal law prohibits dispensing without a prescription.
Rx Only
Manufactured for:
Larken Laboratories, Inc.
Canton, MS 39110
www.larkenlabs.com
Comments or Questions: 888-527-5522
Manufactured by:
Contract Pharmacal Corp.
Hauppauge, NY 11788
ISS. 05/08
PACKAGE LABEL.PRINCIPAL DISPLAY PANEL


Figure 1: Container Label
BE-FLEX PLUS
acetaminophen, salicylamide, and phenyltoloxamine citrate capsule, gelatin coated
Product Information
Product Type
HUMAN PRESCRIPTION DRUG LABEL
Item Code (Source)
NDC:68047-116
Route of Administration
ORAL
DEA Schedule
Active Ingredient/Active Moiety
Ingredient Name
Basis of Strength
Strength
ACETAMINOPHEN (ACETAMINOPHEN)
ACETAMINOPHEN
300 mg
SALICYLAMIDE (SALICYLAMIDE)
SALICYLAMIDE
200 mg
PHENYLTOLOXAMINE CITRATE (PHENYLTOLOXAMINE)
PHENYLTOLOXAMINE CITRATE
20 mg
Inactive Ingredients
Ingredient Name
Strength
CROSCARMELLOSE SODIUM
FD&C BLUE NO. 1
FD&C RED NO. 40
GELATIN
CROSPOVIDONE
STARCH, CORN
SODIUM STARCH GLYCOLATE TYPE A POTATO
STEARIC ACID
TITANIUM DIOXIDE
Product Characteristics
Color
ORANGE
Score
no score
Shape
CAPSULE
Size
17mm
Flavor
Imprint Code
LL16
Contains
Packaging
#
Item Code
Package Description
1
NDC:68047-116-01
100 CAPSULE, GELATIN COATED (CAPSULE) in 1 BOTTLE
Marketing Information
Marketing Category
Application Number or Monograph Citation
Marketing Start Date
Marketing End Date
Unapproved drug other
04/17/2006
Labeler - Larken Laboratories Inc. (791043719)
Registrant - Larken Laboratories, Inc. (791043719)
Establishment
Name
Address
ID/FEI
Operations
Contract Pharmacal Corp.
057795122
MANUFACTURE
Larken Laboratories Inc.
More about Be-Flex Plus (acetaminophen / phenyltoloxamine / salicylamide)
Related treatment guides