Antizol Vet
Generic name: fomepizole
Dosage form: FOR ANIMAL USE ONLY

On This Page
Rx only Pr


Sterile for use in dogs only Dilute 1:19 in sterile 0.9% sodium chloride injection prior to intravenous injection
CAUTION
Federal Law restricts this drug to use by or on the order of a licensed veterinarian.
ACTIVE INGREDIENT
One single use vial (1.5 mL) of Antizol-Vet® (fomepizole) for injection contains 1.5 grams of fomepizole without excipients. When one vial is diluted with 28.5 mL of sterile 0.9% sodium chloride, the final diluted concentration is 50 mg/mL fomepizole.
PHARMACOLOGY
Antizol-Vet® is a synthetic alcohol dehydrogenase inhibitor. It is a 4-methyl-substituted five-membered ring structure with the molecular formula C4H6N2 and a molecular weight of 82.1 grams per mole. The chemical name is 4-methylpyrazole. Antizol-Vet® acts as a competitive inhibitor of the liver enzyme alcohol dehydrogenase. The oxidation of ethylene glycol to glycoaldehyde by alcohol dehydrogenase is a critical step in the metabolism of this compound. Alcohol dehydrogenase is also involved in the metabolism of ethanol, methanol, and other hydrocarbon alcohols. Glycolic, glyoxalic, and oxalic acids, the metabolites of ethylene glycol, are the substances responsible for the severe metabolic acidosis and renal tubular epithelial damage present in poisoned dogs. Once inhibition of alcohol dehydrogenase has been achieved by treatment with Antizol-Vet®, the remaining unchanged ethylene glycol and its metabolites are excreted in the urine.
INDICATIONS
Antizol-Vet® is indicated as an antidote for ethylene glycol (antifreeze) poisoning in dogs that have ingested or are suspected of having ingested ethylene glycol.
PROGNOSIS
Antizol-Vet® is only effective if administered prior to complete metabolism of ethylene glycol. To evaluate whether ethylene glycol has been completely metabolized, it is advisable to measure serum BUN and creatinine, and to monitor urine output. Correction of dehydration is essential to obtain accurate serum BUN and creatinine values. Serum concentrations of blood urea nitrogen >40 mg/dl and creatinine >1.8 mg/dl that do not resolve after dehydration is corrected indicate that ethylene glycol has been fully metabolized and significant renal damage may exist. However, if urine flow is maintained, benefit-to-risk considerations suggest that treatment with Antizol-Vet® is warranted.
Contraindications
There are no known contraindicatlons to Antizol-Vet®. However, Antizol-Vet® can cause central nervous system depression at doses much higher than recommended. For this reason, additional monitoring of the dog may be necessary when concomitantly administering drugs that cause central nervous system depression.
Warnings
For use in dogs only. Safety for use in breeding animals and lactating or pregnant bitches has not been demonstrated.
HUMAN WARNINGS
Not for use in humans. Keep out of reach of children. Irritant. Avoid ocular, dermal or inhalation exposures. In case of eye or skin exposure, flush immediately with copious amounts of water. Seek medical attention if irritation persists. Use product only in a well-ventilated area. If accidental inhalation occurs, move to fresh air. The material safety data sheet (MSDS) contains additional information regarding the safe use of this product.
For emergency medical assistance, to report adverse effects in users and/or to obtain a copy of the MSDS, call 1-888-867-7426.
Precautions
Antizol-Vet® (fomepizole) for injection should only be administered after dilution with sodium chloride. Any competitive substrate (such as ethanol) given concurrently with Antizol-Vet® may contribute to central nervous system depression and respiratory difficulties.
Such use should be avoided. Other pyrazoles may be toxic to the liver and bone marrow and should not be substituted for fomepizole. Overdosage of Antlzol-Vet® may cause additional central nervous system depression. Follow the dosing regimen carefully.
SAFETY
A subacute toxicity study was conducted in dogs for 14 days with doses of 10, 20, and 30 mg/kg of Antizol-Vet® administered intravenously twice daily in 0.9% sodium chloride injection, USP. Dogs dosed at 30 mg/kg showed increased hypoactivity, decreased food consumption, decreased serum potassium, increased sodium and bicarbonate levels, increased urinary output, increased alkaline phosphatase and alanine amino transferase (ALT) values, decreased triglycerides and increased liver weights. These effects in liver were not life-threatening and most (all except alkaline phosphatase and ALT values) were reversible following a 28-day recovery period. A two phase toxicity study was conducted in dogs for 14 days. Dose levels of 75 and 150 (phase I) and 25 and 50 (phase II) mg/kg of Antizol-Vet® were administered intravenously twice per day in 0.9% sodium chloride injection. Antizol-Vet® administered at 25 mg/kg resulted in decreased food consumption, body weight loss, and breaths with sweet odors. At 50 mg/kg or greater, Antizol-Vet® resulted in ataxia, hypoactivity, hypothermia, tremors and/or prostration, injected sclera, ptosis, decreased defecation, and protruding tongues. Chronic daily oral administration of fomepizole (110 mg/kg) to rats for 40-42 days resulted in decreased testicular mass (approximately 8%).
Mutagenesis studies of fomepizole revealed a positive Ames test involving Escherichia coli tester strain WP2uvrA and the Salmonella typhimurium tester strain TA102 in the absence of S9 mix. However, the use of in vivo mouse micronucleus assay did not indicate bone marrow cytotoxicity and is considered negative for mutagenicity. No long-term studies have been conducted in laboratory animals to evaluate the carcinogenicity of this drug.
Adverse Reactions
In a clinical field study, one of 105 dogs experienced an anaphylactic type reaction following the second dose of Antizol-Vet®. Clinical signs included tachypnea, gagging, excessive salivation and trembling. Dosing with Antizol-Vet® was discontinued and the animal survived.
PHARMACOKINETICS
Results from a 14-day intravenous study evaluating twice daily doses of 10, 20, and 30 mg/kg in dogs showed a dose proportional increase in plasma concentrations of fomepizole after a single (first) dose. In this same study, it was noted that there was a non-linear increase in plasma concentrations of fomepizole after the fourteenth day of dosing that was particularly evident in the 30 mg/kg dose group. The non-linear accumulation in plasma is assumed to be a result of a saturable elimination process. At 10 mg/kg there was no plasma accumulation and no fomepizole detectable in plasma prior to the last (28th) dose. Fifty percent of the dogs dosed at 20 mg/kg showed some plasma accumulation after 14 days of dosing. In general, dogs dosed below 20 mg/kg should have no detectable fomepizole in their plasma by 12 hours following intravenous dose administration.
Antizol Vet Dosage and Administration
Directions for Dilution
Antizol-Vet® is supplied as a sterile concentrate. If the Antizol-Vet® solution has solidified in the vial, the solution should be liquefied by running the vial under warm water or holding it in the hand. Solidification does not affect the efficacy, safely, or stability of Antizol-Vet®. The intravenous dose should be prepared aseptically by withdrawing the entire contents of the Antizol-Vet® (fomepizole) for injection vial into a syringe containing 28.5 mL of sterile 0.9% sodium chloride. Shake the solution very well to mix. Inspect visually for particulate matter prior to administration. Store the diluted solution at room temperature. DISCARD ANY UNUSED SOLUTION 72 HOURS FOLLOWING DILUTION.
Directions for Dosing
Following dilution, Antizol-Vet® should be administered intravenously over five to ten minutes. An initial loading dose of 20 mg/kg should be administered intravenously (IV) as soon as practical upon suspicion of ethylene glycol poisoning (use Table 1 below to determine the number of mL to inject). At 12, 24, and 36 hours following the initial loading dose of Antizol-Vet®, doses of 15, 15, and 5 mg/kg, respectively, should be administered. If the animal has not recovered following this regimen and there is a suspicion or documentation of remaining ethylene glycol in the bloodstream of the affected animal, the practitioner should continue to dose the animal with 5 mg/kg every 12 hours until ethylene glycol is undetectable in the bloostream or the animal has visibly recovered.
TABLE 1 Volume of diluted (50 mg/kg) Antizol-Vet

® needed to dose a dog of the following body weights at the indicated dose

Animal body weight (kg)
Inject IV at:
Initial loading dose
12 and 24 hours after initial dose
36 hours after initial dose
1 Kg = 2.2 Lbs.
Milliliters of diluted Antizol-Vet

®

needed for a dose of
20 mg/kg
Milliliters of diluted Antizol-Vet

®

needed for a dose of
15 mg/kg
Milliliters of diluted Antizol-Vet

®

needed for a dose of
5 g/kg
5

2.0 mL
1.5 mL
0.5 mL
10
4.0 mL
3.0 mL
1.0 mL
15
6.0 mL
4.5 mL
1.5 mL
20
8.0 mL
6.0 mL
2.0 mL
25
10.0 mL
7.5 mL
2.5 mL
30
12.0 mL
9.0 mL
3.0 mL
35
14.0 mL
10.5 mL
3.5 mL
40
16.0mL
12.0 mL
4.0 mL
45
18.0 mL
13.5 mL
4.5 mL
50
20.0 mL
15.0 mL
5.0 mL
55
22.0 mL

16.5 mL

5.5 mL

60

24.0 mL

18.0mL

6.0 mL

65

26.0 mL

19.5 mL

6.5 mL

70

28.0 mL

21.0 mL

7.0 mL

Example calculation: Use the 50 mg/mL solution of diluted Antizol-Vet
®
for the 20 mg/kg dose. The number of milliliters of the reconstituted Antizol-Vet
®
needed for an animal weighting 7.6 kg =
20 mg/kg (dose required) x 7.6 kg (body weight in kg)
—————————————————————-——— = 3.04 mL
50 mg/mL (Antizol-Vet® concentration)
Additional Therapy
Supportive care to correct fluid, acid-base, and electrolyte imbalances may also be necessary. If ingestion of antifreeze is witnessed, vomiting should be induced. Gastric lavage with activated charcoal is indicated within 1 to 2 hours of ingestion; beyond this time, the procedure is of little benefit.
How is Antizol Vet Supplied
Antizol-Vet® (fomepizole) for injection is supplied as a sterile single-use vial containing 1.5 mL (1.5 g) of Antizol-Vet® without excipients. Store at room temperature 15° to 30°C (59° to 86°F).
NDC: 46129-300-01
Distributed in the U.S. by:
Paladin Labs (USA) Inc.
Dover, Kent County,
Delaware, 19904
Antizol-Vet® can be ordered by calling Paladin Labs (USA) Inc. Customer Service at
1-888-678-7840 or by contacting your local wholesaler.
ANV PI-FOLD1 04/09
PACKAGE LABEL. PRINCIPAL DISPLAY PANEL - 1.5 mL vial
NDC 46129-300-01
Antizol-Vet®
(fomepizole)
for injection
for use in dogs only
1.5 mL (1g / mL)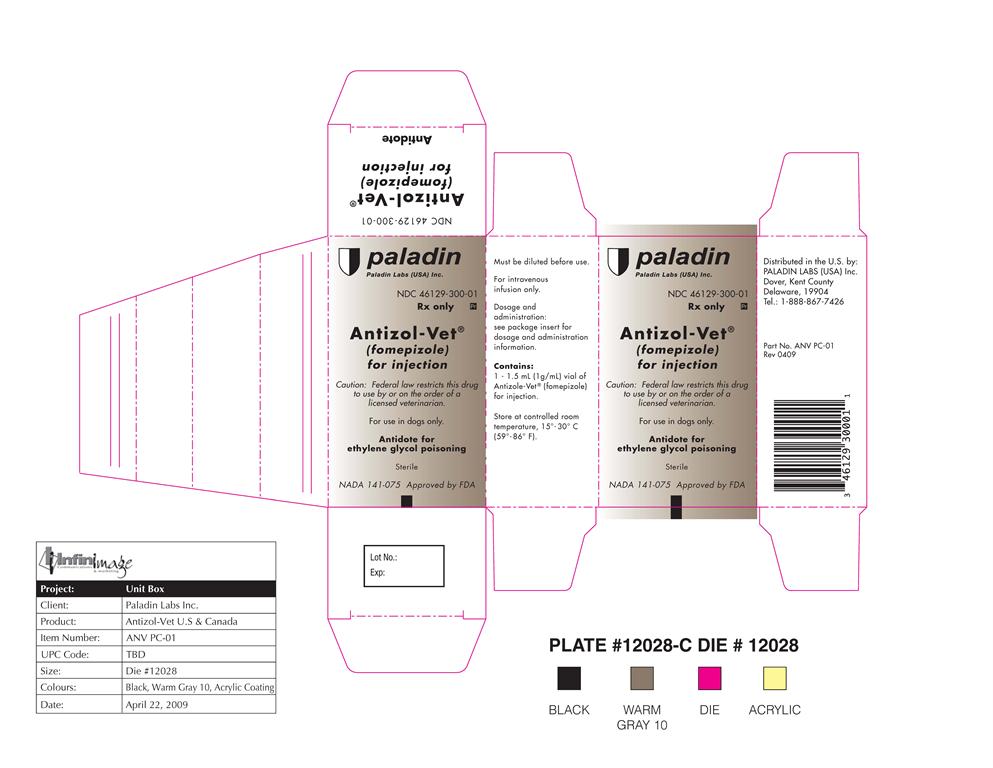 PACKAGE LABEL.PRINCIPAL DISPLAY PANEL-1.5 mL Box
NDC 46129-300-01
Rx only
Antizol-Vet®
(fomepizole)
for injection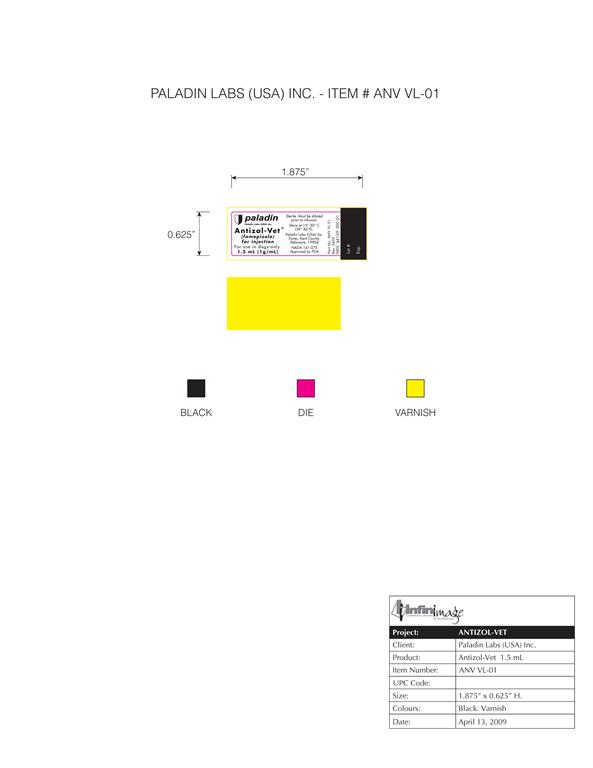 ANTIZOL-VET
fomepizole injection
Product Information
Product Type
PRESCRIPTION ANIMAL DRUG
Item Code (Source)
NDC:46129-300
Route of Administration
INTRAVENOUS
DEA Schedule
Active Ingredient/Active Moiety
Ingredient Name
Basis of Strength
Strength
FOMEPIZOLE (FOMEPIZOLE)
FOMEPIZOLE
50 mg in 1 mL
Packaging
#
Item Code
Package Description
1
NDC:46129-300-01
1.5 mL in 1 VIAL, SINGLE-USE
Marketing Information

Marketing Category
Application Number or Monograph Citation
Marketing Start Date
Marketing End Date
NADA
NADA141075
07/31/2009
Labeler -

PALADIN LABORATORIES (USA) INC (831011775)
Registrant -

Ben Venue Laboratories (004327953)
Establishment

Name
Address
ID/FEI
Operations
Ben Venue Laboratories
004327953
manufacture
PALADIN LABORATORIES (USA) INC